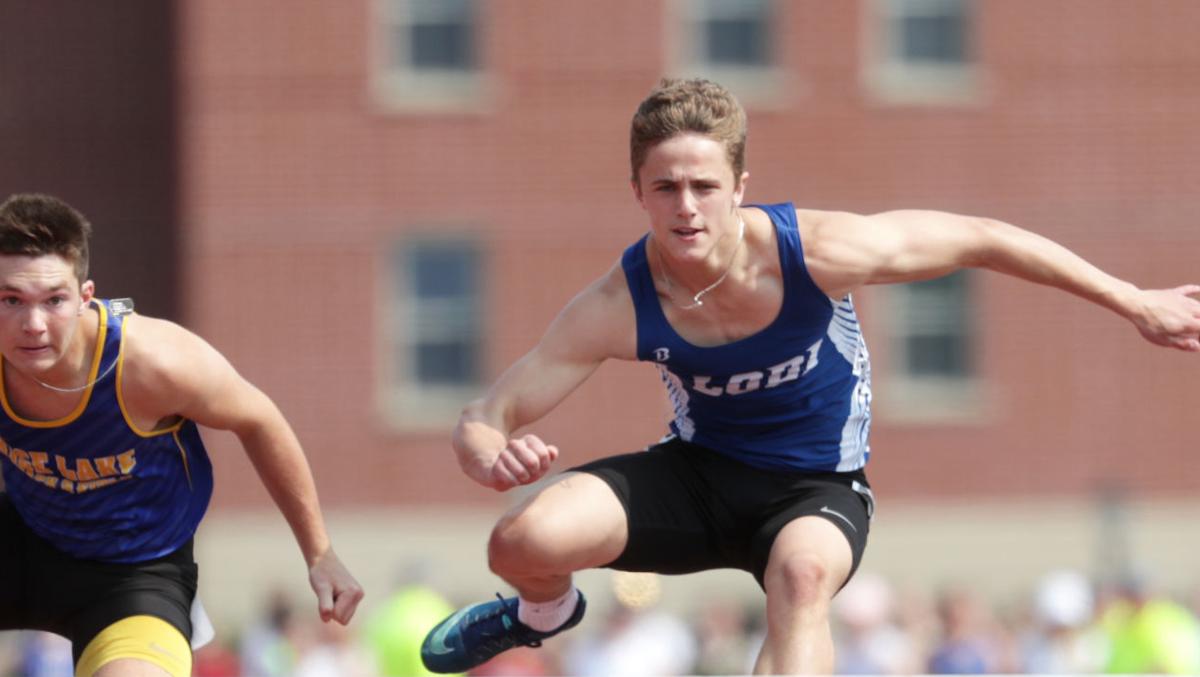 STEVEN TIETZ AND JON MASSON
LA CROSSE – Lodi senior Mackenzie Heyroth is the top seed in Division 2 in both the girls 100-meter high hurdles (15.24 seconds) and the 300 low hurdles (:43.96) after the preliminaries were held Friday at the WIAA state track and field meet at the University of Wisconsin-La Crosse's Veterans Memorial Stadium.
In both cases, Heyroth is ahead of defending champion Brooke Livingston of Adams-Friendship entering Saturday's finals.
Heyroth, a University of Wisconsin commit, also led off Lodi's girls 1,600 relay, which qualified second (4:04.38) -- winning its heat in the process.
"It's just good to get some races under me and just focus on one event at a time," she said.
Lucas Heyroth, her freshman brother, qualified for finals as part of the Blue Devils' boys 800 relay, as well as fourth in the 110 high hurdles and fifth in the 300 intermediate hurdles. He finished second in the long jump Friday. 
He is enjoying his first state meet with help from older sister Mackenzie.
"Yeah, she's always giving me words of wisdom," he said with a laugh. "The whole family gets in on it."
Cambridge enjoys solid performance
The Cambridge boys track and field team, the defending Division 3 state team champion, had a good day.
Defending state 300 hurdle champion Riley Olson qualified first for the finals in :39.35, while the defending champion 800 relay of Olson, Dale Yerges, Jacob Moody and Rudy Hommen qualified second.
The 400 relay team of Moody, Donovan Ahrens, Olson and Yerges advanced as the third seed, while defending state 100 dash champ Hommen advanced as the fourth seed in the 100 and sixth in the 200.
Drew Bosley turns in record effort
Mequon Homestead senior Drew Bosley set a state record in the 3,200 (8 minutes, 57.70 seconds), successfully defending his title.
He is trying to win the distance triple crown (800, 1,600 and 3,200) and will look to defend his 1,600 crown on Saturday, as well as win a first championship in the 800.
"Tomorrow was never in my head," he said. "I was just thinking about the 3,200 today, and now I feel good about what I have to do tomorrow. I know I can be kind of gutsy and just race it in the last 400 because I will be the toughest runner in that last 400. Right now, I'm just going to enjoy things and give my family a big hug (including Andy Bosley, his father and coach and a former state 3,200 champion from Homestead.)"
DeForest senior Sophee Mink, a High Point University commit for volleyball, finished second for the second consecutive year in the girls high jump.
She was involved in a jump-off for first with Kaukauna freshman Olivia Van Zeeland and Bay Port sophomore Ella Meeuwsen after they cleared 5-6. The jump-off rounds eventually came down to Van Zeeland, who cleared a personal-best 5-7, and Mink, who didn't clear that height.
The three finalists first jumped at 5-7, but didn't make that height.
You have free articles remaining.
The bar was lowered to 5-6. Mink and Van Zeeland cleared that height, but Meeuwsen didn't and was eliminated from the jump-off. She finished third.
The bar was raised to 5-7. Van Zeeland was successful and became the winner when Mink missed.
"I was so excited," said Van Zeeland, whose personal best had been 5-6 and who entered hoping to reach the podium.
Mink's personal-best was 5-7 at the Badger North Conference meet.
Mink said she was confident entering the jump-off, something she had heard about but never had experienced prior to Friday night. She said was determined to give it her all and felt like there was nothing to lose once the three competitors were in the jump-off (they hadn't had any misses up to that point).
"I was very happy for the girls who cleared 5-7," Mink said. "For a freshman, that's amazing. It's exciting to be in second place. Two years in a row, that is an honor."
Madison Memorial junior Reette Thorns threw a personal-best of 43 feet, ½ inch, while finishing second in the girls shot put, behind champion Danni Langseth (45-6¼), a Schofield D.C. Everest sophomore.
"I'm feeling great," Thorns said.
Thorns said Langseth came through with a late throw to overtake Thorns.
Thorns said she had trouble sleeping Thursday night, the night prior to the meet, and got up at 5:30 a.m. She said she began praying, but realized she was just praying for herself.
She said she considered herself a team player and said she focused her prayer on doing what she could do to help the Spartans. That included picking up team points. She was seeded third, but finished second and collected eight points for Madison Memorial.
Acker earns second in discus
Verona sophomore Jackson Acker (171-5) finished second in the boys discus, behind winner Andrew Stone (189-07), a Fond du Lac senior.
Acker said it wasn't a great day for a lot of the competitors due to what he believed was slippery footing in the ring.
Acker went into the finals sitting fifth, but rallied to earn the runner-up spot.
"It feels great," Acker said of his finish. "It was a great experience to be in the same field as Andrew Stone."
Division 1 state records were set by Racine Horlick in the boys 400 relay preliminaries (41.38 seconds); Stevens Point freshman Roisin Willis in the girls 800 (2:05.68); and Mequon Homestead senior Drew Bosley in the boys 3,200 (8:57.70). Madison East senior Max Loetscher (9:12.90) finished third in the 3,200.
Wausau West's Brooke Jaworski, a previous state champion who was expected to be a meet standout, suffered a leg injury and pulled up halfway through the 100 high hurdles preliminaries.
She then scratched from the girls 300 hurdles, the long jump and the 400.
Waunakee's Chloe Larsen and Sarah Bova, Reedsburg's Jenna McBride and Stoughton's Ellie Trieloff qualified for the finals in the girls 400.