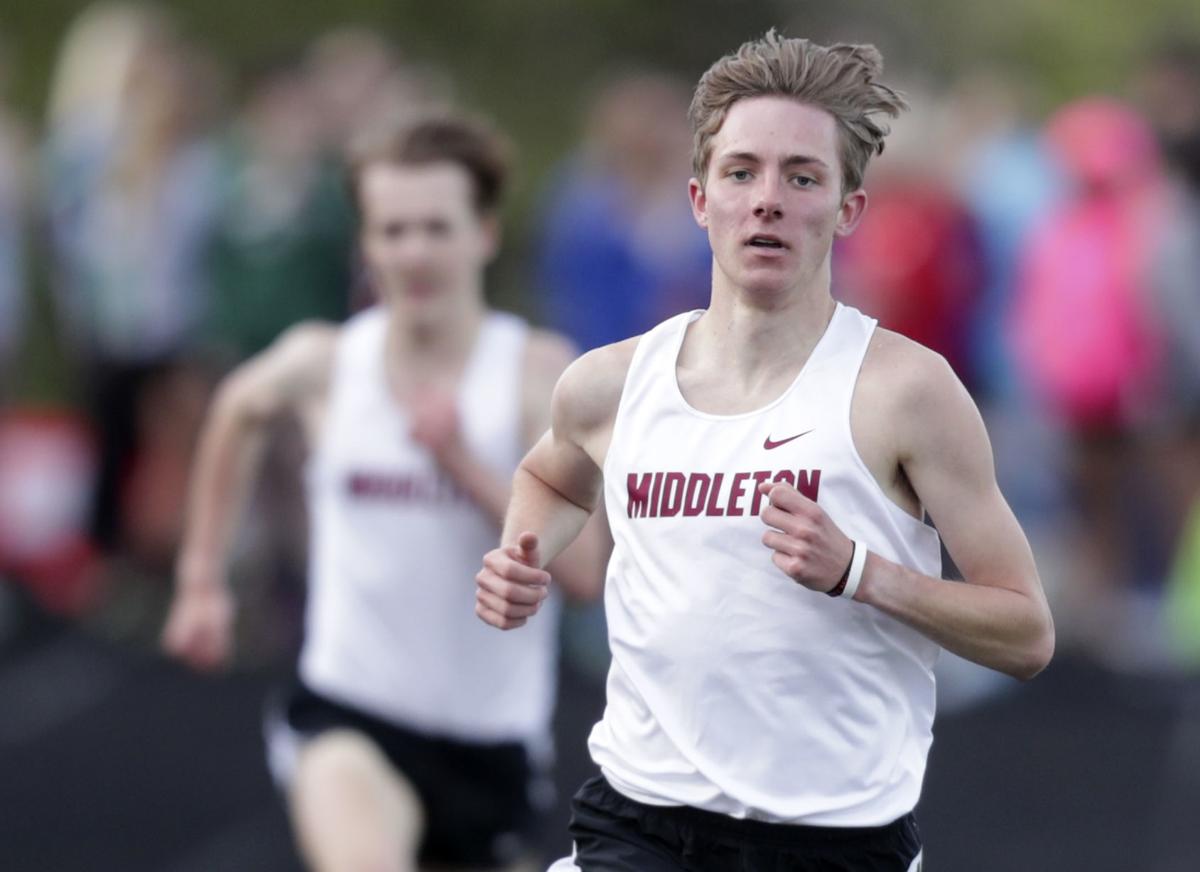 MIDDLETON — Caleb Easton felt such exhilaration after breaking the 9-minute barrier for the first time in his prep career during the 3,200-meter race at the Arcadia Invitational in California.
The performance in early April — when he ran a time of 8 minutes, 57.67 seconds and finished 12th in a national field — further boosted Easton's hopes that his senior season at Middleton would be memorable.
"A big benchmark for the two-mile — the 3,200 — is sub-9," said Easton, who has committed to Northern Arizona University for cross country and track and field. "I was getting really fit over the winter and I knew I was capable of doing it. But, I guess, the hard part of it is putting together a performance on a night when you have such a great opportunity like that with such a great field.
"I was definitely a little nervous beforehand, but when the day of the meet came I was a lot more relaxed than usual and a lot more confident than I had been in the past. I was super-happy to execute it and perform."
But in the subsequent weeks after that high point, Easton's spirits sank when he feared a right foot injury might derail his spring track and field season. Initial signs pointed to a stress fracture, he said.
"That was definitely a big down point," the 18-year-old Easton said this week. "It sparked some previous memories of the last couple winters when I've had some bad knee problems that have kept me out for a while. So, having the start to the season I did and knowing I had a lot more to give, it was a big scare, especially being a senior and not having a state title under my belt. And that is a big goal of mine this year. Just knowing the spot I was in, and the possibility that it could be taken away, it was pretty scary."
An MRI was taken and to Easton's relief, the injury was diagnosed as severe tendon irritation on the top of his foot, he said. After some rest, recovery and a generally cautious approach, his senior season wasn't lost.
Easton shared his elation in an April 17 Tweet about his roller-coaster of emotions over those couple of weeks, including this passage: "It taught me to never take a day of doing what you love for granted. The people, the places, the experiences, the feelings, all of these things need to be cherished because one day they might not be there."
He was determined to work hard and do what he could to help the Cardinals, who won the Big Eight Conference title May 10 for the seventh consecutive year, including the past four under coach Joe Line.
Easton enters this week's WIAA Division 1 state track and field meet at the University of Wisconsin-La Crosse's Veterans Memorial Stadium competing in three events — the 1,600-meter run and the 1,600 and 3,200 relays.
Middleton assistant Brian Finnel, who coaches the distance runners and also is the Cardinals' cross country coach, believes Easton should be in the hunt for titles in the 1,600 Saturday and as part of Middleton's 3,200 relay with senior Michael Madoch and juniors Zach Leffel and Braedon Gilles on Friday.
"Caleb has come a long way," Finnel said. "I think freshman year we knew he was going to be something special because he was really passionate about running. Of all the athletes I've ever coached, he's the most knowledgeable about running, as far as professionals, tactics and being a master of the game. He really puts a lot of time and energy into the research of the sport."
You have free articles remaining.
Easton, with a winning Verona sectional time of 4:18.91, is seeded second in Saturday's 1,600 behind Kimberly senior Rowen Ellenberg (4:17.22), a University of Wisconsin commit. Mequon Homestead senior Drew Bosley (4:19.77) is seeded third.
Bosley, who will be Easton's teammate at Northern Arizona and was third in that Arcadia 3,200, is the defending 1,600 state champion. He finished first in 4:10.39 last year — ahead of runner-up Easton (4:12.11) and third-place Ellenberg (4:12.24).
"The second you are on that line, you don't really have any friends," Easton said. "You are running to win. That's definitely my approach to it. (Bosley) is a great guy. I can't wait to be roommates with him (at college) and train with him. I know he'd say the same thing. He's a competitor. He wants to win."
Neenah senior Matthew Meinke and Madison East senior Max Loetscher are seeded fourth and fifth, respectively, in what should be an extremely competitive 1,600.
"Caleb is fitter this year," said Finnel, the top finisher among Wisconsin runners at this year's Boston Marathon. "He's stronger. Maybe the injury is a blessing because he's fresher."
Middleton enters the 3,200 relay as the fourth seed, with De Pere top-seeded.
The Cardinals' 11th-seeded 1,600 relay of sophomore Max Foland, senior Eagan Peters-Michaud, Gilles and Easton will compete in Friday's preliminaries.
As the season went along, Finnel and Easton decided those three events served Easton and the Cardinals best in postseason, particularly since Easton's best event, the 1,600, will be on Saturday. So, Easton didn't compete in the 3,200 in postseason this year. He was ninth at state last year; Bosley won the 3,200.
"I've always liked to consider myself a team player," Easton said. "That is a big theme of our team and why we have been successful – we run for each other. … With it being my last season, these guys are the reason I have gotten so far. So, I definitely owe it to give my best when they give their best."
Easton's "obsession" with running — competing, strategy, research — began when he was a middle-school student. He'd come to meets and watch Middleton runners such as his older brother, Zach Easton; Perrin Hagge; Gus Newcomb; and Madison West's Olin Hacker.
Hagge's victory in the 1,600 at state in 2016 remains etched in the mind of Easton, then a freshman who was sitting near Finnel in the stands at UW-La Crosse.
"It was amazing, watching Perrin win, and Gus got third in that race," Easton said. "I remember turning to Finnel in the bleachers and saying, `I want to do that some day,' by that meaning winning a state title.
"Last year, I was really close, less than 2 seconds off. It was a really nice feeling having that and knowing I had that year left. I'm happy to say a few years later, I think we are in a really good spot to make those dreams a reality."