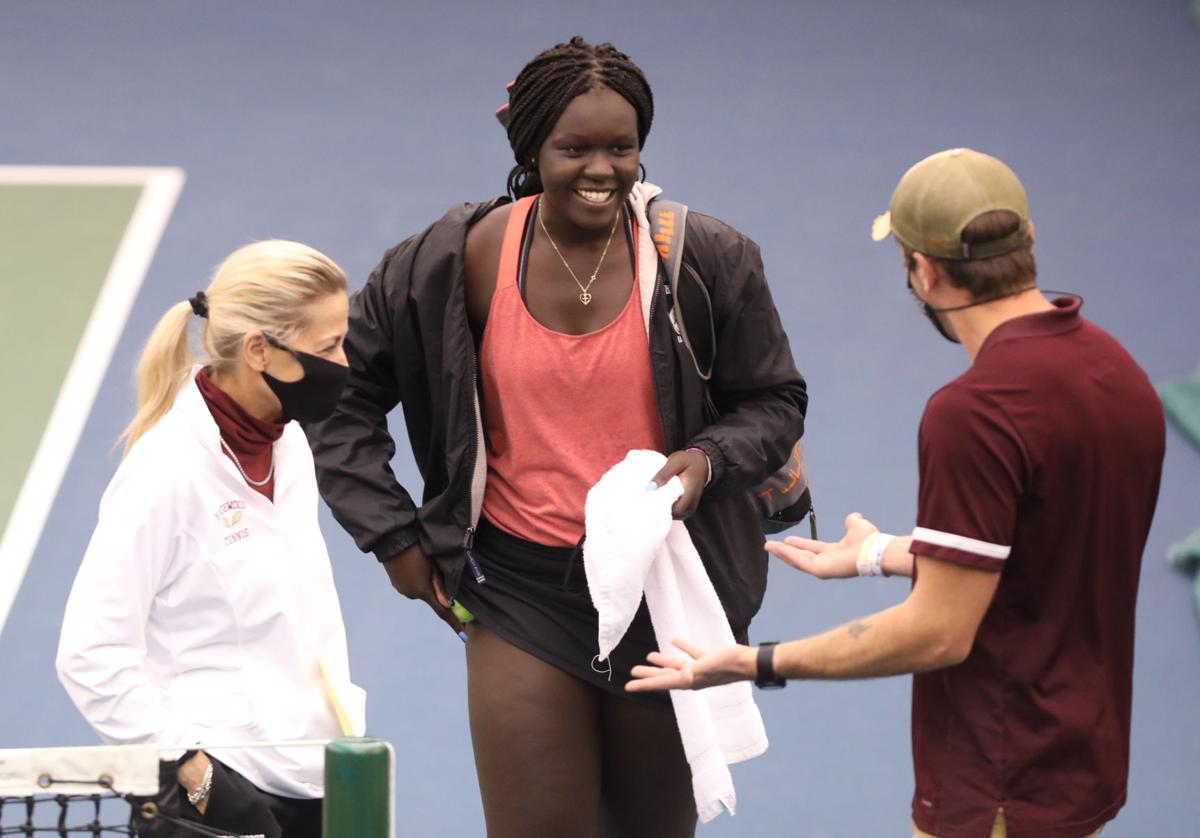 Strength at the top wasn't an issue for the Madison Edgewood girls tennis team on Saturday.
In the end, though, top-seeded Waukesha Catholic Memorial had more depth — and much more experience — and used those factors to pull out a 5-2 victory over the Crusaders in a WIAA Division 2 state team semifinal at SportsCore in Kohler.
"Catholic Memorial had 20 matches coming in, and we had six," said Edgewood's first-year coach, Alex Mory. "And (due to COVID-19 guidelines) we had to play singles only for all our matches inside Dane County."
Still, Edgewood (3-4) was able to get victories at No. 1 singles and No. 1 doubles before Catholic Memorial (12-9) swept all the lower flights.
However, second-seeded Appleton Xavier beat Catholic Memorial 5-2 in the championship match to win the Division 2 title in its first state trip.
Catholic Memorial was without No. 1 singles player Lauren Carson, who was injured during the third-place match at last week's state individual tournament. Instead of moving all the singles players up a flight, Crusaders coach Jeff Mrochinski put junior Shannon Kutcher, the alternate, in the No. 1 singles spot.
Edgewood senior Baluck Deang, the two-time Division 2 state individual champ, had little trouble taking a 6-0, 6-0 victory.
"Her real win was last week, obviously, but getting that last win today was big for her because she's always so team-oriented," Mory said. "She would have loved to make it to the (team) final."
At No. 1 doubles, sophomore Samantha Buchner and junior Maeve Shanahan rolled to a 6-2, 6-3 victory against Xavier juniors Emily Dorow and Jeslyn Singson.
"It was the best tennis I've seen them play," Mory said. "Due to COVID they played only about four matches together all year, so our message to them this week was communication, moving together, teamwork. And they really acted like a team today.
"Hopefully we can bring them back next year and see them improve even more over the offseason."
Morgan Merckx at No. 2 singles and Sarah Dunn at No. 3 fell in straight sets, and Bronte Jenson lost a three-set match at No. 4 singles. In doubles, Sydney Johnson and Ella Kory lost at No. 2 and Ella Johnson and Logan Grabbins fell at No. 3.
Muskego won the Division 1 title, beating Milwaukee Divine Savior Holy Angels 4-3 as reigning individual state champ Elizabeth Sobieski won a three-set decision over Carolyn Schaefer in the decisive final match.
Get in the game with our Prep Sports Newsletter
Sent weekly directly to your inbox!