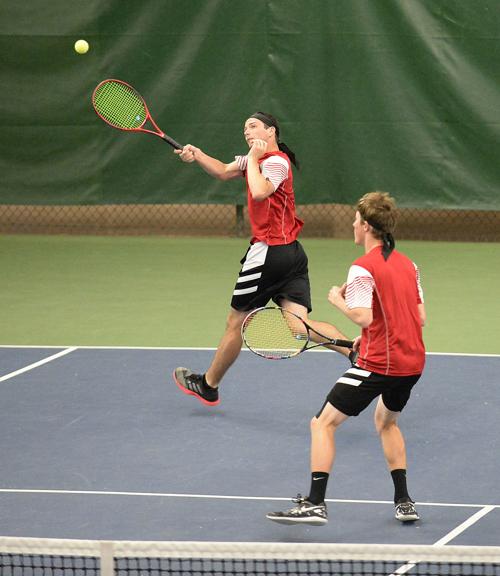 Sauk Prairie boys tennis coach Sam Mack had a decision to make.
Junior Noah Wankerl could remain at No. 1 singles, where he'd been a state qualifier. Or Wankerl could move to No. 1 doubles with junior Kelby Mack, the coach's son who played last year with then-senior Parker Chrisler and finished third in doubles at the WIAA Division 2 state tournament.
When Wankerl suffered a quadriceps injury that limited his mobility playing singles, the die was cast.
Over the past three weeks, Wankerl and Kelby Mack have become a formidable doubles team, even though Wankerl never played doubles during his high school career and played only a few doubles matches with Mack outside the prep season.
The third-seeded Wankerl and Mack claimed the No. 1 doubles title at Saturday's Badger Conference tournament at Nielsen Tennis Stadium. They earned a 6-2, 6-2 victory over top-seeded and previously undefeated Caden Nelson and Jacob Munz of Monona Grove in the final.
"That's really big for us," Wankerl said after he and Mack improved to 9-1. "That will help us for seeding here on out. (Nelson and Munz) have played some pretty good schools. It's really great for conference, too. I'm sure they had loads of confidence. We just played our game. We knew what we could do."
Said Kelby Mack: "It's been really good. Noah is a great doubles partner. He's really aggressive. He's able to get everything. I've been playing doubles for a while and I think he's the best doubles partner I've had so far."
Sam Mack was impressed by the net play and quickness on display, saying he believed the title match featured players with "four of the best hands in the state right now."
"I'm proud of these guys," Sam Mack said. "They are a fun team to watch."
"I really like doubles because it caters to a lot of my game," Wankerl said. "I like to be really aggressive, charge the net and use my serves to my advantage. So, it's been really fun."
You have free articles remaining.
Monona Grove secured the overall league title, winning the conference tournament championship with 44 points. The Silver Eagles finished ahead of runner-up Madison Edgewood (31) and third-place Waunakee (29).
"We have good players; all the credit goes to the guys, who have worked hard all season and in the offseason," said Monona Grove coach Charles Pyng, who believed it was the program's first conference title since 1989. "If you want to win these Badger Conference tournaments, you have to be a deep team. And this year, we had a pretty deep team."
Monona Grove, the Badger South regular-season dual champion, claimed the Badger South overall championship. That snapped Edgewood's streak of 10 consecutive years winning or sharing the Badger South title.
Monona Grove freshman Chase Lindwall earned the No. 2 singles title with a 6-1, 7-5 victory over Edgewood's Chris Boll. Monona Grove juniors Keaton Straka and Will Schreiner won the No. 3 doubles title, topping Edgewood's Austin Buchner and Elliot Stockwell 6-3, 6-4.
Waunakee was the Badger North overall champion, after winning the Badger North dual title.
Warriors freshman Tyler Nelson rallied for a 6-4, 6-3 victory over Monona Grove senior Cole Lindwall in the No. 1 singles championship match. Nelson, who said the league singles title was one of his goals, came back from a 4-1 deficit in the first set and 3-1 deficit in the second set.
"I just felt like I put more balls in play and was able to keep rallies going," Nelson said about his comeback. "When I'm grinding, it goes a lot better. It's great to win."
Nelson defeated Stoughton sophomore Steven Benoy 6-0, 6-3 in a semifinal, and Lindwall earned a 6-4, 6-7 (5), 7-5 semifinal victory over Edgewood sophomore Alex Sviatoslavsky in a match that lasted three hours.
Pyng said UW-Whitewater commit Lindwall broke his left wrist in the season's first match, an injury that has forced him to rely on a slice backhand instead of a two-handed backhand.
Waunakee junior Ethan Liu and freshman Caden Collins defeated Milton's Tate Dunk and Mason Lebakken 6-1, 3-6, 6-1 in the No. 2 doubles final. Edgewood sophomore Donovan Pfaff won the No. 3 singles title, defeating Monona Grove's Lance Nelson 6-2, 6-1.
Pfaff topped Wankerl for the No. 1 singles title at the conference tournament title a year ago.
Oregon's Henry Wiedemann edged Monroe's Charlie Frehner 4-6, 6-2, 7-6 (3) in the No. 4 singles final.