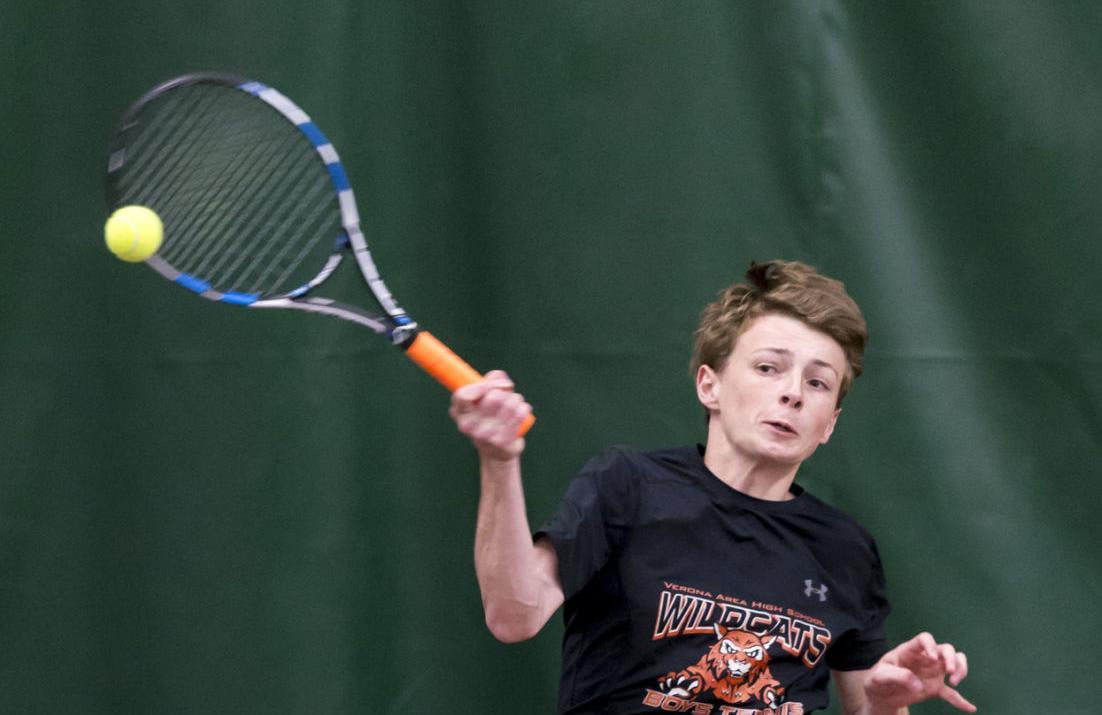 Three things to watch
Singular strength in Division 1: The area had the top three seeded players in last year's WIAA Division 1 state tournament draw — top-seeded Will Tennison of Verona, second-seeded Colt Tegtmeier of Madison Memorial and third-seeded Ryan Gold of Middleton. Tegtmeier, now at Brandeis University, was the singles state champion, while Tennison, battling injury, and Gold reached the quarterfinals. Seniors Tennison, who's committed to Marquette University, and Gold return this season with their eyes on the individual title. Also returning is Sun Prairie senior Aidan Schutter, who's committed to Whitman College in Washington. Schutter was seeded 14th at state last year and lost to Gold in the round of 16.
Defending the Division 2 crown: Madison Edgewood, under the guidance of coach Lori Lukens, won the WIAA Division 2 team state title last season, edging Kohler 4-3 in a semifinal and University School of Milwaukee 4-3 in the championship match. Alex Mory, the Crusaders' girls coach, has taken over as the boys coach this spring, with Lukens scheduled to be an assistant. The Crusaders are fourth in Division 2 in this week's Wisconsin High School Tennis Coaches Association state rankings.
Big Eight race: The Big Eight Conference has strength at the top, with defending champion Verona, Sun Prairie, Middleton, Madison West and Madison Memorial all chasing the league title. In this week's WHSTCA Division 1 rankings, Sun Prairie was sixth, Middleton ninth, Madison West 10th and Madison Memorial earned honorable mention at No. 11. Middleton has a new coach in Tony Mirasola, while Sun Prairie's Ryan Reischel and Steve Weyer plan to be co-coaches after Weyer took off last season because his wife, Katie, had a baby. "The Big Eight is the best conference in the state," said Reischel, who believes it's a five-team race for the title. Madison East is not scheduled to field a varsity team this season.
Teams to watch
Madison Edgewood: The Crusaders lost some strong doubles players from last year's Division 2 team state championship team. But Edgewood welcomes back top singles players in sophomores Donovan Pfaff and Alex Sviatoslavsky and senior Chris Boll. Senior Jackson Powless and sophomores Chase Korb and Gavin Maloney are returning doubles players. The Crusaders were the Badger South Conference dual winner and the overall Badger Conference champion last season. Mory expects Monona Grove to provide a stern test in the Badger South Conference, with Sauk Prairie and Waunakee from the Badger North Conference offering top challenges in the overall conference picture. "I believe we have a chance at winning conference this year," Mory said. "We bring back three strong players from last year and a lot of young players eager to step up. We lose a few strong doubles players from last year, but our expectations are high and we should compete with the top teams again with hard work and perseverance."
Verona: The Wildcats were the Big Eight dual and conference tournament champions last season, finishing 9-0 during the conference dual season. They then defended their conference tournament title. Verona advanced to the WIAA Division 1 team state semifinals, defeating Green Bay Southwest 4-3 in a quarterfinal before falling to eventual state champion Milwaukee Marquette 7-0 in a semifinal. The Wildcats are expected to be among the conference favorites again this season and coach Rick Engen said he believes they will return one of the strongest singles lineups in the state, featuring Tennison, seniors Kevin Fan and Chris Queoff and junior Kush Nagpal. Tennison, Fan and Queoff were individual state qualifiers in 2018. Seniors Evan Schmidt and Conner Dugan are expected to move from No. 2 to No. 1 doubles this season, Engen said, and seniors Michael Happel and Graham Meyer should take over at No. 2 doubles. Engen plans to retire from teaching at the end of this school year; he hasn't made a decision about coaching.
Middleton: Mirasola anticipates that the Cardinals will finish in the top two or three in the conference, depending on how young players respond. Gold leads the Middleton lineup. "Ryan is a great overall player, but really excels in attacking balls with his forehand and playing aggressively," Mirasola said. Sam Dettman and then-senior Rafael Sanga were seventh-seeded and reached the Division 1 state quarterfinals in doubles last season. Dettman, a senior, returns and is expected to be paired with senior Brandon Bodak at No. 1 doubles. "Brandon and Sam have worked together a great deal this offseason and are playing really nicely together," Mirasola said. "Sam and Brandon are both tall and athletic guys with powerful serves and groundstrokes." Sophomore Gene Kim and senior Alton Yan likely will move to No. 2 doubles after a strong season at No. 3 doubles last year. Freshmen Ian Connell and Jacob Mandelbrot figure to play singles behind Gold. Mirasola, who was a volunteer coach for the Edgewood College program and was girls tennis at La Crosse Central, takes over for Kalla Schaefer.
Sun Prairie: Schutter will be the anchor of the Cardinals' lineup, said Reischel, whose team finished tied for second with Middleton behind Verona at last year's conference tournament. With Schutter, juniors Josh Baldwin, Andrew Spence and Jonathan Pulver and senior Praneeth Venigalla returning, Reischel believes the Cardinals "should be as competitive as we were last year." Baldwin and then-senior Elijah Schimelpfenig took third in Division 1 doubles at state, the best finish in program history. Baldwin has been playing singles early this season. Freshmen Jacob Baldwin and Kyle Helmenstine are expected to be solid additions to the lineup, Baldwin likely in singles and Helmenstine in doubles. "Our job as a coaching staff will be to figure out how to best utilize the talent that we have," Reischel said.
Madison Memorial: Madison Memorial must fill the void after state champion Tegtmeier graduated. Joseph King begins his sixth year as coach and will count on five key returning letterwinners — juniors Albert Men and Kevin Li and seniors Ryan Weinbach, Santiago Barquin and Joey Rhodes. Li, Men and Rhodes were playing singles early this season. King said the Spartans return athletic players and several top players who were on JV last year and worked hard in the offseason. "While we don't have the same strength at the top of the singles lineup, we should have good depth," King said.
Madison West: Coach John Braxler gave the preseason nod in the Big Eight to Sun Prairie and Middleton, with the Regents, Verona and Madison Memorial right behind, in no particular order. Andrew Glasgow reached individual state as a No. 2 singles player last year and Baxler anticipates Glasgow moving to No. 1 singles this season. Junior Matthew Ruggiero is expected to play doubles with senior Felix Beilin; they reached the individual state tournament as a doubles team two years ago. Ruggiero and then-senior Luca Willauer reached state as a team in 2018.
McFarland: The Spartans, led by coach Tod Lacey, were the Rock Valley Conference dual and conference tournament winners and made their second trip to the team state tournament last year. In the Division 2 semifinals, University School topped McFarland 7-0. Last year's No. 1 singles player, Ben Ruggles, has graduated. But Lacey has six starters returning, including junior Carter Johnson, an individual state qualifier last season. "We hope to repeat as Rock Valley Conference champions this season and to give Edgewood a challenge for the sectional title," Lacey said. Edgewood and McFarland are in the same subsectional within the East Troy sectional, after being in different sectionals last year.
Sauk Prairie: Defending Badger North overall champion Sauk Prairie will be led by two-time state qualifier Noah Wankerl, a junior in his third season at No. 1 singles, and junior Kelby Mack, who likely will transition to No. 2 singles after playing doubles last year. Mack and then-senior Parker Chrisler were 25-1 and finished third in doubles at the Division 2 individual state meet last year. Wankerl has "a strong all-around game," Eagles coach Sam Mack said, while his son Kelby "is going to need to refine his singles game to play at No. 2 singles." Sam Mack expects junior Tarren Nimmow to shift from No. 2 to No. 3 singles and junior Alex Kinnamon, who played singles last year, to see action at doubles. The Eagles have 10 new players on the 20-player roster and a new assistant in Heather Slosarek, who's the school's girls tennis coach. Sam Mack anticipates Sauk Prairie and Waunakee will compete for the Badger North crown.
Waunakee: Warriors coach Chris Nuenthel welcomes a strong freshman class, including Tyler Nelson. "We are losing half of our varsity team from last year, but we have a great freshman class coming in and a lot of experienced upper-level JV players ready to fight for a spot," Nuenthel said. Nuenthel has Nelson penciled in at No. 1 singles and expects the freshman to "make a big impact" in conference play. Max Christian, a senior, and Shane Paradisin will be paired at No. 1 doubles. Christian and then-senior Jimmy Wallis the second round in Division 1 doubles last year at state. Ethan Liu and Reed Christian return and freshmen Caden Collins and Hayden Liu are newcomers for Nuenthel.
Monona Grove: The Silver Eagles have eight starters returning and should compete with Madison Edgewood for the Badger South title. Monona Grove was second last year at the Badger Conference tournament. Cole Lindwall, a senior, tops the Silver Eagles' singles lineup for coach Charles Pyng. Lindwall won his first match at the Division 1 state meet last year before losing to eventual state runner-up Neel Raut of Oshkosh West in the second round. Jacob Munz, a junior this season, and then-senior Max Nelson reached the second round in doubles. Pyng expects his team to do well, saying, "With the majority of players returning, we should be competitive against the other schools in our conference."
Players to watch
Will Tennison, sr., Verona: Tennison helped lead Verona to the Big Eight title and team state last season (his victory at No. 1 singles securing the sectional win) and was the No. 1 seed for last year's state tournament in Division 1. Despite groin and shoulder injuries, he reached the quarterfinals.
Ryan Gold, sr., Middleton: Gold was the third seed at last year's Division 1 state tournament and reached the quarterfinals.
Aidan Schutter, sr., Sun Prairie: Schutter was seeded 14th at last year's Division 1 state tournament and reached the round of 16, losing to Gold.
Donovan Pfaff, soph., Madison Edgewood: Pfaff was the Badger Conference No. 1 singles champion and was seeded seventh at last year's Division 2 state meet. He reached the round of 16. He helped lead the Crusaders to the Division 2 title at team state.
Alex Sviatoslavsky, soph., Madison Edgewood: Sviatoslavsky was the Badger Conference No. 2 singles champion and was seeded eighth at last year's Division 2 state meet. He reached the round of eight. He helped lead the Crusaders to the Division 2 title at team state.
Cole Lindwall, sr., Monona Grove: Lindwall helped lead Monona Grove to a strong Badger South season in 2018 and reached the second round at last year's Division 1 state tournament.
Tyger "Andy" Yang, soph., Madison La Follette: Yang qualified for state last year as a freshman.
You have free articles remaining.
Tyler Nelson, fr., Waunakee: Nelson is expected to play No. 1 singles for the Warriors. Waunakee coach Chris Nuenthel anticipates Nelson making an impact in the Badger Conference.
Josh Baldwin, jr., Sun Prairie: Baldwin was part of a doubles team with now-graduated Elijah Schimelpfenig that was seeded second and earned third place at last year's Division 1 state meet. Baldwin likely will play singles this year for the Cardinals.
Sam Dettman, sr., Middleton: Dettman was part of a doubles team with now-graduated Rafael Sanga that was seeded seventh and reached the quarterfinals at last year's Division 1 state meet. Dettman likely will play No. 1 doubles with Brandon Bodak this season.
Key WIAA dates
WIAA subsectionals: May 20 or 21.
WIAA sectionals: May 22 or 23.
WIAA individual state tournament: May 30, May 31, June 1, Nielsen Tennis Stadium, Madison.
WIAA team state tournament: June 7-8, Nielsen Tennis Stadium, Madison.
Conference outlooks
(based primarily on information provided by coaches)
Sun Prairie co-coach Ryan Reischel believes it will be a five-team race between Sun Prairie, Middleton, defending conference champion Verona, Madison West and Madison Memorial.
Madison La Follette coach Nan Perschon's team is led by sophomore Tyger Yang, the Lancers' No. 1 singles player and a state qualifier last season. The Lancers have five starters returning. "We lost five seniors who were not only experienced, talented players, they were great leaders," said Perschon, in her 28th year at La Follette. "We will have a very young team that lacks significant varsity experience." Other returning players include junior Oliver Smith and sophomores Parker Olsen and Nic Turk.
Madison East: Madison East's program has a new coach in Andrew Johnson, who formerly coached boys and girls tennis at Tomah. Madison East athletic director T.J. Rogness said the Purgolders are playing a JV schedule only this year due to low numbers, but expect to have a varsity team in 2020.
Madison Edgewood and Monona Grove are the conference favorites. Edgewood, which finished as the undefeated Badger South dual-meet champion in 2018, won the overall Badger South crown in outright or shared fashion for the 10th consecutive year. Monona Grove was second.
Watertown: Watertown coach Andy Dobbins welcomes almost 50 players to the program, the largest team he's had in his eight-year tenure. "We should be in the middle of the pack in the conference and we should be able to improve on last year's record," Dobbins said. "We will have a lot of newcomers, so we need to utilize our practice time and focus on the fundamentals. My goal is for this team to show improvement throughout the season. Junior Michael Kuckkan returns as the Goslings' No. 1 singles player. "Michael is a tremendous athlete and he uses that skill set to cover the court and stay in points," Dobbins said. Senior Jack Mattke and junior Izak Jensen have played doubles together, but Dobbins will determine if they play singles or doubles this year. "Both of these guys absolutely love the game and have put in a lot of time in the offseason, so they are ready to go," Dobbins said.
Oregon: The Panthers have seven starters returning. Players expected to factor into the lineup include seniors Sean Bychowski, Zach Roskos, Henry Wiedemann, Benjamin Hessler and Sean Benet. Brandon Thome and Max Herweijer are freshmen who could contribute. Scott Krueger and Chris Siebert are first-year coaches with the program.
Monroe: The Cheesemakers have six starters returning. Coach Matt Bordner is building the program, which has almost 30 players out for tennis. "We are still a very young program and looking to build more consistency and a better foundation," Bordner said. Seniors Evan Thompson and Nick Schumacher played No. 1 doubles last year, but Bordner said their versatility could have Thompson and Schumacher playing singles or doubles this season. About 10 players are trying out for tennis for the first time, including Kade King and Logan Leuzinger, Bordner said.
Fort Atkinson: Coach Mike DeRubeis has five starters returning and is excited that numbers continue to grow in the program. "If this year is anything like last year, the guys will be battling and fight for all 10 varsity spots," he said. "That will promote players to work hard to earn and keep their spots in the lineup. I feel we will be a scrappy team looking to improve on last year's success and, hopefully, win two or three conference matches this season." Players expected to contribute for Fort Atkinson include Nash Christian, Jackson Fenner, Jacob Schweiger, Logan Hamele and Logan Lehmann.
Sauk Prairie and Waunakee are the favorites, with Beaver Dam and Baraboo expected to be in contention. 
McFarland is the favorite, with Jefferson expected to be in the mix.
Watertown Luther Prep: Three starters return for Watertown Luther Prep, led by coach Timothy Wrobel. Seniors Caleb Hengst and Elijah Schwartz will be key returners. "They had a very good season last year and look to improve upon it," Wrobel said. Juniors Elijah Schulz, Silas Steinbrenner and Josiah Koelpin likely will contribute to the singles lineup. Wrobel views this season as a transitional year due to graduation losses.