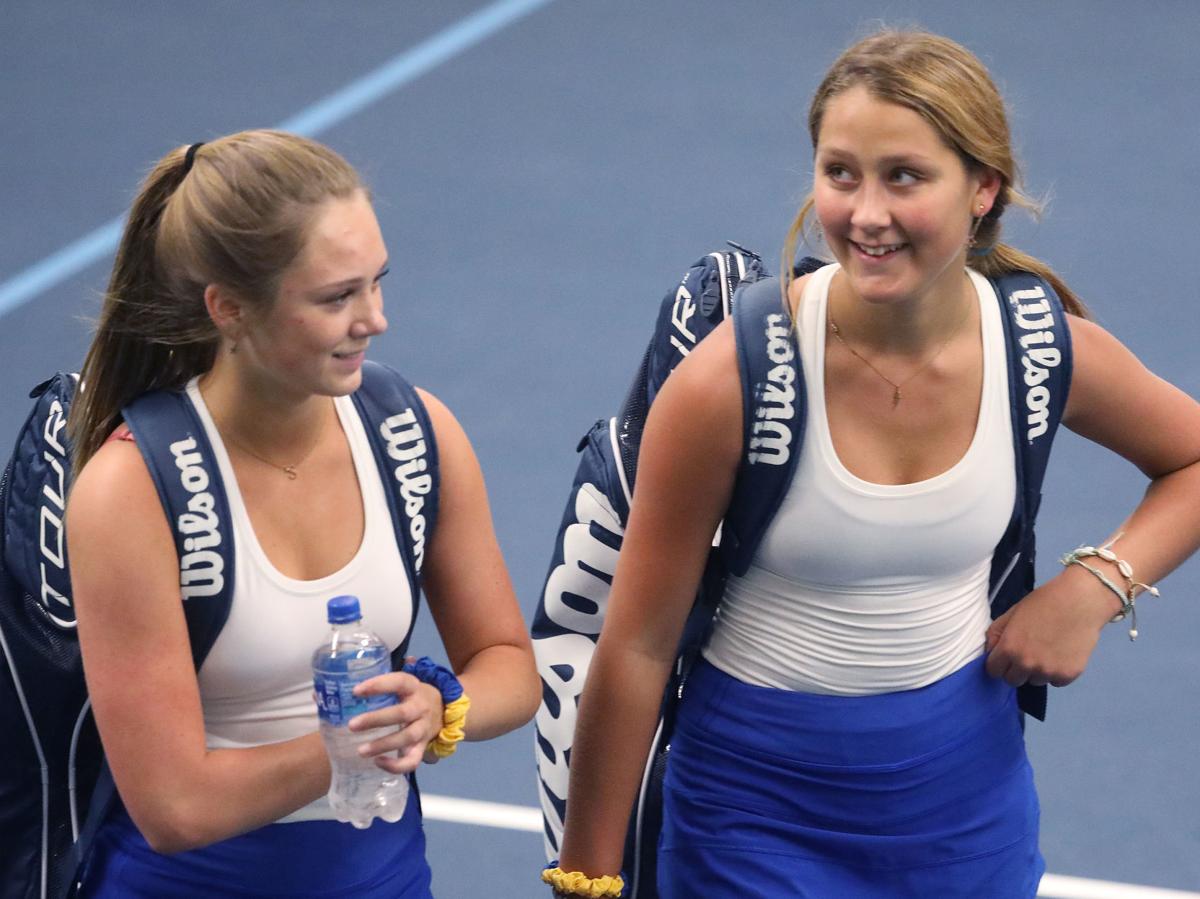 Three matches still were on court. But it was the No. 1 doubles match between Madison West and Middleton that served as the tipping point at Thursday night's Big Eight Conference girls tennis tournament.
Madison West senior Camille Vadas was glad she didn't know the match's potential significance in the team scoring before she and doubles partner Sophie Knigge took on Middleton's Jessica Pientka and Noor Rajpal at Nielsen Tennis Stadium.
Vadas and Knigge, a junior, pulled out a hard-fought 6-4, 5-7, 6-3 victory in the title match, earning a critical head-to-head win for the Regents against the Cardinals.
""I think it was better (not to know)," Vadas said. "We played for ourselves. After we lost the second set, we were just so ready to play again and to finish it off. We weren't really thinking about anything else."
Minutes later on the adjacent court, West junior Maddi Bremel finished off a 6-1, 6-4 victory over Verona senior Meredith Conley in the No. 1 singles final and secured the conference tournament title for the Regents, fourth-ranked in Division 1 in the Wisconsin High School Tennis Coaches Association state poll.
West, this season's undefeated conference dual-meet champion, had 42 points in the two-day event — one point better than 11th-ranked Middleton (41), which earned victories at No. 4 singles, No. 2 doubles and No. 3 doubles. Ninth-ranked Madison Memorial, which won the conference title last year, finished with 37 and championships at No. 2 and No. 3 singles. Verona was fourth with 33.
Coach Ryan Reischel said it was pivotal in the team scoring that West advanced to the semifinals in all seven flights.
"The thing that is most fitting is we win the tournament by a point and the duals against Middleton and Memorial were 4-3 ones," Reischel said. "So, it is a microcosm of our dual season. … I couldn't be any more proud of the girls."
Vadas and Knigge claimed the conference tournament title at No. 2 doubles last year and won a first-round match at the WIAA Division 1 state tournament.
"It has been difficult (moving up to No. 1 doubles)," Knigge said. "The style of play is different, but we have adjusted to it."
Said Vadas: "We are just excited we have had a successful season like we did last year."
Bremel, who finished second last year at No. 1 singles at the conference tournament, advanced to the final this year with a 6-4, 6-3 victory over Madison Memorial senior Grace Olson, the 2018 No. 1 Big Eight singles champion. Conley defeated Sun Prairie junior Lauren Hope Bruemmer 6-0, 7-6 (3) in the other semifinal.
"I'm super-excited," Bremel said after winning the singles title. "I think I played pretty well. I was really tired, but I pushed through. … (Winning the team championship) is super-exciting, too."
Said Reischel: "What a great match. (Bremel) diversified her game. She pulled Meredith in. She passed her. She hit lobs. She won points at the net. That was a really, really incredible high school girls tennis match. It was outstanding."
Middleton advanced its three doubles teams to title matches. Middleton junior Cece Hujanen and sophomore Rose Ryan earned the No. 2 doubles title — rallying for a 3-6, 6-2, 6-2 victory over Madison Memorial's Meera Manoharan and Elizabeth Wu.
"We had a very good turnaround (in the match)," Hujanen said. "In the beginning, we weren't playing awful. But we weren't playing our best and they were playing very, very good tennis. So, we had to come back and play even better."
Said Ryan: "We didn't hold back. We went all out."
Middleton seniors Nika Agapov and Anja Newcomer topped Verona's Hannah Bertrand and Zoe Qureshi 7-5, 6-0 in the No. 3 doubles final. Middleton junior Julia Zhang defeated Verona sophomore Elsa Queoff 6-0, 6-0 in the No. 4 singles final.
In a rematch of last year's No. 2 singles title match, Memorial senior Julia Zhou again defeated Madison West junior Abby Bremel, Maddi's sister. This time, Zhou won 4-6, 6-2, 6-1.
Memorial sophomore Nikita Remesh claimed the No. 3 singles title for the second consecutive year. Remesh defeated West sophomore Abby Lin 6-1, 6-0 in the final. It was a rematch of last year's No. 3 title match when Lin played for Middleton.
Get in the game with our Prep Sports Newsletter
Sent weekly directly to your inbox!