MIDDLETON — The Sun Prairie boys swimming team's belief that it could win a WIAA sectional championship for the first time was growing with each race Saturday.
And when Sun Prairie junior and second-seeded James Werwie exited the pool with a victory and a personal-best time of 4 minutes, 47.64 seconds in the 500-yard freestyle, the Cardinals' confidence went through the roof.
"We had a good cushion in the first half (of the meet)," Sun Prairie coach Joel Coyne said. "Once we hit that 500 and James came on and closed out that race, it turned a corner and we really started believing we could pull this meet off. Everybody started buying in (and saying), `Oh, we've got this. We've got this.' It was so much fun."
Led by junior Ben Wiegand, second-ranked Sun Prairie won three individual events and two relays in totaling 373 points and earning first place in the Division 1 sectional. It was the first sectional title for Sun Prairie after last week's program-best, runner-up finish at the Big Eight Conference meet, Coyne said.
"Oh, my God, I'm overjoyed, I'm elated," Coyne said. "I'm feeling proud. Proud is probably the word for a team that started to believe at the end of last season and to get to where we are today. They put in the work and I couldn't be more proud of their accomplishment today."
Fifth-ranked Madison West, which has won the last two Division 1 state titles, was runner-up with 341.5 points. Big Eight meet champion and third-ranked Middleton finished third (334) and Verona/Mount Horeb was fourth (276) in the 11-team meet.
"We were trying to win the sectional, but we were more focused on the state meet next weekend," Werwie said. "It's really nice to win this meet. It is a big confidence booster for us, in my opinion.
"We beat Middleton at the Marquette Invitational (earlier this season), but we haven't beaten them since. So, it was like we proved that we are still one of the fastest teams in the state."
Wiegand won the 50 freestyle in 20.37 seconds and the 100 breaststroke in a personal-best :57.02, which also was a pool record and school record.
"It means a lot," Wiegand said about winning the sectional. "But I feel as much as this means, I think we are moving on to state. That is our next goal. This team has come really far in the years I've been here, and even in the past 10 years. It's really cool to see that the success is starting to come."
Wiegand, who has orally committed to the University of Wisconsin, also was part of two victorious relays – the 200 medley relay and the 200 freestyle. The team of junior Campbell Sullivan, Wiegand, junior J.P. Anhalt and sophomore Ethan Braatz won the medley relay in 1:34.48; and the team of senior Cade Roggenbauer, Anhalt, Braatz and Wiegand won the 200 freestyle relay (1:25.09).
"Coming in, I was focusing on state, trying to make sure I made it there," Wiegand said. "I wanted to swim fast, but I also wanted to make sure I didn't screw up or disqualify. The best part of the day was the 200 medley relay. That was an awesome way to start the meet. I thought that really set the tone."
Madison West senior Isaac Casey-Hrenak, a UW commit, was the 100 freestyle winner in a pool-record time of :45.74 and led the Regents' runner-up performance.
"It came out just right," Regents coach Jack Englehardt said. "Everything went according to plan. We had some crazy time drops from some people that (other) people probably didn't see coming. … I'm super happy with it."
Middleton senior Forrest Peterson won the 200 freestyle (1:43.39) and Middleton senior Nathan Kim, a Minnesota commit, won the 200 individual medley (1:55.74). The Cardinals team of Peterson, freshman Jack Madoch, freshman Nick Chirafisi and Kim won the 400 freestyle relay (3:12.30).
"For the most part, we swam great," Middleton coach Danny Lynam said. "We had a few hiccups. We've been fighting illness this season and these past weeks, especially. We just didn't have the momentum we've had in past years coming into it. And when you are swimming against teams like Sun Prairie and West, they are going to take advantage of it."
Verona/Mount Horeb sophomore Oscar Best won the 100 butterfly (:50.28) and Waunakee junior Zach Vinson won the 100 backstroke (:53.23).
Beloit Memorial sectional
The host Purple Knights took fifth in the 11-team Division 1 sectional. Muskego took team honors after winning six of 12 events. Beloit junior Ben Saladar won the 100 freestyle (:46.87) and took second in the 100 backstroke and 400 freestyle relay.
Defending Division 2 state champion Madison Edgewood won seven events and added five runner-up finishes to total 391 points and lead the 11-team field. Sauk Prairie/Wisconsin Heights was second, McFarland third, Baraboo fourth and Monona Grove fifth.
Edgewood senior Truman teDuits won the maximum four events, taking the 100 butterfly (:49.86) and 200 individual medley (1:51.30) and joining the winning 200 medley relay (1:36.88) and 400 freestyle relay (3:14.83). Senior Nate Frucht won the 200 free (1:43.56) and swam on two winning relays.
Baraboo senior Aidan Lohr won the 100 free (:46.67) and 100 backstroke (:49.74). DeForest senior Ben Ramminger won the 100 breaststroke (:57.76) and Stoughton freshman Evan Schmidt won the 500 free (4:48.43).
---
Photos: WIAA Division 1 sectional boys swim meet
Photos: WIAA Division 1 sectional boys swim meet
WIAA Division 1 sectional boys swim meet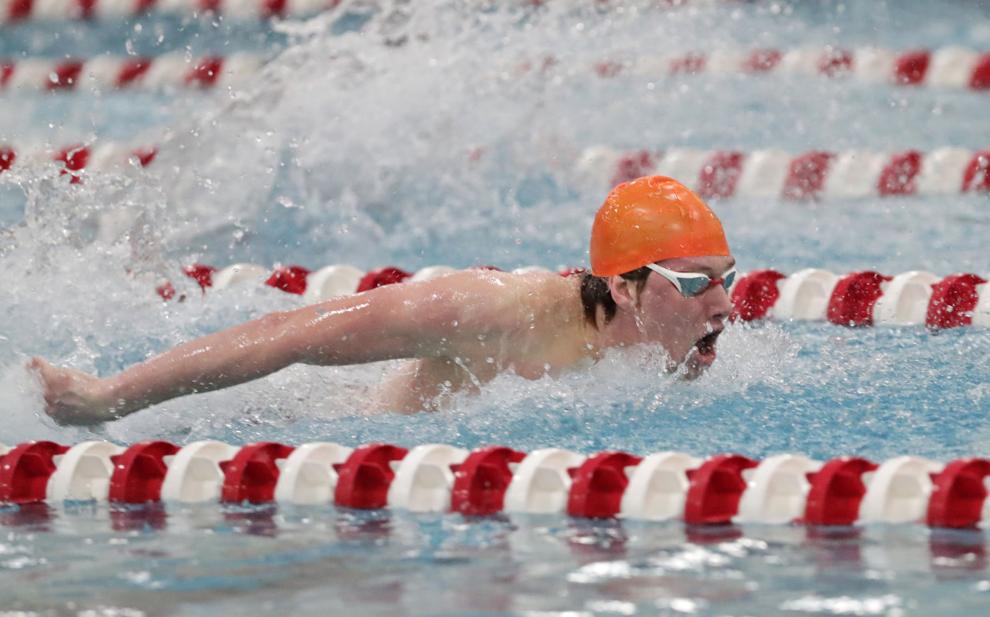 Prep boys swimming photo: Madison West's Isaac Casey-Hrenak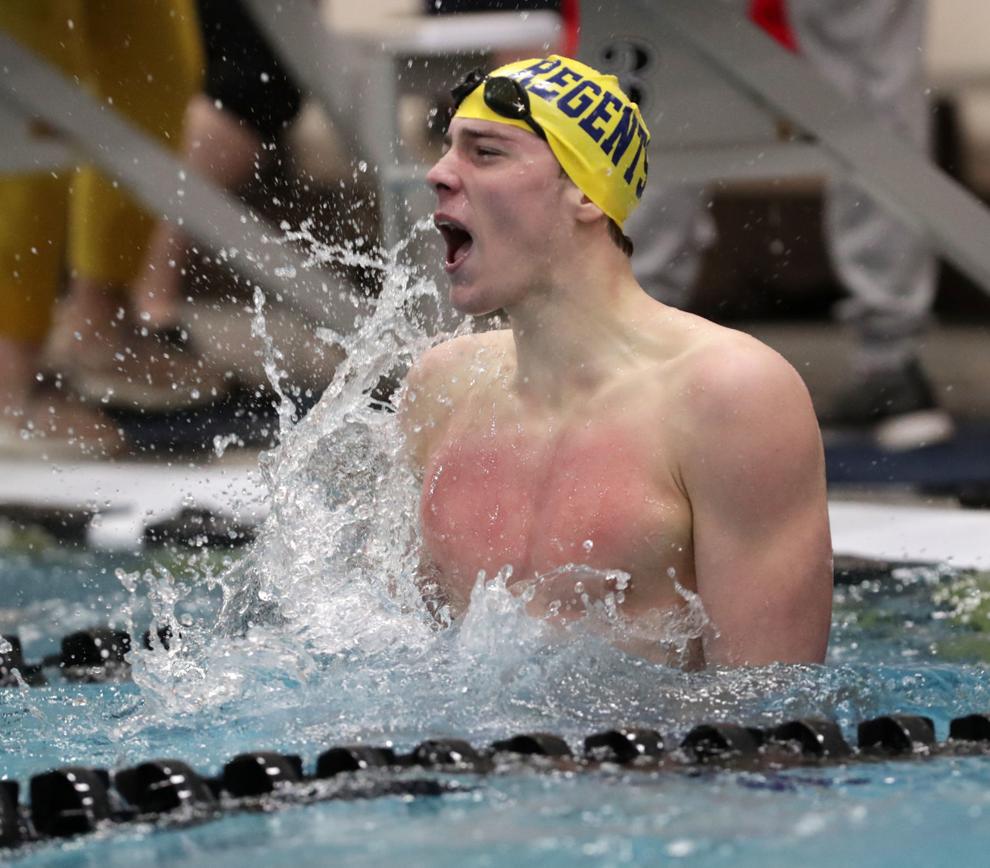 WIAA Division 1 sectional boys swim meet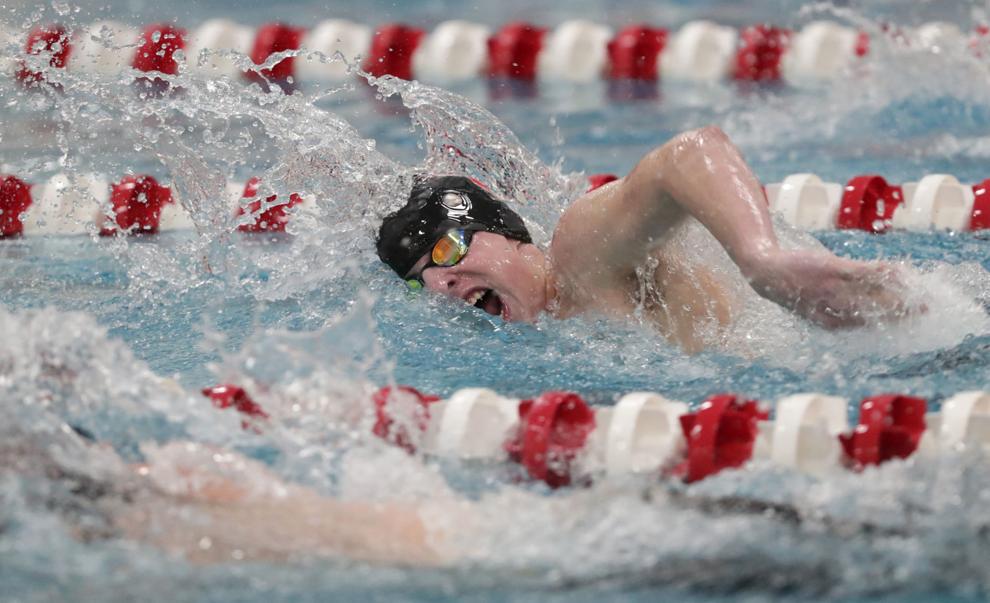 WIAA Division 1 sectional boys swim meet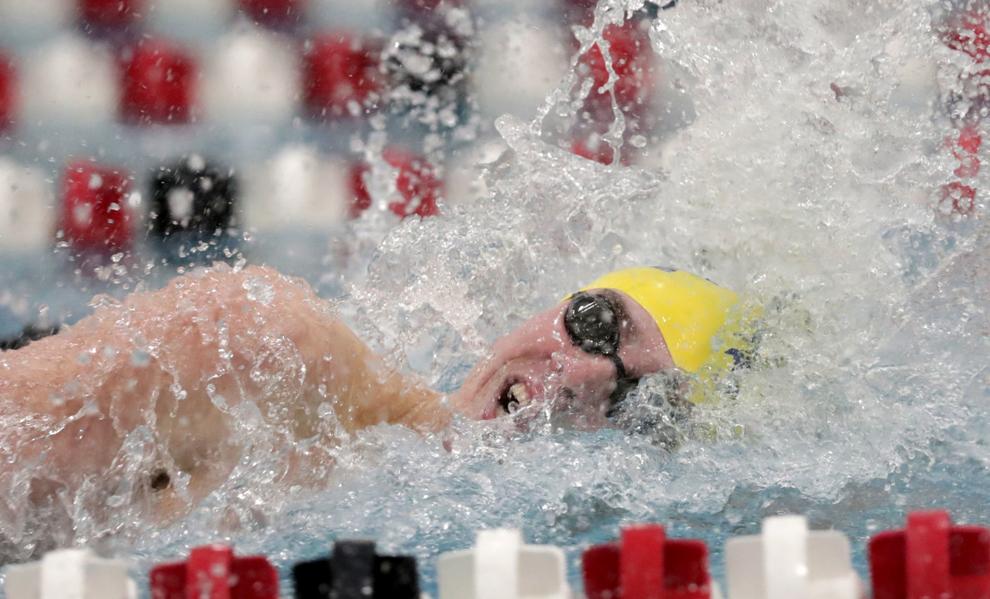 WIAA Division 1 sectional boys swim meet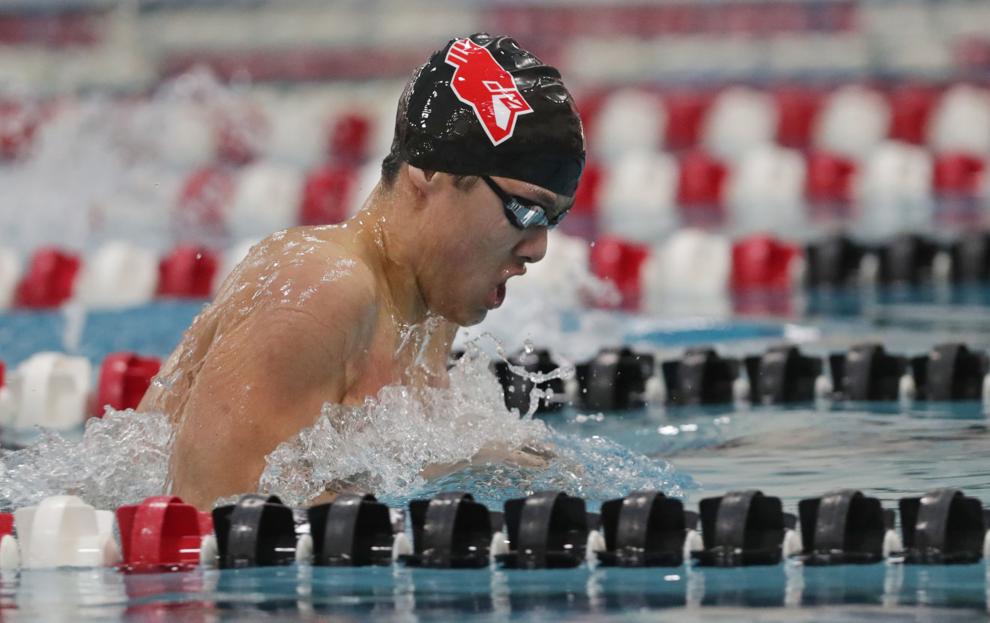 WIAA Division 1 sectional boys swim meet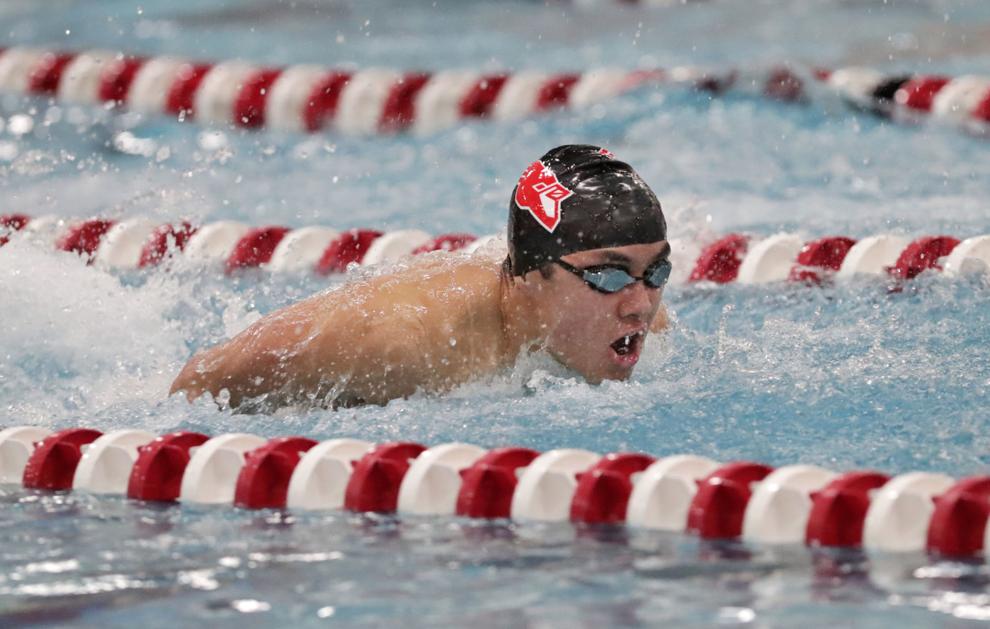 WIAA boys swimming photo: Sun Prairie junior Ben Wiegand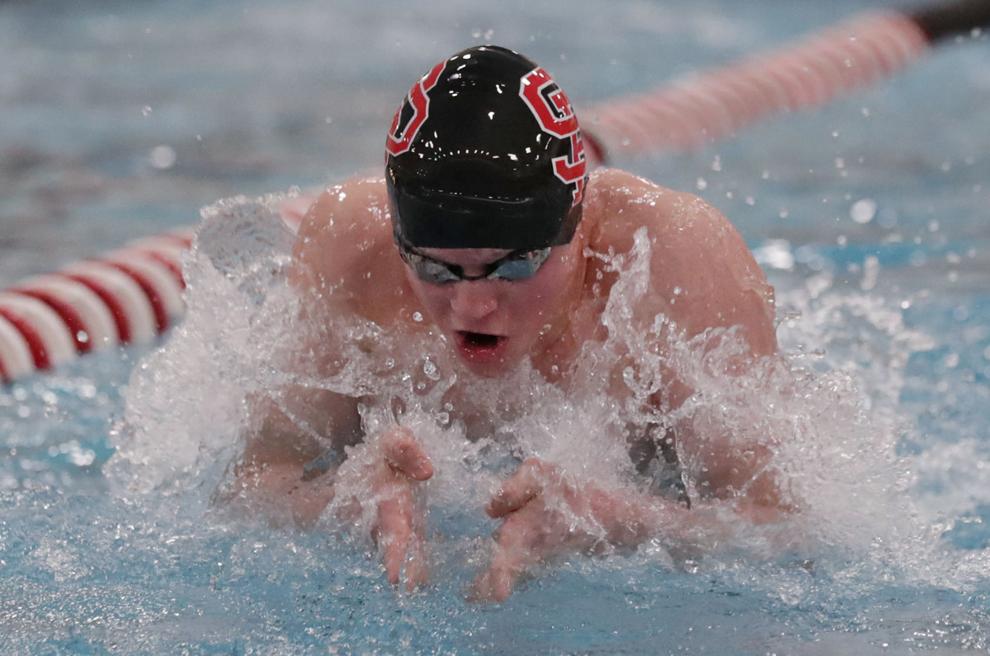 Prep boys swimming photo: Sun Prairie's James Werwie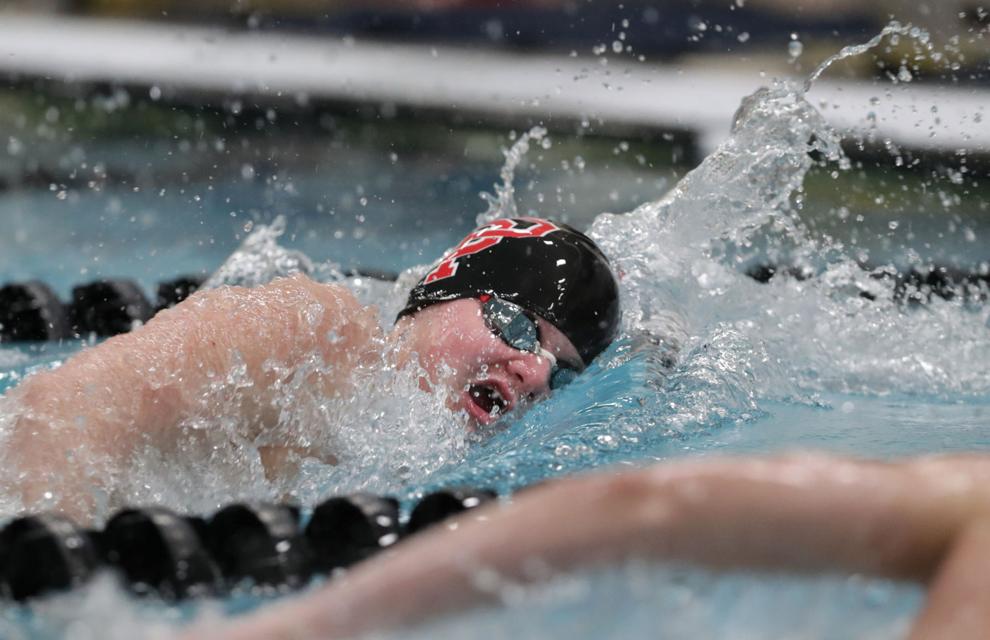 WIAA Division 1 sectional boys swim meet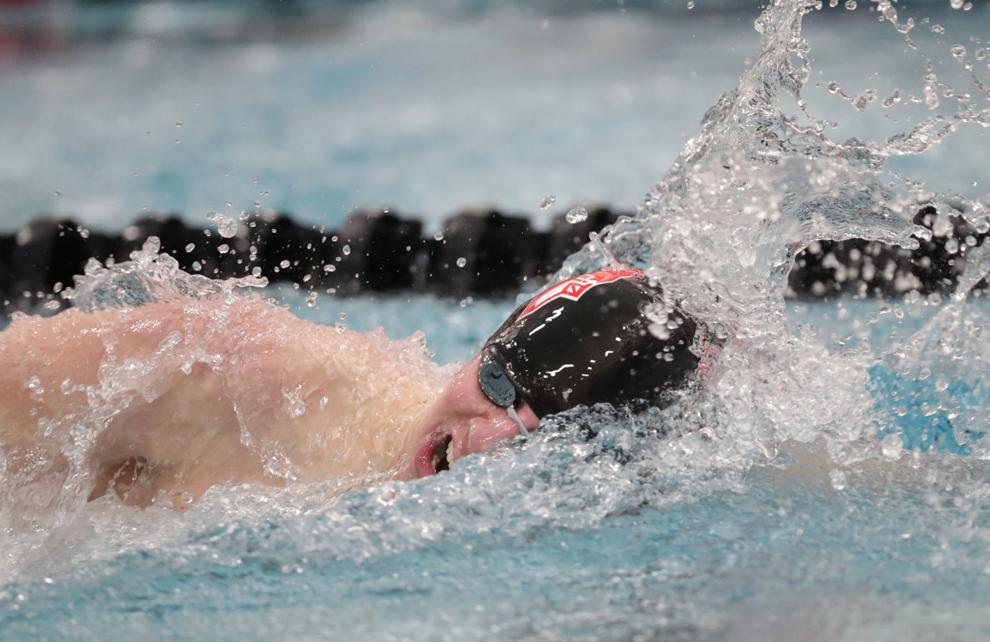 WIAA Division 1 sectional boys swim meet
WIAA Division 1 sectional boys swim meet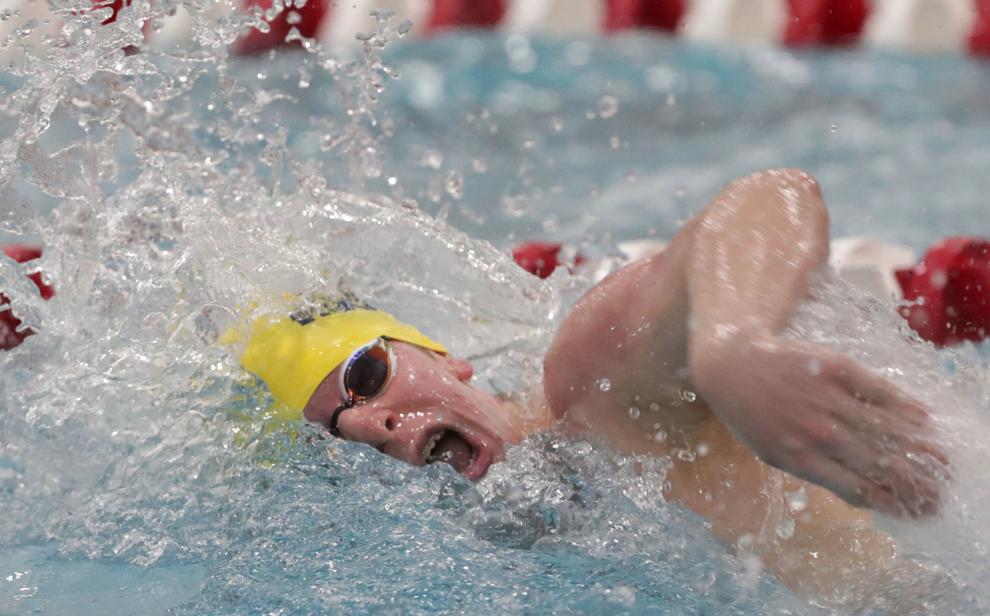 WIAA Division 1 sectional boys swim meet