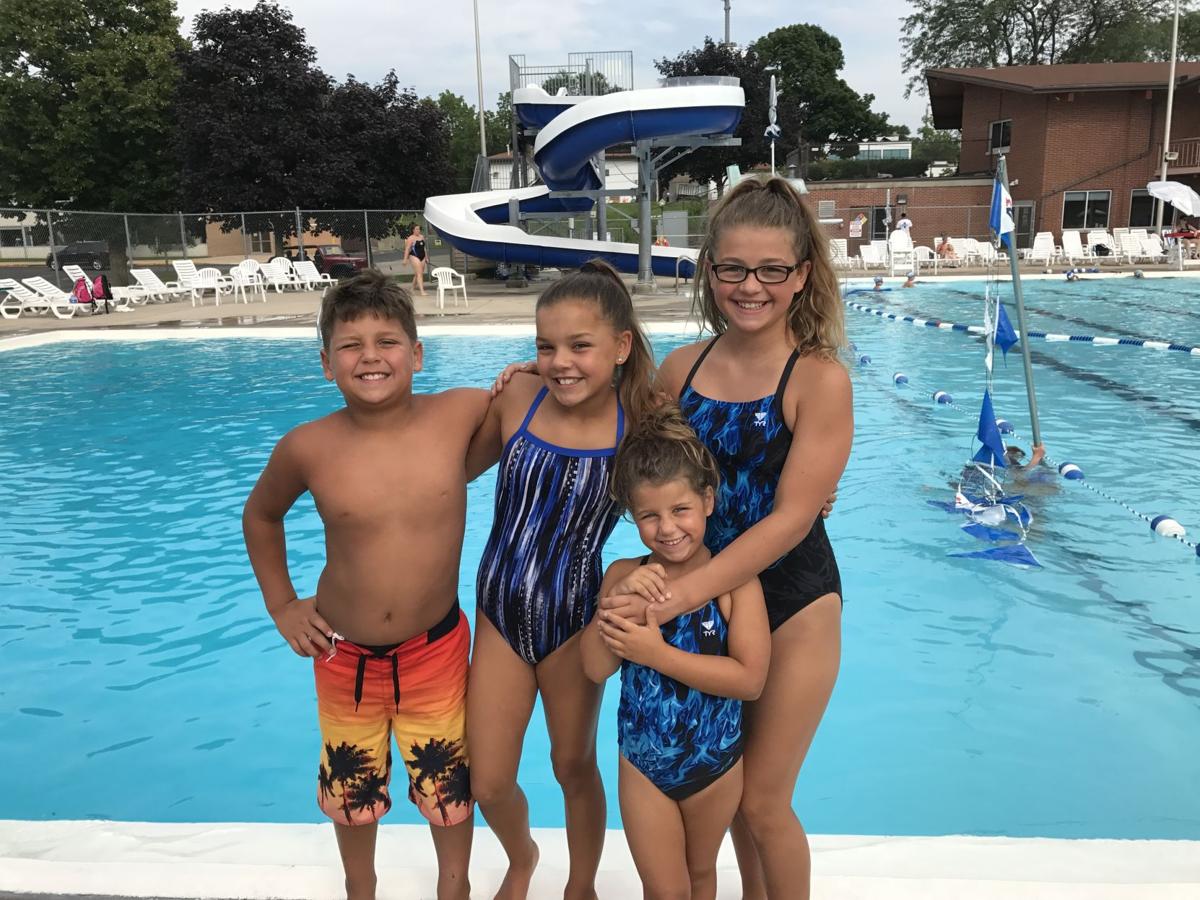 At first, Matthew and Kristen Mabie said their children just wanted to swim, stay active and stay cool during hot Madison-area summers.
But now, they're all divers -- and ready to compete against some of the 300-plus young divers from 13 area pools at Monday and Tuesday's All-City Dive meet at the Monona Community Pool.
All four Mabie children -- Matilyn, Kendyl, Mason, and Kinley -- will be at the pool. Matilyn, 13, Kendyl, 11, and Mason, 9, will compete for a fourth year of league competition. Kinley, 6, will enter her first All-City meet. Monona will compete against teams from Goodman, Hawks Landing, High Point, Hill Farms, Maple Bluff, Middleton, Monona, Nakoma, Parkcrest, Ridgewood, Seminole, Shorewood and West Side pools.
The Mabie family, of Cottage Grove, got into diving as a fallback after the swim teams filled up. "We were going to do swimming but then it was all full," Mason said. "So then we signed up for diving, and just stuck with it because we liked it so much."
The father, Matthew, remembers his days spent swimming and taking lessons at the Monona pool as a child: "I remember riding a bus and coming in here and freezing my tail off every morning."
As the kids' interest in the sport evolved, Matthew and Kristen decided that if they were going to spend so much time at the pool, they might as well help out where they could. When they aren't shuttling the kids to morning and evening dive practices, Matthew, who grow up in Cottage Grove, and Kristen manage Cottage Grove Hometown Pharmacy.
"Having to be (at the pool) one or two times a day during the week for two and half months, you get to know families, you get to know co-director Phil McDade. We just started going to the meetings and volunteering for the different social events," Kristen said.
With families around the area congregating in Monona for the meet, organizers depend on volunteers such as the Mabies to help run the event smoothly.
You have free articles remaining.
"When we put out the call to help sell donuts in the morning or help set up bleachers on Sunday night, a lot of people stepped up and pitched in right away," said Phil McDade, a co-director of the dive meet alongside Michelle Benedict. "We've got roughly 75 to 80 volunteers that will be working over the two days of actual meet competition. It's a real team-wide effort."
The meet also provides talented divers from around the area a venue to showcase their skills in an area where diving facilities are limited.
"We wish more schools and locations had a dive team and diving boards along with the swimming pools." said Kristen Mabie. "We can really only (dive) during the summer, otherwise we would have to go to the Natatorium at UW."
Even the Mabie's hometown Monona Grove High School, which produced last year's WIAA Division 2 state diving champion Henry Carman, doesn't have a diving well.
Carman won last year's all-city dive title by performing what was considered the most difficult dive in meet history. But he had to travel to a YMCA in Brown Deer to practice during the winter season.
"I think that's one of the reasons you've seen some growth in popularity for the summer program. You just walk down to your neighborhood pool and you are going to have a pool to dive in," McDade said."Every single one of these pools in the all-city league -- all 13 of them -- have pretty nice diving facilities."
According to McDade, the last time Monona hosted the dive in 2005, the meet featured 225 divers. This year, the number has swelled to 315. Also this year, the relatively new Goodman pool team will compete in the dive meet for the first time.
The continuing rise in popularity of diving combined with the success of the all-city events keep families like the Mabies coming back.
"I like (the meet) because I'm with my friends and cheering them on," Kendyl said. "It's good team building."
• Summaries in Scoreboard. B9