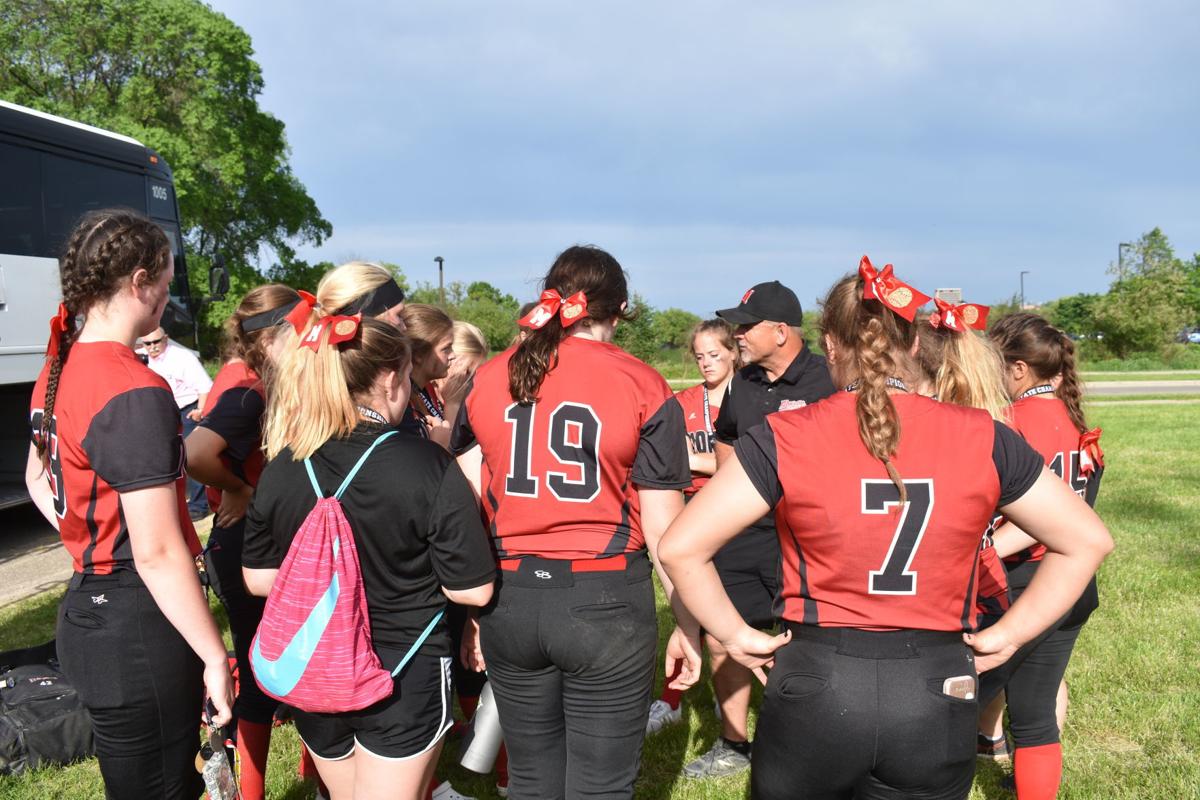 The big chances came early on Saturday for the Monroe softball team And they missed them.
The Cheesemakers' collapse came late. And the harder they tried to shut off the faucet, the flow increased — from a drip to a stream to full-tilt fire hose.
The end result was a 9-1 loss to Seymour in Saturday's WIAA Division 2 state championship game at Goodman Diamond.
The Cheesemakers (23-5) and Thunder (26-1) played through five scoreless innings, until the flood washed away Monroe's hopes in the top of the sixth.
"I would feel sorry for anybody who had (to endure) an inning like that," Monroe coach Joe O'Leksy said.
"One inning can definitely change a game," Monroe pitcher Olivia Bobak said. "For us, not in the way we wanted. … But it happened."
Those nine runs came on five hits, two walks, four Monroe errors and more than a couple of mental mistakes — mostly a result of small-ball, bad bounces and questionable defensive choices.
"We made some poor decisions on where to go with the ball," O'Leksy said.
And then, Seymour junior Chloe Evans tied the whole thing up in a neat package for her Thunder. The left-handed hitter blasted a three-run home run over the fence in right-center field for her team's final runs of the day.
"I saw it right away, right out of (Bobak's) hand," said Evans, who also doubled to lead off the sixth. "I swung really hard — I put my all into it. It was unbelievable. I was so full of emotion. I had put so much (work) into being there in that moment."
Evans started the sixth with a bloop double to right-center. Junior Diahanna King reached on a misplayed ground ball, putting runners on second and third, and an intentional walk to senior pitcher Paige Weyer filled the bases.
Junior Dinah King then hit a sharp grounder that sophomore third baseman Lizzie Snider snagged. But instead of trying to get a force out at third or throwing to first, she threw home, late, and the ball got past catcher Katie Hayes, allowing two runs to score. Senior Patricia Nieland then hit a two-run single. Another fielder's choice and throwing error allowed two more runs to score, and then came Evans' homer.
What made the nightmare inning even tougher for the Cheesemakers to swallow was the fact that they had chances for a couple of big innings of their own in the early going.
The Cheesemakers loaded the bases with no outs in the bottom of the third inning, but came away empty-handed when senior Hailey Betthauser grounded into a fielder's choice that led to a force out at home, sophomore Sydney Updike struck out swinging and Bobak grounded out to first.
In the fourth, the Cheesemakers had runners on second and third with two outs, but a strikeout ended that threat.
"It was so frustrating," said Monroe junior Grace Tostrud, who hit the ball hard all day and wound up with one hit. "Today, they definitely made more plays than we did."
"We could have had runs early in the game, but we couldn't come through."
Monroe broke the deep freeze with a run in the bottom of the seventh. Snider singled to center, moved up on a ground out and a ground single by Betthauser, and scored on a base hit by Updike.
Alyse Maurer, Updike and Snider each had two hits for Monroe. Evans, Dinah King and Nieland each had two of North's seven hits off Bobak, who walked four and struck out eight.
"It hurts being here now," O'Leksy said, "but one inning doesn't define what we did this season."
Get in the game with our Prep Sports Newsletter
Sent weekly directly to your inbox!