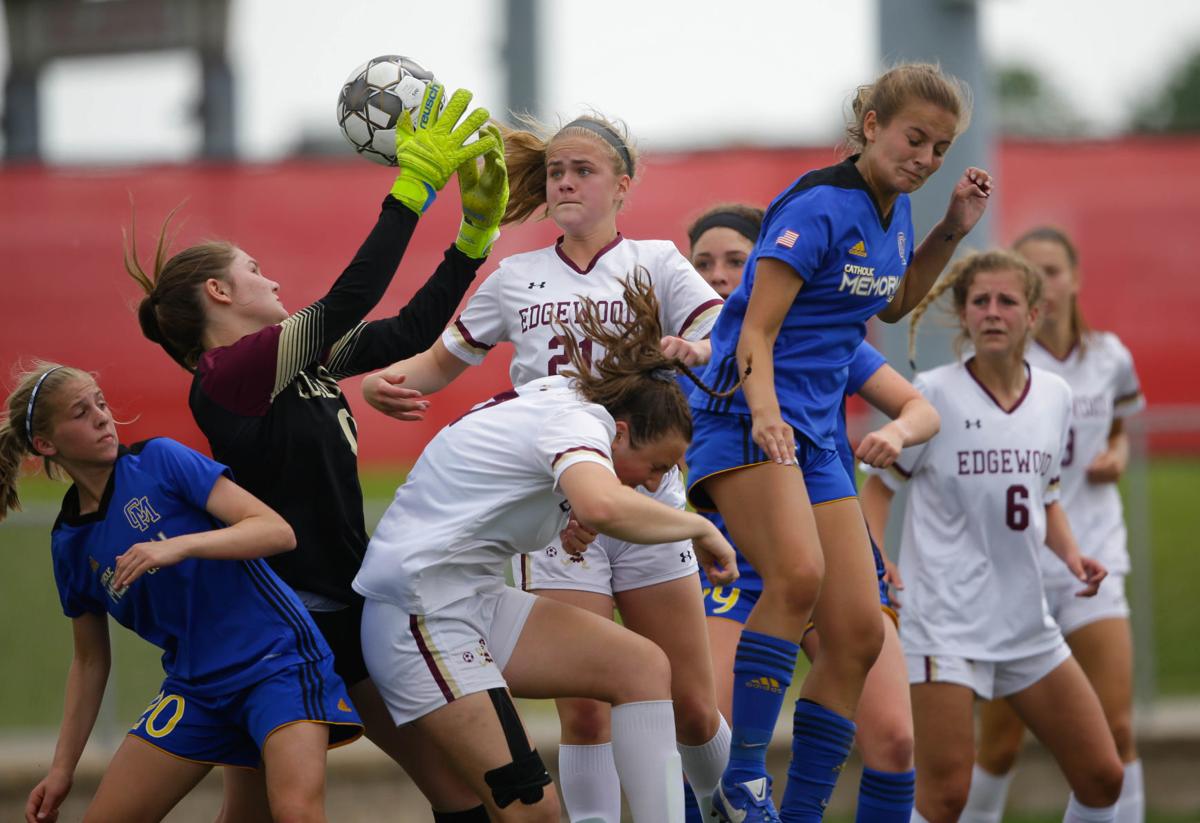 MILWAUKEE — Not even the formidable will of Madeline Cruz was enough to earn a gold ball for the Madison Edgewood girls soccer team on Saturday.
The senior was a whirlwind of perpetual motion and pure determination during the WIAA Division 3 state championship game against Waukesha Catholic Memorial.
But for Catholic Memorial, an early goal, a change in the weather, a second-half slowdown strategy and a late lucky bounce all combined to produce a 1-0 victory at Uihlein Soccer Park.
"(Cruz) was fighting a lot of forces, but she's very skillful and she's a kid with a lot of heart," Edgewood coach Chris Martinelli said. "She did everything in her power to will the ball (into the goal) there."
According to one doctor — the one Cruz saw before seeking out a more favorable second opinion — she probably shouldn't have been playing at all for Edgewood (18-2-2).
"I broke my nose against Madison La Follette (in the regular-season finale on May 21)," said Cruz, a University of Wisconsin recruit. "It was broken in three different places."
She missed two WIAA regional games, but found a doctor who fitted her with a clear plastic face mask and cleared her to return for sectionals.
"My first doctor said I shouldn't play the rest of the season, but I wasn't having that," Cruz said. "I came back and scored in both our sectional games."
While Cruz didn't love the restricted vision of the face mask — "it's like passing with a blindfold," she said — it didn't keep her from playing aggressively on defense and hustling constantly to find a spot for an open shot on offense.
That shot came with 5 minutes, 24 seconds left in the match. Off a corner kick from the left side from sophomore forward Hailey Rothwell, Cruz took a pass about 15 yards off on the left wing and fired.
"I thought I was going to be able to bend it in around the post," Cruz said. "But the wind got hold of it."
Cruz's shot — and Edgewood's hopes to force overtime — banged off the left goalpost and harmlessly to a Catholic Memorial defender.
You have free articles remaining.
It was Edgewood's only shot on goal of the game, and only its fifth shot overall. Catholic Memorial had only five shots, too, but three of them went on goal — and one got past freshman goalkeeper Ellie Meriggioli.
Junior Emma Westrick's corner kick from the left side was centered perfectly, and senior Shannon McWilliams tried to send a header past Cruz and Meriggioli. While Meriggioli was able to tip the ball, it went directly to junior Emma Kober — who headed the ball to her right and into the goal at 34:20.
"I tried to tip it over the goal, but it hit the post and (Kober) was there to finish," Meriggioli said.
Shortly after that goal, the weather shifted — a heavy wind picked up and the temperature dropped more than 15 degrees, down to the upper 50s. The wind favored Catholic Memorial in the second half, and veteran coach John Burke's team took advantage.
Memorial ran a soccer version of the four-corners offense in the second half, keeping the ball on the Edgewood side of the field without actively trying to attack the goal. The idea was to run time off the clock, and a bonus was the way it frustrated the Edgewood offense.
"It's not even soccer. That's how I look at it," Cruz said of the strategy. "They weren't even thinking about attacking. ... That second-half wind gave a huge advantage to them."
Said Martinalli: "The wind made for tougher sledding for us in the second half. It was pretty formidable."
The result was Catholic Memorial's 11th state championship and seventh in the past eight years — a streak interrupted by Green Bay Notre Dame in the state final last year. Edgewood fell to 1-2 in state championship games against Catholic Memorial, and missed out on what would have been a third state title.
"We played so well, so tough, today," Martinelli said. "Our kids have a ton to be proud of."
Catholic Memorial 1 0 — 1
First half: Kober, 34:25.
Shots: ME 3-2-5; WCM 3-2-5. Shots on goal: ME 1; WCM 3. Saves: ME (Meriggioli) 2; WCM (Evert) 1. Corner kicks: ME 3; WCM 8. Offside: ME 1; WCM 0. Yellow card: ME, A. Cruz, 87:07.