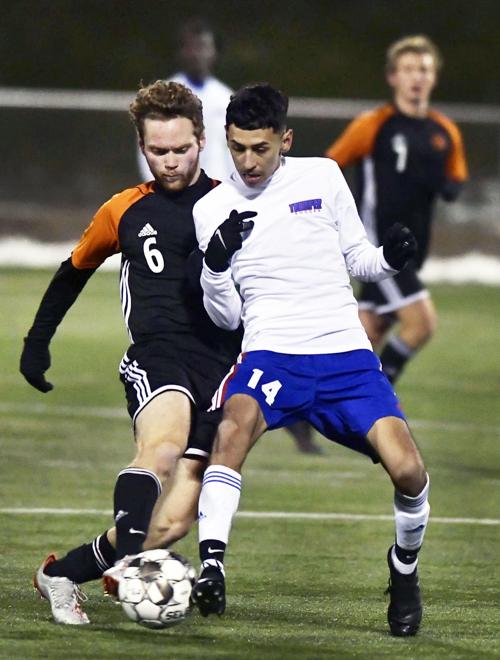 MILWAUKEE — Last week, it took 88 minutes for the Verona boys soccer team to punch its WIAA state tournament ticket — the first in school history.
So when Friday finally arrived, the Wildcats were in no mood to wait.
Eliot Popkewitz took care of that. He pushed a second-chance shot past Kenosha Tremper goalkeeper Ben Wajerski in the 10th minute of play, helping Verona build a 3-0 victory over the Trojans in a Division 1 semifinal at Uihlein Soccer Park.
Popkewitz also delivered last week, scoring in the 89th minute to give the Wildcats a 1-0 victory over Madison West in a sectional final. Now, the Wildcats (20-1-2) will be Division 1 state champions if they can get past Neenah (18-1-3) at 7 p.m. Saturday. Neenah beat Eau Claire Memorial in the other semifinal Friday, 4-1.
"When you have that lead, it gives you a little more comfort," said Verona coach Chris Handrick. "This team is constantly fighting to put that ball in the back of the net and knocking on the door. We outshot them by quite a bit today."
"It's a state semifinal, so you want to come out hard," Popkewitz said. "You want to come out strong."
After Popkewitz's early goal, Jack Knight made sure there was no wiggle room by adding a goal and an assist in the second half. Meanwhile, the Wildcats built a 25-7 advantage in shots, including a 12-2 margin in the first half. Verona goalkeeper Nate Hanson needed to make only one save in the game.
In the 10th minute, Popkewitz broke away from traffic for a near-point-blank shot that Wajerski swatted away. But the rebound came right back to Popkewitz and he knocked it right in.
"You're trained in soccer to follow every shot and be prepared for whatever happens," Popkewitz said. "I just did what I usually do, and it happened to come right back to me. I wanted to hit it in the first time, but a goal is a goal."
It was also was Popkewitz's 13th of the season and fifth of the postseason.
"There's no better person than Eliot to finish that play off," Handrick said.
It was still a 1-0 game four minutes into the second half when Jack Knight doubled the Wildcats' lead, taking a feed from Sam Abreu for his 15th goal of the year and fourth of the postseason.
Knight came up big again for Verona in the 74th minute, finding Gannon Simonett at the top of the box for a give-and-go that gave the Wildcats a 3-0 lead over the Trojans (11-8-2).
Knight admitted that nerves might have held him back in the first half, but he said he felt much more relaxed after the break.
"When I saw my opportunities, I took them," Knight said. "I passed the ball better and completed more passes. Just the fact that I was more relaxed helped me a lot. All we have to do now is put away the next team and it's the state title."
The championship matchup will be the first since 2013 that doesn't include perennial powerhouse Milwaukee Marquette, which had won nine of the last 10 championships but lost a sectional semifinal to Mequon Homestead last week.
The Wildcats, though admittedly somewhat disappointed to miss a chance to dethrone the defending champs, know the opportunity to make history is right in front of them.
"We would have loved the opportunity to take on Marquette. However, we want the opportunity to play for (the) state (championship)," Handrick said. "We want people to know who we are.
"Whoever we're going against, we want people to see the Verona Wildcats and to see the heart and the style that we play."
Neenah 4, Eau Claire Memorial 1
The Rockets (18-1-3) got two goals from Thomas Priest and two assists from Andrew Nazr, opening a 3-1 lead over the Old Abes (19-2-3) before closing the scoring with an own goal in the final minute.
Brookfield Central 2, Elkhorn 1
The Lancers (14-6-1) upset the Elks (17-2-0) as John Bochenczak and Marcelo Garay scored second-half goals to wipe out a 1-0 halftime deficit. Luke Schoeneberg scored for Elkhorn.
Brookfield East 4, New Richmond 1
The Spartans (17-2-2) scored four second-half goals to pull away against the Tigers (21-3-1). Jack Corbett scored twice for the winners.
Get in the game with our Prep Sports Newsletter
Sent weekly directly to your inbox!