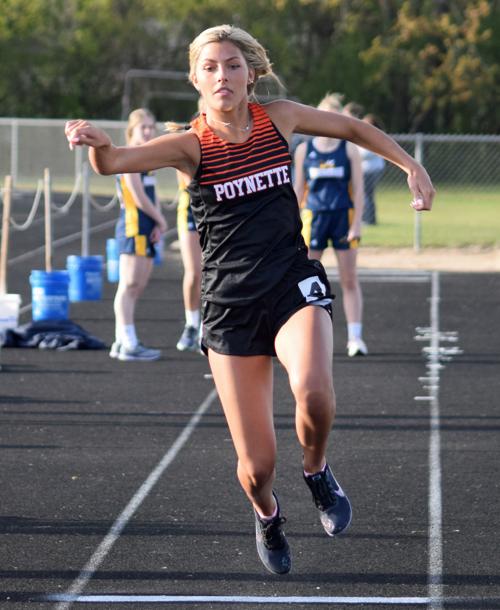 Senior quarterback Quinn Faust threw for two third-quarter touchdowns and ran for another Saturday, helping Lodi close an unbeaten football season with a 40-6 victory over visiting Kewaunee.
The Blue Devils went 6-0, outscoring their opponents by a combined 188-49 and never trailing in any game.
Faust connected with Garrett Edge for a 5-yard touchdown and Connor Faust for a 2-yard score to help Lodi turn a 6-0 halftime lead into a 26-0 advantage entering the fourth quarter. Quinn Faust had a 42-yard TD run in the fourth and finished 12 of 19 passing for 132 yards.
Junior running back Lucas Heyroth contributed two short rushing touchdowns and totaled 108 yards on 19 carries. Kewaunee (2-4) was held to 133 yards.
Boys soccer
Waunakee/Middleton quad
Waunakee beat Eau Claire Memorial 2-1 to post a 2-0 record in two games against Eau Claire opponents.
Zach Tiemeyer scored a tiebreaking goal at the 62:09 mark of the second half after Lane Miller's first-half goal tied the game. The Warriors also beat Eau Claire North 7-0 as Dima Govorukha scored two goals and added an assist.
Middleton beat North 6-0 as Chris Vanden Boom scored three goals and had an assist. Memorial took a 2-1 victory over Middleton, opening a 2-0 lead on a penalty kick by Ryder Woodworth in the 53rd minute and hanging on after a Vanden Boom goal two minutes later.
Evansville 11, Brodhead 0
Tyr Severson only gave up two hits, pitching five innings for the Blue Devils to shut out the Cardinals. Aidan Maves scored two runs and three RBI's and Bennett Keller racked up four RBI's for Evansville. Chase Harnack batted two-for-two for Brodhead.
Dodgeville triangular
Madison Edgewood opened with a 10-1 win over East Dubuque, Illinois, as Henry Bishop and Joe Hartlieb homered and Steffen Mello allowed six hits in six innings.
Dodgeville took a 7-3 victory over Edgewood, getting a double and two RBIs from Anthony Vivian and two hits from Dillon Garthwaite. James Hackworthy and Andrew Budzinski had two hits each for Edgewood.
Mount Horeb scored 11 runs in the second inning, getting home runs from Anthony Culberson and Kolton Schaller and four RBIs from Finn Polman to take a 14-7 victory over Fennimore.
Mount Horeb also beat Lancaster 12-1 in another five-inning game. Charlie Bogue was a double short of the cycle with four RBIs, and Polman had three RBIs.
Bay Port 19-13, Middleton 2-17
The visiting Cardinals cranked out 19 base hits, including a single, double and triple by Erik Pongratz, to take a 17-13 win over the Pirates in the second game of a doubleheader. In the first game, Eli Frank hit a grand slam and the host Pirates scored 13 runs in the second inning to beat the Cardinals. Nolan Smith tripled for Middleton.
DeForest 16, Fort Atkinson 14
The visiting Norskies survived an eight-run rush by the Blackhawks in the bottom of the seventh inning to pull out a victory behind 11 hits, 10 walks and 13 stolen bases. Josh Jansen had two hits and Tyler Ebel drove in three runs for DeForest.
Westosha Central 19, Oregon 12
A slugfest saw the visiting Panthers fall to Westosha Central after getting outscored 8-1 over the final four innings. Michael Mullhollon had four hits, including a double, and four RBI's for Central, and Matt Felske added three RBI's. Ryne Panzer had two hits and three RBI's for Oregon.
Marshall 5, Randolph 3
Haiden Nolden pitched a four-hit complete game, striking out eight, to lead the Cardinals past the visiting Rockets. Mason Haberkorn and Cole Denniston drove in two runs apiece for the winners.
Softball
DeForest Invitational
Verona beat DeForest 2-0 in the decisive game of the four-team tournament as pitcher Hilary Blomberg threw a three-hit shutout with 12 strikeouts. Alyssa Bostley homered for Verona in the top of the sixth inning, ruining the five-hit performance of DeForest pitcher Kylee Jansen.
DeForest scored 11 times in the bottom of the third inning but still fell 18-11 to Monona Grove as Dani Lucey, Emma Uschan and Emma Lee homered for the winners and Paige Hanson went 4-for-5 with a triple and two doubles. Jordan Marty had four hits for DeForest.
Verona beat Monona Grove 10-0 in six innings behind a complete-game shutout by Alyssa Bostley. She allowed one hit, no walks and struck out 12. Katie Pederson was 2-for-3 with two RBIs.
Deerfield 10, Cuba City 0
The Demons shutout the Cubans, letting up only five hits. Dani Arment went 2-for-2 for Deerfield with a run, a double, and three RBI's. Kylie Damon batted 2-for-3, scoring two runs, a triple and an RBI.
Middleton 12-9, Oregon 4-3
The Cardinals won the first game as Olivia Hebert homered and doubled, Erin Schleusner tripled and Mackenzie Zimmerman hit two doubles. Ellie Buza struck out 10 and gave up seven hits, and delivered three singles. Hailey Berman homeredand Megan Bloyer hit two doubles for Oregon. In the second game, Hebert homered and drove in four runsand pitcher Bailey Flock scattered six hits, including a double by Bloyer.
Monroe 20-12, Waunakee 2-2
The visiting Cheesemakers had an eight-run third inning to beat the Warriors 20-2 in the first game of a doubleheader. Sydney Updike had three hits, two for doubles, and four RBI's, and Kate Hayes had three hits and three RBI's for Monroe. Lila Branchaw hit a two-run triple for Waunakee. In the second game, Lizzie Snider had two hits and three RBI's, and Kate Hayes hit two doubles, scored twice and had an RBI.
River Valley 11-10, Stoughton 1-4
A five-run fourth inning lifted the host Blackhawks to an 11-1 victory over the Vikings in the first game of a doubleheader. Miranda Reich went 3-for-4 and Brooke Anderson homered for the winners. Stoughton's Savanna Jemilo hit a single and double. In the second game, Delaney Milanowski went 4-for-4 and scored three times to lead River Valley to a 10-4 win.
Brodhead 2-4, McFarland 0-3
McKenna Young pitched a complete-game shutout, striking out 13, as Brodhead took a 2-0 victory on the way to a Rock Valley Conference sweep of the Spartans. Alexcia Johnson had two hits for McFarland. The Spartans took a 3-2 lead in the top of the fourth of the second game, but Brodhead rallied for a 4-3 win. Brynne Bien doubled for McFarland.
Evansville 15-12, Clinton 14-10
Laura Bettenhausen singled home the winning run with two outs in the bottom of the seventh to give the host Blue Devils a victory over the Cougars in the first game of a doubleheader. Audrey Ischi, Hannah Karnes and Erika Pfeil homered for the winners. In the second game, The Blue Devils survived a five-run Clinton rally in the bottom of the seventh to win the second game, 12-10, behind two home runs from Rachel Tofte.
East Troy 11-8, Edgerton 3-2
Kendyl Kreuziger struck out 10 in five innings to help East Troy beat Edgerton 11-3 in the first game. Edgerton won the second game, 8-2, behind the four-hit pitching of Isabelle Atkinson.
Dodgeville 3, Deerfield 1
Annika Lord pitched a two-hitter and Danielle Mikrut drove in three runs to lead the Dodgers past the Demons. Ashley Ballmoos tripled for Deerfield.
Boys golf
River Valley Invitational
Dodgeville got a 75 from Tyler Bradley and posted a four-player total of 369, one stroke ahead of Mount Horeb, atop the nine-team Division 1 field at House on the Rock Resort in Spring Green. Sauk Prairie took third at 388, River Valley was sixth at 405 and Portage took eighth at 440. Ethan Wittman led Mount Horeb with an 89. Sauk Prairie got a 92 from Kyle Been.
Sparta Invitational
Led by 90s from Charlie Gibbs and Luna Larson, Baraboo took third behind Holmen and Tomah in the seven-team Division 1 team race at River Run Golf Club in Sparta.
Stevens Point Invitational
Verona finished second in the 10-team tournament at Stevens Point Country Club, finishing 16 strokes behind the host's winning total of 310. Junior Noah Ehlenbach led Verona with a 7-over-par 79. Madison Abundant Life tied for seventh.