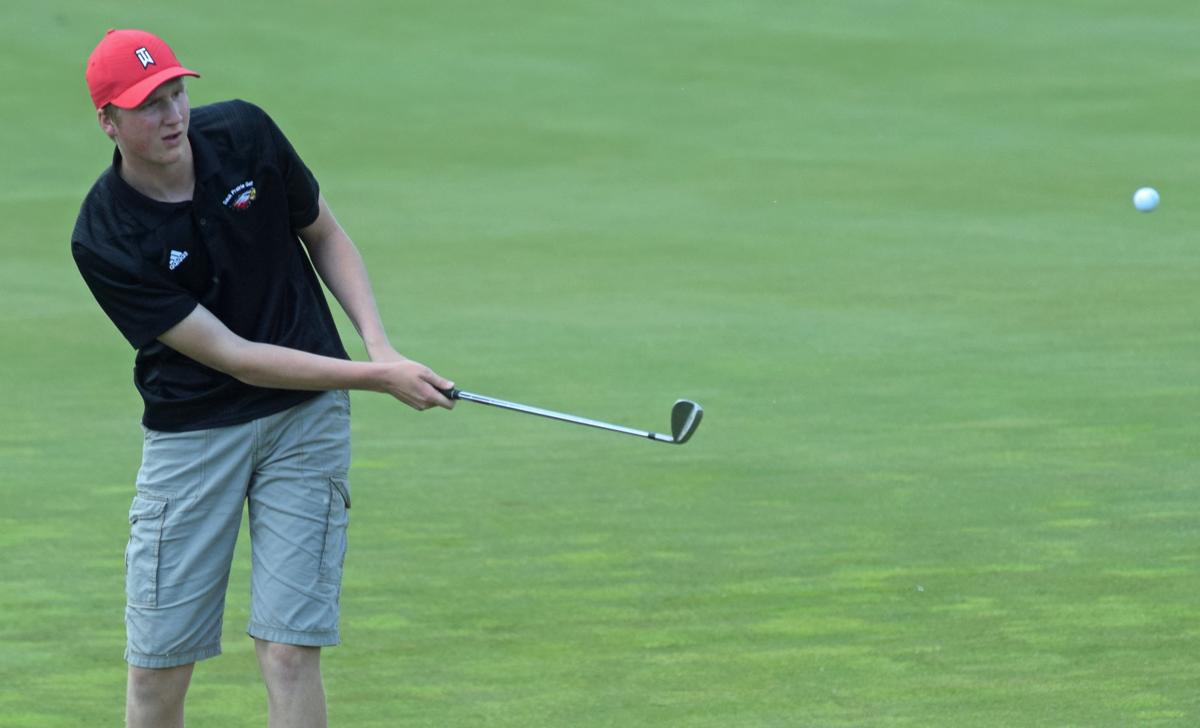 Lodi junior Haley Thoeny has done it again.
A girl playing on the Blue Devils' boys golf team, because Lodi doesn't have a separate girls golf program, Thoeny won her third Capitol Conference mini-meet medalist honor of the season on Monday.
She shot a 2-over-par 38 at Edelweiss Country Club in New Glarus to help the Blue Devils take the team title in the nine-team event.
Thoeny's teammate, Brian Meitzner, shot 42 for second place individually to help Lodi post a four-player score of 174. Cambridge was second at 181, led by Stone Farruggio and Jack Nikolay with 43s.
Middleton shot a four-player score of 311 to earn a nine-stroke victory over Madison Memorial in the 19-team tournament at Wild Rock Wilderness Golf Course in Wisconsin Dells. Jacob Beckman and Dain Johnson both shot 1-over-par 73s to lead the Cardinals. The individual medalist was Lancaster's Noah Kirsch, who shot 2-under 70. Memorial got a 77 from Sam Godager.Monona Grove 168, Stoughton 179
The Silver Eagles beat the Vikings at The Oaks Golf Course in Cottage Grove. Jacob Frederickson shot a 2-over-par 38 for Monona Grove.
Waunakee's K.C. Nickel shot a 1-over-par 72 at the Beloit Club to win individual honors, but Edgewood posted a team total of 315 to beat the Warriors by three strokes. Al Deang led Edgewood with a 74. Waunakee was second with a score of 318. Zach Bothun led third-place Milton with an 80.
Baseball
Memorial 12, La Follette 1
The Spartans defeated the visiting Lancers in five innings. For Memorial, Jaydon Bott had three hits and drove in two runs, Tyler Schmitt had three hits and Aaron Jungers drove in three runs on a single and double.
The Cardinals defeated the visiting Regents with an eight-run third inning. Karson Wilson drove in three runs and hit a triple, and David Meier, Easton Zempel and Erik Pongratz each added two hits.
The Vikings scored in the top of the 10th inning, then N.J. Elias hit a walk-off RBI single to cap a two-run rally in the bottom of the 10th for the host Wildcats. Elias finished with three hits, including a triple. John Simons hit a single and a double for Parker.
The visiting Cardinals scored eight runs in the first three innings to beat the Cougars. Davis Hamilton had three hits, one for a triple, plus an RBI. Carson Shepard and Addison Ostrenga each added two hits for Sun Prairie.Mount Horeb 11, Cuba City 3
The Vikings beat the host Cubans behind a five-run third inning. Kolton Schaller hit two doubles and drove in two runs for Mount Horeb, and Ethan Steinhoff hit a single and triple and drove in a pair.Marshall 6, New Glarus 4
The visiting Cardinals scored four runs in the fourth inning to beat the Glarner Knights. Dawson Kalish hit a double and drove in two runs for Marshall. Darris Schuett doubled for New Glarus.
Softball
Tayler Baker racked up 17 strikeouts and helped the host Cardinals defeat the Purple Knights. Sophia Royle and Grace Radlund scored for Sun Prairie. For Beloit, Brynn Swanson scattered five hits over six innings.
Lake Mills 7, Cambridge 1
Avery Chilson gave up two hits, pitching nearly the whole game for the visiting L-Cats in a victory over the Blue Jays. Lake Mills' Taylor Roughen hit a solo homer in the fifth, scoring one of her three runs.Saveea Freeland went 2-for-3 for Cambridge.Sauk Prairie 10, McFarland 1
A seven-run first inning carried the host Eagles past the Spartans. Morgan Larsen had three hits and Macey McIntyre homered for Sauk. Losing pitcher Brynne Bieri hit a single and double for McFarland.
Boys tennisMiddleton 6, Madison West 1
The host Cardinals swept all doubles matches to win a Big Eight Conference matchup over the Regents. Ethan Yu won for West at No. 1 singles. Gene Kim and Kieran Gopal won at No. 1 doubles for the Cardinals.
The visiting Silver Eagles swept all the singles matches to win a Badger South Conference dual. Chase Lindwall won at No. 1 singles. Aiden Scott and Ethan Ulhmann won at No. 1 doubles for the Panthers.