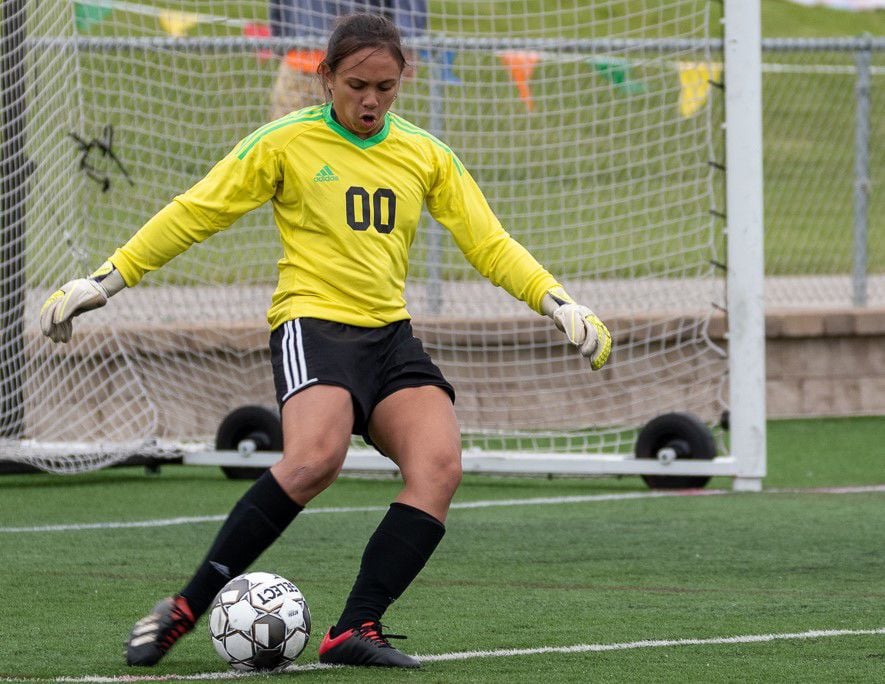 Oregon senior goaltender Melia Moyer has vivid memories of last year's WIAA Division 2 state championship game.
"It was the absolute best feeling in the world," Moyer said of the Panthers' 4-1 shootout win after playing Whitefish Bay to a 1-1 tie in the final. "Running to my teammates after the shootout and just hugging everyone and jumping, it just felt like all of our work finally paid off."
The Panthers were in a penalty-kicks shootout with top-ranked Whitefish Bay after the teams played to a 1-1 tie through regulation and two overtime periods.
Oregon held a 3-1 lead in the best-of-five shootout — just one save away from clinching its second state championship and first since 2015.
"I remember standing on the line for the shootout and just thinking to myself, 'If I can make this save, we can win state,'" Moyer said.
She did just that, stuffing Whitefish Bay scoring leader Maggie Starker. And Panthers co-captain followed Moyer's save with a clinching goal, as the Panthers won the shootout, 4-1, to wrap up a 17-0-2 season.
Moyer faced a barrage of 24 Whitefish Bay shots, 11 on goal, and stopped all but one in 110 minutes of play.
However, Moyer doesn't reminisce on that big day just for fun. She aims to translate that feeling into a catalyst for future success — including a hope that the Panthers might restart their delayed 2020 season and get a chance to defend their championship.
"Anyone who wins state, they have a target on their back," said Moyerr, who earned first-team All-Badger South Conference and second-team All-State honors last season. "So I know it motivates us to work harder, and now we're no longer an underdog and to prove that we deserve what we won."
Moyer and the Panthers have a unique set of obstacles in their place this spring.
The COVID-19 pandemic will keep schools closed until at least April 24. If they reopen, the WIAA regulations require seven separate days of practice before games can resume — likely making May 1 the first possible game date. Almost exactly a month later, on June 2, WIAA regionals are scheduled to begin.
WIAA regulations also require teams to play at least four regular-season games before becoming eligible for the tournament. So if school openings are delayed further, it could bring about cancellation of the entire season — and postseason.
Along with the schedule shift, the team is operating under its third coach in the last four seasons. Athletic director Mike Carr recently announced the hiring of Bobby Nichols, who had been the coach at Milton for the past 18 years.
Acclimating to a new coach can be difficult, but with limited practice time, Nichols will lean on Moyer to do what she does best: lead.
"The girls magnet towards her. She knows how to keep things light, but yet get work out of the kids," Nichols said. "She'd be an ideal captain for any coach. I can't imagine anybody wouldn't (see her) and go, "Wow."
Nichols also reunites with a former Milton assistant, Matt Uhlmann, who joined the Oregon staff last season. Uhlmann helped implement Nichols' system from Milton, which should ease the transition.
Moyer has been in contact with Nichols, explaining how practices are typically run and the overall workings of the team.
"They're extremely good. The biggest thing I would do is get out of their way and let them play, Nichols said. "I don't know how to say it any better than that."
Also back for the Panthers are first-team All-Badger South seniors Avary Fanning and Brooklyn Kane (first team), Emma Halverson (second team) and Kaitlyn Schrimpf (honorable mention).
Nichols knows Moyer will continue to lead by example and could spearhead some more postseason success.
"She's somebody that I would trust in every game, I would trust in a shootout and she's somebody that I think the team would follow toward a state run again," Nichols said.
Get in the game with our Prep Sports Newsletter
Sent weekly directly to your inbox!