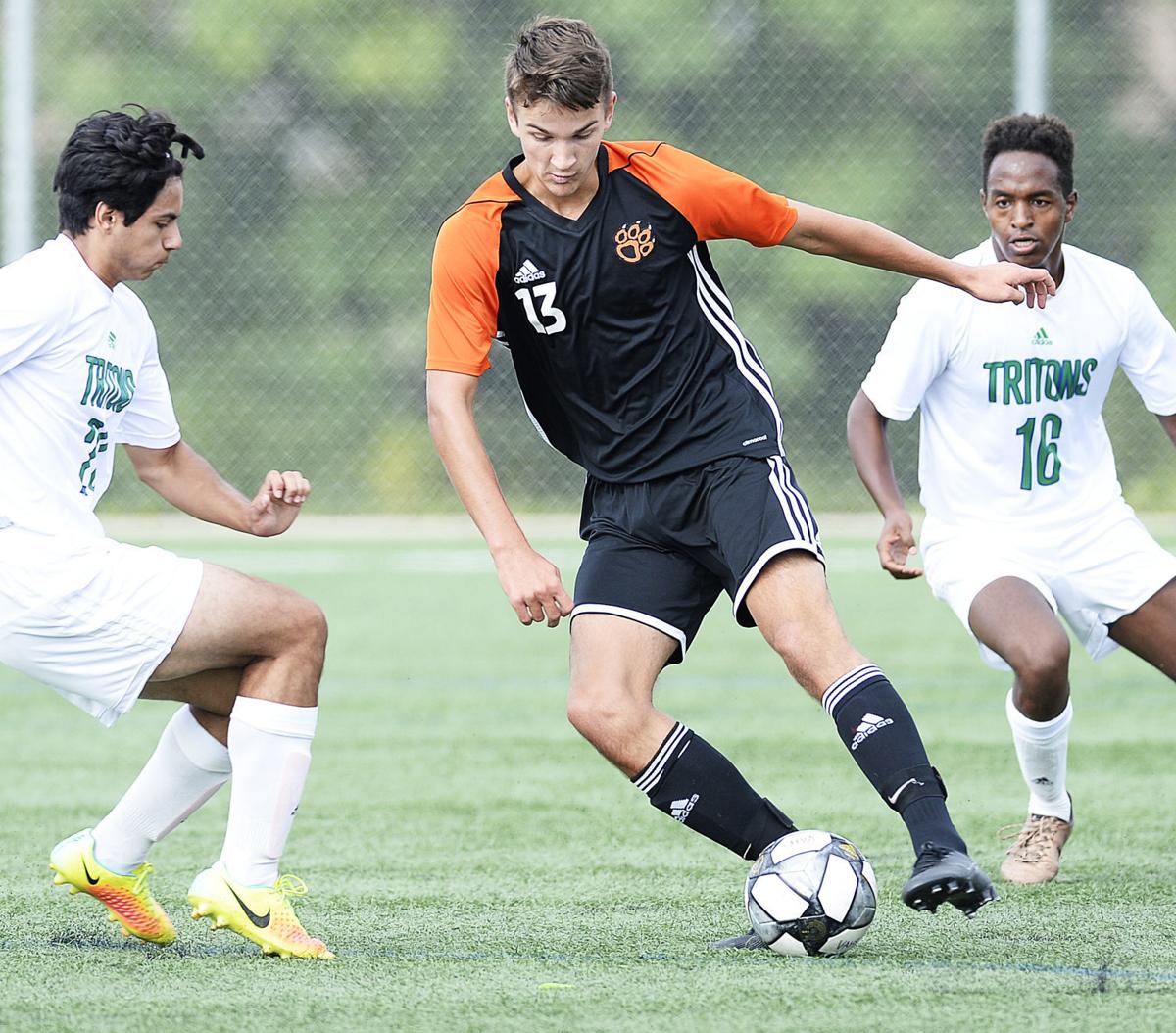 VERONA — Verona senior Jack Knight understands he will have to endure some back pain whenever he plays soccer.
He was diagnosed with a stress fracture in his back during the winter of his sophomore school year — an injury likely caused by overuse playing futsal and soccer. Knight rested, healed and eagerly awaited his junior season last fall.
"I was just ready to play again and play my hardest," Knight said. "I was very pleased with how I played last year."
Knight, a 6-foot-2 forward who had 12 goals and nine assists, and the Wildcats had a memorable season in 2018. Verona, demonstrating a stout defense, won the Big Eight Conference boys soccer championship for the first time in program history and advanced to a WIAA Division 1 sectional semifinal, falling to Sun Prairie. 
Now, with nine starters returning — led by three first-team all-conference selections in Knight, senior midfielder Eliot Popkewitz and senior defender Sam Lynch — the Wildcats are excited about this season's prospects and enter as the Big Eight favorite, according to league coaches.
"I'm really excited because our team chemistry is so good," Knight said. "We are tight with each other. We know each other's style of play. I think we can do good things. I think the fact we were so close last year to going all the way is going to push us even farther this year. And we are going to want it more and it will help us work even harder."
The Wildcats' diversified attack sparked by seniors Popkewitz, Knight, Bennett Luttinen and Gannon Simonett and juniors Jonathan Gamez and Sam Abreu make defensive strategy difficult for opponents, Verona coach Chris Handrick said.
And the Wildcats are off to a good start, defeating Brookfield Central 5-0 and Green Bay Notre Dame 4-0. 
Popkewitz had 15 goals and five assists last season and his 24 career goals put him third on Verona's all-time list. Knight's nine assists were third-best for a single season in program history. He stands seventh on the career list with 18 goals.
"If they do shut down one area, I think we have the strength to go in another direction," Handrick said.
Verona's bid to repeat as conference champion in the highly competitive Big Eight will be assisted by depth of talent and experience.
"It's not all on one player," said Popkewitz, who has been cleared to play after sustaining a broken toe.
You have free articles remaining.
Said Handrick: "We do have three to four players on our team who will be the best in the conference. But they are not going to be relied on as the only three or four on the team who will get things done. That is going to be special."
The 5-8 Popkewitz has been on varsity since his freshman season and is serving as a captain for a third year.
Popkewitz and center back Lynch are longtime friends and teammates.
Eliot Popkewitz said his father, 1988 Madison West graduate Ian Popkewitz, and Lynch's father, Kevin, also are longtime friends who played soccer together with the Madison 56ers Soccer Club and added that Kevin Lynch was part of a state boys soccer title team at West (the Regents won in 1987, then repeated in 1988). 
Handrick has enjoyed watching Eliot Popkewitz develop his field vision the past two years. That has aided Popkewitz's goal scoring and distribution of passes to teammates.
"He has improved that a lot, which I think is what created the eye for goal," Handrick said. "He takes care of the ball and finishes it. … His finishing move is quite strong. He offers leadership in the middle of the field to help those around him."
The athletic Knight, meanwhile, provides a threat from the outside.
"He offers that speed and size you normally don't see up top," Handrick said. "The fun part about Jack is his nose for the ball. He wants to get there and he wants to get there quickly.
"And he also offers the technical skill if he can't (get there) to create a distribution pass. … He does the angle run to goal extremely well — if we can find his head, or his foot or shoulder."
Handrick said Knight came ready to play entering his junior season after dealing with not only the back injury but a foot injury.
"What he developed last year was mental toughness," Handrick said. "It's not one of those injuries that just goes away. How do you live with it? How do you play with it? That is what he developed last year — understanding how to take care of his body through the year."
Knight said he hopes to build off last year's performance entering a noteworthy year for the seniors, in particular.
This school year marks the final one in the current high school building and last one playing soccer at Reddan Soccer Park because Verona's new high school and facilities are scheduled to open in 2020-21.
"I'm super-excited," Popkewitz said. "It's kind of like the last hurrah."