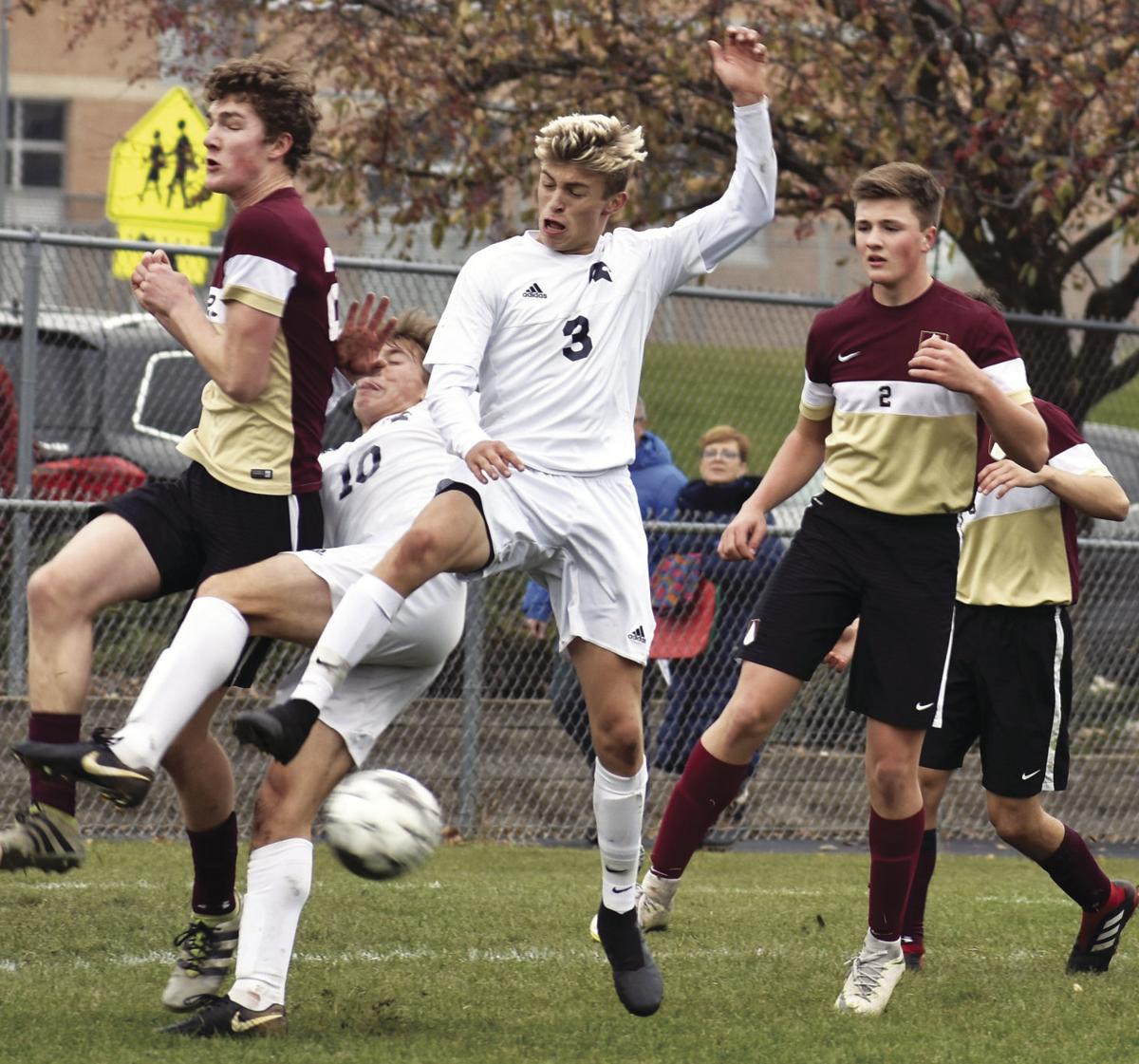 McFARLAND — A trip to the WIAA Division 3 state championship tournament last year created lasting memories for the McFarland boys soccer team.
The outcomes — a 2-0 semifinal victory over Plymouth and a 3-1 loss to Milwaukee Pius XI in the title match — have served as incentive for those Spartans who returned this season.
"It was a great run," said senior forward Ethan Nichols, the Spartans' leading scorer with eight goals thus far this season. "I think losing in the final, the only thing that will do for us is make us more hungry this season. We are motivated to do well."
That motivation has carried experienced McFarland to a strong start against a challenging schedule.
The Spartans (7-2-3, 4-0-0 Rock Valley Conference) sat atop the Rock Valley standings after Monday's 7-2 victory over Whitewater.
McFarland, ranked second in Division 3 in the Wisconsin Soccer Coaches Association state rankings, faces second-place East Troy/Palmyra-Eagle (3-0-1 in conference play) on Thursday night in East Troy.
That match will have significant impact on determining top seeds for the upcoming Rock Valley tournament, which determines the conference champion. McFarland has won the past four conference titles.
"We had a lot of returning players and we didn't lose a lot of seniors, so everybody had confidence in each other," senior defensive midfielder Brett Connor said. "We already knew we could go far. We already believed in ourselves. So, that really helped in some big games early in the season and as the season progressed."
Nichols, who has orally committed to play soccer at NCAA Division II William-Jewell College in Missouri, and Connor have known each other and played soccer together for the past 10 years, developing an unspoken communication on the field.
They were all-conference selections last year and this season are two of the team's captains, along with senior Ian Loss and junior Jake Sampson.
Nichols and Connor also have younger brothers on the team — sophomore forward Zach Nichols and sophomore midfielder Kyle Connor, who's currently sidelined by injury.
You have free articles remaining.
Ethan and Zach Nichols — who had McFarland's two goals in last year's state semifinal victory — lead the Spartans' scoring this season, while Brett Connor and sophomore goalkeeper Matt Schutt are among the key figures on defense.
Ethan Nichols, who had 25 goals and 12 assists last season while earning All-State mention, said he and his brother push each other and are extremely competitive, but agreed with Brett Connor that brotherly love wins out in the end.
"At the end of the day, it's your brother and you love him," the 17-year-old Brett Connor said. "It is fun to experience something so special with him. Once we grow up, we'll look back on it and I'm sure we'll have some fun times talking about it."
McFarland coach Brett Ogorzalek said he understands how enjoyable it can be to compete with family members. Ogorzalek, 37, played prep soccer with his older brother Aaron and later with his younger brother Kenneth at Wales Kettle Moraine.
With 16 players returning from last year's team, including nine starters, Ogorzalek said he hoped the Spartans again would be strong.
The Spartans, who prefer to play a pass-oriented, possession style, have used similar formations and philosophies employed last year.
The players learned from the leadership, attitude and training approach of graduated All-State player Caleb Blair, who's now playing soccer at Colorado-Mesa, Ogorzalek said.
"Obviously, we had a lot of experience from the whole, deep tournament run last year, as well as the number of big games we played last year," Ogorzalek said. "So, that's been really helpful. We try to schedule as many tough teams in the area as we can."
McFarland isn't intimidated by top Division 1, 2 or 3 teams because "we feel like we can compete with those teams," Ogorzalek said.
McFarland has defeated Madison Memorial and Mount Horeb and tied Sun Prairie, Verona and Madison East. The Spartans' two losses came against Monona Grove and Madison La Follette.
McFarland still has matches against Oregon and Madison West remaining. Verona, Madison West, Madison East, Monona Grove, Oregon and Mount Horeb all are currently state-ranked.
Those results against good teams have buoyed the Spartans' confidence that they can make another strong postseason run. Returning to the state title game and, this time, winning the championship are goals, Ethan Nichols and Brett Connor said.
"I couldn't be happier," Ogorzalek said. "It is a great group of kids. They are amazing players. They are also great kids and great people. … They hang out together. They have a lot of camaraderie and a collective will to help each other and to get better. It certainly helps the results when guys are fighting for each other and taking pride in what they do."