MIDDLETON — Bursting with energy, Tyler Wilson needed a productive outlet as a 5-year-old.
She found it playing soccer.
"At first, it was just a way to get outside and be active," Wilson said, before she added with a laugh, "My parents wanted me out of the house — to just run around and get my energy out."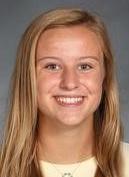 That early introduction turned into much more — a love of soccer that has never wavered for Wilson, now a junior center-midfielder for the Middleton girls soccer team.
"As I've grown older, it has developed into something that I can grow as both a leader and a person," Wilson said at a recent practice. "I play center-midfield, so with the physical aspect of that position comes a leadership role. So, I think that I've definitely grown a lot as a person from soccer and the team aspect of it all, and I just love it."
Wilson was a coaches' second-team all-state choice and a first-team all-conference selection as a midfielder in the Big Eight Conference last season.
Wilson helped lead the Cardinals to the Big Eight regular-season title and a top seed in postseason. But after dispatching Janesville Parker 12-0 and Watertown 5-1, Middleton (13-2-3 last year) was upended 1-0 in a WIAA Division 1 sectional semifinal against fourth-seeded Janesville Craig.
"Whenever you don't go as far as you want to and/or as far as you know the talent could, you are left with that lingering feeling," said Mary Duffy, in her ninth year as Middleton's coach.
The Craig match and abrupt end to the season left Wilson and her teammates frustrated.
"We were expecting to move on," Wilson said. "We are hoping that will be a motivator throughout this year. We felt that after the game; we felt that disappointment. Hopefully, we will use that as fuel to propel us further in the tournament this year.
"We saw that we were good enough to get that far. It's just a matter of executing and doing everything we need to do to make that happen."
You have free articles remaining.
Wilson and sophomore forward Victoria Bunz, an honorable-mention all-conference selection as a freshman last year, were the Cardinals' top point-getters last season.
They again are expected to lead Middleton, along with seniors Emily Raisleger (a first-team Big Eight defender last year), Danielle Martin (a second-team all-conference midfielder) and Caitlynn Owens (a UW-Milwaukee signee).
"Usually Middleton is solid defense, solid goalkeeping," Duffy said. "We have that, but we also have firepower."
Wilson said she takes on more of a defensive posture with her club team, Wisconsin FC in Milwaukee, but is asked to play an attacking center-mid for the Cardinals.
"She is the leading scorer, but she is more of a leader by example," Duffy said. "She has a great attitude. … She just is welcoming toward everybody. She works super-hard and busts it out at practice."
Wilson said the Cardinals' seniors demonstrate outstanding leadership. She agreed she is more of a leader on the field than off.
"I'm not a naturally vocal person," Wilson said. "So, most of my leadership is done through example. But on the field, obviously, the game demands me to be a leader, especially in the center-mid position."
Seven returning seniors took part in tryouts, Duffy said.
"Like last year, I have the most amazing, well-rounded, talented, kind, caring seniors," Duffy said. "You can do so much with leadership like that."
Not to mention what the Cardinals can do with the firepower of those players and players such as Wilson and Bunz.
"She's really good," Wilson said of Bunz. "She can see the field really well. She's really, really fast and that helps her get around her defenders. Her technical and tactical skills allow her to see the field and just play around people. That is one of her greatest attributes."
The Cardinals, ranked 10th in Division 1 in this week's Wisconsin Soccer Coaches Association poll, figure to be among the favorites for the conference title this season. The Cardinals are scheduled to open the season against Oconomowoc on Friday.
"They look good," Duffy said of her team. "They look sharp. I'm liking it."