Abigail Tuma of Shawano Community High School was selected as the 2021 Wisconsin and Section 4 recipient of the Spirit of Sport Award, according to a release from the WIAA.
Middleton's Ben White was among the finalists for the award.
The award was presented by the WIAA and the Dairy Farmers of Wisconsin, and the National Federation of State High School Associations.
The award recognizes individuals who exemplify the ideals of the spirit of sport, representing the core mission of education-based athletics. The award was created by the NFHS and adopted by the WIAA in Wisconsin and sponsored by the Dairy Farmers of Wisconsin.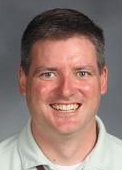 White is the assistant athletic director and activities coordinator at Middleton, after a 19-year stint as the boys volleyball coach. He was diagnosed with Diffuse Large B-Cell Lymphoma in September, 2019.
White endured a year-long treatment for cancer, which is now in remission. Middleton athletic director Jamie Sims said White has handled his cancer treatment and recovery in a way that inspires others through his "resiliency and dedication to excellence for all students and staff," according to the WIAA release.
One month prior to his diagnosis, White's friend and former Middleton athletic director Bob Joers was diagnosed with pancreatic cancer. Each was an important part of the other's support system. Joers died in May, 2020.
White led the Cardinals' boys volleyball team to more than 400 victories, 13 Big Eight Conference titles and 11 WIAA state tournament appearances. He was named conference coach of the year six times, state coach of the year twice and NFHS regional coach of the year once.
Tuma, a senior on Shawano's volleyball team in 2020, played defensive specialist and setter for a team that compiled a 4-6 record with a schedule limited because of COVID-19 restrictions. The team also participated in the WIAA tournament series in Division 1.
According to the release, she was diagnosed with Medulloblastoma, a type of brain cancer, in the fall of her sophomore year. Tuma underwent a six-hour surgery and experienced a number of side effects, including severe nausea over the course of the following 18 months. After surgery, she was hospitalized for several weeks before she began six consecutive weeks of radiation and almost a year of chemotherapy.
With constant treatments and daily visits to the hospital, Tuma lost all of her hair and struggled to maintain weight. She was placed on a feeding tube until the spring of 2020.
Throughout her experience, she maintained a positive attitude. She attended all practices and games – if her treatment schedule allowed – and maintained her academics to be named to the honor roll. She was also honored as the recipient of the Shawano Pride Award.
Tuma completed her cancer treatments last fall, and her MRI revealed she is cancer free. She currently is playing co-ed club volleyball. She is a member of the student council and the Future Business Leaders of America. In addition, she volunteers to supervise children during recess at Hillcrest Primary School in Shawano.
She will be presented with the award and recognized at the WIAA annual meeting on May 26.
The 2021 national recipient of the award presented by the NFHS is Hayden Holton, a former student-athlete at Elmore County High School in Eclectic, Ala. He graduated from Elmore County in 2020 as an accomplished student-athlete, earning academic and athletic honors for his four-year career in four sports.
In September 2016, during the first semester of Holton's freshman year, his parents were killed in a double shooting in his home.
Holton returned to the football field as a junior and earned all-county and all-region honors as a tight end. His football and basketball teammates voted him team captain and he was named most improved player on the baseball team. He also participated in soccer.
The other finalists for Wisconsin's nomination for the Spirit of Sport Award were Jasmine Bertschy of Valders High School and Michael Krouser of Milwaukee Juneau High School (MacDowell Montessori).