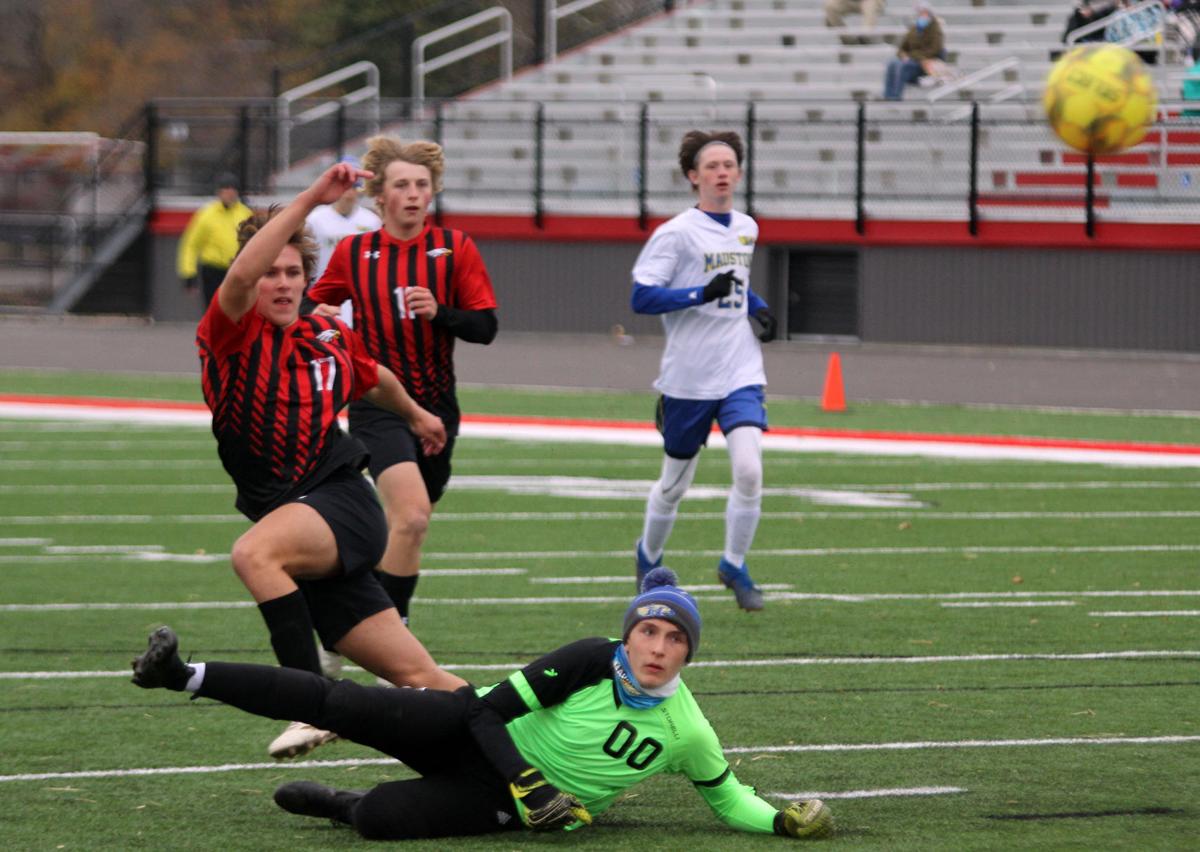 Madison Edgewood senior Leo Richardson, last year's WIAA Division 2 state runner-up, took the first step toward a return to the big race with a championship performance in Tuesday's Poynette subsectional at Shepherd's Meadow Golf Course.
Richardson completed the 5,000-meter course in a sizzling 16 minutes, 13 seconds, finishing 45 seconds ahead of the runner-up and leading a crew of four Crusaders finishing among the top seven overall. As a result, the Crusaders won the subsectional team title and will join runner-up Poynette in Saturday's Winneconne sectional.
Edgewood sophomore Leo Schleck was fifth (17:58), sophomore Will Rosemurgy was sixth (17:58) and senior Jacob Linderoth was seventh (18:00).
Five individuals also qualified for the sectional, including two from Lodi: junior Parker Heintz (18:14) and sophomore Paul Lins (12th, 18:32).
Edgewood also advanced to the girls sectional, finishing second as a team behind Wautoma/Wild Rose. For the Crusaders, senior Grace Nemeth took third (21:31), freshman Elise Cataldo was fourth (22:10) and junior Clara Powless was sixth (22:19).
Poynette senior Katelyn Chadwick won the individual title (19:27) and earned a sectional spot, along with senior teammate Megan Reddeman (22:41, 10th) and Marshall senior Mya Andrews (22:47).
DeForest subsectional
In Division 1, the host DeForest boys qualified for Saturday's Portage sectional, winning the seven-team subsectional at Wyona Park in Wyocena. Dodgeville/Mineral Point also advanced with a second-place finish.
Beaver Dam's Gavin Czarnecki won the individual title in 16:44, followed by Will Aurit of Dodge-Point at 16;49. DeForest was led by Elijah Bauer, seventh in 17:04. Other area individual sectional qualifiers were Christopher Kitzhaber and Joshua Krueger of Watertown.
The Waunakee girls won the sectional title with 60 points, seven ahead of Beaver Dam. The Golden Beavers' Kylie Hackbarth was the individual champ (19:41), followed by Waunakee's Anna Vanderhoef (20:16) and Kelsey King (20:18). Individual qualifiers were Logan Peters of DeForest and Emma Gilbertsen and Autumn Meyers of Watertown.
East Troy subsectional
In Division 2, the Lake Mills girls placed their five scoring runners among the top 12, including four of the first six, to win the team title and join Waukesha Catholic Memorial in Saturday's Deerfield sectional. For the L-Cats, freshman Ava Vesperman (20:57) and senior Lauren Winslow (21:22) took second and third, respectively. Advancing to sectionals as individuals were Mara Brown of Deerfield/Cambridge, Abigail Minning and Paige Krahn of Lakeside Lutheran and Katelyn Mensching and Ellie Backus of Watertown Luther Prep.
Deerfield/Cambridge won the boys team title, followed by Waukesha Catholic Memorial. For the United, junior Zach Huffman was second (17:41) and senior Liam Brown third (18:02). Area individual sectional qualifiers were freshmen Mark Garcia and Cameron Weiland of Lakeside Lutheran and freshman Elliott Heiderich of Watertown Luther Prep.
Westby subsectional
In Division 2, River Valley junior Madison Krey came within less than 12 seconds of qualifying for an individual sectional berth, running to ninth place in the subsectional at Westby High School in 21:53. Her River Valley team took last among seven complete teams, with La Crosse Aquinas and Platteville claiming the top two spots and advancing to Saturday's Westby sectional.
The River Valley boys took seventh among nine teams, led by junior Julius Ross, 20th in 18:22. La Crosse Aquinas and West Salem earned the team sectional berths.
Albany subsectional
In Division 3, Madison St. Ambrose senior Sophia Speece earned an individual berth in Saturday's Racine Prairie girls sectional, running to sixth place in 22:22. Albany and Dodgeland earned the sectional team berths. Albany and Horicon earned sectional berths by claiming the top two spots in the boys race.
WIAA boys soccer
Sussex Hamilton 1, Watertown 0
In a Division 1 regional semifinal as part of the Oconomowoc sectional, the host Chargers made a single tally hold up in a victory over the visiting Goslings.
Also in Division 1, Baraboo earned a forfeit victory over Wausau West as part of the Hudson sectional.
Wisconsin Dells 1,
Madison Edgewood 0
In a Division 2 regional semifinal as part of the Mosinee sectional, the host Chiefs got a goal from Manroop Benipal in the 74th minute to narrowly get by the Crusaders (6-4-1) at the Woodside Complex in Wisconsin Dells. All eight Madison Edgewood shots were turned away by Alejandro Salazar as Wisconsin Dells put up a clean sheet.
Sauk Prairie 6, Mauston 0
The host Eagles were backed by five goals in the first 26 minutes to beat the Golden Eagles. Quinn Baier scored and assisted on goals and Misael Dominguez assisted on a pair of scores.
Portage 3, Platteville/Lancaster 2
The visiting Warriors knocked off the host Hillmen in a Division 2 regional opener.
Dodgeville/Mineral Point 6, Reedsburg 1
At Harris Park in Dodgeville, DMP ousted the Beavers in a Division 2 regional game. Reedsburg's Eli Buelow scored before halftime to make it 2-1, but Dodge-Point scored four second-half goals.
WIAA volleyball
Sauk Prairie 3, Watertown 0
In a Division 1 regional semifinal, the host Eagles (19-5) swept the Goslings, 25-12, 25-19, 25-23, as junior Alia Schlimgen delivered 12 digs and three service aces and junior Aida Schadewald had 13 kills, eclipsing the 1,000-kill mark for her career. Payton Roets had nine assists and a service ace for Watertown.
Sauk Prairie was coached by usual junior varsity coach Ryan Ruhland, helping out because coach Amy Schlimgen is being required to quarantine after an assistant varsity coach tested positive for COVID-19.
Hartland Arrowhead 3, Portage 0
Defending WIAA Division 1 state champion Arrowhead (12-8), ranked second, beat the visiting Warriors. Portage got six kills from Emma Kreuziger and eight assists and three digs from junior Sydni Kratz.
River Valley 3, Wisconsin Dells 0
In a Division 2 regional opener, the visiting Blackhawks handled the Chiefs 25-22, 25-13, 25-23. Brooke Anderson led the way for River Valley with 20 assists and three aces. Sophie Venne contributed nine kills and Bryn Janke added 17 assists.
Girls swimming
Watertown 98,
Beaver Dam Wayland/Beaver Dam 69
Though the visiting Thunderbirds won five of 11 events, the Goslings came away with the victory. Rae Heier won both the 200-yard freestyle and 100 butterfly for Watertown.