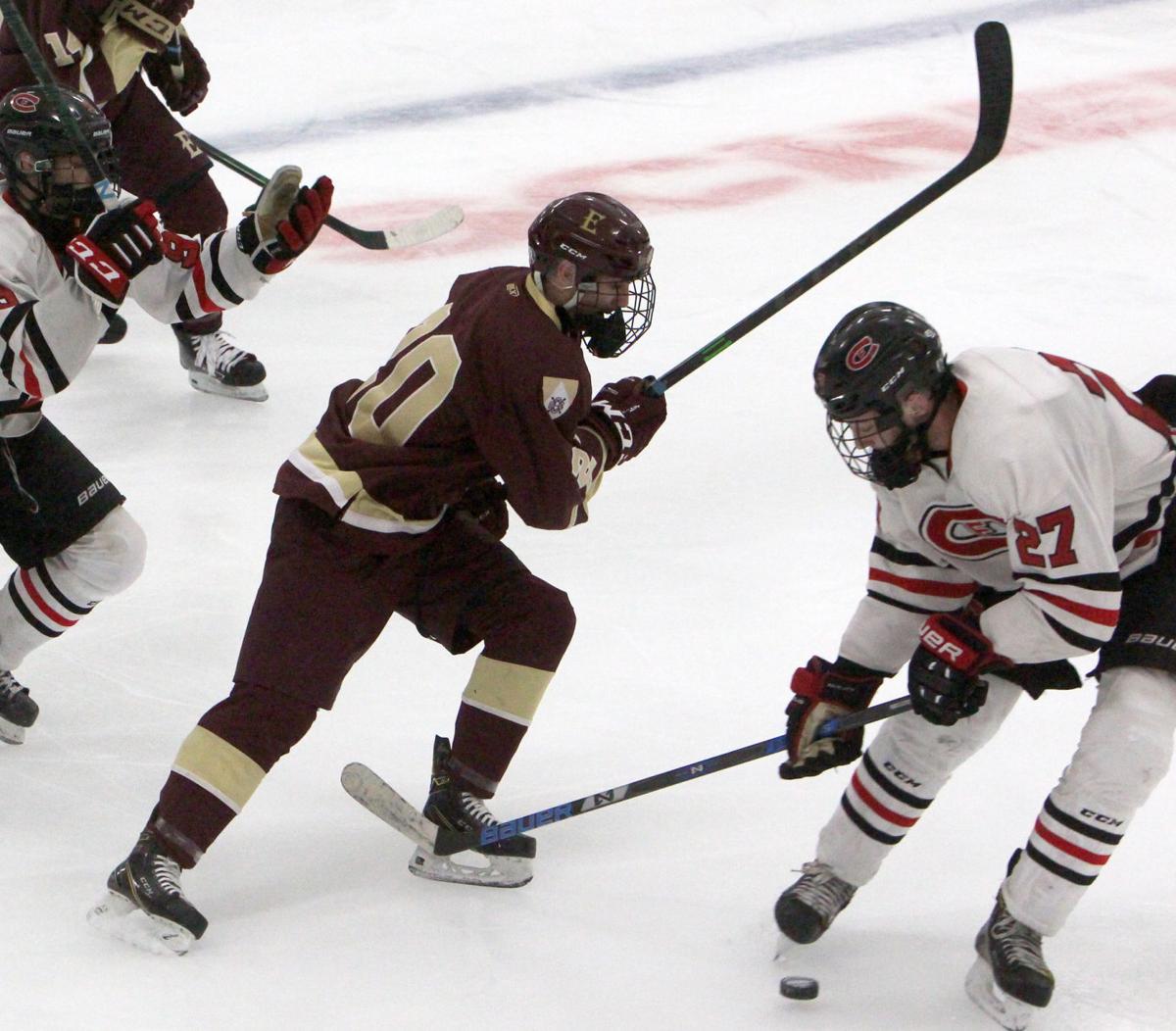 Senior Ben Wiegand led his Sun Prairie boys swimming team to the championship of the WIAA Division 1 Middleton sectional on Friday, taking first place in two individual events and anchoring two winning relays.
Sun Prairie scored 407 points to top Verona/Mount Horeb's 358 and Middleton's 303 in the seven-team sectional, which was held at Waukesha South due to Dane County COVID-19 restrictions.
Wiegand qualified automatically in all four events for the state meet, set for Feb. 6 at Waukesha South.
The University of Wisconsin recruit won the 50-yard freestyle in 20.33 seconds and the 100 free in :45.64. He's the defending state champ and record-holder in the 50 free (:20.16 last year).
Wiegand also anchored the winning 200 freestyle relay (1:24.28) and 400 freestyle relay (3:09.13). Sun Prairie's 200 freestyle relay crew won state last year, and Ethan Braatz, J.P. Anhalt and Wiegand return from that group.
Sun Prairie's James Werwie won the 200 individual medley (1:57.03).
Middleton sophomore Nick Chirafisi won the 200 freestyle (1:42.73) and the 500 freestyle (4:42.76). He took sixth and fifth in the events last year, respectively.
Verona's Oscar Best won the 100 butterfly (:49.75) after taking third at state last year, and swam on the winning 200 medley relay with Conner Arneson, Nathan Rozeboom and Luke Bennin. Rozeboom also won the 100 breaststroke (:58.81).
Waunakee senior Zach Vinson won the 100 backstroke (:52.12).
Boys basketball
Milton 70, Beaver Dam 57
The visiting Red Hawks (9-3) went on a 39-20 spurt in the second half to hand the host Golden Beavers (13-4) their fourth loss in six games. Jack Campion scored 18 points to lead Milton. Nate Abel had 23 points for Beaver Dam.
East Troy 65, Sun Prairie 50
Ryan Dixon and Chase Cummings combined for 50 of their team's 65 points as the host Trojans (13-4) beat the Cardinals (1-2). Dixon finished with 32 points. Sun Prairie got 12 points from Cole Hansen.
DeForest 74, Monona Grove 59
Nolan Hawk scored 22 points and Deven Magli 21 to lead the host Norskies (7-2) past the Silver Eagles (0-5) with their highest point total of the season. Lance Nelson scored 18 for Monona Grove.
Fort Atkinson 57, Madison Edgewood 39
The host Blackhawks (5-1) jumped to a 29-9 halftime lead and cruised to victory over the Crusaders (4-11). Carson Baker and Drew Evans each scored 16 points for Fort Atkinson.
Orfordville Parkview 67,
Madison Abundant Life/St. Ambrose 48
Tyler Oswald scored a game-high 30 points to lead the host Vikings (6-8, 1-0 Trailways South Conference) past the Challengers (2-1, 0-1). Brent Schmiesing totaled 14 and Ethan Hartberg 12 for Abundant Life.
Poynette 69, Baraboo 41
The host Pumas (8-6) used a 39-16 run in the second half to build a win over the Thunderbirds (2-13). Jake Keller and Nik Feller each scored 16 points for Poynette. Justin Philipp led Baraboo with 13.
Portage 64, Reedsburg 50
Cooper Roberts scored 22 points and was one of three Warriors in double figures to help propel Portage (5-12) past the host Beavers (3-13). Portage used a 34-21 run to break away from a one-point halftime lead. Zach Bestor scored 30 points for the Beavers.
Girls basketball
Lake Mills 68, Poynette 41
The host L-Cats (17-1, 7-0 Capitol North) went on a 37-16 run in the second half to put away a win over the Pumas (6-7, 2-5). Julianna Wagner scored 20 points and Kayla Will added 14 for Lake Mills. Poynette got 12 points from Katelyn Chadwick.
Lakeside Lutheran 54, Lodi 41
Jenna Shadoski totaled 14 points, Mia Murray 13 and Lily Schuetz 11 to lead the visiting Warriors (9-8, 3-3 Capitol North) over the Blue Devils (3-9, 2-4). Lakeside made 17 free throws. Lauryn Milne tallied 17 points for Lodi.
Cambridge 59, Belleville 56
The host Blue Jays (6-11, 2-6 Capitol South Conference) got 21 points from Maya Holzhueter and 17 from Saveea Freeland to make a 31-25 halftime lead hold up against the Wildcats (3-11, 2-4). Alyssa Caskey scored 19 points and Ava Foley 15 for Belleville.
New Glarus 76, Waterloo 56
Lindsey Schadewalt scored 21 points and Jaylynn Benson put up 17 as the visiting Glarner Knights (15-4, 6-2 Capitol South) beat the Pirates (8-12, 1-7). Waterloo's Skyler Powers led all scorers with 23 points.
Madison Edgewood 53, Stoughton 16
The host Crusaders (14-5) held the Vikings (0-4) to four second-half points in an easy victory at JustAGame Fieldhouse in Wisconsin Dells. Sarah Lazar scored 11 points for the Crusaders.
Laconia 39, Marshall 30
The host Spartans (17-5) made a 22-17 halftime lead hold up in a victory over the Cardinals (17-2). Anna Lutz scored 14 points for Marshall.
Watertown Luther Prep 69, Columbus 66
Grace Schmidt scored 24 points to become Luther Prep's all-time leading scorer with 1,224 points, and Lauren Paulsen scored a career-best 30 to lead the Phoenix (7-4) past the Cardinals (9-10). Schmidt passed Malorie Kiecker's mark of 1,207 points.
McFarland 70, Evansville 35
Katie Hildebrandt scored 23 points to lead the visiting Spartans (4-3) past the Blue Devils (5-11). Teagan Mallegni added 12 for McFarland. Maria Messling put up 19 points to lead Evansville.
Baraboo 82, Mauston 30
Senior Maya White Eagle scored 20 of her game-high 24 points in the first half to help the host Thunderbirds (3-15) jump out to a 40-point halftime lead over the Golden Eagles (0-16). Taylor Pfaff chipped in 20 and Caitlyn Frank 15 for Baraboo. Amelia Gunther scored 20 for Mauston.
Oregon 69, Milton 21
The visiting Panthers (4-2) rolled to a 45-11 halftime lead and beat the Red Hawks (1-10). Emily Statz led Oregon with 15 points.
Pecatonica 53, Wisconsin Heights 46
Chloe Schroepfer and Tessa Green scored 14 points each to lead the Vikings (4-8) past thevisiting Vanguards (2-6). Heights got 16 points from Hana King.
Deerfield 62, Williams Bay 35
The visiting Demons (4-4, 2-1 Trailways South Conference) topped the Bulldogs (2-12, 0-4), behind a 36-17 run in the second half. Steffi Siewert and Moli Haak scored 16 points each for Deerfield.
Boys hockey
Madison Edgewood 4, Chippewa Falls 3
The visiting Crusaders (10-5-0), ranked sixth in Division 1, took a 4-1 lead after two periods and held on to beat the fourth-ranked Cardinals (9-7-1). Cooper Fink, Cody Menzel, Parker Murn and J.J. Wiebusch scored for Edgewood, and Zach Walker made 24 saves.
Janesville Craig/Parker 4, Hartland Arrowhead 3