A year after being diagnosed with lymphoma, Middleton assistant athletic director Ben White and his partner Kathleen Callaghan have organized a fundraiser on behalf of Gilda's Club of Madison.
White, who at the time was Middleton's boys volleyball coach, was diagnosed with Diffuse Large B-Cell Lymphoma on Sept. 13, 2019.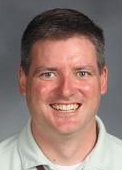 He had weeks of planning and procedures, followed by months of chemotherapy. On Feb. 19, 2020, his PET scan looked good and he now is in remission.
White and Callaghan plan to run 13 miles each this Sunday, which is Sept. 13, 2020 – a year after his initial diagnosis.
They are using the run to raise money to benefit Gilda's Club Madison Wisconsin, Inc., according to an announcement from White, including on Twitter.
He wrote that "any donation will help make an impact. Thanks in advance for your contribution to this cause that means so much to us."
They will be running through Middleton on Sunday, beginning at about 8:30 a.m. at Parisi Park and running a 6.5 mile loop twice.
"We will not be setting any land-speed records, our pace will probably be between 9½- and 11-minute miles," he wrote.
He welcomed those who wished to cheer them on, but said spectators must stay socially distanced.
"We are also using this run as another journey to help appreciate how far we have come in 12 months," White wrote. "No `13th' feels the same for us, so we are taking this `13th' to acknowledge our journey and the journey of others who are battling cancer. We also want to honor those we know that we have lost to cancer."
White and Callaghan joined Gilda's early in White's treatment process and used the workout facilities to stay active in a safe environment, he wrote. Later, after encouragement from his son in January, he joined a support group there.
"At the time, we had no idea what a difference this group would make in our recovery," White wrote. "Quickly, the support group became the place where I could share anything I was thinking and feeling. The emotional support was what we needed to truly help us transition to our life with cancer."
Due to the COVID-19 pandemic, he has been been attending those meetings in virtual fashion.
"We miss meeting in person," he wrote. "But Gilda's is still there for those that need help."
He wrote that so many supported him and his family through the journey and he wanted to find a way to give back.
Donations are 100% percent tax deductible, according to the announcement.
Get in the game with our Prep Sports Newsletter
Sent weekly directly to your inbox!