He tries, in his words, to keep pounding away.
He's also grateful for all the support he's received from near and far after being diagnosed with pancreatic cancer.
"I can't thank people enough," Joers said. "All the notes, cards, calls and meals. It's been constant since I was diagnosed. It is humbling, overwhelming."
The 55-year-old Joers, who is undergoing chemotherapy treatments, had known something wasn't right with his health.
He had a persistent cough, which began in June, and at one point said he turned jaundiced. He had medical examinations while he didn't feel well and, eventually, a tumor, which had been difficult to detect, was located in his pancreas, he said.
On Oct. 30, Joers directed a meeting he holds three times a school year with Middleton coaches. This is his second stint as Middleton athletic director, his most recent tenure beginning again in 2011 when he replaced Luke Francois.
"I have a great relationship with the coaches," said Joers, who was named Big Eight Conference and District 5 athletic director of the year in 2019. "We have a family atmosphere that we've tried to develop here."
At the end of the meeting, he revealed he had cancer.
"It was like a drop-the-mic moment," he said. "The room went dead silent. I didn't mean for that to happen."
The Cardinals' coaches were stunned.
Longtime girls basketball coach Jeff Kind said he's known Joers for 28 years, first meeting him when Joers was swimming coach, prior to Joers' first stint as Middleton athletic director that started in the mid-1990s.
"We knew his health wasn't good, but we didn't suspect anything as serious as he told us," Kind said. "It is a shock. Hopefully, he can respond well and pull through because he's a really, really good athletic director and a really good person."
Madison Memorial athletic director Jeremy Schlitz said he was speechless after Joers, a friend and mentor, shared the news with him. Schlitz said we take for granted that people in our lives will remain healthy and be around forever.
"We've become pretty good friends through our AD work," Schlitz said. "My reaction is one of shock and sadness. … He's been an institution there. My thoughts have been with him, his family and the Middleton community. Bob has been incredibly positive."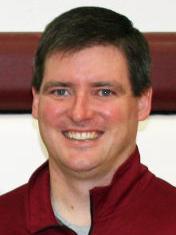 White said he had his sixth round of chemotherapy Jan. 15 and will have his next scan in mid-February.
"Each round of chemo is a little more difficult to recover from, but I'm doing better this week as I have been able to work full days for the first time since my diagnosis in September," White wrote in an email last week. "The support from Middleton High School, the volleyball families, friends and our own families has been amazing. We wouldn't be able to go through all of this alone, and we definitely have never felt alone."
Joers said he has chemotherapy every two weeks. He recently had a fifth chemotherapy session and his sixth of 12 was scheduled for this week. He said he might have radiation treatment after that.
The plan is to shrink the tumor so surgery can be performed potentially in June, he said.
"The biggest thing is I've lost so much weight," the 6-foot-4 Joers said about a 45-pound weight loss.
"I'm a little guy now," he joked, saying he'd like to get back to his driver's license weight of 205. "Though everyone lies about their weight on their driver's license, right?"
Joers continues to work as much as he can.
Help in the Middleton athletics office has come from Mark Kryka, the former Verona athletic director who retired after the 2018-19 school year.
Kryka, who was the Wildcats' athletic director for 30 years, was enjoying his retirement but was concerned about his friend and wanted to help. He applied and was hired for the interim AD job subbing for Joers into June (though that could be extended depending on Joers' health).
"He retired, but he's just coming back to help me out," Joers said about Kryka, the Big Eight and Wisconsin Athletic Directors Association's state athletic director of the year in 2016. "Even though we are competitive in schools, and I'm sure he doesn't want to be wearing the cardinal, black and white instead of (Verona's) orange and black, he wants to help."
Joers is looking forward to turning 56 later this month.
"I'm planning on being here next year," Joers said. "Just keep pounding away. I appreciate all the support."
Get in the game with our Prep Sports Newsletter
Sent weekly directly to your inbox!