Daniel Markwardt seemed to know everyone from every walk of life in Lodi — whether it was through athletics, church, businesses, community activities or providing a ride to shorten his frequent walks from home to the high school.
"It was unbelievable the amount of people `Dano' connected with," Lodi football coach Dave Puls said.
While many in Lodi were glad to help Markwardt during his 45 years, Puls said Markwardt, in turn, helped all who knew him become better people and to appreciate each individual as unique, no matter gender, race, ethnicity, income, education or occupation.
"He helped this community," Puls said. "He had a unique and special gift to give."
He gave that gift with a smile on his face.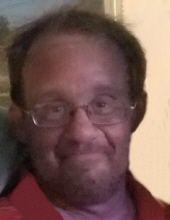 Markwardt passed away March 23 after years of health challenges, including diabetes. Much of Lodi gathered together in the reception line and for a service April 1 at Lake Wisconsin Evangelical Free Church in Lodi, sharing stories during a celebration of his life.
"It was pretty cool to see everybody there," Lodi wrestling coach Cody Endres said. "There were a few tears, but there also were lots of stories and laughs."
And plenty of reflection about the perspective Markwardt provided and impact that he had in Lodi.
"He showed how to be kind to all, care for everyone you see and love your community," Endres said. "No one did those three things better than Dano."
Markwardt — born in Prairie du Sac and a 1994 Lodi High School graduate — was well-known in Lodi for his love of and loyalty to the Blue Devils' athletics teams, including football, basketball and softball. Endres said Markwardt, who was a special-needs student, was an inspiration and became a beloved figure in Lodi. He often wore Blue Devils gear and served as a manager for various teams for more than 25 years, from his high school days until late in his life.
"He impacted a lot of people's lives in a unique way," Lodi boys basketball coach Mitch Hauser said.
Here are just three examples:
A good friend
When Hauser took over as boys basketball coach about 12 years ago, Markwardt was one of the first persons he met, learning quickly about the jokes and one-liners Markwardt would deliver.
Hauser didn't know what good friends they would become.
"Jeff Lund was the athletic director at the time and Dano came up to Jeff, and he made some quick-witted comments to him," Hauser recalled. "After Dano left, I said, `Jeff, who's that?' And Jeff said, `That's Dano. He comes with the program. He's your manager.' … He was a staple for our program."
As manager, Markwardt would do anything Hauser and the basketball team needed.
"Players loved having him around," Hauser said. "He was part of the team."
Markwardt kept a logbook of the Lodi teams' results, writing down scores throughout the years.
"He loved Lodi athletics," Hauser said. "That was a big part of his life."
That love of sports also led to people in the community knowing and meeting Markwardt.
"I told him, `Dano, you could run for mayor and win in a landslide,''' Hauser said.
Hauser and Markwardt would go into a business or restaurant and everyone knew his name, Dano.
"It was like the old `Cheers' TV show, where everyone would call out, `Norm!' " Hauser said, then laughing: "It was kind of humbling. No one even acknowledged I was there."
Hauser said many people in Lodi at one time or another likely picked up Markwardt and gave him a ride when they saw him walking in town or making the four-mile walk from his residence to school.
"He probably walked every street, every sidewalk and every nook and cranny in Lodi," Hauser said.
Staple of football program
Puls said Markwardt — who is survived by his brother, David — was a staple of the football program, a manager with an engaging personality.
"He was always a quick-witted guy," Puls said. "He had great one-liners. And he always had a smile on his face. He really took a lot of pride in making sure the footballs were ready to go, that the water was filled, that there was water at all the stations. He loved hanging around with the guys. He loved every aspect of Blue Devil sports.
"He loved being around people and people loved being around him. He brought a special essence to being part of Lodi athletics."
Markwardt was extremely proud to receive a state championship medal after Lodi won the WIAA Division 4 state football title, Puls said.
"He was just a shining star every day," Puls said. "I'd see him and say, `Dano, what's up?' And he'd say, `Not my income.' If he said that once, he said that a thousand times to me. … He helped us all be a better person, knowing him."
Filled with Lodi Pride
Endres, who believed Markwardt embodied Lodi Pride, remembered being a spectator at his first Lodi football game as a first- or second-grader and seeing Markwardt working at the game as a manager, including picking up the tee after kickoffs. Years later, Markwardt was manager when Endres played football for Lodi.
At practices or games, Endres would see or hear Markwardt.
"Your heart couldn't help but be filled with warmth," Endres said. "Everyone felt passionate about him, and it wasn't just about athletics, either. You would always see him at community events."
Endres said Markwardt was an "incredible inspiration to so many people." That gave Endres the belief that "even if you have needs or your own challenges, you can give hope to others if you are caring and kind."
Endres said he feels for younger students who won't get to know "who Dano was." Hauser said it will be strange next school year when Markwardt isn't around during football or basketball season.
"It's been a hard week," Hauser said. "He will be remembered. He was a good friend."