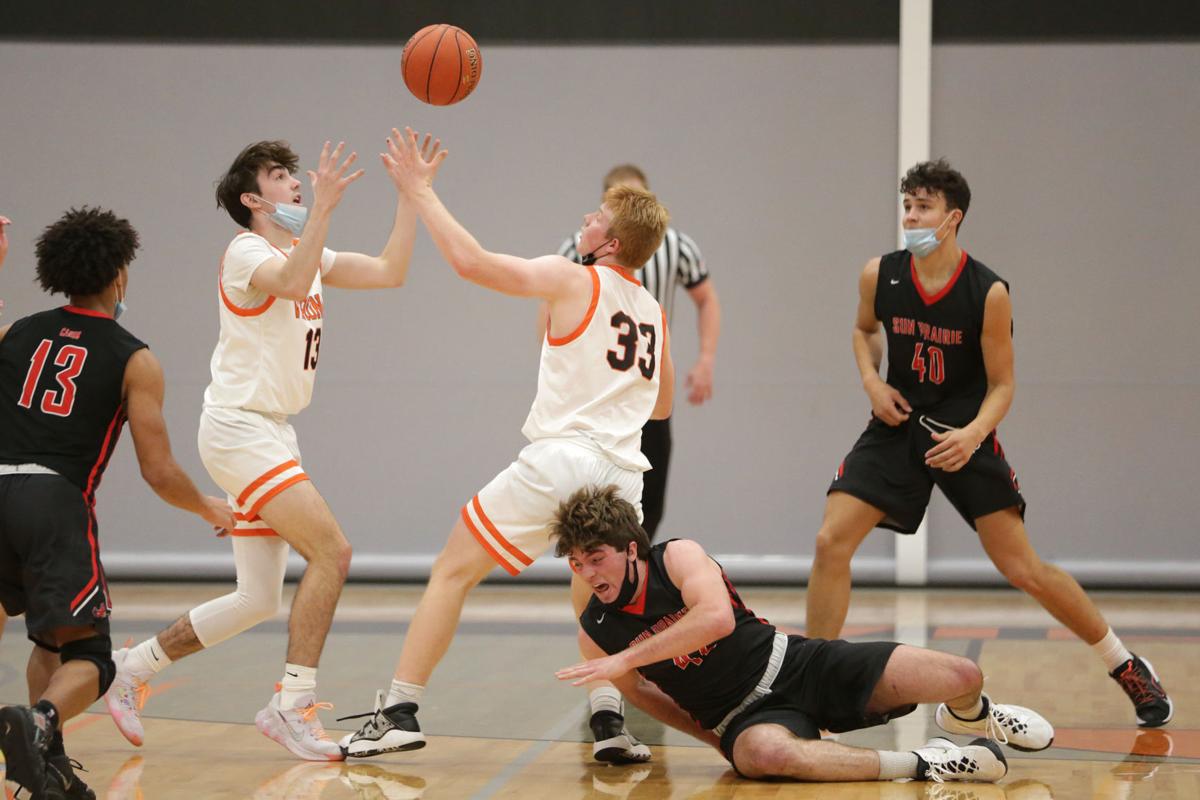 Here are the highlights from Thursday's high school sports action.
Stars of the night
JR Brown, Madison West boys basketball: Brown led the Regents with 22 points in its 65-61 win over Madison Memorial (5-5, 2-5 Big Eight). He went 6-for-8 from the foul line and added a pair of 3-pointers. Brown's teammate Ta-Shaun Pender also scored in double figures with his 18 points. 
Sam Mickelson, Madison Memorial boys basketball: Mickelson scored 28 points in Madison Memorial's 65-61 loss over Madison West (3-5, 4-6). Mickelson scored 17 of his 28 points from the free-throw line. Tyler Schmitt was the only other Spartan to score in double figures, with 11 points. The Spartans are back in action on the road Saturday against Verona.
Annika Rufenacht, Verona gymnastics: The Verona gymnast finished at the top of the all-around standings in the Wildcats 139.875-123.225 dual-meet win over Janesville Parker. Rufenacht scored a 9.700 on the vault, 9.150 on the floor exercise and finished with a total score of 35.550. Fellow Wildcat Ella Crowley finished just behind Rufenacht with a score of 35.150.
Addison Ostrenga, Sun Prairie boys basketball: Ostrenga scored 22 points to help Sun Prairie upset No. 8 Middleton (8-3, 7-1 Big Eight). Darius Chestnut was the second leading scorer for the Cardinals with 15 points, and Ben Olson was the other Cardinal who scored in double figures with 13 points. The Cardinals' (5-5, 3-4) next game is on the road Saturday against Madison West.
Alexa Harris, Madison West gymnastics: The Level 10 gymnast was the all-around high scorer in the meet between Madison West and Madison East/La Follette. Harris had been recovering from a wrist injury before this season. Madison West won the meet 124.675-78.450. Harris was the high scorer on the uneven bars (9.000), floor (9.250) and beam (9.275) routines.
From the box
Columbus girls basketball's Madison Ehlenbach scored 12 points in the Cardinals' 49-36 loss to Lake Mills. Ehlenbach scored seven of her 12 points in the second half. No other Cardinal scored in double figures.
John Ruth of Oregon boys wrestling pinned Monroe's Jace Amacher in 59 seconds in Oregon's 60-22 win. Fellow Oregon wrestler Brandon Liddle pinned Monroe's Jack Dubach in 1:39.
Sarah Hershberger recorded scores 9.350 on the beam, 9.150 on the floor, 8.550 on the vault and finished with a total of 35.350 to win the all-around as Madison Memorial gymnastics went on to beat Middleton 132.075-129.875. Teammate Alexa Schaefer came in second in the all-around (34.475) and won the uneven bars with an 8.400.
McFarland boys basketball's Aidan Chislom scored a team-high 15 points in the Spartans' 72-59 loss to Beloit Turner. The loss breaks a seven-game winning streak for the Spartans (8-5).
Poynette boys basketball's Aiden Klosky scored 20 points in the Pumas' 62-60 win over Columbus. Karl Hanousek came off the bench and scored 19 points to help guide the Pumas to the win.
Middleton boys basketball's Will Comerford scored 18 points in the Cardinals' 66-62 loss to Sun Prairie. Owen Cooney and T.J Bauer were the only other players to score in double figures, with 11 each.
Clevon Easton Jr. scored 19 points in Madison East's 76-68 win over Janesville Craig in boys basketball. The Purgolders (7-3) scored 45 points in the second half to close out the win. Fellow Purgolder Massi Malterer led his team in scoring in the second half, scoring all of his 15 points after halftime.
Madison La Follette boys basketball's Quinton Lomack scored 15 points in the Lancers 78-66 win over Janesville Parker. Kaalan Lee and Cameron Yahnke each scored 12 points for the Lancers. With Middleton's loss, the Lancers (9-1, 8-0 Big Eight) hold sole possession of the No. 1 spot in the conference.
Trey Boyle scored a goal in Madison Memorial boys hockey's 5-2 win over Madison West. The senior has five goals on the season for the Spartans (7-7).
Corrections: Due to a reporting error, Thursday's Madison Memorial vs. Madison West score was incorrect in a previous version of this story. The first box score received also incorrectly stated the wrong scoring total. Both mistakes have been corrected. The stats and information for Madison Memorial gymnastics' win over Middleton were also incomplete in the prior version of this story and did not include Sarah Hershberger's all-around win.
High school sports scoreboard: Scores and standings from Thursday's action
Boys basketball
Boys basketball
BADGER EAST
BADGER WEST
BIG EIGHT
Madison La Follette;8-0;9-1
Janesville Parker;3-5;6-6
ROCK VALLEY
Thursday's results
Madison East 76, Janesville Craig 68
Madison La Follette 78, Janesville Parker 66
Madison West 65, Madison Memorial 61
Sun Prairie 66, Middleton 62
Beloit Turner 72, McFarland 59
Abundant Life/Saint Ambrose 66, Madison Country Day 32
Verona at Beloit Memorial, 7:15 p.m. ppd
Madison Edgewood at Mount Horeb, ppd. TBA
Girls basketball
Girls basketball
BADGER EAST
BADGER WEST
Big Eight
Madison La Follette;6-2;8-2
Janesville Parker;1-7;1-12
Rock Valley
Thursday's result
Lake Mills 49, Columbus 36
Boys hockey
Boys hockey
BADGER EAST
Team;Division;Overall (W-L-T)
BADGER WEST
Madison Edgewood;4-0-0;8-3-0
Reedsburg/Wisconsin Dells;5-2-0;12-5-0
Baraboo/Portage;1-4-0;2-12-0
BIG EIGHT
Madison Memorial;5-4-0;7-7-0
Madison West;3-6-0;4-10-0
Madison La Follette/East;1-5-0;2-8-0
Beloit Memorial;0-8-0;0-13-0
Thursday's results
Tomah/Sparta 2, DeForest 1
Madison Memorial 5, Madison West 2
Janesville at Madison La Follette/East, 7:30 p.m. no report
Baraboo/Portage at McFarland, 7 p.m. no report
Beloit Memorial at Middleton, 7:30 p.m. no report
Girls hockey
Girls hockey
BADGER
Team;Division;Overall (W-L-T)
Cap City Cougars;4-2-0;7-8-0
Badger Lightning;3-5-0;4-6-0
Thursday's results
Cap City Cougars at Rock County, 7 p.m. no report
Gymnastics
Gymnastics
Thursday's results
Madison West 124.675, Madison La Follette/East 78.450
Verona High School 139.875, Janesville Parker 124.225
Madison Memorial 132.075, Middleton 129.875
Mount Horeb at Milton, 6:30 p.m. no report
Watertown at Reedsburg, 6:30 p.m. no report
Boys wrestling
Boys wrestling
Thursday's results
Poynette 44, Lake Mills 10
Lake Mills 48, Columbus 18
Madison La Follette at Janesville Parker, 7 p.m. no report