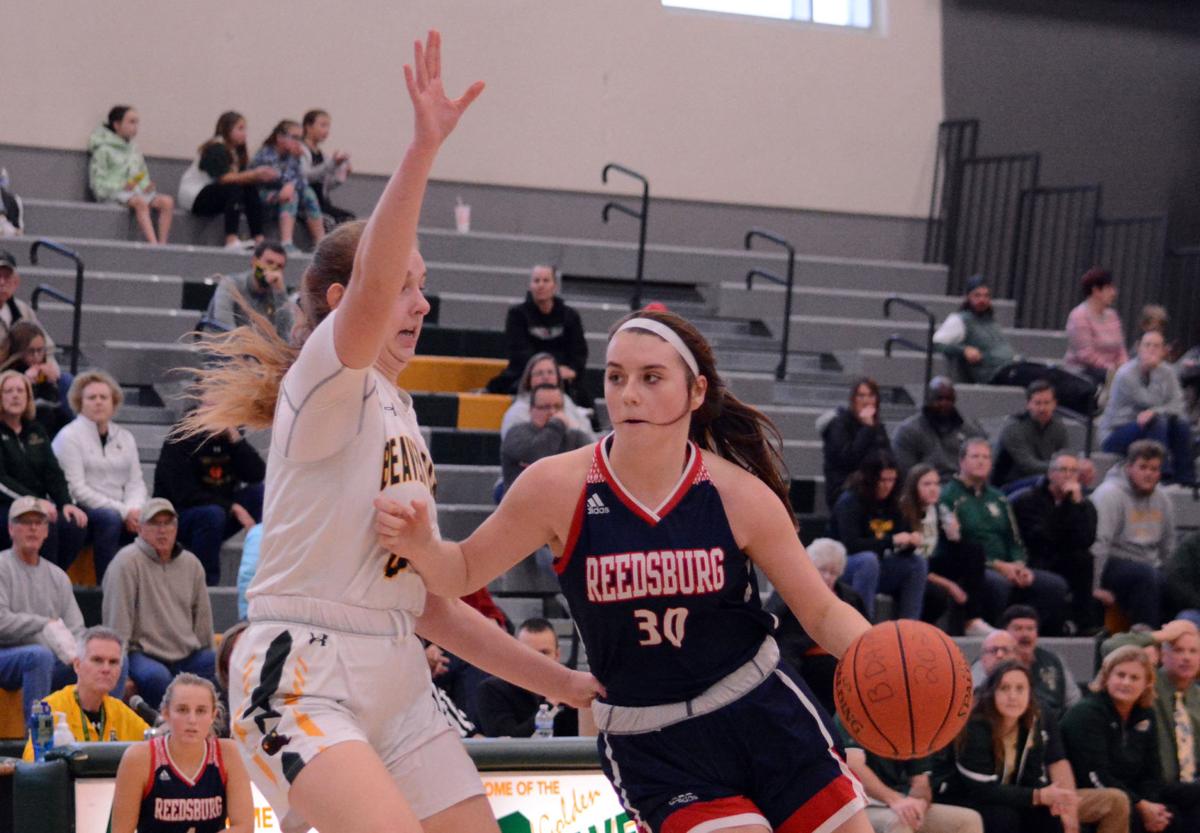 Here are the highlights from Friday's high school sports action.
Stars of the night
Avree Antony, Sun Prairie girls basketball: Antony scored 19 points in the Cardinals' 52-44 win over Madison Memorial. She scored 13 points in the first half, helping Sun Prairie take a 36-28 lead at the break. Teammates Rachel Rademacher (13 points) and Marie Outlay (10) also scored in double figures.
Smith Connor, Madison East boys swimming: Connor won two individual events and contributed to two relay victories in the Purgolders' 94-70 win over Janesville Parker. He won the 200-yard individual medley (2:02.5) plus the 100 backstroke (:54.84), and contributed to wins in the 400 freestyle relay (3:41.22) and 200 medley relay (1:51.56).
Mahra Wieman, Reedsburg girls basketball: UW-Oshkosh commit Mahra Wieman led all scorers with 25 points in Reedsburg's 79-40 win over Monona Grove in the Badger Challenge. Three other Beavers scored in double figures: Sydney Cherney had 16 points, Trenna Cherney had 14 and Grace Benish added 13 points. Undefeated Reedsburg is back in action on the road Tuesday against Mount Horeb.
Mya Tweedy, Monona Grove gymnastics: Tweedy won all four events in the Silver Eagles' 127.025-125.225 dual-meet win over Baraboo. Tweedy's top score was a 9.500 in the floor exercise. The freshman finished with an all-around total of 34.850, scoring a 9.000 in vault, 7.900 on the beam and 8.450 on the uneven bars.
From the box
Verona boys swimming's Luke Benin won two individual events and participated on winning relay teams in the Wildcats' 132-17 win over La Follette. Benin won the 200-yard individual medley (2:04.26) and the 100 butterfly (55.78). The senior swam the second leg for the 200 individual medley winning team (1:49.47) along with Erick Covarrubias, Oscar Best and Brendan Kile. Benin also swam the anchor leg in the 400-yard freestyle winning team (3:32.78) with Max Jones, Grayson Neumann and Angus Best.

The Beaver Dam/Wayland Academy boys wrestling dropped a pair of matches Friday night, losing 39-37 to Portage and 45-30 to Watertown. Portage's Jordan Starr defeated Beaver Dam/Wayland Academy's Mason Grow by fall in 59 seconds at 182 pounds. Beaver Dam/Wayland's Kyler Neuberger defeated Watertown's Marlon Muniz by pin in 1:27. Teammate Gabriel Klatt also won his dual against Watertown's Tyler Haberstetzer by fall in 1:02.

Rylan Oberg led all scorers with 19 points to lead the DeForest girls basketball team to a 75-27 Badger Challenge victory over host Monroe. Marit Manske scored 13 points and Maya Pickhardt had 11 for the Norskies. Monroe's Taylor Jacobson scored 10 points.
Dylann Harrington scored 20 points in the Lodi girls basketball team's 53-48 loss to Watertown Luther Prep. Grace Schmidt led the winners with 16 points.
Jordan Hibner scored 19 points in the Monona Grove boys basketball team's 67-60 loss to Kingdom Prep Lutheran. The Silver Eagles couldn't rally from a 32-24 halftime deficit.
McClain Mahone scored 13 points in the Madison Memorial girls basketball team's 52-44 loss to Sun Prairie. Lauren Sparks scored 11 points and Alexa-Rose Worman added 10 for the Spartans.
Jackson Trudgeon and Teo Jimenez each scored 12 points in the Madison Edgewood boys basketball team's 62-59 loss to Lakeside Lutheran. Clay Krantz added 11 points.
Stoughton's John Harman won by pin over Monona Grove/McFarland's Brett Schnell in 36 seconds in boys wrestling. Harman's teammate Trenton Dow also won by pin over Cooper Cornish in 48 seconds. Stoughton won the dual 51-25.
Evan Luxford recorded three points in the Sun Prairie hockey team's 3-1 win over D.C Everest. Luxford scored the opening goal of the game, then assisted on a goal to help the Cardinals take the lead 2-1 in the first period. Luxford extended the lead with a goal in the third period.
High school sports scoreboard: Scores and standings from Friday's action
Boys basketball
Boys basketball
BADGER EAST
BADGER WEST
BIG EIGHT
Madison La Follette;8-1;9-2
Janesville Parker;3-6;6-7
ROCK VALLEY
Saturday's results
Verona 67, Madison Memorial 58
DeForest 57, Fox Valley Lutheran 49
Sauk Prairie 58, Lake Mills 36
Sun Prairie 58, Madison West 53
Caledonia 74, Waunakee 52
Middleton 60, Madison La Follette 53
Madison East 60, Janesville Parker 51
Girls basketball
Girls basketball
BADGER EAST
BADGER WEST
Big Eight
Madison La Follette;7-2;9-2
Janesville Parker;1-8;1-13
Rock Valley
Saturday's results
Waunakee 58, Madison Edgewood 42
Sauk Prairie 73, Stoughton 46
Fort Atkinson 56, Portage 32
Watertown 53, Mount Horeb 39
Boys hockey
Boys hockey
BADGER EAST
Team;Division;Overall (W-L-T)
Monona Grove;3-5-0;5-10-0
BADGER WEST
Madison Edgewood;4-0-0;9-3-0
Reedsburg/Wisconsin Dells;5-2-0;13-5-0
Sauk Prairie;3-2-0;11-2-0
Baraboo/Portage;1-5-0;2-14-0
BIG EIGHT
Madison Memorial;6-4-0;7-7-0
Madison West;4-5-0;5-10-0
Madison La Follette/East;1-7-0;2-10-0
Beloit Memorial;0-9-0;0-14-0
Saturday's result
Milton 3, Baraboo/Portage 2
Stevens Point 3, Verona 0
Madison West 9, Madison La Follette/East 2
Reedsburg co-op 9, DeForest 2
Madison Edgewood 5, Waunakee 2
Wisconsin Rapids 4, Sun Prairie 3 (2OT)
Sauk Prairie 4, Beaver Dam 0
Girls hockey
Girls hockey
BADGER
Team;Division;Overall (W-L-T)
Cap City Cougars;5-2-0;8-8-0
Badger Lightning;3-5-0;4-6-0
Saturday's results
Western Wisconsin 10, Beaver Dam 0
Gymnastics
Gymnastics
Saturday's result
Monona Grove 127.025, Baraboo 125.225
Madison Memorial 131.825, Waukesha West 131.525, Baraboo 123.425, Madison East La Follette 121.400
Janesville Craig 125.800, Madison West 123.750, Janesville Parker 119.625, Waupun 117.050
Boys wrestling
Boys wrestling
Saturday's results
Norski Invite: Lodi 478.5, Muskego 402, Oconomowoc 374.5, Brookfield East 355, New Berlin West 316, West Bend West 283, Waupun 280, Middleton 267, Sparta 254, Waterloo 212, Monona Grove/McFarland 205, Madison East 192, Sun Prairie 191, Cuba City/Benton/SW 180, DeForest 158.5.
Chippewa Falls Invitational: Tomah 223, Verona Area 152.5, Regis/Altoona 149, New Richmond 137.5, Chippewa Falls 94, Prescott 81, Stanley-Boyd 79.5, New Lisbon 72, Edgar 65, Mondovi 49, Spring Valley/Elmwood 48.
Rick Lawinger Invitational: Iowa-Grant/Highland 211, Reedsburg Area 173, Mineral Point 113, River Valley 97.5, Hartford Union 85, Cashton 74, Waunakee 69.5, Brodhead/Juda 46
Boys swimming
Boys swimming
Saturday's results
Fondy Invite: Bay Port 461, Monona Grove 360, Pewaukee co-op 323, Hartford/Slinger 210, Fond du Lac 210, Racine Case 175, Berlin Greenlake 146, DeForest 140, Baraboo 114.