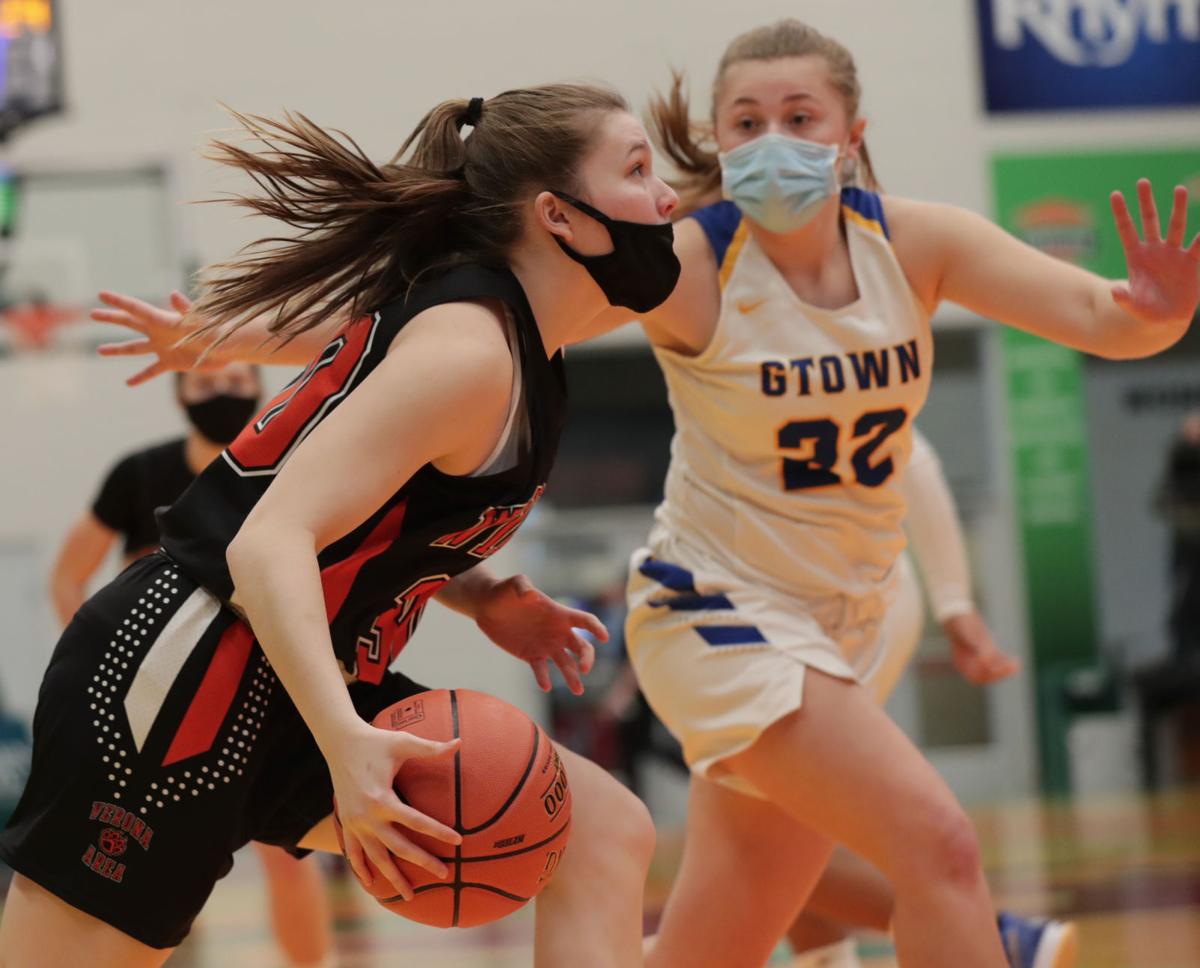 Here are the highlights from Tuesday's high school sports action.
Stars of the night
Ashley Sawicki, Waunakee: The senior St. Cloud State commit led the Warriors girls basketball team with 15 points in a 63-9 win over Portage. She made six field goals, including a 3-pointer, and both free throws attempted. Fellow senior, guard Lauren Meudt, added 12 points, all in the first half, to help Waunakee to a 43-8 lead at the break.
Megan Murphy, Verona: The senior Wildcat led the team in scoring with 22 points in a 61-30 Big Eight conference win over Madison West. Murphy accounted for six of Verona's nine 3-pointers. The win is the Wildcats' first conference win of the year. Fellow Wildcat senior Anna Nielsen added 11 points in the win.
McKenna Monogue, Middleton: The senior led all scorers with 21 points in Middleton's 61-53 opening-game win over Madison East girls basketball. Monogue made six shots, one being a 3, and sank 8 of 11 free throws. Junior Audrey Deptula added 19 points for Middleton on six field goals, three triples and 4-for-4 free-throw shooting.
Gabby Wilke, Beaver Dam: The Golden Beaver led the game with 25 points in their 86-30 win over Baraboo. The sophomore made eight of her 10 free throws. Wilke has now scored more than 20 points in back-to-back games after scoring 22 points against Madison Memorial on Saturday. Kylie Wittnebel also chipped in with 19 points in the Golden Beavers fourth win of the season.
Ava Loftus, Stoughton: The Minnesota State basketball commit scored 25 points in Stougton's 66-48 win over Monroe. It's her second game of 20 or more points this season. Maddie Reott was the only other Viking in double figures with 10 points.
Jordan Hibner, Monona Grove: The Silver Eagle was the boys basketball team's leading scorer in their season-opening 62-52 win over Lake Geneva Badger with 27 points. Hibner made three 3-pointers and four of his eight free throw attempts. Badgers senior Ty McGreevy topped in with 30 points.
Luke Vittengl, Baraboo: A 16-point effort by the sophomore guard helped Baraboo edge Poynette 68-67 in a season-opening victory at home. Vittengl made five shots, four of which were 3s, plus 2-of-3 free throws. He got help from two other double-figure scorers in seniors Brady Kelly (12 points) and Gabe McReynolds (11).
Brent Schmiesing, Madison Abundant Life: The senior guard scored 16 points on six field goals, one a 3-pointer, and 3-for-4 free-throw shooting to guide Abundant Life to a 51-39 win over Juda in the season opener. He scored seven of the team's nine fourth-quarter points, which was enough to fend off a late rally by Juda.
Davis Hamilton, Sun Prairie: Hamilton scored a shorthanded goal and added an assist to help the Cardinals boys hockey team shut out Beloit Memorial 3-0 in their first game of the season. Adrien Krietlow and Aiden White also scored for Sun Prairie in the win, with the latter goal scored on a power play. In total, the Cardinals outshot the Purple Knights 66-9.
From the box
Freshman guard Valerie Richardson led Madison East girls basketball with 13 points in a 61-53 opening-night loss to Middleton. She connected on three triples and scored 11 of her points in the second half. Teammate Kylah McCullers joined her in double figures with 12 points.
Kassia Marquardt led Sauk Prairie girls basketball with eight points in a 35-23 victory over Watertown. McKayla Paulkner added seven points to help the Eagles get their first win of the season.
Grace Vesperman scored 21 points for Mount Horeb girls basketball in a 49-47 victory over Milton. She made six shots from the field.
Junior forward Aiden Klosky, of Poynette, put up 21 points on seven field goals, including three treys, and 4-of-6 free-throw shooting in his team's 68-67 opening-night loss at Baraboo. Teammates Brett Hackbart (16) and Lucas Pickarts (12) also put up double-digit points.
Nate Kapinski led Watertown with 28 points in the Goslings' 90-82 loss to Columbus in overtime. Ollie Meyers (20) and Trenton Shelton (10) also reached double figures.
Mahra Wieman scored 25 points to lead Reedsburg girls basketball to a 66-52 win over DeForest. Sydney Cherney added 18 points for the winners, and Jozy Pickardt's 10 points led DeForest.
High school sports scoreboard: Scores and standings from Tuesday's action
Boys basketball
Boys basketball
BADGER EAST
BADGER WEST
BIG EIGHT
Janesville Parker;0-0;0-0
Madison La Follette;0-0;0-0
ROCK VALLEY
Saturday's results
Madison Edgewood 71, Janesville Craig 61
Stoughton 76, McFarland 71
Verona 72, Sauk Prairie 45
Richland Center 65, Baraboo 41
Union Grove 65, Fort Atkinson 64
Girls basketball
Girls basketball
BADGER EAST
BADGER WEST
Big Eight
Madison La Follette;0-1;1-1
Janesville Parker;0-1;0-2
Rock Valley
Saturday's results
McFarland 85, Stoughton 68
Madison La Follette 72, Milwaukee Academy of Science 68
Whitefish Bay 46, Oregon 43
Madison Edgewood 58, Oconomowoc 50
Waunakee 62, Homestead 47
Brookfield Central 57, Madison Memorial 30
Watertown 63, West Allis Hale 26
New Glarus 62, Evansville 50
Boys hockey
Boys hockey
BADGER EAST
Team;Division;Overall (wins-losses-ties)
BADGER WEST
Reedsburg/Wisconsin Dells;0-0-0;1-1-0
Baraboo/Portage;0-0-0;0-1-0
BIG EIGHT
Madison Memorial;0-0-0;1-1-0
Madison La Follette/East;0-0-0;0-0-0
Beloit Memorial;0-1-0;0-3-0
Saturday's results
Stevens Point 5, Madison Memorial 2
Madison Edgewood 5, Chippewa Falls 1
Hayward 3, Madison West 0
Oregon 10, Whitefish Bay 0
Waunakee 4, University School of Milwaukee 2
Monroe 4, Beloit Memorial 2
Reedsburg/Wisconsin Dells 5, Somerset 3
Girls hockey
Girls hockey
BADGER
Team;Division;Overall (wins-losses-ties)
Cap City Cougars;0-0-0;2-1-0
BadgerLightning;0-0-0;1-0-0
Saturday's results
Metro Lynx 9, Arrowhead 1
Northland Pines 3, Rock County 0
Viroqua 5, Wisconsin Valley Union 0
Boys swimming
Boys swimming
Tuesday's results
Badger East relays: Monona Grove 112, Waunakee 102, Stoughton 92, Milton 65, Watertown 37, Fort Atkinson 32, DeForest 24.