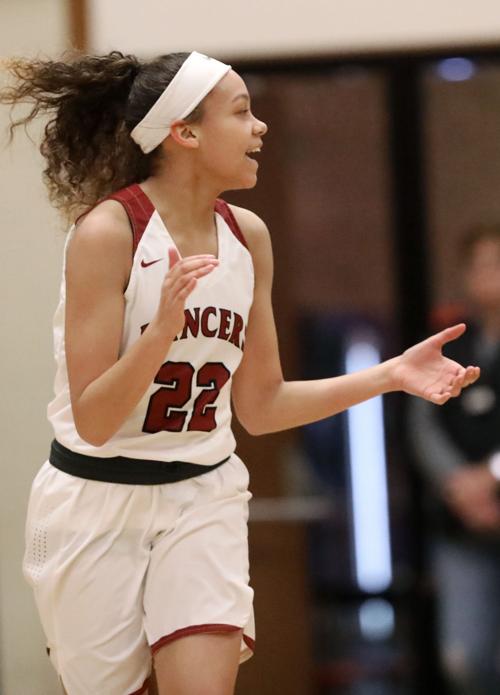 Here are the highlights from Tuesday's high school sports action.
Stars of the night
Jordan Hibner, Monona Grove: The senior guard scored 28 points in a 58-57 win over Madison Edgewood in boys basketball. Hibner made five 3-pointers. He converted a layup with 3.2 seconds remaining, which ended up being the game winner.
Marie Outlay, Sun Prairie: She had 17 points for the Cardinals (4-0) in a 46-34 Big Eight Conference win over Verona in girls basketball. The junior outscored the Wildcats 15-13 in the first half. Teammate Avree Antony was the only other player to score in double figures with 11.
Malia Green and Demetria Prewitt, Madison La Follette: The backcourt duo each eclipsed 20 points in the 84-48 win over Madison East. Green led the way with 25 points, 19 n the first half. Prewitt scored 21 points.
Mount Horeb boys basketball: Junior Rocco Richie made a buzzer-beating shot in a 58-57 win over Fort Atkinson in a season opener. Richie led the Vikings with 17 points, and senior Paul Matthews had 15. Carson Baker led the Blackhawks (0-2) with 23 points.
Spencer Stluka, Oregon: The sophomore swimmer set a school record in the 50-meter freestyle (:24.63) and also won the 100 butterfly (1:08.1) in helping Oregon beat Baraboo 112-57. Senior David Stevenson won the 200 IM (2:27.76) and 100 breaststroke (1:17.1).
Anthony Heinrichs and Reece Cordray, Verona: Each forward scored a pair of goals and had an assist in a 4-1 victory for Verona (2-1-1) over Madison West in boys hockey. Heinrichs scored both of his goals in the first period, Cordray's came in the second. 
Elijah Elmer, Madison Memorial: The junior forward scored the winning goal midway through the third period and had an assist in a 3-2 win over Middleton in a Big Eight opener. The Spartans entered the third trailing 2-1 before getting a tying goal from senior captain Sam Knight on a power play.
From the box
Seniors Cameron Tejeda and Caleb Jondle each won two events and were part of two winning relay teams for Monona Grove in a 110-60 win over Milton. Tejeda won the 200-yard freestyle (1:49.43) and 100 butterfly (:53.98). Jondle won the 500 freestyle (5:12.3) and 200 IM (2:07.55). There were on victorious relays in the 200 medley (1:43.99) and 400 freestyle (3:24.56).
Madison Memorial's McClain Mahone had 15 points — all on 3-pointers — in a 73-28 Big Eight win over Janesville Parker. 
Jakson Wagner and Zak Nowakowski each won two events for DeForest in a 92-78 boys swimming loss to Watertown. Wagner won the 200-yard freestyle (2:10.26) and 500 freestyle (6:05.55). Nowakowski won the 200 IM (2:21.66) and 100 breaststroke (1:10.31).
Sophomore Gabby Wilke scored 18 points in a 56-39 win for Beaver Dam (6-0) over Wisconsin Rapids in girls basketball. 
Jalen Roman scored 15 points to help Reedsburg beat Watertown 59-54. Teammates Kaden Meyer and Jack Campbell each had 12, with Meyer hitting three 3s and Campbell going 8-for-10 from the line.
Junior guard Kyle Kussow led McFarland with 14 points in a 76-62 loss to Brodhead. Dadon Gillen and Andrew Kelley each had 12 points for the Spartans, who were outscored 44-29 in the second half.
Sophomore Caitlyn Frank scored eight points to lead Baraboo in a 39-33 girls basketball loss to Sparta. The Thunderbirds (0-3) could not overcome an eight-point halftime deficit.
Boston Damon scored a goal and had two assists in Beaver Dam's 4-0 win over Monona Grove in boys hockey. 
Ryan Inman and Charlie Jambor scored goals for Middleton in its 3-2 loss to Madison Memorial in boys hockey. Both teams are 2-1-0 overall.
High school sports scoreboard: Scores and standings from Tuesday's action
Boys basketball
Boys basketball
BADGER EAST
BADGER WEST
BIG EIGHT
Janesville Parker;0-0;0-0
Madison La Follette;0-0;0-0
ROCK VALLEY
Tuesday's results
Monona Grove 57, Madison Edgewood 56
Mount Horeb 58, Fort Atkinson 57
Brodhead 76, McFarland 62
Reedsburg 59, Watertown 54
Girls basketball
Girls basketball
BADGER EAST
BADGER WEST
Big Eight
Madison La Follette;1-1;2-1
Janesville Parker;0-2;0-3
Rock Valley
Tuesday's results
Madison Memorial 73, Janesville Parker 28
Madison La Follette 84, Madison East 48
Sun Prairie 46, Verona 34
Janesville Craig 88, Madison West 34
Middleton 84, Beloit Memorial 60
Beaver Dam 56, Wisconsin Rapids 39
Watertown 63, Whitnall 30
Sauk Prairie 56, Dodgeville 18
Burlington 50, Beloit Turner 33
Adams-Friendship 40, Portage 34
Big Foot 64, Williams Bay 24
Boys hockey
Boys hockey
BADGER EAST
Team;Division;Overall (wins-losses-ties)
BADGER WEST
Reedsburg/Wisconsin Dells;0-0-0;1-1-1
Baraboo/Portage;0-0-0;0-1-1
BIG EIGHT
Madison Memorial;1-0-0;2-1-0
Madison La Follette/East;0-0-0;0-0-0
Beloit Memorial;0-1-0;0-3-0
Tuesday's results
Madison Memorial 3, Middleton 2
Reedsburg/Wisconsin Dells 0, Onalaska/La Crosse 0
Girls hockey
Girls hockey
BADGER
Team;Division;Overall (wins-losses-ties)
Cap City Cougars;0-0-0;2-1-0
BadgerLightning;0-0-0;1-0-0
Boys swimming
Boys swimming
Tuesday's results
Monona Grove 110, Milton 60
Watertown 92, DeForest 78