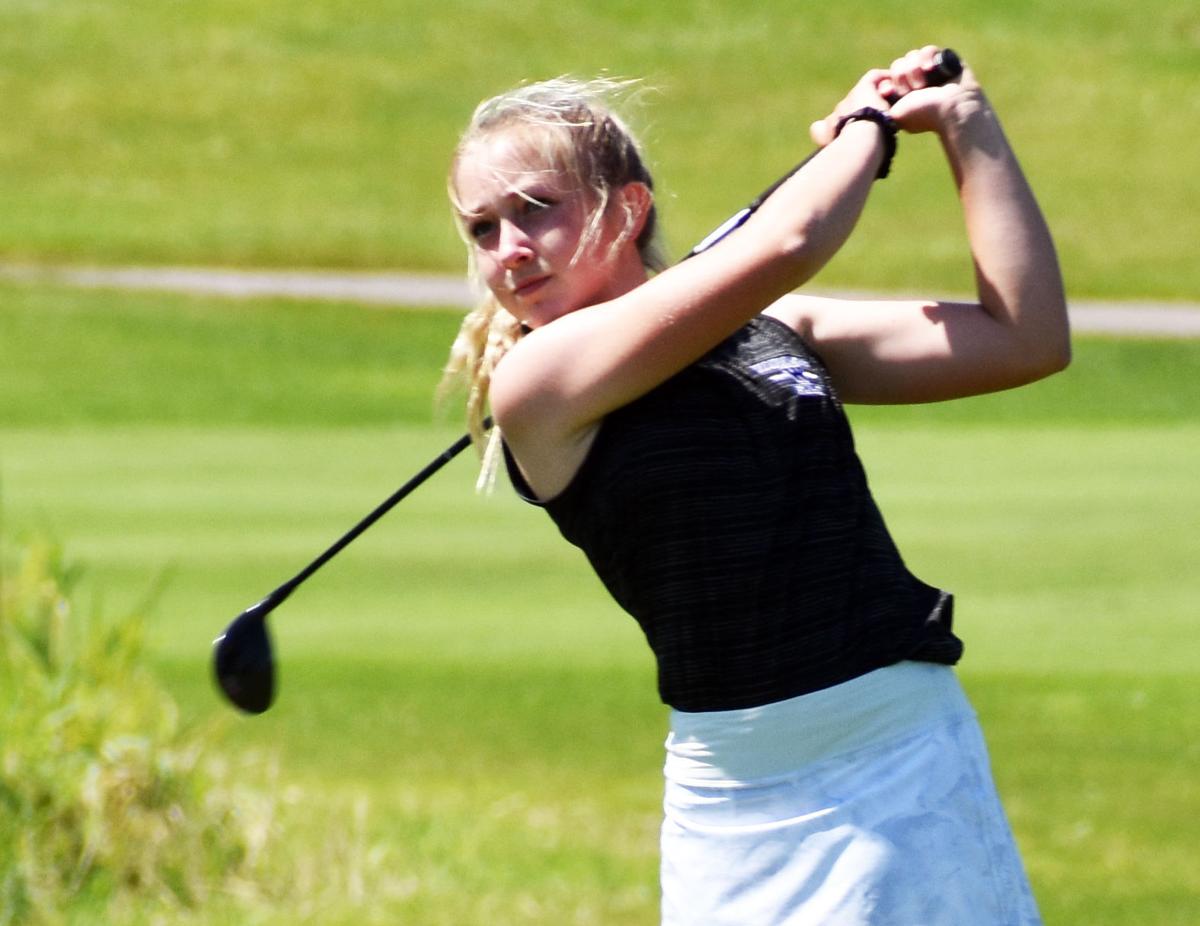 Here are highlights from Tuesday's prep action.
Stars of the night
Ryan Downing, Sugar River: Downing scored three goals and had an assist in an 11-1 win over Columbus in boys soccer. Downing's first goal came just 1:24 into the game, and he completed the hat trick when he scored the 10th goal at the 56:54 mark off an assist from Gavin Boyum. Downing's assist came on Ryan Hagen's goal at 36:26.
Izzi Stricker, Waunakee: Stricker led all golfers in Waunakee's dual meet with Monona Grove with a nine-hole-score of 36. She finished seven shots ahead of the next closest player, teammate Jordan Shipshock. The Warriors scored a 168-201 win over Monona Grove.
Lucas Hart, Lake Mills: Hart had a hat trick in the 4-0 win over Edgerton in boys soccer. All of Hart's goals came in the second half, with his first being scored at the 57-minute mark and the third coming at 72:29. All of Hart's goals were assisted by Jailen Ortega, who also scored Lake Mills' first goal in the first half.
From the box
Audrey Schoenherr won the 100-yard butterfly, 50-yard freestyle and was part of victorious relays in the 400 freestyle and 200 medley for Monona Grove in a 105-65 victory over DeForest in girls swimming.
Max Lynch had a goal and an assist as Verona beat Sun Prairie 4-0 in boys soccer.
Oregon's Alex Rodriguez had one goal and three assists in an 8-0 victory over Baraboo in boys soccer. The Panthers recorded 15 shots on goal and had six goal-scorers.
Isa Hayde finished with 27 digs for Oregon in a 3-0 victory (25-18, 25-11, 25-22) over Portage in girls volleyball.
Claudia Curtis defeated Watertown Luther Prep's Katie Schmidt 6-0, 6-0 in the No. 1 singles match to take the only point for Lake Mills in a 6-1 loss in girls tennis.
Monona Grove's Eliza Martin defeated Fort Atkinson/Cambridge's Sierra Jelinek 6-2, 6-2 in the No. 1 singles match and the No. 1 doubles team of Marissa Light and Kate Walsh triumphed in a 6-1 win in girls tennis.
Jefferson-Cambridge's Jordyn Davis was a winner in four events in a swimming meet with Delavan-Darrien. She won the 100 butterfly and 100 backstroke and was part of the winning 200 medley relay along with Zoey Rank, Emma Riedl and Jada Rank. That same team also won the 400 freestyle relay in a 120-46 win over Delavan Darien.
Stoughton's Angela Hark defeated DeForest's Joanna Wells 6-2, 6-4 in the No. 1 singles match. Stoughton's No. 1 doubles team of Shannon Gibbons and Mikayla Wheeler was victorious, but DeForest prevailed 4-3 in girls tennis.
Carter Siegenthaler scored two goals and had one assist in Sugar River's 11-1 win over Columbus in boys soccer.
Sigenthaler scored Sugar River's 11th goal at the 58:30 mark of the 60-minute game.
Madison West's Tyra Gustavson defeated Madison East's Maria Brennan 6-1, 6-0 in the No. 1 singles match. The No. 1 doubles team of Naomi Held and Iasbelle Gao also was victorious in the 6-1 win in girls tennis.
Reedsburg's Ashleigh Johnson was the co-leader in a girls golf meet with Edgewood's Sarah Nakada, both shooting 40. Reedsburg's Elizabeth Carey shot a 42 in a 174-201 win.
Dylan Harrington had 17 digs and seven kills for Columbus in a 3-0 victory (25-17, 25-17, 25-21) over Lodi in girls volleyball.
Edgewood's Nate Ruprecht scored two goals and assisted teammate Liam Wenborne's goal at the 35:20 mark in a 3-0 win over Portage/Poynette.
Claire Ammeraal recorded 36 assists in Madison La Follette's 3-0 victory (25-15, 25-9, 25-10) over Madison East in girls volleyball. Paige Jensen led the Lancers in kills with 14.
Gunnar Brakel scored two goals to lead Middleton to a 5-1 win over Beloit Memorial in boys soccer.
High school sports scoreboard: Scores and results from Tuesday's action
Boys soccer
Boys soccer
Badger Northwest
Team;Overall;Division;Div. Points
Sauk Prairie;5-7-1;2-1-0;4
Portage/Poynette;5-6-2;0-3-1;1
Badger Southwest
Team;Overall;Division;Div. Points
Mount Horeb;7-1-3;2-0-1;7
Madison Edgewood;7-3-1;3-2-0;6
Badger Northeast
Team;Overall;Division;Div. Points
Badger Southeast
Team;Overall;Division;Div. Points
Fort Atkinson;5-2-1;4-1-0;8
Monona Grove;3-7-2;3-1-1;7
Big Eight
Team;Overall;Division;Div. Points
Madison West;5-4-1;2-1-1;7
Madison Memorial;6-4-1;2-1-0;6
Beloit Memorial;5-5-1;2-1-0;6
Sun Prairie;6-1-4;2-1-0;6
Madison La Follette;1-5-1;0-3-0;0
Madison East;0-6-0;0-2-0;0
Janesville Craig;2-7-1;0-3-0;0
Janesville Parker;0-8-0;0-3-0;0
Rock Valley
Team;Overall;Division;Div. Points
Evansville;10-0-3;2-0-1;7
East Troy/Palmyra Eagle;2-3-1;1-1-1;4
Big Foot/Williams Bay;5-4-1;1-1-0;3
Capitol Conference
Team;Overall;Division;Div. Points
Sugar River;7-1-2;4-0-0;12
Wisconsin Dells;7-0-0;4-0-0;12
Watertown Luther Prep;5-5-0;3-2-0;9
Lake Mills;10-1-1;2-1-0;6
Wisconsin Heights/Barneveld;3-5-0;1-2-0;3
Cambridge/Deerfield;1-5-2;0-1-1;1
Lakeside Lutheran;6-2-1;0-2-0;0
Wisconsin Dells 6, Columbus 0
Evansville 5, River Valley 1
Monroe 2, Cambridge/Deerfield 2
Girls volleyball
Girls volleyball
Badger-East
Badger-West
Big Eight
Janesville Craig;14-2;2-0
Janesville Parker;2-8;1-1
Madison La Follette;2-2;1-1
Beloit Memorial;2-7-1;0-1-1
Rock Valley
Thursday's results
Fort Atkinson 3, DeForest 1 (21-25, 25-16, 25-20, 26-24)
Beaver Dam 3, Stoughton 0 (25-24, 25-18, 25-20)
Reedsburg 3, Monroe 0 (25-18, 25-14, 25-16)
Watertown 3, Monona Grove 1 (21-25, 25-20, 25-21, 25-21)
New Glarus 3, Marshall 0 (25-20, 25-20, 25-14)
Waterloo 3, Wisconsin Heights 0 (25-17, 25-18, 25-22)
Belleville 3, Cambridge 0 (25-18, 25-18, 25-18)
Watertown Luther Prep 3, Lakeside Lutheran 1 (9-25, 25-13, 25-23, 26-24)
Big Foot 3, Evansville 2 (20-25, 26-24, 23-25, 25-19, 15-7)
McFarland 3, Edgerton 1 (25-24, 25-21, 22-25, 25-17)
Girls tennis
Girls tennis
Tuesday's results
Madison West 5, Madison Memorial 2
Madison La Follette 6, Janesville Parker 1
Verona 7, Beloit Memorial 0
Janesville Craig 6, Madison East 1
Girls golf
Girls golf
Baraboo 188, Edgewood 201
Girls swimming
Girls swimming
Thursday's results