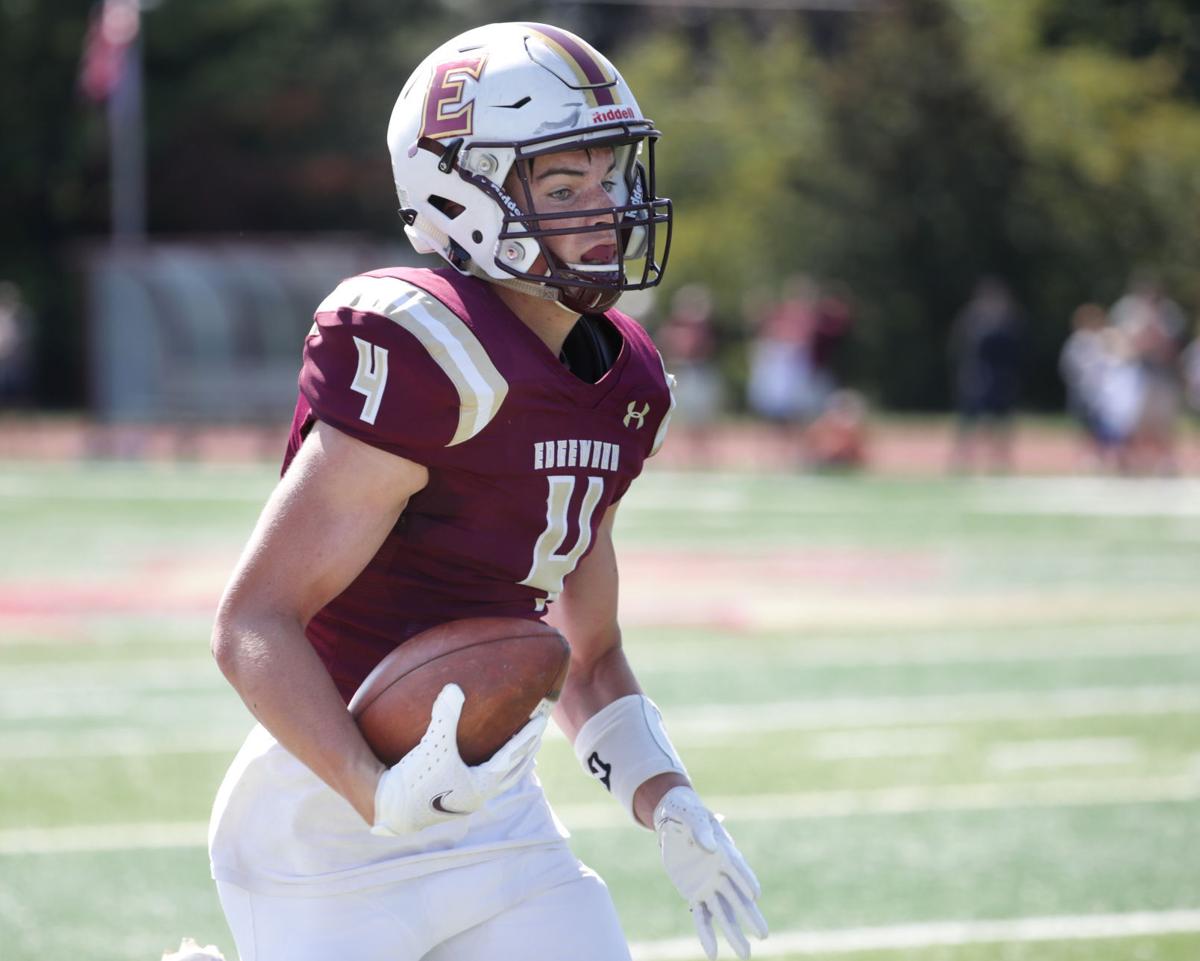 Here are the highlights from Friday's night's high school sports action.
Stars of the night
Jackson Trudgeon, Madison Edgewood: The receiver caught six passes for 149 yards and two touchdowns in Edgewood's 41-0 shutout of Evansville. He caught a 57-yard TD in the first quarter and a 34-yarder in the second. The effort brought Trudgeon, a preferred walk-on commit to the University of Wisconsin, to 22 touchdown catches on the season and over 1,400 receiving yards. His quarterback, Joe Hartlieb, completed 14 of 18 passes for 224 yards and four touchdowns.
Darrick Hill, Stoughton: Hill rushed the ball 35 times for 188 yards and three touchdowns in Stoughton's 21-0 win over Reedsburg. This win was Stoughton's first conference win of the season. Hill also touched the ball on 37 of the Vikings' 61 plays that the Vikings ran in the win.
Alex Hernandez, Monroe: Monroe rushed 28 times for 196 yards and three touchdowns in Monroe's 42-7 win over McFarland. Hernandez's three touchdowns were also the Cheesemakers' first scores of the game, sending them to a 21-7 halftime lead.
Nico Castellanos, Madison La Follette: Castellanos took first place in the boys 5k cross country race with a time of 16:22.7 at the Madison City championships at Lunney Lake Farm Park. Castellanos finished 11 seconds faster than the second-place finisher, Madison Memorial's Jake Zarov, and completed the race with a 5:16 mile pace. The Lancers finished in third place as a team in the boys division with 63 points.
Annika Cutforth, Madison Memorial: Cutforth won the Madison City girls 5k Cross Country event at Lunney Lake Farm Park, 25 seconds clear of runner-up Madison West's Genevive Nashold. Cutforth finished with a mile pace of 6:07 as the Spartans took second place as a team with 45 points.
From the box
Lakeside Lutheran's Kooper Minsa went 3 for 4 passing for 147 yards and two touchdowns in the Warriors' 41-16 win over Horicon/Hustisford. Minsa also ran the ball seven times for 47 yards. Both of Minsa's passing touchdowns were over 50 yards to wide receiver Tyler Marty, who finished with those two touchdown catches for 107 yards.
Columbus running back Colton Brunell ran for 108 yards and two touchdowns on 15 carries in a 55-6 victory over Beloit Turner. He surpassed 1,100 rushing yards on the season with that effort. Teammate Andrew Pfeffer ran for 78 yards on 10 carries plus a touchdown to help the Cardinals run for 237 yards total.
Sauk Prairie's Damien Wright-Rodriguez caught four passes for 67 yards and a touchdown in its 28-19 loss to Baraboo. Teammate Brenden Larson added two catches for 73 yards.
Madison West's Quinn Weygandt was a winner in four different events in the Regents' 100-70 victory over Madison Memorial in girls swimming. Weygandt was an individual winner in the 200-yard individual medley, with a time of 2:16:56, and the 500 freestyle, with a time of 5:21:95. She was also a member of the 200 freestyle relay winning team with Bella Granetzke, Ellen Osthelder and Natalie Chandler. Weygandt also participated in the 400 freestyle winning team with Granetzke, Evy Laursen and Skylar Mirus.
High school sports scoreboard: Scores and standings from Friday's action
Football
Football
BADGER LARGE
Janesville Parker;3-5;2-4
BADGER SMALL
Mount Horeb/Barneveld;7-1;5-1
BIG EIGHT
Madison La Follette;2-6;2-4
CAPITOL
Lakeside Lutheran;4-4;4-2
Watertown Luther Prep;5-3;3-3
Horicon/Hustisford;0-8;0-6
ROCK VALLEY
Oshkosh Lourdes 55, Deerfield 8
Janesville Parker 17, Beaver Dam 14
Waunakee 56, Janesville Craig 6
Baraboo 28, Sauk Prairie 16
Monona Grove 20, Portage 16
Mount Horeb/Barneveld 18, Fort Atkinson 12
Stoughton 21, Reedsburg 0
Beloit Memorial 24, Madison La Follette 21
Madison Memorial 40, Madison West 14
Sun Prairie 26, Middleton 21
Verona 2, Madison East 0 (forfeit)
Columbus 55, Beloit Turner 6
Lakeside Lutheran 41, Horicon/Hustisford 6
Watertown Luther Prep 27, Big Foot 14
Markesan 53, Cambridge 20
Marshall 59, Palmyra-Eagle 0
Madison Edgewood 41, Evansville 0
River Valley 41, New Glarus/Monticello 6
Darlington 32, Belleville 20
Boys cross country
Boys cross country
Friday's results
Madison City Championships: Madison West 35, Madison Memorial 52, Madison La Follette 63, Madison East 106, Madison Edgewood 116
Girls cross country
Girls cross country
Friday's results
Madison City Championships: Madison West 26, Madison Memorial 45, Madison East 68, Madison Edgewood 98, Madison La Follette Inc.
Girls swimming
Girls swimming
Madison West 100, Madison Memorial 70