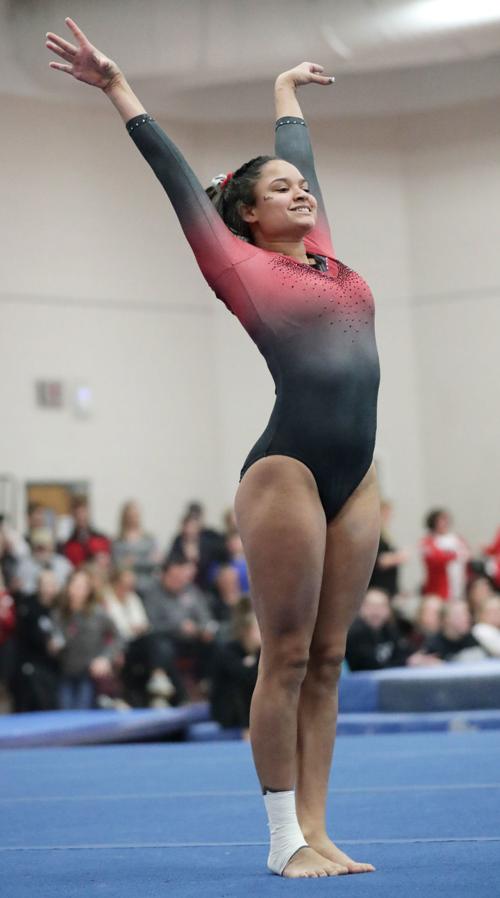 The Mount Horeb gymnastics program is many things, all of them excellent.
The Vikings have the area's highest-scoring team and the state's top-ranked Division 2 team. They have the best state history of any area program, with five WIAA championships and 10 runner-up finishes, including last year.
Mount Horeb is so far above the rest because of a tremendous amount of depth in each of the four events enough to make them favorites to win Badger Conference and WIAA state championships this year.
And of all the talented Vikings, one stands head and shoulders above the rest: Junior all-around standout Drea O'Connell.
"Our No. 1 goal each season is to qualify as a team to the WIAA state meet," said Martha Faust, the Vikings' longtime coach. "It would be amazing if we could better our placement from last year."
"This year we have grown as a team, and everyone is working hard to accomplish their goals and dreams," O'Connell said. "Everyone is staying positive and believing in themselves."
Last season, O'Connell placed second in the all-around as a sophomore, totaling 37.3 points in four events. She finished second on uneven bars (9.15) and in floor exercise (9.483), third in vaulting (9.467) and fifth on balance beam (9.2).
That performance helped her earn the Wisconsin State Journal's All-Area Gymnast of the Year award.
You have free articles remaining.
Faust said O'Connell's goal is the same as the team's: "Drea hopes to better her state finishes from last year," the coach said.
O'Connell said her focus this year will be on climbing the scoring ladder in two events: "(I'll be) working toward new skills on the vault and upgrading my floor tumbling passes," she said. "Those are skills that I hope to be able to use later on in the season."
O'Connell did not compete with the Vikings as a freshman, instead working with the Madtown Twisters club program. Last year, her performance was anything but a surprise to Faust and other area coaches.
"Drea is a very talented gymnast who not only excels in a sport that we love, she also enjoys the high school setting of competition with her peers," Faust said. "Drea trains year-round and has attended several summer gymnastics camps.
She loves to dance; help choreograph her teammates' routines and take part in team-bonding activities."
In more than one dual match this year, O'Connell has swept all four first places and the all-around. A look at the Division 2 state honor roll has O'Connell ranked first in vaulting (9.525), bars (9.25), beam (9.375) and all-around (37.425), along with second (by .025 points) in floor exercise (9.425).
What's more, Mount Horeb's top team score of 142.375 points not only beats the second-ranked Division 2 team by 5.95 points. The Vikings' score is even two points better than the top-ranked Division 1 team, the Franklin co-op.
O'Connell already has her sights set on competing in college, Faust said, though her destination is still unknown. For now, the coach said, everyone is just enjoying the daily grind to get better together.
"Mount Horeb gymnastics always emphasizes the importance of 'team first,' Faust said. "Aside from the extrinsic awards, we as a team strive to create fun, positive memories for these young women that they will remember for many, many years."