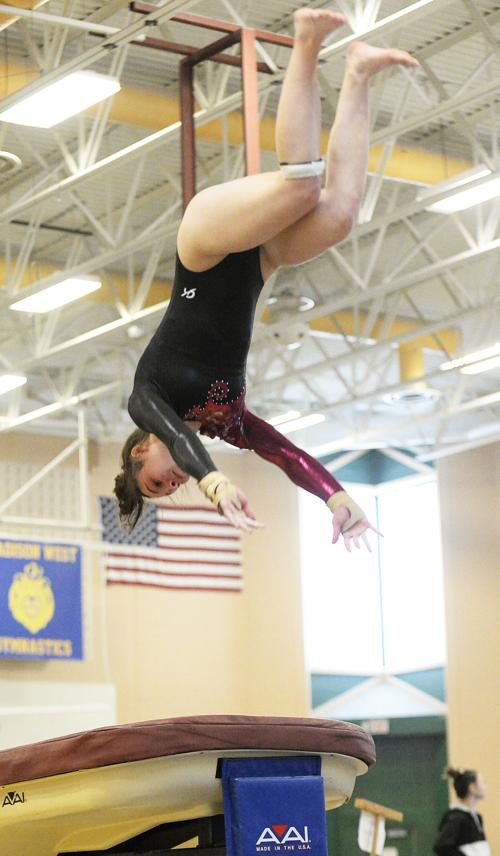 The joy freshman Thea Bender feels competing in gymnastics is revealed the most during the floor exercise.
The event is her favorite. And on Saturday, it was her best event at the Spartan Invitational at Madison Memorial.
Bender — who competes for United Gymnastics, a team with athletes from Madison East and Madison La Follette — scored a season-high 9.50 in winning the floor exercise in the White Division.
"I really love my routine," said Bender, who attends La Follette. "I can really express myself with that. And having the support from my teammates, it just brings me a lot of joy to do that routine. I have a lot of fun doing it."
The floor performance, in which she didn't take any steps on her landing passes, and a first-place finish in vaulting (9.25) propelled Bender to the White Division all-around title with 35.70 points. Bender also placed third on uneven bars (8.35) and third on the balance beam (8.60).
Bender compiled the best all-around total among area gymnasts in the meet, which was divided into White and Green divisions, each with eight teams. Senior Holli Anderson of the Franklin co-op had 37.15 points and won the all-around in the Green Division, featuring the higher-seeded teams. She finished just ahead of Burlington co-op senior Maddy Bronson (37.10).
The 14-year-old Bender, who's participated in gymnastics for the past 10 years, was involved with club gymnastics at Madtown Twisters prior to her freshman season.
"It was a bit of a change for me, but I think I am adjusting really well and I am having a lot of fun," she said. "It's been a pretty good season. I get to see (teammates) during the school day. It's a good way to make closer friends. You can see two different sides of people — the school side and the gym side, too."
You have free articles remaining.
Verona/Madison Edgewood won the White Division with 132.075 points, ahead of runner-up Madison West (130.90).
Madison West senior Alex DeAngeles was second behind Bender in the all-around, totaling 33.60 points. Maggie Veak, a sophomore, for the Verona/Edgewood team, was third (33.350). DeAngeles (8.55) won the uneven bars and Hailey Dohnal, a junior for Verona/Edgewood, and Madison West freshman Ava Shager tied for first on the beam with 8.65 scores.
The Franklin co-op — which has won the past three WIAA Division 1 state titles and is comprised of Franklin, Muskego, Oak Creek and Hales Corners Whitnall — was the Green Division winner with 146.875 points. The Burlington co-op – comprised of Burlington, Lake Geneva Badger, Burlington Catholic Central, Williams Bay, Wilmot and Union Grove – was second with 144.00.
Madison Memorial had the best team total among area schools, finishing third in the Green Division with a season-high 135.90. Sun Prairie was fourth (134.75).
"This was a really good day for us," said Michele Fuller, Madison Memorial's ninth-year coach. "We had four out of five girls stick on beam, we had one of our best (uneven) bar days and one of our best vault days. Floor was about average. But, overall, it was really good for us."
The Spartans were led by freshmen Jaya Carlson and Sarah Hershberger, who were 13th and 18th, respectively, in the all-around and junior Tea Hellen, who tied for third on beam (9.15) and finished sixth in vaulting (9.15).
"At the beginning of the season, I saw the potential in these girls," Fuller said about her team. "I was hoping at the end of the season this is where we would be. … The potential is there. I think we will use this as a motivating factor — that we can do it and that we just have to bring it (at upcoming meets)."
Waunakee/DeForest senior Tailyn Keller (35.05) placed seventh for the best all-around finish among area gymnasts in the Green Division. Janesville Craig freshman Olivia Rebout (34.750) was eighth.
Maddy Bronson won vaulting (9.50) and floor exercise (9.55). Keller (9.25) tied for fourth on the floor and Middleton senior Jordan Baggot (9.225) was sixth.
Anderson and Franklin co-op teammate Krystal Nelson, a senior, finished tied for first on uneven bars (9.475). Sophomore Malia Bronson of Burlington co-op was the balance beam winner with 9.50.