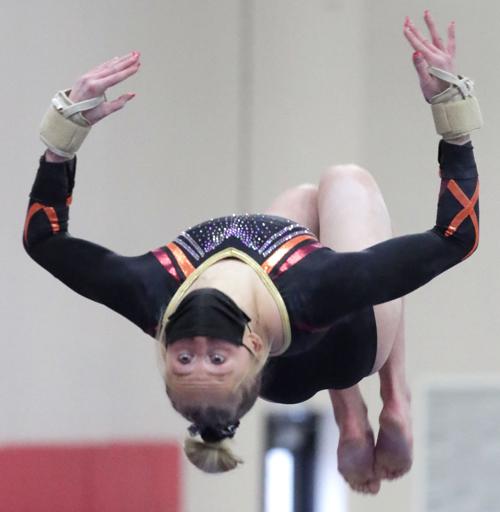 MOUNT HOREB — Making her high school debut, sophomore Annika Rufenacht didn't know what to expect at Saturday's Mount Horeb Viking Invitational gymnastics meet.
She left quite pleased after being a frequent visitor to the awards stand at the 35th annual event.
Rufenacht, a Verona student competing for the Verona/Madison Edgewood gymnastics team, won the floor exercise and vaulting competition and was the White Division all-around champion with a 37.050 score.
"It was a nice surprise," Rufenacht said. "I was happy with how the meet went."
That was the top individual all-around total in the meet — which was divided into two divisions, with the larger schools in the White Division — and helped lead Verona/Edgewood to the White Division title with 140.850 points.
Mount Horeb claimed the Red Division and had the highest overall team score with 142.325 — a team-best this season.
"We had a season-high team total and that is always a goal at each competition," said Mount Horeb coach Martha Koller Faust, whose team was second at the WIAA Division 2 meet last season. "The girls really pulled together. Our first event was beam. That can be a bit tricky of an event to start a meet, but we didn't count any falls and had a really solid start there. And the momentum just kept building."
The Vikings swept the top three all-around finishes, led by senior Lexie Weier, the Red Division all-around winner with a personal-best 36.175.
"My expectations were that I just wanted it to be a good meet for the team," Weier said. "We've been really strong throughout the season. I wanted us to continue the energy and the high intensity."
Weier said she had a personal-best 9.40 in winning the balance beam and also won the floor exercise (9.15). She was second in vaulting (9.125) and tied for third on the uneven bars (8.50)."She really had a solid day," Koller Faust said.
Mount Horeb senior Sydney Stoenner (35.50) and Vikings senior Ella Peterson (35.15) finished second and third, respectively, in the Red Division all-around. Stoenner was the vault winner (9.350) and the uneven bars winner (8.65).
"Since we've had plenty of meets, we've upgraded our skills," Weier said. "Some of the skills are new, but, for the most part, the routines are getting cleaner, and that's all across the board for everyone, too."
While the Mount Horeb program has competed in six meets this season, Rufenacht said Saturday's meet was her first of the season because the Verona/Edgewood team's first two meets were called off due to COVID-19 health and safety protocols.
This is Rufenacht's first year in high school gymnastics. She said she changed her path after previously competing in club gymnastics and looked forward to the team aspect of the high school season.
She earned first places on floor (9.60) and vaulting (9.55), was second on the uneven bars (9.150) and finished fourth on the balance beam (8.750).
"We have a good team with a lot of potential," said Rufenacht, who placed 15th in diving at the WIAA Division 1 girls swimming and diving meet Nov. 3 at Waukesha South. "It builds my confidence up a lot. I will go into meets with more confidence and feel better about it."
Verona/Edgewood, fifth at last year's Division 1 gymnastics meet, finished ahead of runner-up Sun Prairie (132.20) on Saturday.
Madison West senior Alexa Harris, who won the balance beam with a 9.20 score, was second in the White Division all-around (36.20).
Samaria Ownby, a senior competing for the Madison United team (Madison East/Madison La Follette), was first on uneven bars (9.45) and third in all-around (35.975).