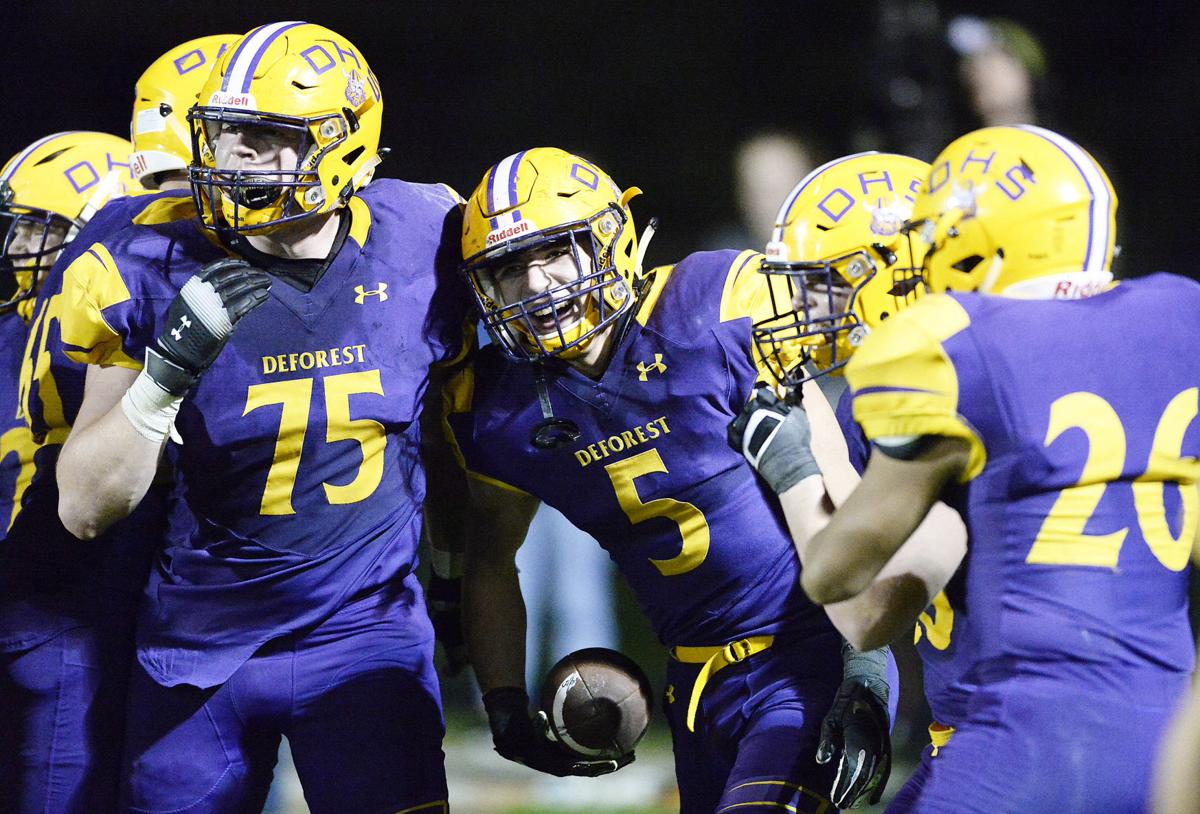 THE LOWDOWN
What: The 44th annual WIAA state football championships.
When, where: Thursday and Friday, Camp Randall Stadium.
Tickets, parking: Admission is $10 per game; $25 for a Thursday four-game pass; $20 for a Friday three-game pass; $40 for a two-day pass. Children age 6 and younger, $1 per game. With school and nearby businesses in session, parking could be a challenge both days. Parking will be available for purchase at university, public and private lots, ramps and other areas as space permits.
TV/streaming: All seven championship games will be carried live on one of Fox Sports Wisconsin's channels. The Division 7 and 6 games on Thursday and the Division 3, 2 and 1 games on Friday will be on the main Fox Sports Wisconsin channel; Thursday's Division 5 and 4 games will be on FS Wisconsin Plus (Charter 323). All televised games will be streamed on the Fox Sports Go app.
Radio/streaming: All seven games will be carried live by WTSO, 100.9 FM, and on the iHeartRadio app.
Last year's finals: Division 1, Muskego 24, Kimberly 21; D2, Mequon Homestead 51, Brookfield Central 14; D3, Waukesha Catholic Memorial 37, West De Pere 24; D4, Racine St. Catherine's 8, Hammond St. Croix Central 7; D5, Fond du Lac St. Mary's Springs 20, Stratford 17; D6, Iola-Scandinavia 43, Racine Lutheran 14; D7, Black Hawk 22, Edgar 15.
THE SCHEDULE
Thursday
Division 7: Black Hawk/Warren (Ill.) (13-0) vs. Edgar (12-1), 10 a.m.
Division 6: Eau Claire Regis (13-0) vs. Fond du Lac St. Mary's Springs (11-2), 1 p.m.
Division 5: Stratford (13-0) vs. Hartland Lake Country Lutheran (12-1), 4 p.m.
Division 4: Kiel (13-0) vs. Waukesha Catholic Memorial (11-2), 7 p.m.
Friday
Division 3: DeForest (13-0) vs. Menasha (12-1), 10 a.m.
Division 2: Waunakee (12-1) vs. Brookfield East (11-2), 1 p.m.
Division 1: Bay Port (13-0) vs. Muskego (13-0), 4 p.m.
NEWS, NOTES, NUMBERS
Experience counts
The 14 head coaches who will take to the Camp Randall turf on Friday and Saturday have a combined 318 years of experience, an average of 22.7 years per coach.
Three have 40-plus years on the job: 42 years for Bill Young of Waukesha Catholic Memorial, 45 for Jerry Sinz of Edgar and 49 for Bob Hyland of Fond du Lac St. Mary's Springs. Together, that triumvirate is responsible for 29 WIAA finals appearances, with 18 WIAA championships and 11 runner-up finishes — and even more success in the pre-2000 Wisconsin Independent Schools Athletic Association for Catholic Memorial (4-4 in WISAA finals) and Springs (8-6 in WISAA finals).
The new kid on the block is Ben Farley of Brookfield East, who's in his fourth year but led the Spartans past Monona Grove, 42-36, to win the Division 2 title in his first season, 2016.
Tournament history
The WIAA's first playoff program took place in 1976, with four divisions of four teams each in 1976 and 1977. It grew to five divisions of four teams each in 1979, and an eight-team Division 5 field was added in 1980.
In 1981, the tournament grew to six divisions of eight teams each, so that all conference champions could qualify. In 1987, the field grew to 96 teams, with conference runners-up also qualifying. In 1996, the field expanded to 192 teams, including all teams with conference records better than .500 and some .500 teams. A seventh division was added in 2002, expanding the playoff field to 224 teams.
Last year, an eight-team bracket of eight-player playoffs was added.
Packed trophy cases
St. Mary's Springs has won eight WIAA championships, the most of any program. Edgar, Kimberly, Lancaster and Stratford have seven apiece, and Waunakee, Hartland Arrowhead and Mequon Homestead hold six each. Monroe, Schofield D.C. Everest, Menomonie and Osseo-Fairchild have five each, and Darlington, Amherst, Ashwaubenon, Brillion and Wisconsin Lutheran have each won four titles.
In terms of championship-game appearances, Arrowhead leads the pack with 13, Darlington and Edgar have 12, and Lancaster and St. Mary's Springs have 11 apiece. Waunakee and Kimberly have played in nine finals each and Monroe, Menomonie and Stratford have eight appearances each.
According to the WIAA's list, 123 programs have won at least one state championship.
Stratford is the only program that has won six consecutive titles, from 2003 to 2008. Kimberly won five from 2013 to 2017, and three in a row have been won by Waunakee (2009-11), Monroe (1990-92), Lancaster (2000-02), Amherst (2015-17), Manitowoc (1984-86) and Two Rivers (1980-82).
De Soto has earned playoff berths in 34 of the tournament's 44 years. Stratford has 33 trips and Edgar, Menomonie and Milwaukee Bradley Tech have qualified 32 times (Tech once as a co-op program with Milwaukee Carmen South). Darlington and Howards Grove have made 30 trips each.
---
THE CHAMPIONSHIP GAMES
Division 7
Black Hawk/Warren (Ill.) (13-0) vs. Edgar (12-1), 10 a.m. Thursday
This is a rematch of last year's championship game, although two-time defending state champ Black Hawk has added five seniors and additional underclassmen to its roster through a new co-op program with Warren (Illinois) High School, located 11 miles away. "They really did a nice job of assimilating themselves into what the expectations were," 18th-year Warriors coach Cory Milz said. But it's still the same old Black Hawk offensive machine, running the split-back veer and producing 5,181 yards rushing (398.6 per game) and 505 points (38.8 per game). Senior left halfback Cayden Milz, the coach's son, has 1,811 yards and 26 touchdowns on 206 carries; senior Jaylen Rufenacht has 1,694 yards and 24 scores on 152 carries, including 393 yards and five scores in the last two games, victories over River Ridge and Oshkosh Lourdes. Senior quarterback Ethan Williams has thrown for 813 yards and 11 TDs.
Edgar, playing in its WIAA record-tying 13th state final under 45th-year head coach Jerry Sinz, beat Bangor, 27-7, to earn its berth. The Wildcats' only loss was a 6-0 decision in Week 8 against Stratford, which produced 12 consecutive shutouts before allowing one TD in last week's win to make the Division 5 final. Edgar has scored 500 points (38.5 per game) and allowed 45 (3.5 per game). Senior Kaleb Hafferman leads the rushing attack with 1,006 yards and 25 touchdowns, and junior quarterback Konnor Wolf has thrown for 944 yards and 12 scores. Linebacker Carson Lemmer has 100 tackles to lead a defense that has allowed only seven touchdowns all year, with eight shutouts, and Hafferman has 71 stops and four interceptions.
NEWS, NOTES, NUMBERS
A little cooperation
Black Hawk coach Cory Milz said his program made a good decision by adding Warren (Illinois) High School to form a co-operative program this season.
Even with two schools joined together, the program's combined enrollment is 187 students. Seventeen of them are senior football players.
Warren is located only 11 miles from South Wayne — and across, of course, the Illinois state line.
"(Warren) had really been struggling with football," Milz said. "They had been in and out of a bunch of different co-operatives and kind of on their own the last three or four years, just really getting beaten up in (their conference). They're a bunch of kids that are freshmen and sophomores having to play against a bunch of juniors and seniors that are pretty stout, and against teams that typically play for state championships.
Milz said Warren had approached Black Hawk to suggest a co-op more than once in the past few years, but the Warriors agreed this year because of future participation projections.
"We were at the point at Black Hawk where we thought we could survive playing 11-man football this year, but after this year things were going to get really uncomfortable for us, where we would start to dive down to the level of 23, 24 kids playing high school football," Milz said. "We wanted to be able to sustain two different levels of play, JV and varsity, and so it just made sense for us to go ahead and jump for it this year instead of maybe losing Warren to another school. The WIAA has been great about letting that cross-state co-op happen."
The Warriors had 12 Black Hawk seniors back from last year's state championship team, and added five seniors from Warren along with some underclassmen. "I first met with them in December and just kind of laid it out for them, what the expectations were," Milz said. "There were two very different cultures. … What we got was a bunch of kids who had varsity experience, but the expectations were quite a bit different.
"From our initial meetings, they really did a nice job of assimilating themselves into what the expectations were," Milz said. "And when we got to the summer, I tell you what, our 17 seniors, I'm so proud of their leadership and the way they were able to come together in the summertime. Now, they're just such a close group of kids. A lot of lifelong friendships have been made, the communities themselves have been fantastic. … It has been better than expected. It's been a fantastic merger and it's really worked out well for both schools."
Tackled by the Tigers
Edgar's only loss cost the Wildcats the Marawood Conference championship. In Week 6, Edgar suffered a 6-0 loss to Stratford — a Division 5 finalist which last week gave up its first points of the season, after 12 consecutive shutouts.
"The game with Stratford was 0-0 in the fourth quarter. They scored, but then we blocked a punt and had it at about their 20," Edgar coach Jerry Sinz said. "We had a penalty, a pass to the end zone was broken up, and we just couldn't get it in."
Powerful lines
Black Hawk's strength has been on its offensive and defensive lines, and controlling the line of scrimmage has provided the foundation for all the Warriors' big plays.
"We've had some defensive linemen who actually started in 2017 in that state championship game against Bangor: Avery Baumgartner, Nick Whitcomb, Gunner Foecking, Nick Hull," Milz said. "All four of those guys have played extensively over the last three years. Added to that mix are Skylar Neff and Josh Lozada from Warren.
"There are a couple of tough guys (on the Black Hawk line) to contend with," Sinz said.
"The defensive line has been the key for us, holding up against the run and being able to hold the line with three linemen so we can get in some nickel and dime packages," Milz said. "Our defensive line has been outstanding."
Edgar also returns its entire defensive line: Ethan Heil, Adam Hannaman, A.J. Knetter and Brayden Baumgartner. All were starters last year, Sinz said, adding that Heil was the state individual wrestling runner-up at 220 pounds.
Yes, they pass
Edgar junior quarterback Konnor Wolf has thrown 101 passes, completing 51 for 944 yards and 12 touchdowns. The running game has delivered more than double the yardage and almost four times the touchdowns, but Sinz isn't discounting his passing attack.
"We usually have about 10 scripted pass plays (per game). We think we have quite a few pretty good receivers," Sinz said. "We always do well in our 7-on-7 summer passing league, but I always jokingly tell the kids, 'Get all that passing out of your system now, because we won't be doing much of it when the season starts."
Black Hawk quarterback Ethan Williams has thrown only 86 passes, completing 47 for 738 yards and 10 scores.
---
Division 6

Fond du Lac St. Mary's Springs (11-2) vs. Eau Claire Regis (13-0), 1 p.m. Thursday
Last year, Regis lost a third-round playoff game to Grantsburg, 31-29. This year, coach Bryant Brenner's Ramblers have added the best player from that Grantsburg team to their own roster in 6-foot-4, 225-pound senior tight end and linebacker Gabe Chenal. The University of Wisconsin recruit — whose brothers, John and Leo, are already both with the Badgers — is the team's No. 2 receiver and No. 3 tackler (84 stops). Regis has scored 565 points (43.5 per game) while allowing 97 (7.5 per game). Senior Tristan Root has rushed for 984 yards and 20 touchdowns on 105 carries, and senior Hayden Reinders has picked up 835 yards and 11 scores. Short-yardage back Gus Theisen has 15 rushing TDs. Junior linebacker Payton Kostka has 112 tackles, including 20 in a 36-6 semifinal win over Abbotsford.
St. Mary's Springs is a program of state legend, as is its coach, 49-year veteran Bob Hyland. This is Springs' 26th trip to a state championship game, including its 12th as a WIAA member, and the Ledgers have the most WIAA championships with eight. Last year's team beat Stratford in the Division 5 final, but heavy graduation losses led to losses against Hartland Lake Country Lutheran and Amherst (in overtime) to start this season. But the Ledgers rebounded and have outscored their four playoff opponents by a combined 150-7, raising the season averages to 34.8 points scored and 7.0 allowed per game. Senior Marcus Orlandoni, who missed five-plus weeks in midseason with a high ankle sprain, has 663 yards rushing and 10 touchdowns. The rushing leader, junior David Mueller, has 1,410 yards and 17 TDs on 163 carries. Sophomore Isaac Hyland, the coach's grandson, has 869 yards and 12 TDs in 104 carries.
NEWS, NOTES, NUMBERS
Slow start, big finish
Coach Bob Hyland's St. Mary's Springs team opened the season with a rematch against Hartland Lake Country Lutheran, the team the Ledgers beat in a 2018 semifinal before beating Stratford in the title game.
But the rematch went Lake Country Lutheran's way, 21-14 — and Springs lost a 14-7 overtime game to Amherst the following week for a rare 0-2 start.
"We knew we were going to struggle early," Hyland said. "We graduated a great class last year, all (four) of our receivers, our quarterback who had started three games as a freshman, was an all-conference receiver as a sophomore and then went back to quarterback for junior and senior year.
"(After the Amherst loss) I didn't know where we were going to go. We weren't playing very good football," Hyland said. "But we turned it around then and there, and I'm quite surprised that we made it here.
"We were not ready to play that first game. That second game, we blew it. That was our fault. I told our guys, 'that'll be the end of it. We won't be losing another game this year.'"
Double trouble on the wing
"We run the double-wing. It's no secret what we do," 12th-year Regis coach Bryant Brenner said. "Balance is one of the things we pride ourselves on, giving a lot of kids the opportunity to run the ball."
The Ramblers have amassed 3,636 total rushing yards (279 per game) and 60 rushing TDs, but no single back has broken the 1,000 yard mark. Tristan Root leads with 984 yards and Hayden Reinders has 835.
A grand old time
For the first time, Springs coach Bob Hyland is coaching one of his grandsons this year. Sophomore quarterback/defensive back Isaac Hyland has rushed for 828 yards and made 48 tackles.
Isaac's father is Rob Hyland, the state player of the year in 1991.
"I'm a lot nicer to (Isaac) than I was to my son," Bob Hyland said. "He gets away with a lot more, because Grandma would kill me."
---
Division 5
Stratford (13-0) vs. Hartland Lake Country Lutheran (12-1), 4 p.m. Thursday
You have free articles remaining.
Stratford's defense has reached legendary status, producing 12 consecutive shutouts until allowing a third-quarter touchdown in its 19-7 semifinal victory over Amherst. "They kind of high-pointed (a pass and) we were right there with them," said seventh-year coach Jason Tubbs, whose Tigers are making their ninth trip to the final. "We were right there with him (Amherst receiver Carmelo Aleman). Our kid kind of thought he intercepted the ball, but the referee said their kid had it for a (37-yard) touchdown." Power up front has been the key to a defense that has allowed only 54 rushing yards and 450 passing yards all season (38.8 total yards per game). Meanwhile, the offense has produced 649 points (49.9 per game), averaging 411 yards per game. "Our offense is keeping the ball a long time (which has helped the defense)," Tubbs said. "Friday night, we started the game with a nine-minute drive." Middle linebacker Justin Schoenherr has 106 tackles and senior linebacker Trevor Dennee has 96. Senior Teddy Redman has rushed for 744 yards and 11 scores, and senior Max Schwabe has thrown for 1,186 yards and 21 TDs.
Lake Country Lutheran coach Greg Brazgel, in his 16th year, has built small-school success in the geographical shadow of large-school powers. But the Lightning have succeeded, earning their second finals berth in three years with last week's 25-0 win over Prairie du Chien. Lake Country has allowed two TDs in four playoff games and has seven shutouts. On offense, sophomore quarterback Luke Haertle has thrown for 1,212 yards and 18 touchdowns, and senior Jack Leverenz has carried the ball 205 times for 1,080 yards and 15 scores. Senior linebacker Andrew Schumacher has 140 tackles.
NEWS, NOTES, NUMBERS
Stratford's stoppers
Stratford coach Jason Tubbs said his team didn't even think much about its string of shutouts until its 6-0 victory over Edgar in Week 8. The string continued for four more weeks, until Amherst hit on a third-quarter touchdown pass that was nearly intercepted, Tubbs said.
"We have some tough, hard-nosed kids who love to fly to the football," Tubbs said of his base 4-2-5 defense.
The crew is led by 6-foot-6, 270-pound University of Wisconsin recruit Ben Barten (58 tackles) and 6-5, 285-pound senior Easton Kilty, a North Dakota recruit. The linebacker corps is led by Trevor Dennee, the reigning WIAA state wrestling champ at 220 pounds who ranks second on the team with 96 tackles. The tackles leader with 106 is Justin Schoenherr, whose brother, Jeremy, is a redshirt freshman wrestler at Wisconsin.
At the end of the regular season, Stratford had held opponents to a total of minus-97 yards rushing, including sacks. "A lot of that is up front and our scheme, getting into the backfield," Tubbs said. "Our guys do a nice job getting into the gaps."
Goliath among the giants
Located in the country near Hartland, Lake Country Lutheran opened in 1999 and began playing varsity football in 2004. The Lightning went 40-40 in their first eight years under coach Greg Brazgel, but are 96-10 since then.
"We didn't even have lights four years ago, and now we're in our second state final in three years," the coach said.
Brazgel has succeeded with a school of 373 students, battling in the neighborhood of state giants such as Hartland Arrowhead, Waukesha Catholic Memorial, Wales Kettle Moraine, Oconomowoc, Pewaukee and the Waukesha public schools.
The coach said he builds the program around youngsters who start out in area Lutheran elementary school feeder programs and move up to the high school.
"(We) get a bunch of individuals, coming from a bunch of different places, to believe in one team," Brazgel said. "It's a ridiculous place to get a kid to come to Lake Country Lutheran and oh, by the way, pay for it.
"These are just good families, good, hard-working Christian boys who I have to turn into war machines on Friday night."
---
Division 4

Waukesha Catholic Memorial (11-2) vs. Kiel (13-0), 7 p.m. Thursday
Waukesha Catholic Memorial, coached for the last 42 years by Bill Young, won the Division 3 championship last year and this year dropped to Division 4 as the second-largest school in the 32-team grouping. As a result, the postseason has been a 193-21 cakewalk for a program that battles each year through the state's strongest conference, the Classic 8. "Where they put you is where they play," said Young, adding that 25 other playoff teams dropped a division from their 2018 classifications. The Crusaders are just plain loaded with talent. Senior quarterback Luke Fox, a Duke baseball recruit, has thrown for 2,205 yards and 26 touchdowns with five interceptions, and has rushed for 493 yards and eight scores. Cole Dakovich, a 6-5, 245-pound senior tight end and defensive tackle, has 13 catches for 292 yards and 63 tackles. Purdue recruit Ben Kreul, a senior linebacker, leads the defense with 106 tackles. Obacoso Allen leads the rushing attack with 915 yards.
Kiel earned its first trip to a state championship game with last week's 24-14 win over Wrightstown. But the Raiders' seventh-year coach, Mike Droessler, is a 34-year veteran who previously turned around programs at Wausau West, Fond du Lac and North Fond du Lac. The Raiders average 37.5 points and allow 8.3 per game. Junior Alexander Kleinhans has rushed for 1,119 yards and eight scores, and senior quarterback Mitchell Mahler has passed for 1,075 yards and 15 touchdowns while rushing for 946 yards and 20 scores.
NEWS, NOTES, NUMBERS
Classic 8 to Division 4
It somehow doesn't seem believable that a program that competes in what many believe to be the state's deepest, strongest conference, Waukesha County's Classic 8 Conference, is dropped down to Division 4 for the playoffs.
But that's where Waukesha Catholic Memorial is this year, dropping down after winning the Division 3 title last year — thanks to its enrollment of 603 students, which makes it the second-largest of the 32 schools that made up the original Division 4 field.
"Where they put you is where you play," veteran Memorial coach Bill Young said, adding that he's looking forward to this opportunity because no prior Catholic Memorial team has had the chance to win back-to-back championships.
After battling powers such as Division 1 defending champ and finalist Muskego (a 56-14 loss), Division 2 semifinalist Waukesha West (a 24-7 win) and Wales Kettle Moraine (a 13-11 loss), the Crusaders have zoomed through the playoffs averaging 38.3 points and allowing 5.3.
"They're not pretty good, they're darn good," Kiel coach Mike Droessler said of the Crusaders. "Really an explosive team, lots of good athletes, scheme is sound, excellent coaching.
"Watching them play, you sit there and go 'wow, these kids are fundamentally sound.' It's beautiful to watch on film. I don't know how beautiful it's going to be on Thursday night."
---
Division 3

DeForest (13-0) vs. Menasha (12-1), 10 a.m. Friday
DeForest completed a perfect regular season with a 35-13 win over Division 2 finalist Waunakee and then beat four playoff opponents by a combined 135-30. The Norskies average 42.4 points and 358 yards per game, and allow 6.5 points and 144 yards. Senior quarterback Trey Schroeder is the leader of the offensive pack, throwing for 1,387 yards and 20 touchdowns at a 68.2% completion rate, with senior Lane Larson catching 46 throws for 850 yards and nine scores. Junior Gabe Finley has rushed for 1,324 yards and 16 TDs, and senior Alex Endres has added 700 yards and 13 scores. Schroeder also has 554 rushing yards and 13 TDs. Senior linebacker Jett Riese has 93 tackles.
Menasha sprung to its second state finals berth with a 36-35 victory over Menomonie last week. The Bluejays scored with 51 seconds remaining, and 12th-year coach Jeramie Korth called for a two-point conversion run by quarterback Cole Popp that decided the game. The Bluejays' only loss was a 56-42 drubbing by West De Pere in Week Six, but the Bluejays avenged it with a 24-14 win in the quarterfinal round. Senior running back Tyler Roehl has broken the 2,000-yard mark with 23 touchdowns, and senior quarterback Cole Popp has thrown for 1,861 yards and 18 scores and rushed for 743 yards and 14 TDs.
NEWS, NOTES, NUMBERS
A visit from Coach Roelke
On Sept. 13, former DeForest coach Jerry Roelke came up from Florida to watch the Norskies roll to a 61-0 victory over Portage in Week 4.
He greeted and spoke to the players and coaches, who were eager to spend time with a Hall of Fame coach who built the program and went 186-118-1 from 1986 to 1999. Roelke led DeForest to its only state championship in 1982 after runner-up finishes in 1980 and 1981.
But on Oct. 8, Roelke passed away, leading current coach Mike Minick and his players to dedicate the rest of their season to the memory of their former coach.
And just before that, current coach Mike Minick, who took over for Roelke after the 1999 season, said this would be his last season as DeForest's head coach.
"It's been an emotional rollercoaster, with Coach Roelke passing this year," Minick said. "(He's) somebody I admire deeply and somebody who was a father figure to me and many other kids. We miss Coach. Just a tremendous man, a leader, he did things the right way."
No doubt about it
When Menasha scored with 51 seconds remaining in its semifinal game against Menomonie, coach Jeramie Korth immediately told his Bluejays players that they would go for a do-or-die, two-point conversion that gave Menasha a 36-35 win.
"I'd love to give the kids credit (for convincing him to do so), but it was something I decided early in the week," Korth said. "We were given two opportunities to take advantage of (on the TD and the conversion), and that was the plan."
Longtime collaborators
Minick said senior quarterback Trey Schroeder and senior receiver Lane Larson have been teammates for a long time — which helps to explain by Schroeder's total of 1,387 passing yards and 20 touchdowns includes 850 receiving yards and nine scores by Larson.
"They've played together all through youth football, back when they were third-graders," Minick said. "They like to hang out together. They'll stay after practice and throw together — we had to kick those guys out of there at times."
---
Division 2

Waunakee (12-1) vs. Brookfield East (11-2), 1 p.m. Friday
Coach Pat Rice, in his 28th year, has led the Warriors to their 10th state final and a chance for what would be their seventh championship and second in three years. The only loss came to unbeaten Division 3 finalist DeForest in Week Nine, 35-13, and Waunakee has averaged 40.5 points and 256 yards per game on offense. The defense has given up 15.8 points and 253 yards per game. And the Warriors have played their best in the postseason, despite an injury to team leader Caden Nelson, a junior quarterback, that has led to impressive performances by sophomore Quentin Keene, including a 248-yard, one-TD performance in a 34-15 win over Waukesha West last week. Together, the QBs have thrown for 2,181 yards and 28 scores. Senior Cole Mobley leads the running back corps with 729 yards and 12 scores, and Nelson has rushed for 734 yards and 10 TDs. Sophomore Andrew Keller has 30 receptions for 458 yards and nine scores. Connor Loy leads the defensive front with 7.5 sacks.
Brookfield East lost to Menomonee Falls and Brookfield Central during the Greater Metro Conference season. But fourth-year coach Ben Farley's Spartans avenged those losses by beating Central, 20-0, and the Falls, 34-6, in playoff action before advancing to its first final since 2016 with a 34-8 win over Superior last week. "We're playing our best football here as of late," Farley said. "We've allowed only 24 points in the (four) playoffs. … We've been a good defensive team all year long, but each week we've gotten better." The Spartans average 28.4 points and 307 yards per game, and allow 9.9 points and 172 yards. Senior linebacker Nate O'Connell has 115 tackles and three interceptions, and both lines are anchored by 6-5, 300-pound Northern Illinois recruit John Champe. On offense, senior Donovan Hunt has rushed for 1,686 yards and 24 scores, and senior Sam McGath has thrown for 921 yards and seven scores.
NEWS, NOTES, NUMBERS
Bouncing back
Waunakee's hopes for a perfect regular season and another Badger North Conference title were dashed in Week 9 by a 35-13 loss to DeForest "We were right in there with DeForest, but we kind of faded in the fourth quarter," 28th year coach Pat Rice said.
That loss led some outside the program to think this might not be a typical banner year for the Warriors, due to injuries at multiple skill positions and other adversity.
"They've been hit with some haymakers and they keep coming back," Rice said. "It's been like a Rocky movie in some of our games.
But instead of folding after the DeForest loss, the Warriors got stronger each week through the playoffs. They beat Monona Grove, Milton, Hartford and Waukesha West to advance to their 10th state championship game.
"It's been a crazy season. We've dealt with a lot of different types of adversity, but the kids have hung in there with a next-man-up kind of mentality," Rice said. "We told our guys we've had a lot of great teams who've had one loss and came back.
"(DeForest) was obviously a frustrating and tough night for us, but we went back to work that weekend and we … talked about how we'd move forward. We had another game Friday and we didn't want to lose two instead of just one."
Beast of a defense
Many Brookfield East football T-shirts carry the nickname "B'East," and that's the mindset the Spartans have carried into the playoffs. The crew has allowed only 24 points in four playoff games — and East has earned decisive revenge for its two regular-season losses, beating crosstown rival Brookfield Centra, 20-0, and Menomonee Falls, 34-6.
"It's a testament to our guys," seventh-year coach Ben Farley said. "We thought we've been a good defensive team all year long, but each week we've gotten better. We've taken every challenge head-on."
Farley credits the core group of 18 seniors, who were seniors when East beat Monona Grove for the school's only state title. "Senior leadership has stepped up, and they're dialed in and loose," the coach said.
---
Division 1

Muskego (13-0) vs. Bay Port (13-0), 4 p.m. Friday
Muskego takes a 27-game winning streak to the state final after knocking off Kimberly in last year's final and ending Madison Memorial's title hopes with a 49-13 win last week. The Warriors opened with a 14-10 win over Milwaukee Marquette and then marched through the brutal Classic 8 schedule with no win closer than 17 points. The Warriors beat Mukwonago, 17-7, and Franklin, 17-10, before beating Memorial to earn its finals repeat. Senior running back Alexander Current has totaled 1,495 rushing yards and 21 touchdowns, averaging 14 yards per carry and a touchdown on every fifth carry. Junior bruiser Joshua Bulski has picked up 1,233 yards and nine scores. Andrew Leair has 10 TDs and averages 12.5 yards per attempt, but was hurt against Memorial. Sophomore Evan Weber has averaged 18.6 yards per carry. Junior safety Hunter Wohler has 111 tackles and two interceptions to key a defense that has allowed 7.5 points and 192 yards per game.
Bay Port, champion of the Fox River Classic Conference, enters the final with a lineup that appears ready to give Muskego all it can handle. Coach Gary Westerman, 89-14 in his ninth year, led the Pirates to a 42-28 win over Kimberly in a semifinal after a 56-28 rout of Milwaukee Marquette. "We have an experienced group, really some great humans," Westerman said. "But some teams get (to state) and are really excited to be there. We can't just be excited." Bay Port earned six regular-season shutouts and has allowed 8.4 points and 131 yards per game, including only 41 yards rushing per game. Senior linebackers Call Verlanic and Jayden Montgomery have combined for 170 tackles, six sacks and four interceptions, and senior defensive lineman Max Meeuwsen has 66 tackles and 12.5 sacks. On offense, Isiah Gash has 1,731 yards rushing and 30 touchdowns in 11 games, averaging 9.6 yards per carry, and senior Andrew Thomas has thrown for 1,209 yards and 21 scores while rushing for 661 yards and 14 TDs.
NEWS, NOTES, NUMBERS
Winging it
Muskego coach Ken Krause, in his 12th year, and his staff have perfected the deceptive, multi-faceted Wing-T offense — once a staple of prep football with its counter plays, crossbucks and quarterback keepers, but now a throwback due to the advent of the spread offense.
"Everybody's in the spread, so it gives us a huge advantage," said Krause, whose team averages 320 yards rushing per game. "(They) have three, four days to prepare for an offense they see only once a year."
Krause said Muskego has averaged about 35 points per game over the last 10 years, combined.
The Warriors have rushed for 4,163 yards — 320.2 yards per game — and have 52 rushing touchdowns. Three rushers average better than 12 yards per carry: Alexander Current (14.0 yards per carry, 1,485 total yards), Andrew Leair (12.5 per carry, 726 yards) and Evan Weber (18.6 per carry, 242 yards).
Part of the equation, Krause says, has been the play of linemen Jacob Leszczynski (6-4, 335, sr.) and Ethan Jauquet (6-3, 260, sr.), both three-year starters. "I consider them the best two tackles in the state," Krause said. "They know our offense inside out. They could run practice if I asked them to."
The Bay Port experience
Bay Port also builds its attack around powerful offensive and defensive lines. "Our tight end and four of our five offensive linemen return," ninth-year Pirates coach Gary Westerman said. "On defense, it's much the same."
Running behind all that experience, Isiah Gash has picked up almost 1,000 of his 1,731 yards in the Pirates' four playoff games. Gash has 30 touchdowns.
Safety first
Both Division 1 finals coaches called Muskego junior safety Hunter Wohler the best football player in the state, and his totals of 111 tackles back that up. He's also the Warriors kickoff return man — and so much more.
"He's probably the best player in the state of Wisconsin, but an even better human being," Krause said of the 6-foot-2, 188-pounder. "He's a 4.0 student, a humble athlete, great to everybody, got a good heart. He's got these phenomenal instincts and a great build. He's humble, but he has confidence and swagger as well."
Not just sightseeing
Westerman said he has tried to impress upon his Bay Port players that their work didn't end when they beat Kimberly, 42-28, in a semifinal last week.
"Our kids were excited with the win, but we all felt like we have more to accomplish," Westerman said. "Coming out of that game and going into the finals, this is the first team in school history to make it. … Our kids have two choices: To say we're happy to be here, or say we're going to compete for this thing."