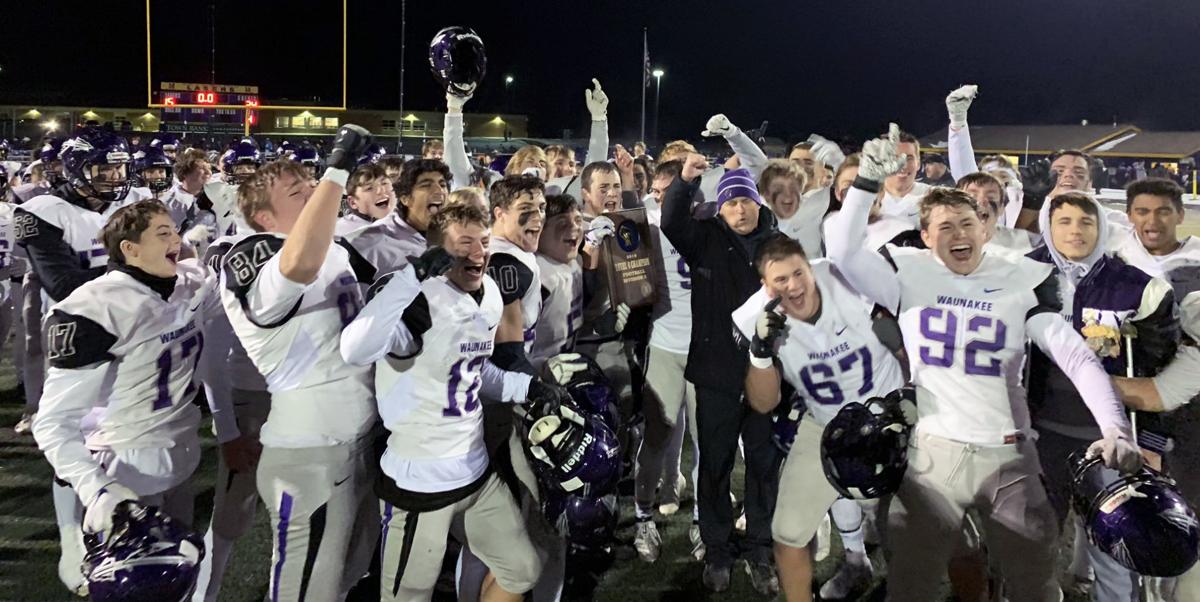 WALES — Sam Lorenz and the Waunakee defense didn't like the feeling of their 15-point deficit in the second quarter of Friday's WIAA Division 2 football state semifinal.
The junior defensive back and his teammates let each other know it was time to step up.
"We got on each other a little bit, but it wasn't anything to push negativity," Lorenz said, "It was, 'This is our team. It's no one's fault.' We started playing together. And when we did that, the whole game flipped."
Waunakee stormed back from that deficit to score 34 unanswered points, basking in the thrill of a 34-15 victory over Waukesha West at Kettle Moraine High School.
The win sent coach Pat Rice's team to Friday's 1 p.m. state final against Brookfield East. It'll be Waunakee's 10th trip to a state final since 1999, and the Warriors (12-1) will shoot for their seventh title overall and second in three years.
Waunakee made sure its five takeaways (three interceptions and two fumble recoveries) made the difference against the Wolverines (9-4)— the only one of three Classic 8 Conference semifinal qualifiers to miss out on making the finals.
Lorenz wrapped his hands around three of those loose footballs, intercepting two passes and returning a fumble 40 yards to set up Waunakee with a first-and-goal with the score still close in the fourth quarter.
"It was nuts," Lorenz said. "We train in practice to get that ball out, and you can see that's what we did."
The Warriors led 20-15 early in the fourth when the ball popped out of the hands of West's Devon Townsend as he fought for extra yards on a carry.
Lorenz — as he was most of the night — was in the right place at the right time. He snatched the ball out of the air and raced down to West's 7-yard line.
Warriors running back Cole Mobley cashed in on the next play with his second touchdown run of the night, giving Waunakee a 27-15 advantage.
Two possessions later, Joe Hauser intercepted a pass and returned it 85 yards for a game-clinching score.
"We talked about, 'Let's take them into deep water,'" Rice said. "Let's see how they are in the fourth quarter."
West had little trouble moving the ball against Waunakee during the early going. The Wolverines marched 71 yards on seven plays on its opening possession and scored on an 11-yard touchdown pass from Brooks Blount to Tyler Hug.
West racked up 330 yards of offense, hanging step-for-step with Waunakee's 351. The Wolverines' problem was holding onto the football. West's last seven possessions ended with five turnovers, a missed field goal from 21 yards and a punt.
"We just really couldn't keep the gas pedal going," Hug said. "We just kept making mistakes. We fumbled. I fumbled the ball, we threw a couple interceptions.
"We were all ready. We were ready to attack, and we shot ourselves in the foot."
Buoyed by the turnovers the defense kept forcing, Waunakee's offense found its footing.
You have free articles remaining.
Backup sophomore quarterback Quentin Keene started in place of injured starter Caden Nelson and found a nice rhythm, completing 17 of 21 passes for 251 yards and a touchdown.
Andrew Keller caught five of Keene's targets for 83 yards, including a high-point grab he ripped away from a defender in the corner of the end zone in the second quarter.
Waunakee running backs Alec Morgan and Mobley combined for 93 yards and three touchdowns on 24 carries.
While it's the program's 10th trip to the finals, for a majority of the players it will all be brand new.
"I remember as a flag football player, this was the dream," Lorenz said. "And our seniors, they got to play in 2017, but they were kind of the backups.
"This whole year we've been preaching, we have team breakfast every game-day morning, and it's just 'one more, one game at a time,' and it's all led up to this," Lorenz said. "And it's huge."
Waukesha West 8 7 0 0 — 15
WW — Hug 10 pass from Blount (Clementi pass from Portz), 8:13
WW — Stray 1 run (Legut kick), 8:33
WAUN — Keller 12 pass from Keene (kick failed), 6:08
WAUN — Morgan 3 run (Driscoll kick), 8:24
WAUN — Mobley 9 run (Driscoll kick), 3:11
WAUN — Mobley 7 run (Driscoll kick), 9:40
WAUN — Hauser 85 interception return (n/a kick), 6:01
First downs — WW 20, WAUN 17. Rushes-yards — WW 24-96, WAUN 30-100. Passing yards — WW 238, WAUN 248. Comp-Att-Int — WW 24-39-3, WAUN 17-22-1. Fumbles-lost — WW 2-2, WAUN 1-1. Penalty yards — WW 0, WAUN 18.
Rushing: WW, Townsend 22-95. WAUN, Mobley 14-57. Passing: WW, Blount 24-39-238-3. WAUN, Keene 17-22-248-1. Receiving: WW, Hug 7-96. WAUN, Keller 5-83.