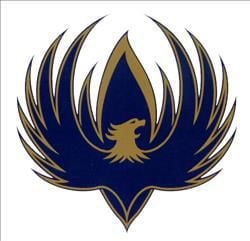 Jon Holtz finished his high school football career with a hat trick Friday night.
And his Watertown Luther Prep football team ended its season with a fourth consecutive no-doubt-about-it shutout.
Holtz, a 5-foot-9, 160-pound senior, scored two touchdowns in the first quarter and another in the fourth to lead the host Phoenix to a 21-0 victory over depleted New Holstein in a WIAA Division 4 second-round playoff game.
After back-to-back losses to Lakeside Lutheran and Lake Mills opened the season for the Phoenix (7-2), they won their final seven games by a combined score of 222-13. That included four consecutive shutouts to end the season, by a combined score of 154-0. It was Luther Prep's first WIAA playoff appearance since 2006.
New Holstein (6-3), which beat previously unbeaten Marshall, 20-8, in its playoff opener, got some bad news last Monday when COVID-19 contact tracing forced up to 20 members of the Huskies' roster — including all three varsity quarterbacks — into quarantine.
THe Huskies played quarterback by committee, with a lot of Wildcat direct snaps — until the bad luck continued in the second quarter when top running back Michael Volz, who had taken most of the early snaps, suffered an apparent ankle injury. The two-way player returned but appeared hobbled as he finished the game.
Volz tried one wobbly pass in the final minute of the third quarter, completing it for six yards on third-and-long but coming up short of the first down. Luther Prep held New Holstein to 91 total yards and seven first downs. He also led the Huskies with 42 yards rushing.
After losing a fumble on its opening possession, Luther Prep stopped New Holstein on a fourth-down play at midfield. On the next play, Holtz ran a wheel route to the right side, caught a pass from Elijah Shevey and completed a 50-yard touchdown play with 5 minutes, 18 seconds left in the first quarter.
On Luther Prep's next possession, Holtz took a pitchout on the left side and broke free for a 53-yard touchdown run with 57 seconds left in the quarter.
Luther Prep's offense was slowed by two more turnovers and one turnover on downs once in the middle quarters, but Holtz added some insurance when he took a pitchout for a 6-yard scoring run to cap a time-consuming drive with 5:44 to play.
---
WATERTOWN LUTHER PREP 21,
Watertown Luther Prep*14*0*0*7*—*21
WLP: Holtz 50 pass from Shevey (Kehren kick), 5:18
WLP: Holtz 53 run (Kehren kick), 0:57
WLP: Holtz 6 run (Kehren kick), 5:44
First downs — NH 7, WLP 12.
Rushing (Att.-Yds.) — NH 42-85; WLP 29-166.
Passing yards — NH 6; WLP 92.
Passes (Comp.-Att.-Int.) — NH 1-1-0; WLP 6-8-1.
Penalties-yards — NH 2-25; WLP 7-53.
Fumbles-lost — NH 0-0; WLP 2-2.
Rushing — NH: Volz 25-42; Abler 8-27; WLP: Holtz 15-109.
Passing — NH: Volz 1-1-0-6; WLP: Shevey 6-8-1-92.
Receiving — NH: Gebhart 1-6; WLP: Holtz 6-92.
---
Friday's statewide scores
Waukesha West 14, Brookfield East 10
Whitefish Bay 19, Waukesha Catholic Memorial 7
Racine Lutheran 54, Kenosha St. Joseph 13
Get in the game with our Prep Sports Newsletter
Sent weekly directly to your inbox!