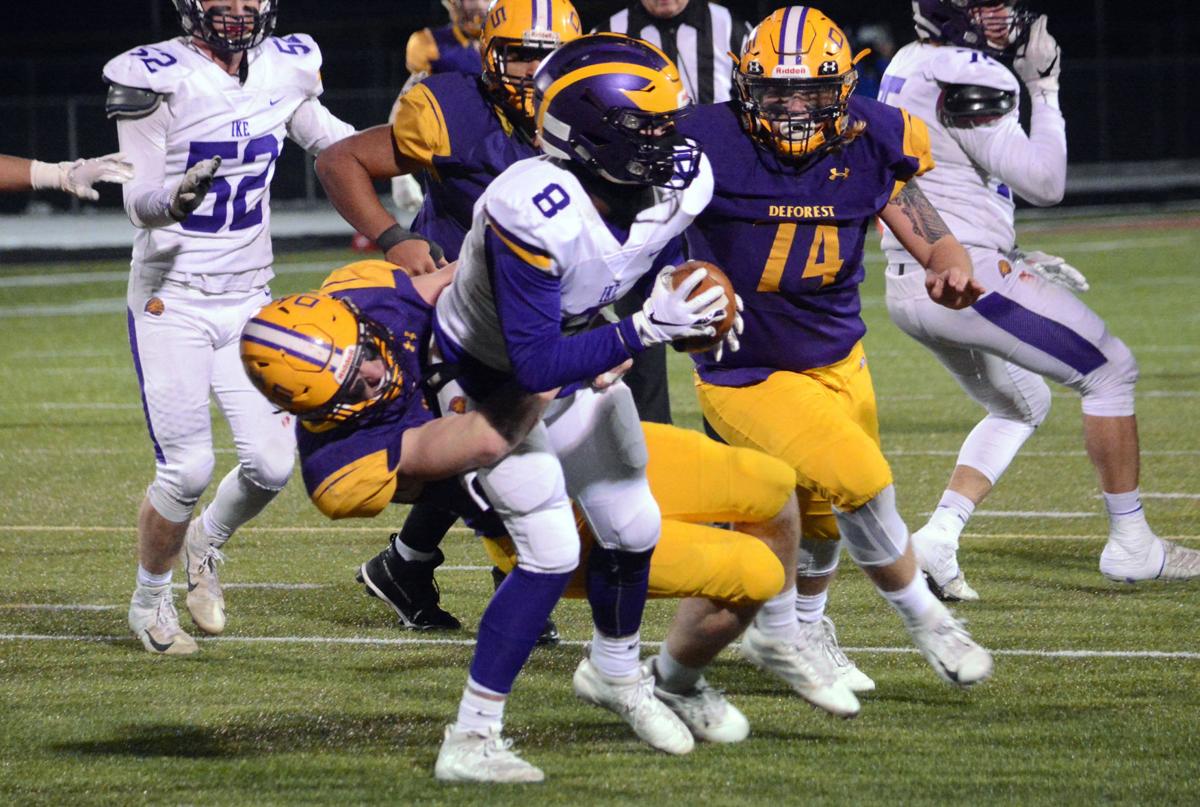 Mike Minick's illustrious career as DeForest's football coach will continue for one more game.
Thanks to defensive back Deven Magli's two interceptions in the final minute-plus, the Norskies sealed a 14-9 victory over New Berlin Eisenhower in a WIAA Division 3 state semifinal on Friday night at Slinger High School.
"He played great," Minick said of Magli. "He made some huge plays."
What's up next for the Norskies also is huge: DeForest (13-0) will play Menasha (12-1) at 10 a.m. Friday at Camp Randall Stadium. It's DeForest's first trip to the final since a runner-up finish in 2007, and the Norskies' fifth final overall — including a championship in 1982 and runner-up finishes in 1980 and 1981.
DeForest quarterback Trey Schroeder threw for 101 yards on 9 of 13 passing. Just as importantly, he rushed for 22 yards and both of the Norskies' touchdowns.
The first was a 1-yard keeper with 8 minutes, 53 seconds left in the first quarter, giving DeForest a 7-0 lead. The short drive was set up by a bad pitch between New Berlin Eisenhower quarterback Gabe Seifert and running back Eli Hoelke at the Lions' 21.
"(Schroeder) is a great leader," Minick said. "He's a great kid. We rely on him a lot with what he does with our offense. He runs it and he's a special kid."
Lions kicker Stjepan Peharda had a 22-yard field-goal attempt hit the right goal post with less than 5 minutes left in the first quarter, but he made a field goal with 10 seconds in the quarter for a 7-3 score.
Late in the third quarter, Schroeder scored on a 4-yard keeper to the left side for a 14-3 lead. But the Lions answered with a touchdown drive, capped by a 2-yard pass from Seifert to Ben Buechel with 10:26 to play. But Seifert was tackled on a 2-point conversion try, keeping the score at 14-9.
"Their receivers are very talented — that (Buechel) is a nightmare," Minick said. "We did a nice job on him."
You have free articles remaining.
Seifert completed 13 of 29 passes for 221 yards. However, Magli picked him off twice and the DeForest defense forced him to fumble in the fourth quarter, finishing with five sacks.
"Our front four did a great job defensively," Minick said. "They put some pressure on him and made him move in the pocket. We made him hurry some throws ... We were fortunate enough to make a few more plays tonight."
Seifert's first interception came with 1 minute left when Magli intercepted a pass at the New Berlin Eisenhower 28.
DeForest punted the ball back to the Lions with about 40 seconds left, but three plays later Magli intercepted Seifert again with 7 seconds left to seal the Norskie victory.
"It was real big," Minick said. "I wish he would've knocked down the one (at the New Berlin Eisenhower 28) because it was fourth down and we would've got the ball a little closer."
In a Division 4 semifinal at Walworth Big Foot High School, the Crusaders (11-2) took advantage of two turnovers to open a 21-0 lead in the first quarter, and then made it 35-0 at halftime against the Blackhawks (11-2) as Luke Fox threw for three touchdowns and ran for another.
Catholic Memorial, out of the Classic 8 Conference that is sending Muskego to the Division 1 final, started fast as quarterback Luke Fox threw touchdown passes of 1 yard to Ben Kreul and 4 yards to Bennett McCormick, and then ran for a 5-yard score.
Obacoso Allen caught a 40-yard scoring pass from Fox in the second quarter and broke for an 18-yard TD run in the third.
River Valley scored in the first minute of the fourth quarter, when Will Bailey connected with Josh Maier for a 1-yard TD.