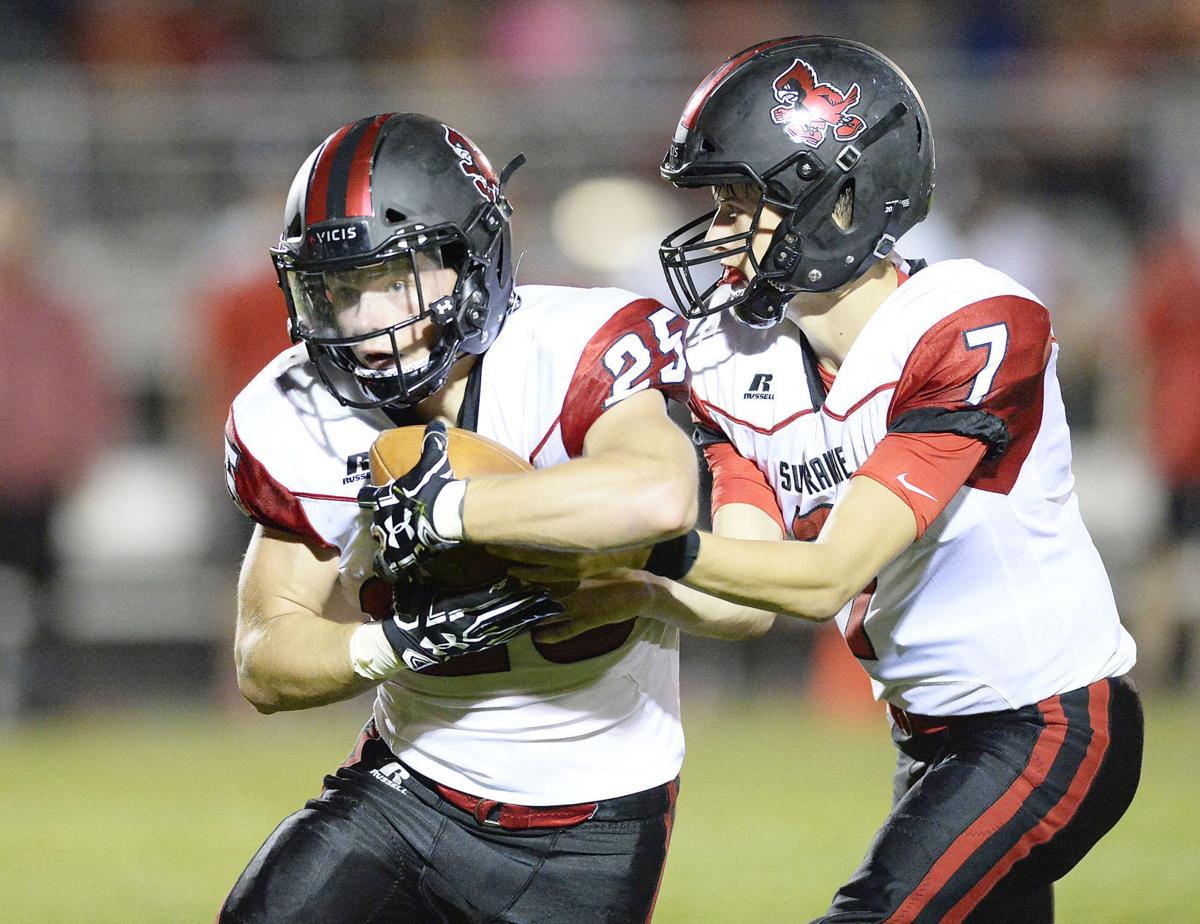 "Didn't we see you just two weeks ago?"
Eight area football teams will be able to say that when they take the field at 7 p.m. Friday to begin the 2018 WIAA football playoffs.
Four of the games will involve area teams from the same conference — and in each of those rematches, the first meeting took place on Oct. 5.
The pairings were announced by the WIAA on Saturday morning after the WIAA selected the 224-team field and grouped it into seven enrollment-based divisions and then four geography-based groupings per division.
From there, all eight coaches from each grouping seeded the teams in their grouping, from No. 1 through No. 8, and the brackets were built from that list.
In Division 1, where six Big Eight Conference teams made the field. Two of them will meet when Middleton (6-3) visits 2017 Division 1 runner-up and conference co-champion Sun Prairie (8-1).
Sun Prairie won the first battle of Cardinals, 35-7, getting 280 yards passing from Richie Gilles and holding Middleton to 170 total yards.
Big Eight co-champ Madison Memorial (8-1) earned the No. 2 seeding in its quarter of the bracket and will play host to Sussex Hamilton (5-4), of the Greater Metro Conference.
The No. 1 seeding went to top-ranked Fond du Lac (9-0), which ended four-time defending champion Kimberly's 70-game winning streak in the season opener. Madison La Follette (4-5) will visit the Cardinals.
Also, Verona (7-2) will play host to perennial power Hartland Arrowhead (6-3) of the Classic 8 Conference. The Wildcats last met Arrowhead in a playoff game in 2016, taking a 21-17 victory.
In the other half of the bracket, Janesville Craig (6-3) will play host to Wales Kettle Moraine (5-4).
In Division 2, defending champion Waunakee (9-0) — which outscored its opponents during the regular season, 389-34 — will make its 22nd consecutive playoff appearance by playing host to Baraboo (4-5).
The first meeting of the Badger North Conference rivals saw the Warriors open a 43-0 halftime lead and take a 43-0 win over the Thunderbirds, who are in the playoffs for the first time since 2006.
Waunakee earned the No. 1 seeding in its half of the bracket, and the No. 2 seeding went to Monona Grove (9-0). The Silver Eagles also face a familiar foe in their opener, in fellow Badger South Conference member Stoughton (6-3).
Monona Grove gave Stoughton a three-game losing streak with a 42-7 victory on Oct. 7, as Brady Killerlain ran for 162 yards and two scores.
Also on that side of the bracket, DeForest (7-2) will host Holmen (6-3) and Oregon (7-2) will host La Crosse Central (7-2). On the other side, fourth-seeded Watertown (6-3) will play host to Whitefish Bay (5-4).
The Division 3 lineup has Jefferson (6-3) playing at top-seeded Waukesha Catholic Memorial (8-1), which has won two state titles and finished second twice and is making its 12th straight playoff trip.
Also, second-seeded McFarland (8-0), at state for the first time since 2012, plays host to Pewaukee (6-3), and third-seeded Mount Horeb/Barneveld (7-2) plays host to Berlin (7-2) of the East Central Conference.
In Division 4, defending state champion Lodi (7-2) suffered its first loss two weeks ago to sophomore quarterback Adam Moen and Lake Mills (7-2). The teams will meet again in the first round, at Lake Mills.
Moen passed for 148 yards and a touchdown and ran for 138 yards and two scores, and the L-Cats' defense intercepted four Lodi passes.
Also in Division 4, Capitol North champ Lakeside Lutheran (8-1) earned the No. 1 seeding and will play host to Beloit Turner (4-5); River Valley (7-2) will host South Central champ Mauston (8-1); and second-seeded Edgerton (8-1) will host Wautoma (6-3).
In Division 5, reigning state runner-up Hartland Lake Country Lutheran (9-0) will play host to Marshall (3-6); Belleville (6-3) will visit third-seeded Horicon/Hustisford (8-1), and New Glarus/Monticello (4-5) will play at Southwest Wisconsin Conference champ Prairie du Chien (8-1).
In Division 6, unbeaten Capitol South champ Cambridge (9-0) drew a No. 1 seeding for its half of the sectional and will host Dodgeland (5-4). The second seeding went to SWAL champ Mineral Point (8-1), which will host Ozaukee (6-3).
Johnson Creek (7-1) drops to Division 7 this year and earned a No. 2 seeding. The Bluejays will host Cambria-Friesland (4-5).
Area teams that missed the playoffs this year after participating in 2017 are Beaver Dam, Deerfield, Evansville/Albany, Madison West, Monroe and Pardeeville. In this year after missing out last year are Baraboo, Edgerton, Marshall and McFarland.