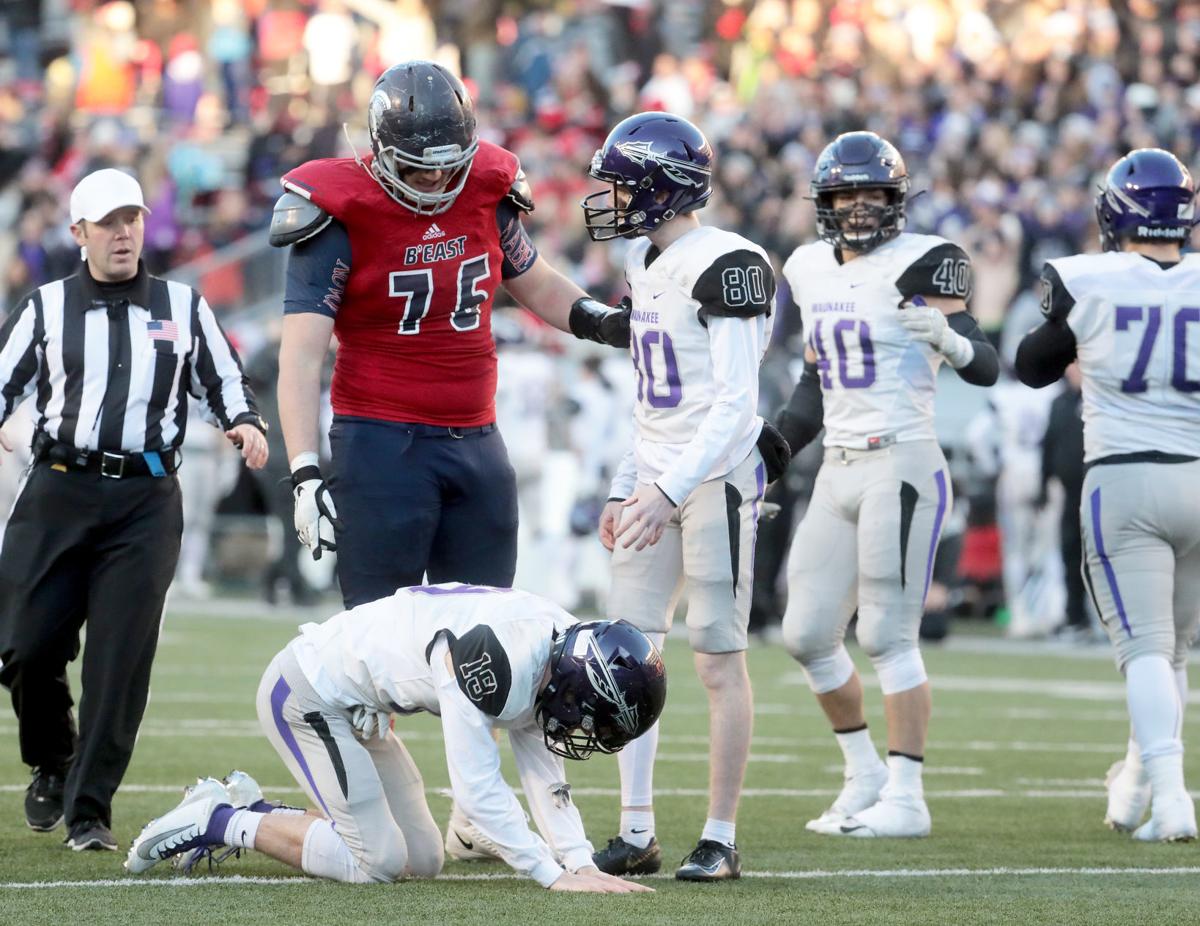 This year's Waunakee football team didn't enter the season with as much fanfare as others in the program's storied tradition.
But longtime coach Pat Rice knew his team was determined to show it belonged.
"I think they have wanted to write their chapter, to be part of the tradition," Rice said.
The Warriors, depleted by injuries, penned a story this season that took them all the way to the WIAA Division 2 state championship game Friday at Camp Randall Stadium.
Waunakee, despite a furious comeback from an 18-point deficit, came up short in its bid for a seventh state title, falling 31-30 to Brookfield East when a potential tying extra point failed with 8 seconds remaining.
"I don't think anybody would have thought that we would be here at the beginning of the year, but we made it," Rice said. "The kids, they hung together. They battled. I was proud of all of them."
Brookfield East (12-2), led by senior running back Donavan Hunt's 227 yards rushing and three touchdowns, won its second title in two state appearances.
The Warriors (12-2), who took over at the Spartans' 36-yard line with 59 seconds left, pulled within 31-30 on sophomore quarterback Quentin Keene's 4-yard touchdown pass to junior tight end Randy Vojtisek with 8 seconds to play.
Rice and his coaching staff discussed going for the 2-point conversion or attempting the extra point. The decision was to kick.
"We talked about it," Rice said. "We thought we'd keep playing. We had a lot of momentum. We thought if we took it into overtime, we'd be in good shape."
But the football appeared to move during the hold, and sophomore Aidan Driscoll's extra-point kick was wide to the right. Afterward, Brookfield East junior Hayden Doyle said he deflected the kick.
"I got a piece of it," Doyle said. "I came off the left edge really hard. I didn't know they had missed it until everybody started cheering. I didn't get to see the kick. Once I knew, it was the greatest feeling."
Brookfield East senior quarterback and defensive back Sam McGath — whose 44-yard touchdown run opened the game's scoring and who had nine tackles, a fumble recovery and an interception — was preparing to play overtime.
McGath said he thought: "`Well, we're probably going into overtime,' but he missed it. And I was like, `Thank God!'"
"I wish we had won tonight," Rice said. "But I think when we all look back at it, it's going to be like, `Wow, that was an unbelievable accomplishment with this group.'"
On their previous possession, the Warriors had driven to the Brookfield East 4-yard line with less than 2 minutes to play on the strength of Keene's 33-yard pass to junior receiver Isaac Schaaf to the Spartans' 27-yard line and Keene's 11-yard pass to sophomore receiver Andrew Keller to the Spartans' 4.
But Brookfield East senior linebacker Nick Pluemer forced a fumble by Waunakee senior running back Cole Mobley, and McGath recovered at the Brookfield East 6-yard line with 1 minute, 28 seconds left.
Keene, the backup quarterback who filled in for injured junior Caden Nelson, wound up 25-for-36 passing for 265 yards and three touchdowns, with one interception. Keene also led Waunakee with 67 yards rushing and a score.
You have free articles remaining.
"He's a tough kid," Rice said about Keene. "I think our whole group is resilient as heck."
The 6-foot-1, 185-pound Hunt scored three touchdowns and rushed for 190 yards in the first half alone as the Spartans took a 28-10 lead in the second quarter. But the Warriors stormed back behind the passing and running of the 6-1, 190-pound Keene and a rejuvenated defense.
Brookfield East's offensive line, led by 6-5, 300-pound senior guard John Champe (a Northern Illinois commit), won the line-of-scrimmage battle in the first half.
Rice said the Warriors' defense missed too many tackles in the first half, but settled down once Waunakee shifted its defensive package.
"I thought we played a really good second half, an unbelievable second half, to give us a shot and to get us some extra possessions," Rice said.
Waunakee used a fake punt — a 24-yard pass from senior Jacob May to senior Joe Hauser to the Brookfield East 26-yard line — to set up a 2-yard scoring run by Keene that made it 28-24 with 8:09 left in the third quarter.
Senior Joey Prondzinski's 23-yard field goal increased the Spartans' lead to 31-24 with 1:43 left in the third quarter.
McGath's 44-yard touchdown run with 10:25 left in the first quarter gave the Spartans the early advantage.
Waunakee answered on Keene's 32-yard touchdown pass to Mobley along the right sideline with 8:36 remaining in the first quarter. But the Spartans responded with a 13-play, 90-yard scoring drive, capped by Hunt's 7-yard touchdown run with 4:03 left in the first quarter.
Driscoll booted a 27-field goal, bringing Waunakee within 14-10 with 10:14 left in the second quarter before Hunt scored two touchdowns for a 28-10 lead. Keene then fired a 31-yard touchdown pass to senior receiver Jordan Wuensch, rallying the Warriors within 28-17 at the half.
Waunakee, which entered with six state championships, was making its 10th title game appearance and second trip in the past three seasons. The Warriors most recently won the 2017 Division 2 title with a 14-13 victory over Brookfield Central.
Brookfield East, making its second state appearance, defeated Monona Grove 42-36 in the Division 2 final in 2016.
"It was a great effort by our kids," Rice said. "They didn't give up. We could have done some things better. But the way they battled, the way the team hung in there is pretty cool."
The Warriors (14-0) repeated as Division 1 state champions and extended their winning streak to 28 games, handing the Pirates (13-1) their first loss with a dominating defensive performance.
Muskego's Mason Buehler intercepted a pair of second-half passes by Andrew Thomas, and when Thomas lost the ball on a sack, Bryan Gruehn Jr. picked it up and ran 60 yards for the Warriors' final touchdown.
Thomas struggled to find the range when forced to throw in the second half, completing 11 of 24 passes for 107 yards. Bay Port running back Isaiah Gash, the state's large-school offensive player of the year, ran for 185 yards on 34 carries but didn't score.
Alex Current ran for 55 yards and a touchdown for Muskego, and quarterback Connor Grohman added a 1-yard scoring run. Muskego won despite being held to 195 yards of offense and seven first downs.
---
Photos: Waunakee comes up short in WIAA Division 2 state title game
Brookfield East 31, Waunakee 30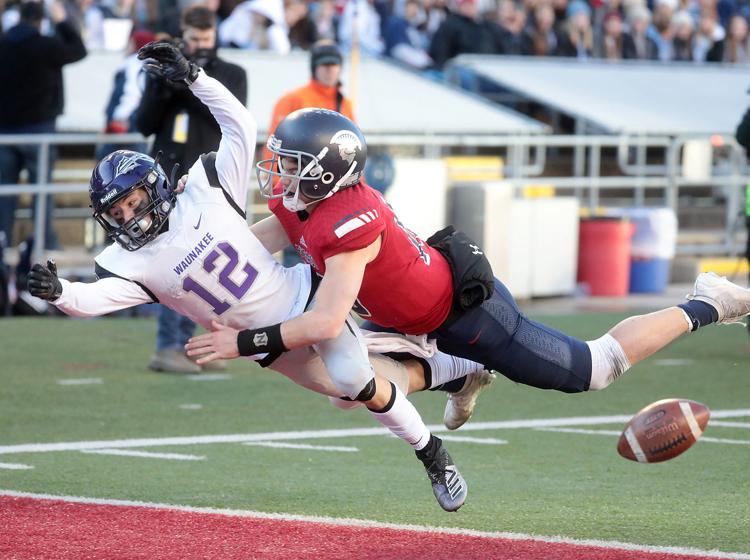 Brookfield East 31, Waunakee 30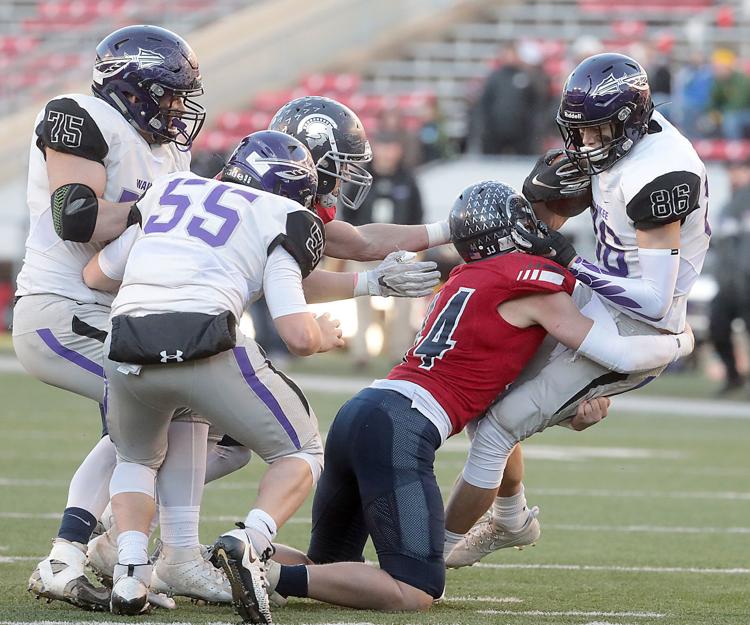 Brookfield East 31, Waunakee 30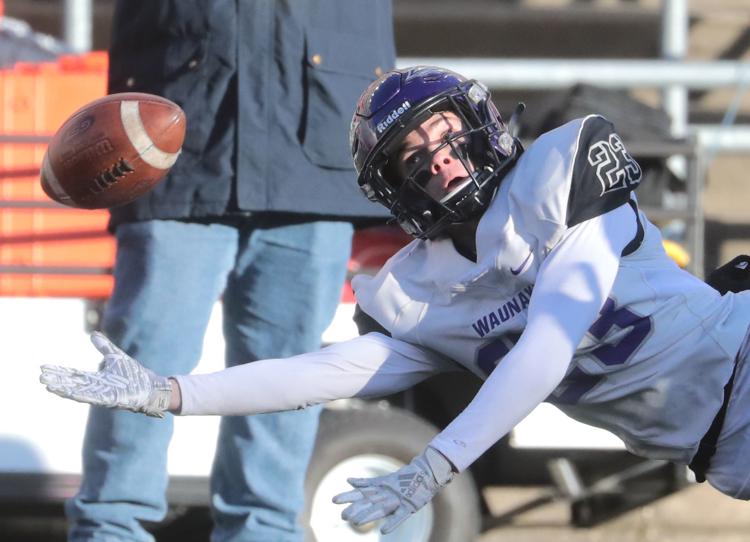 Brookfield East 31, Waunakee 30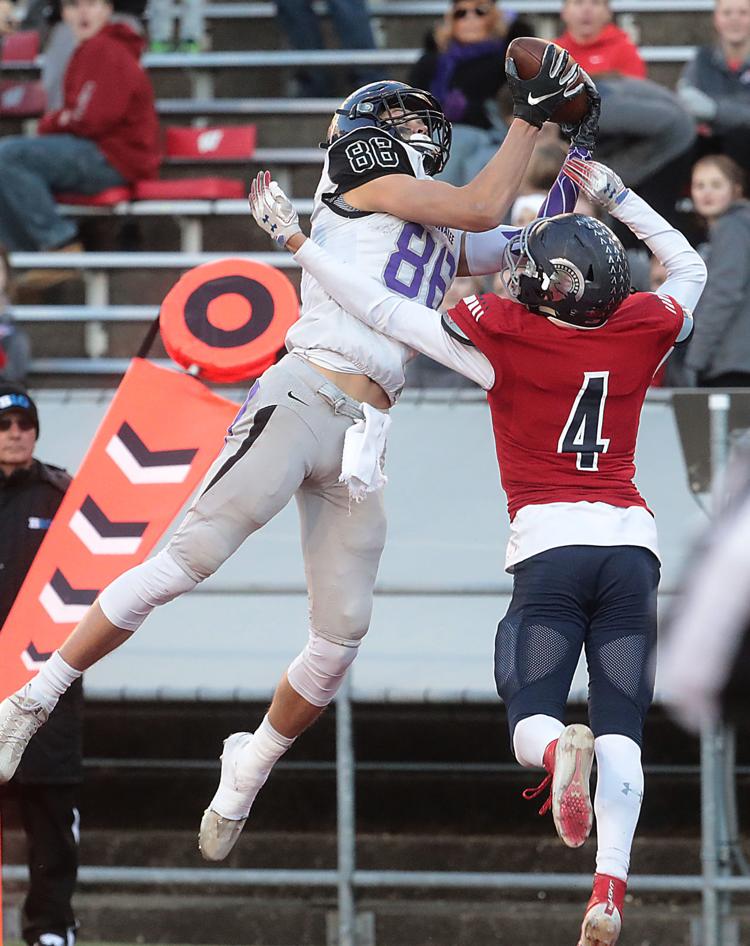 Brookfield East 31, Waunakee 30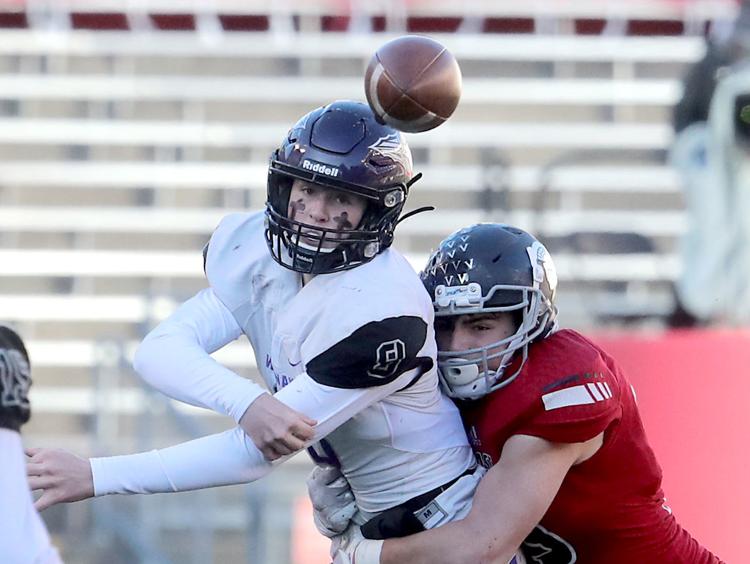 Brookfield East 31, Waunakee 30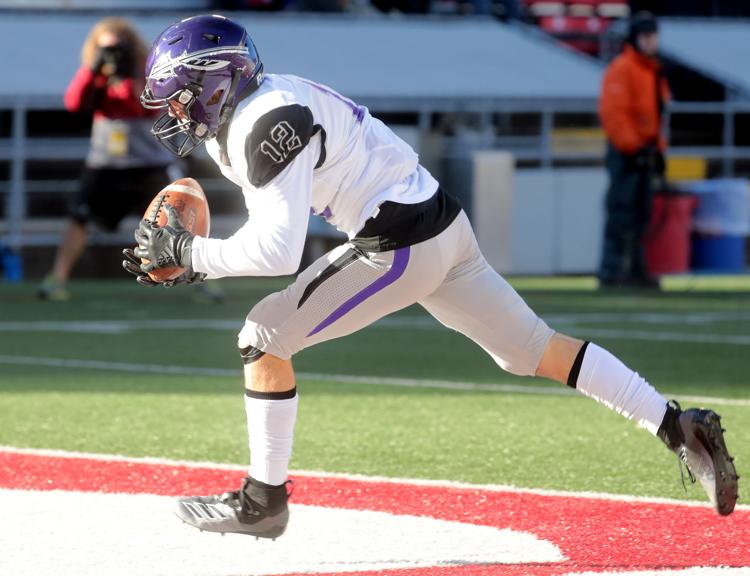 Brookfield East 31, Waunakee 30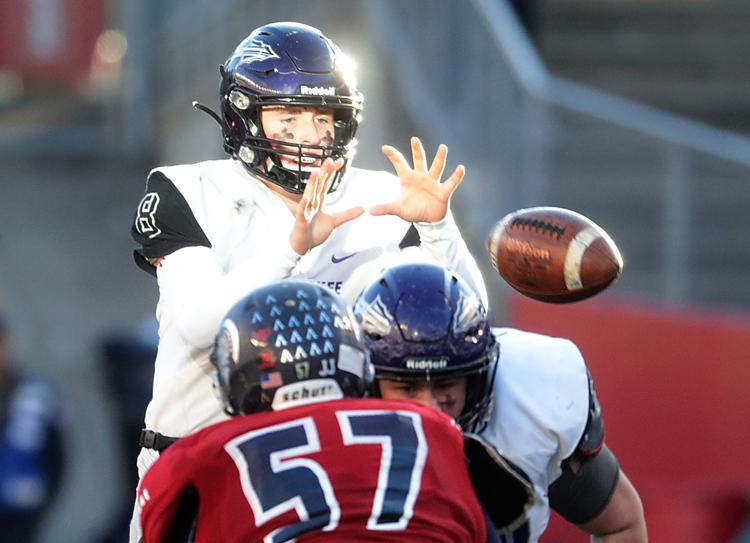 Brookfield East 31, Waunakee 30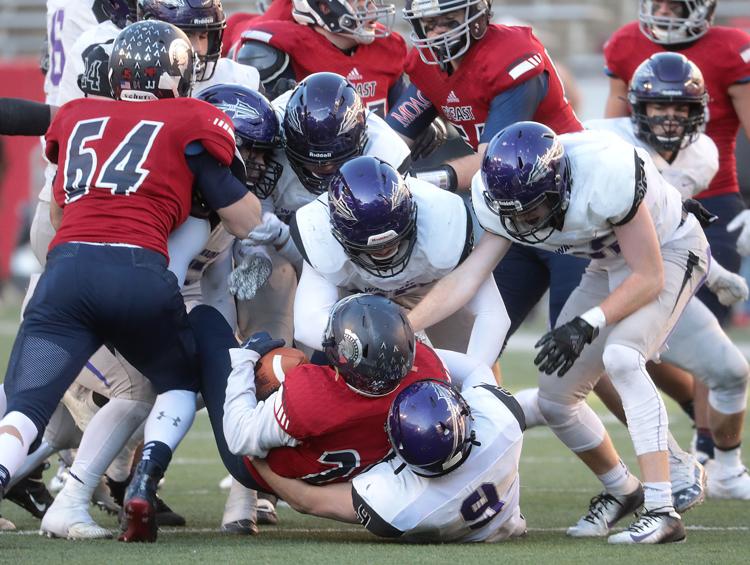 Brookfield East 31, Waunakee 30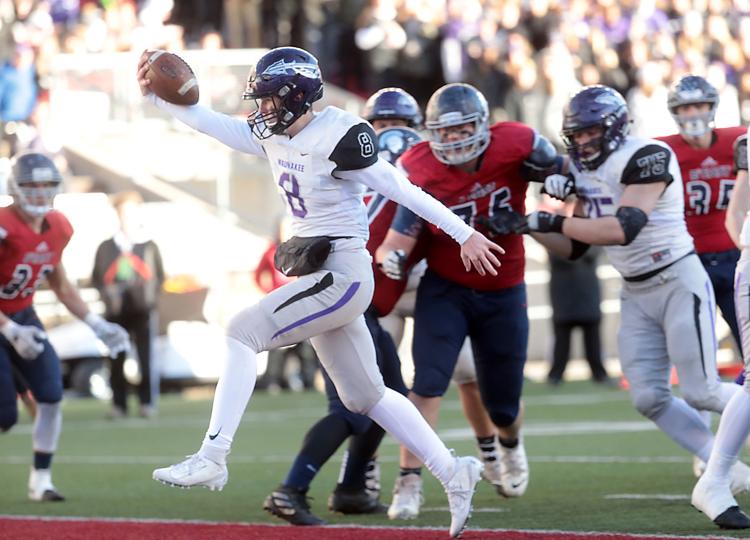 Brookfield East 31, Waunakee 30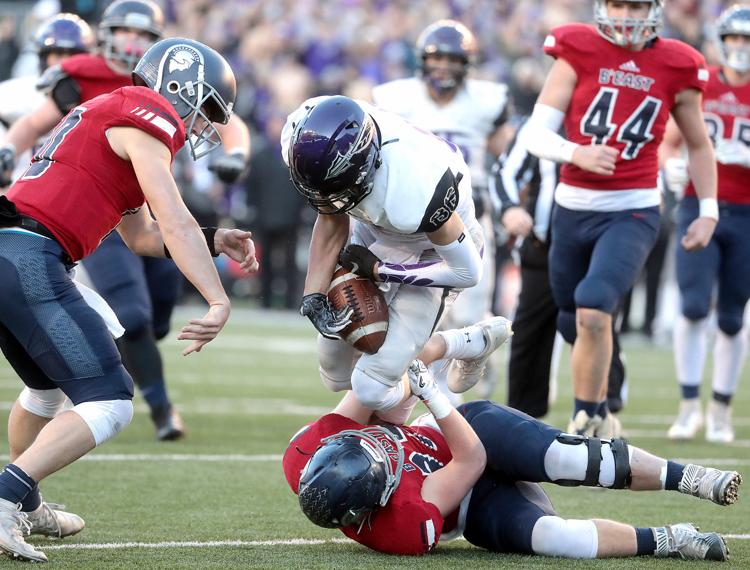 Brookfield East 31, Waunakee 30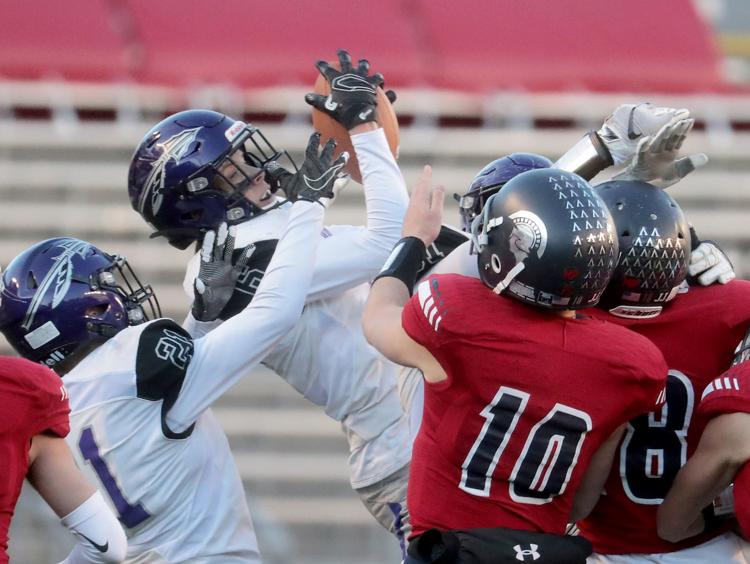 Brookfield East 31, Waunakee 30