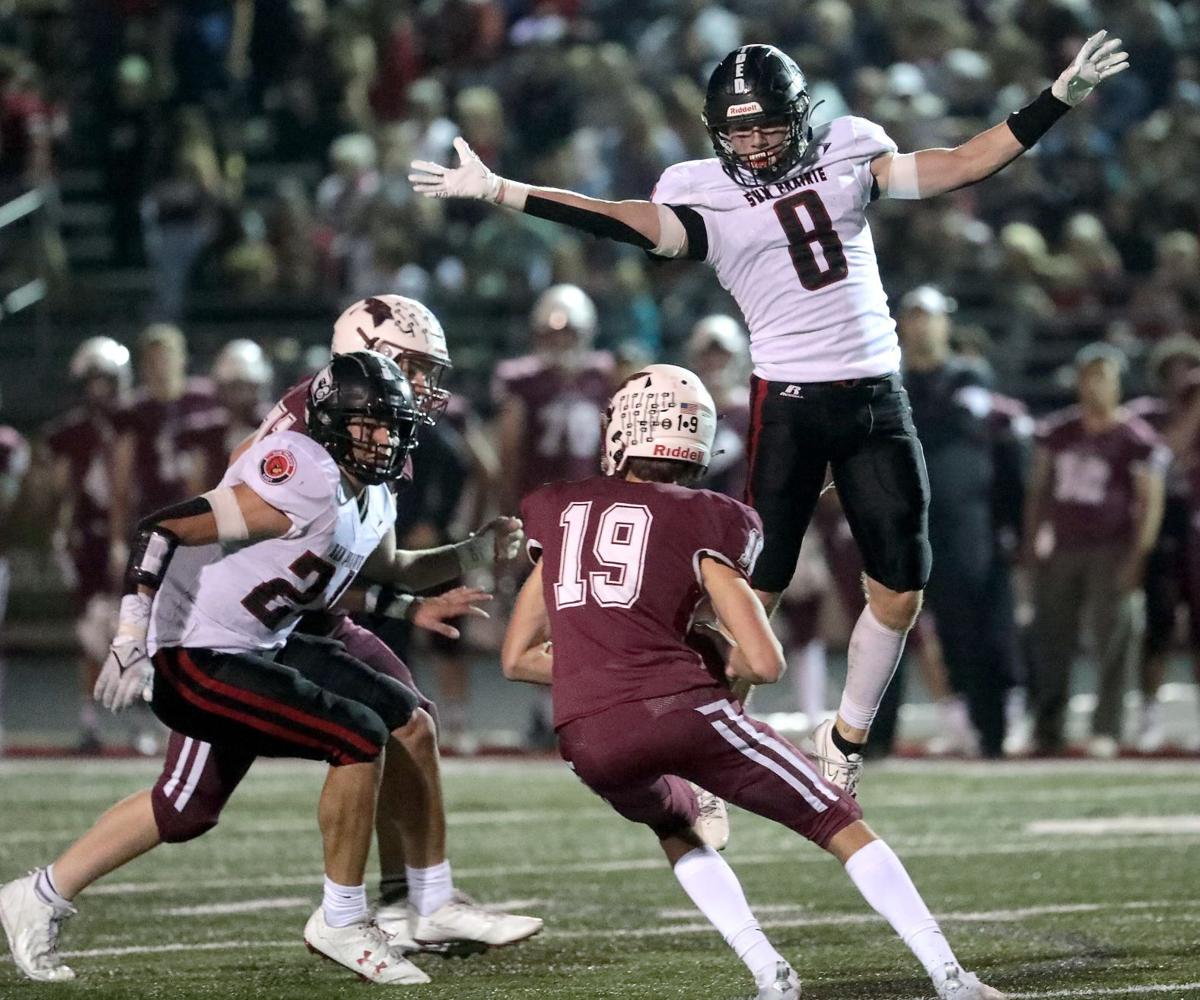 Isaac Hamm has one more game to play in high school and if all goes as planned for the Sun Prairie senior and his teammates it will end with a WIAA Division 1 state championship victory over Franklin on Friday.
On Tuesday morning, the sack master was selected as the Large Schools Defensive Player of the Year by the Wisconsin Football Coaches Association after leading the Cardinals to Camp Randall Stadium with a 13-0 record.
Hamm, the team's leading tackler with 43 solo and 67 total, has eight sacks and 16 tackles for loss. The 6-foot-6, 250-pound defensive end also forced a pair of fumbles.
He said prior to the season he planned to announce his college decision either prior to the Aug. 20 season opener or immediately following the season.
On Twitter on Nov. 13, he announced his final four as the University of Wisconsin, Ohio State, Penn State and Notre Dame.
Joining Hamm, the state's No. 1 ranked defensive recruit in the class of 2022 by Rivals.com and the sixth-ranked recruit in the state overall, on the Large Schools All-State list were teammates Evan Malcore (senior offensive lineman), Cortez LeGrant (junior running back), Jerry Kaminski (junior quarterback) and Addison Ostrenga (senior outside linebacker).
Malcore helped pave the way for LeGrant to average 8.2 yards per carry for 1,410 yards and 22 touchdowns, while Kaminski has completed 62.0% of his passes for 2,423 yards, 29 TDs and only four interceptions.
Like Hamm, Ostrenga also has eight sacks, but the 6-foot, 225-pounder also has an interception, three fumble recoveries and two forced fumbles. He has 14 TFLs.
From the area, Division 2 state finalist Waunakee landed a pair of players on the Large Schools All-State list with senior tight end/fullback Andrew Keller and senior outside linebacker Kaden Hooker honored.
Keller has 46 catches for 783 yards and six TDs while Hooker has 17 TFLs, 2½ sacks and an interception.
Waunakee, playing in the state finals for the 11th time, is seeking its seventh championship and first since 2017. The Warriors play Homestead at 1 p.m. Friday prior to the D1 title game.
Also from the Badger Large Conference, DeForest senior offensive lineman Evan Oberg and senior punter Tyler Ebel were chosen.
Oberg helped the Norskies average 40.1 points per game while going 9-2, ultimately suffering a 29-25 loss to Menomonie in the second round of the D2 playoffs. Ebel averaged 41.9 yards per punt on 30 attempts, dropping a dozen of them inside the 20-yard line with only one touchback.
From the Big Eight Conference, Middleton senior Cole Toennies was chosen as a defensive back after finishing with a pair of interceptions, a forced fumble and a fumble recovery.
And from the Badger Small, Baraboo senior inside linebacker Luna Larson was honored despite missing five games on defense. Larson, also the team's quarterback who played in 10 games under center, led the Thunderbirds to the D3 state quarterfinals for the first time, finishing four tackles shy of the team lead while leading the way in sacks (five) and TFLs (16).
Larson became the T-Birds' first back-to-back All-State honoree since at least 1999.
The Large Schools Offensive Player of the Year is Franklin senior quarterback Myles Burkett, who will oppose Hamm in Friday's championship game and also get his first taste of competing at Camp Randall turf. He already verbally committed to UW.
Burkett, listed as a three-star dual-threat QB by the major recruiting sites, completed 72.2% of his passes for 2,795 yards, 31 TDs and only two INTs while rushing for 306 yards and four TDs.
Monroe senior J.T. Seagreaves, a 6-6, 221-pound defensive end who has verbally committed to UW — though he's expected to play tight end at the next level — was chosen to the Small Schools All-State team.
Seagreaves had six sacks, four TFLs and an interception while helping the Cheesemakers to an 11-2 record. They were dealt a 28-14 loss by Pewaukee in last Friday's D3 state semifinals.
Also on the Small Schools All-State team is Fond du Lac St. Mary's Springs senior Billy Schrauth, a 6-6, 285-pound defensive lineman yet to make a college choice but reportedly showing high interest in UW, Ohio State and Notre Dame.
Schrauth, who has helped the Ledgers (11-2) to Thursday afternoon's D8 state final against Colby (12-1), has 16 TFLs and three fumble recoveries.
Madison Edgewood's Jackson Trudgeon was a two-way Small Schools Honorable Mention selection, with the senior landing on the awards list at wide receiver and defensive back.
He had 50 catches for 1,060 yards and 15 TDs through the air and also rushed for 377 yards and six TDs. On defense, he led the Crusaders in tackles with 78, including four TFLs, and had ½ sack, two INTs, a fumble recovery and a forced fumble.
Area players picked as Large Schools Honorable Mention include:
From DeForest, junior QB Mason Keyes, Obert at defensive lineman and senior defensive back Logan Engeseth.
From Middleton, senior running back Elijah Gray, senior offensive lineman Jack Alexander.
From Monona Grove, senior wide receiver Ty Hoeier and senior defensive back Tyler Dahlhauser.
From Mount Horeb Barneveld, senior offensive lineman Kian Preimesberger.
From Sun Prairie, senior tight end/fullback Davis Hamilton
From Verona, senior wide receiver Cole Jannusch and junior inside linebacker Mason Armstrong.
And from Waunakee, senior QB Quentin Keene, senior wide receiver Ben Farnsworth, junior defensive lineman Cayden Ellis, junior inside linebacker Thomas Raemisch and senior kicker Aidan Driscoll.
Beside Trudgeon, other area players picked as Small Schools Honorable mention include:
From Columbus, sophomore running back Colton Brunell and junior Colin Selk at offensive lineman and defensive lineman.
From Fall River/Rio, senior offensive lineman Gavin Wodill.
From Marshall, junior outside linebacker Ramon Campos and senior defensive back Bryce Frank.
From Mayville (11-2), which advanced to the Div. 5 state title game as a No. 5 seed and will face unbeaten La Crosse Aquinas (13-0) Thursday afternoon at Camp Randall, junior running back Blake Schraufnagel, junior defensive end Brad Bushke and senior outside linebacker Cadon Hardesty.
From Monroe, junior running back Keatin Sweeney and junior offensive lineman Isaac Bunker.
And from Wisconsin Dells, senior running back Matt Getgen.
Follow Dan on Twitter @Danny_Larson_8