MIDDLETON — In its final season before splitting into two high schools next school year, the Sun Prairie football team wanted to go out with a Big Eight Conference championship.
Sun Prairie broke away from a 14-all halftime tie on a 6-yard, third-quarter touchdown pass from junior quarterback Jerry Kaminski to sophomore Connor Stauff and a fourth-quarter interception return for a score by senior middle linebacker Davis Hamilton, then held off Middleton 26-21 Friday night at Breitenbach Stadium.
Those scores were part of 19 unanswered points that wiped out a 14-7 second-quarter deficit for Sun Prairie (8-0, 6-0 Big Eight), which clinched at least a share of the conference title with one week of regular-season games remaining.
"It's unbelievable," Sun Prairie football coach Brian Kaminski said. "It's our last dance in the Big Eight. We are going to take it one game at a time. I'm sure we will probably see that team again. They are a great football team. It was a great battle tonight. We clinched a share, but we don't want to share that thing, that's for sure."
Middleton (5-3, 5-1) had its five-game winning streak snapped in a hard-fought game that capped an emotional week for the Middleton community.
Hamilton's 36-yard interception return with 10 minutes, 55 seconds remaining gave Sun Prairie, ranked second in the Large Division in The Associated Press state poll and third in Division 1 in the WisSports.net state coaches poll, the breathing room it needed to ward off Middleton's late charge.
"We knew they were hitting that out route a lot," said Hamilton, who also had five receptions for 98 yards. "We changed up our defense a little bit. That's a credit to our coaches. … We spied the quarterback (Middleton sophomore Gabe Passini). I was fortunate enough to follow his eyes and he hit me. I was able to get a good push from Isaac Hamm and Addison Ostrenga and get into the end zone."
Passini's 21-yard touchdown pass to senior Cole Toennies, who had eight catches for 166 yards and two scores, rallied Middleton within 26-21 with 4:15 remaining.
But Sun Prairie junior Cortez LeGrant, who had 138 yards rushing and one touchdown on 17 carries, swept 29 yards on a third-and-14 play on the ensuing drive to help secure the victory.
Middleton endured a difficult and emotional week leading up to its homecoming game after Middleton seniors Evan Kratochwill and Jack Miller and Madison West senior Simon Bilessi, who formerly attended Middleton, were killed in a car crash last Saturday night.
The two teams came together and stood in a line during a ceremony and moment of silence for those students prior to the game. Minutes before, Middleton also had a ceremony and moment of silence for late athletic director Bob Joers.
"I'm just very proud of our guys," Middleton coach Jason Pertzborn said. "They worked really hard. I can't imagine being in their shoes. Sometimes, you try to be the rock for them. My heart breaks for them so much. I couldn't be more proud of them. They played with everything they had.
"I told them, `Don't worry about where this thing ends up.' I told them last night, `Your friends just want you to go out there and give 100%. They will be here with you in spirit tonight.' And you will have all your student body here. All they want to see you do is give 100%. Whatever happens, happens. I think we definitely did that."
Sophomore linebacker Sam Pilof, who had three sacks and a quarterback pressure in the first half, led Middleton's defensive charge in a contest that was tied 14-14 at halftime.
Middleton's leading rusher, senior Elijah Gray, wasn't available because he had to miss the game after being ejected during the third quarter of last week's game at Verona.
Middleton struck on its third play from scrimmage when Passini, who threw for 205 yards, connected with Toennies for a 61-yard touchdown pass with 9:41 left in the first quarter.
Jerry Kaminski completed a 7-yard touchdown pass to Iowa commit Ostrenga, a 6-foot-5, 225-pound senior. That tied the game 7-7 with 2:25 remaining in the first quarter.
The Middleton defense created points off a turnover when Pilof sacked Kaminski and forced a fumble. Senior Blake Van Buren scooped up the loose ball and scored on a 3-yard touchdown return, giving Middleton a 14-7 lead with 7:11 left in the second quarter.
Sun Prairie answered on LeGrant's 5-yard touchdown run with 4:53 left before halftime, tying the game at 14.
LeGrant started the 66-yard scoring drive with 18- and 36-yard runs.
In the first half, Toennies had three catches for 77 yards and Hamilton had three catches for 70.
"We want it all," Hamilton said of the conference title. "We are going to have a good week of practice and be ready for Verona, so we can get it all."
Big Eight football preview: Sun Prairie's Isaac Hamm among 10 players you need to know this season
Kamarion James-Ragland, sr., QB, Madison La Follette
Coach Scott Swanson and the Lancers will look to reload their diversified pro shotgun offense after quarterback Ben Probst led the passing game in 2019 (La Follette didn't play either season in 2020-21). James-Ragland is a top candidate to take over, and will have strong weapons at receiver and running back at his disposal.
Cole Hendrickson, sr., TE/DE, Madison Memorial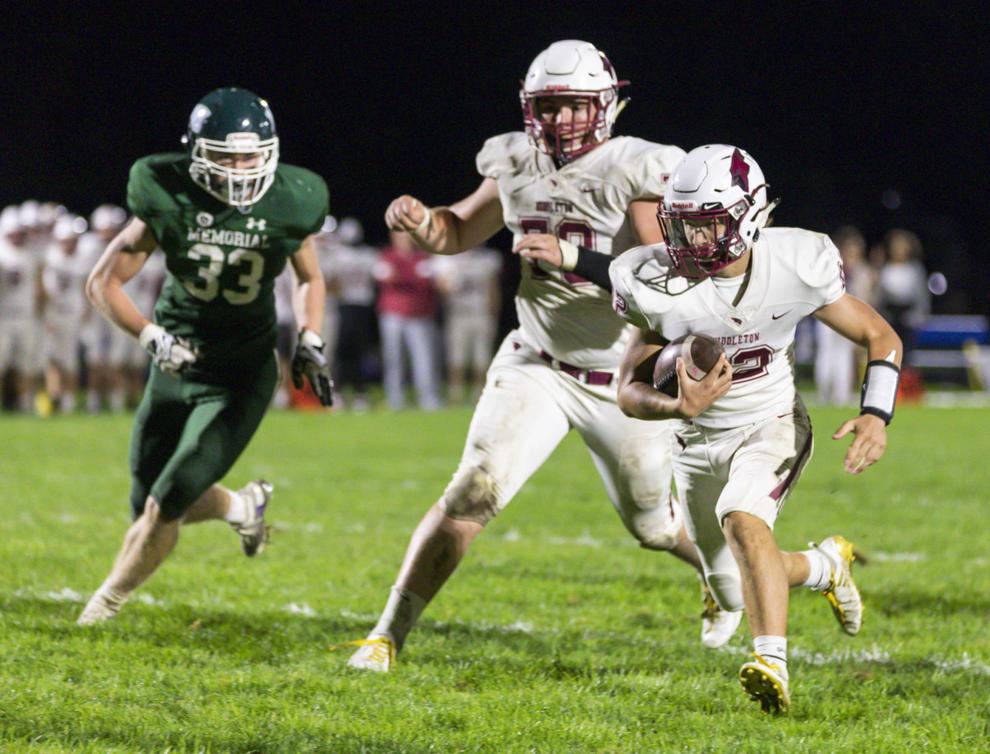 Hendrickson, scheduled to be a captain this season, is expected to be a leader on and off the field for the Spartans, who didn't play either season in 2020-21. He's ranked among the senior defensive linemen to watch by WisSports.net.
Elijah Gray, sr., RB, Middleton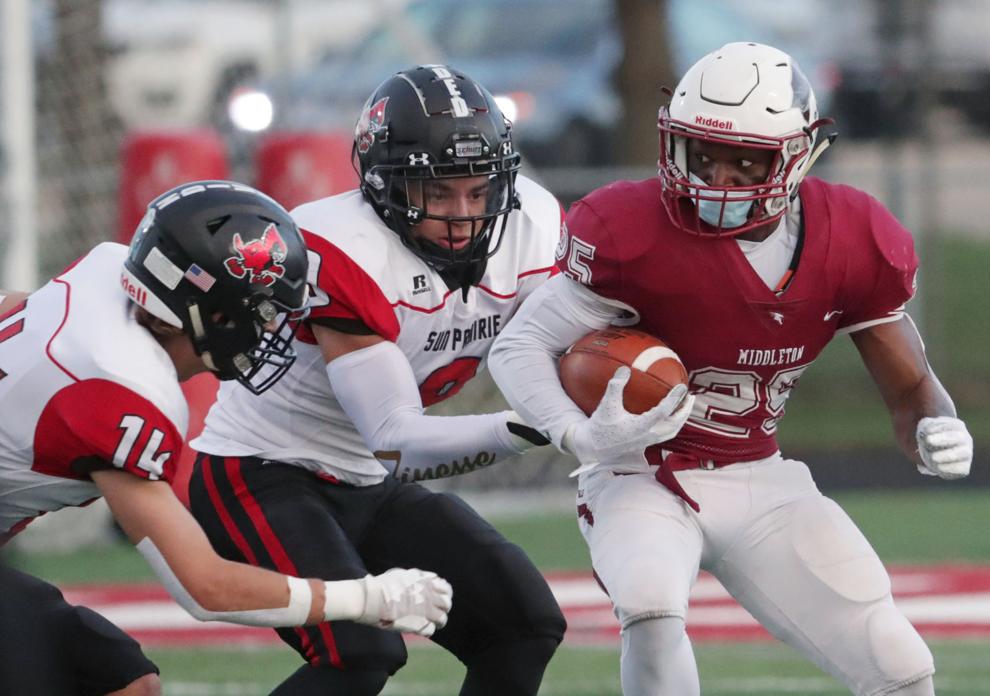 The 5-11, 175-pound Gray gained 468 yards rushing and scored four touchdowns during the spring season, despite battling injuries. He was rated as the No. 9 senior running back in the state by WisSports.net.
Jack Alexander, sr., OT/Guard, Middleton
The 6-4, 290-pound Alexander is a leader on the Cardinals' offensive line, which returns four starters. Alexander, receiving college interest, was ranked as the No. 14 senior offensive lineman in the state by WisSports.net.
Mason Armstrong, jr., LB, Verona
The 6-foot, 200-pound Armstrong figures to be a main cog in the Wildcats' defense this season after totaling 47 tackles, three tackles for loss and a sack during the spring campaign. He was listed among the semifinalists for top defensive player in the spring, according to WisSports.net.
Mason Fink, sr., QB, Verona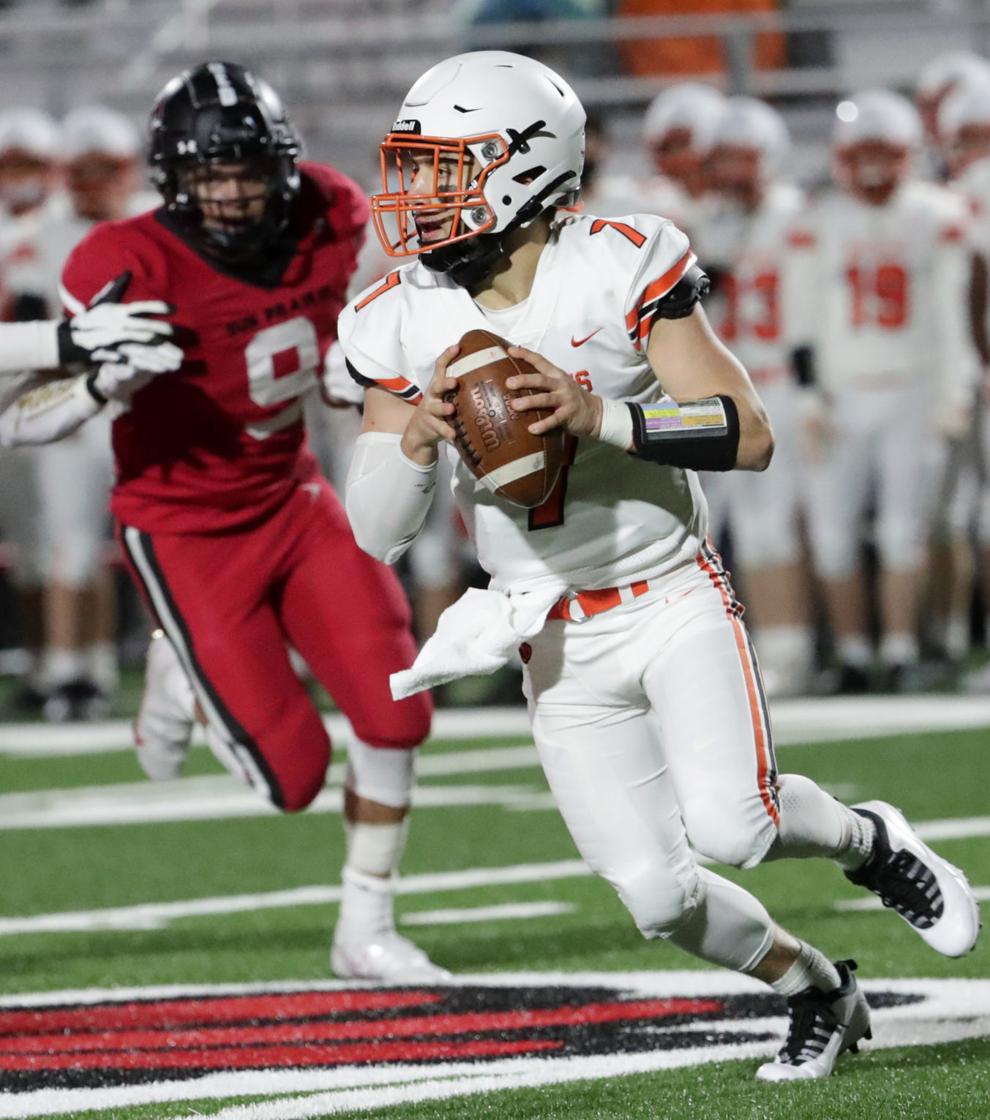 Coach Dave Richardson plans to call on the 5-11, 175-pound Fink to again direct Verona's attack after Fink threw for six touchdowns in the spring season and leads a skill position group that Richardson believes offers numerous run/pass combinations. Fink is among the senior quarterbacks to watch by WisSports.net. His brother, Max Fink, previously was a quarterback for Verona.
Isaac Hamm, sr., DE/TE, Sun Prairie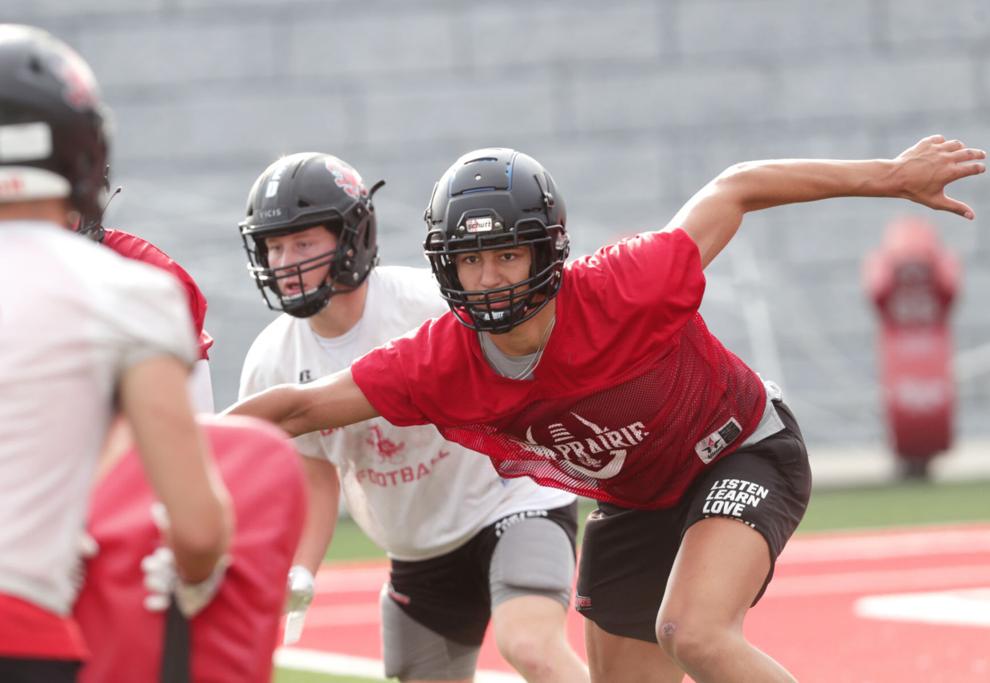 The 6-6, 250-pound Hamm was a first-team selection as a defensive lineman on the Wisconsin Football Coaches Association All-State team and a unanimous first-team choice on The Associated Press All-State team for the alternate fall season in the spring team. Hamm has multiple college offers, with an announced final four of the University of Wisconsin, Penn State, Ohio State and Notre Dame. Hamm had five sacks, nine tackles for loss and five forced fumbles in the spring. He is the top-rated senior defensive player in the state by Rivals.com and was ranked the top senior edge defender and top overall defensive player in the state entering this fall by WisSports.net (and No. 4-ranked senior overall).
Addison Ostrenga, sr., OLB/TE, Sun Prairie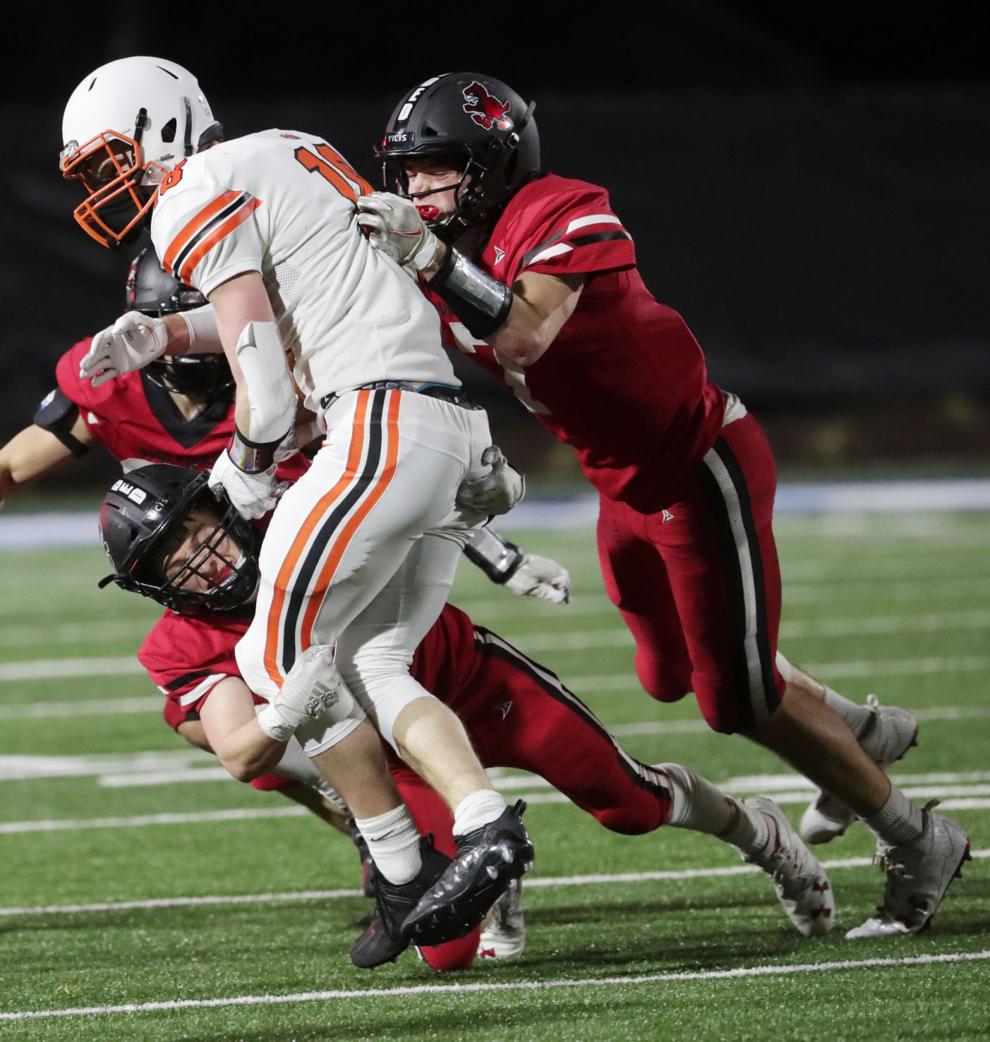 The 6-5, 225-pound Ostrenga, an outside linebacker, was ranked as the No. 2 senior edge defender in the state by WisSports.net (a No. 12 senior overall), giving Sun Prairie a formidable duo alongside Hamm. Ostrenga, who also plays tight end, originally committed to Iowa for baseball but since has committed to the Hawkeyes for football. He was a WFCA honorable mention All-State pick.
Evan Malcore, sr., OT, Sun Prairie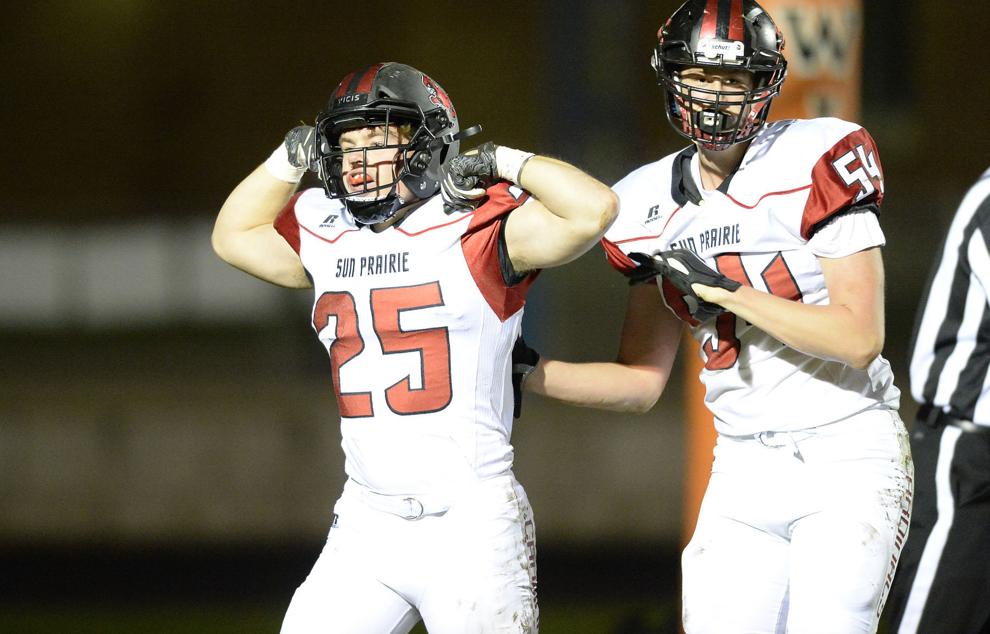 The 6-7, 275-pound Malcore, who plays left offensive tackle, has committed to Northern Illinois. He was selected for the WFCA All-State first team and was an honorable mention choice on the AP All-State team for the spring. He was ranked as the No. 9 senior offensive lineman in the state and No. 20 overall senior by WisSports.net.
Michael McMillan, sr., DB/WR, Sun Prairie
McMillan can play multiple positions, including defensive back and receiver. He is a strong player on the back end of Sun Prairie defensive coordinator Tim Bass' aggressive defense. McMillan was rated as the No. 9 senior defensive back in the state (WisSports.net).