Get ready for the second week of the football playoffs — or Level Two as the WIAA likes to call it. Here are six games involving area teams to watch:
Friday's games
Fourth-seeded Fond du Lac (6-4) at top-seeded Sun Prairie (10-0), Division 1, 7 p.m. — Sun Prairie rolled past Madison La Follette 63-0 in the first round. Quarterback Jerry Kaminski threw three touchdown passes and running back Cortez LeGrant rushed for 180 yards and four scores for the Big Eight Conference champion. Like Sun Prairie, Fond du Lac of the Fox Valley Association has a traditionally strong program and will present a solid threat in the battle of Cardinals. Fond du Lac scored the final 21 points in ousting Verona 31-13 at Ingalls Field in Ripon, closing the coaching career of Verona's Dave Richardson. Friday's winner faces either Middleton or Wisconsin Rapids next week.
Fourth-seeded Belleville (8-2) at top-seeded Marshall (10-0), Division 5, 7 p.m. — Eastern Suburban Conference champion Marshall held off River Valley 14-12 last week. Coach Matt Kleinheinz said the Cardinals defense came up with a goal-line stand that led to a field goal attempt, which was blocked and returned 94 yards by Marshall's Bryce Frank for a touchdown, and also stymied River Valley's fourth-quarter 2-point conversion try. Marshall now faces an explosive Belleville team that defeated Poynette 56-14. Belleville's Trevor Syse threw three touchdown passes and ran for another, Dylan Posthuma ran for 157 yards and three touchdowns, Andrew Ace had two touchdown catches and Anthony Nolden totaled 132 receiving yards and a touchdown.
Third-seeded Lake Mills (8-2) at second-seeded Columbus (9-1), Division 4, 7 p.m. — Lake Mills and Columbus finished atop the Capitol Conference standings with 6-1 records and now meet in the second round of the playoffs. Columbus defeated Lake Mills 29-0 Sept. 3, but the L-Cats have won seven consecutive games since. Lake Mills, behind Caden Belling's three touchdown passes, edged Jackson Kettle Moraine Lutheran 28-27 in overtime last week. Columbus defeated Lakeside Lutheran 41-14. Nathan Cotter ran for a touchdown and came up with explosive plays in the passing game — throwing for 211 yards and three touchdowns on five completions. Colton Brunell had 128 yards rushing and two scores. The winner meets either Madison Edgewood or Kewaskum next week.
Fifth-seeded Kewaskum (7-3) vs. top-seeded Madison Edgewood (10-0), Division 4, Breese Stevens Field, 7 p.m. — Edgewood senior Jackson Trudgeon, who's committed to the University of Wisconsin as a preferred walk-on, rushed for two touchdowns, caught a touchdown pass and returned a punt for a touchdown in the Rock Valley Conference champion's 53-6 victory over Platteville last week. Kewaskum upended Lodi 29-20. Max Melzer ran for 186 yards and two touchdowns and Bryan Butler caught four passes for 100 yards and one touchdown. Kewaskum finished in a three-way tie for third in the East Central Conference.
Third-seeded DeForest (9-1) at second-seeded Menomonie (9-1), Division 2, 7 p.m. — DeForest takes on another Big Rivers Conference opponent after defeating New Richmond 35-14 last week. Cale Drinka ran for 207 yards on 35 carries and scored three rushing touchdowns and Mason Keyes threw for 239 yards and two touchdowns. South Dakota commit Tyler Ebel continues to aid field position for the Norskies, averaging 43.5 yards on four punts. Menomonie and Rice Lake were atop the Big Rivers with 6-1 league marks. Menomonie topped Monona Grove 33-6, gaining 249 yards rushing on 47 attempts. Reed Styer had two touchdown passes among his five completions. The winner plays the Waunakee-River Falls victor.
Saturday's game
Fourth-seeded River Falls (8-2) at top-seeded Waunakee (10-0), Division 2, 2 p.m. — Badger Large Conference champion Waunakee's defense stymied Marshfield, Warriors running back Michael Gnorski scored two first-quarter touchdown runs and quarterback Quentin Keene threw two second-quarter touchdowns during a 54-14 victory. Mississippi Valley Conference champion River Falls topped La Crosse Central 29-6. Cole Evavold is River Falls' leading rusher for the season, but Tyler Haydon had 152 yards rushing and two touchdowns last week. After winning by forfeit over La Crosse Logan, River Falls played an added game Sept. 24, falling to Sun Prairie 21-6. According to Waunakee athletic director Aaron May, the game was moved to 2 p.m. Saturday due to WIAA tournament regulations indicating that "at Levels 1, 2 and 3, if travel is more than 120 miles between opponents, the game will be played on Saturday, unless both schools agree to play on Friday."
(This report includes information and statistics from the State Journal, teams, other reports and WisSports.net.)
Madison-area football preview: Monroe's J.T. Seagreaves, Edgewood's Jackson Trudgeon among 10 players you need to know
Anthony Nolden, sr., HB/WR/OLB/DB, Belleville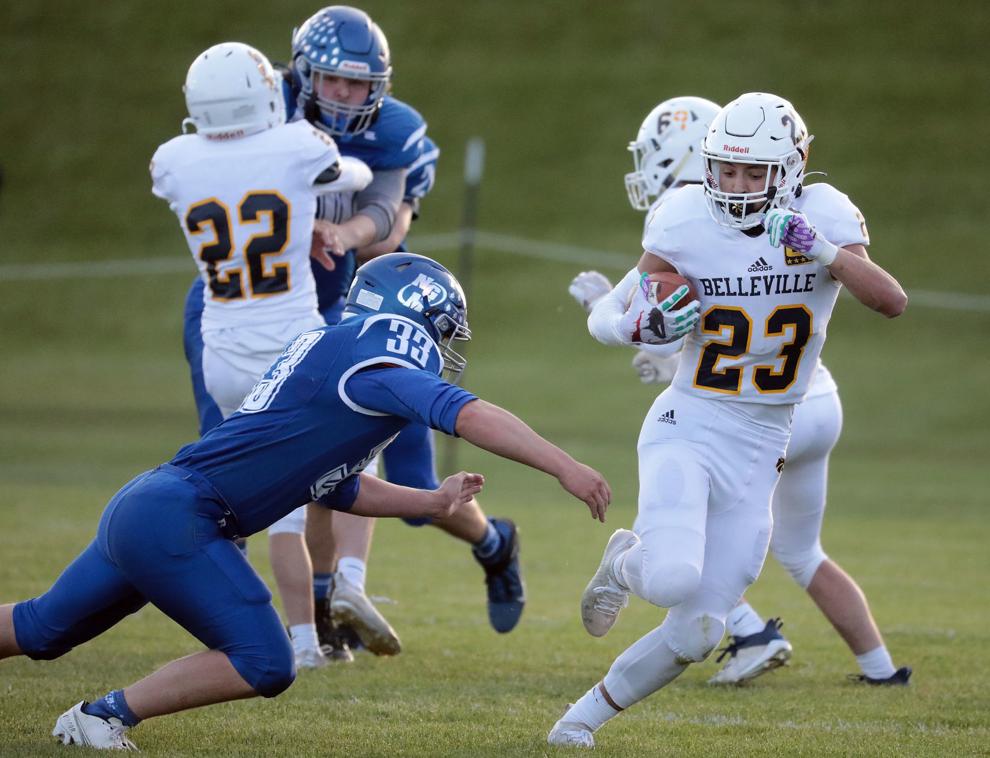 The 5-foot-10, 150-pound Nolden had 25 receptions, averaging 20.8 yards per catch, and scored eight receiving touchdowns, which was third-best in the state during the WIAA's alternate fall season in the spring. He also had five interceptions (tied for second in the state, according to WisSports.net) and 52 tackles, three tackles for loss and 3.5 sacks for 6-1 Belleville, which will be in the SWAL this fall. Nolden is among the senior receivers to watch by WisSports.net. He's the cousin of Belleville coach Mike Nolden.
Trevor Syse, sr., QB/SS, Belleville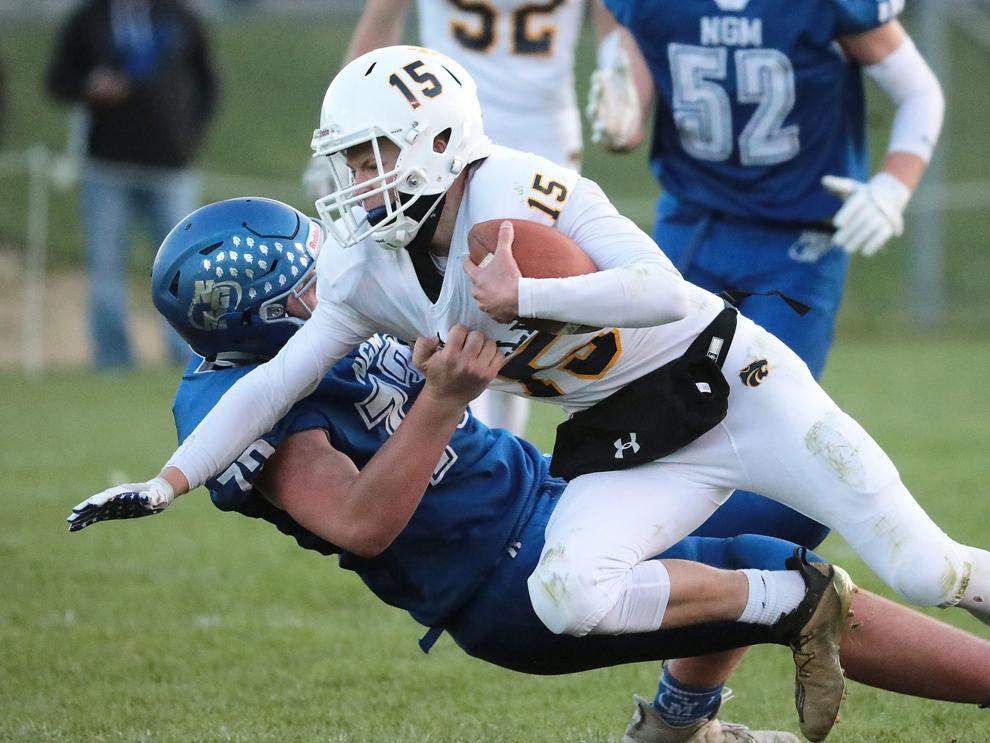 The 6-2, 180-pound Syse started the season as a backup prior to taking over the starting role due to an injury and wound up with the second-most passing yards and third-most touchdown passes in the state in the alternate season. The left-hander completed 56.6% of his passes for 1,481 yards and 17 touchdowns, with seven interceptions. He also ran for three touchdowns for Belleville, which finished ranked sixth among small-sized schools in the state coaches' poll. He was listed among the senior quarterbacks to watch by WisSports.net.
Trey Colts, sr., RB/LB, Cambridge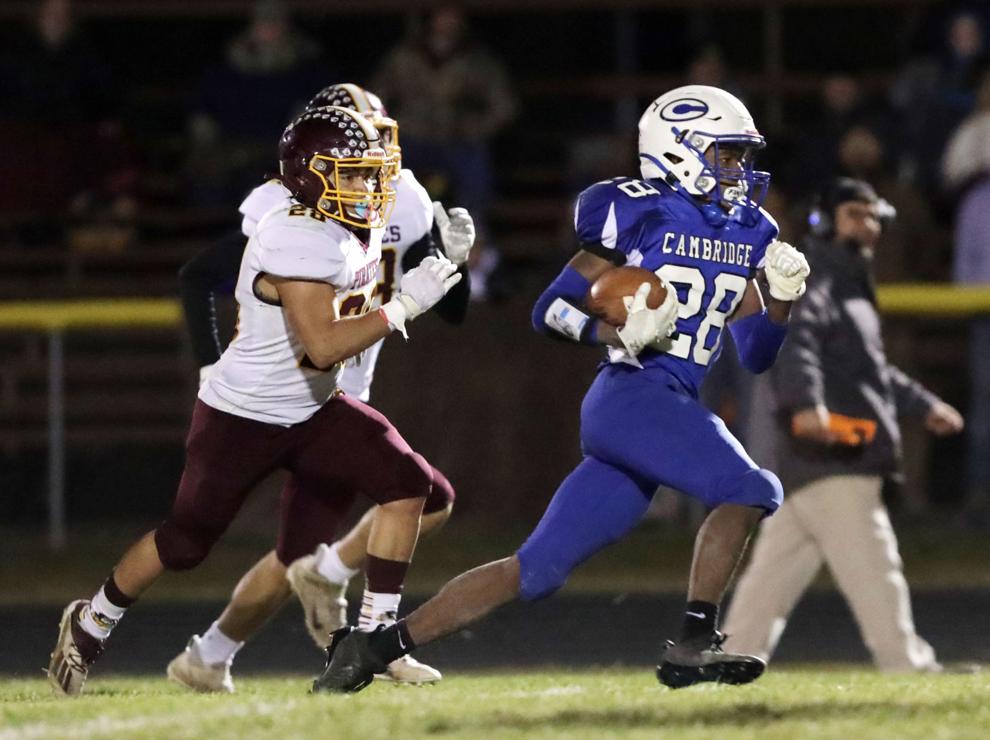 The 5-foot-8, 150-pound Colts was an Eastern Suburban second-team all-conference selection at both running back and inside linebacker as a junior. He finished the fall 2020 season leading the team in rushing yards and receiving yards and was second on the team in tackles.
Mason Folkers, jr., QB/LB, Madison Edgewood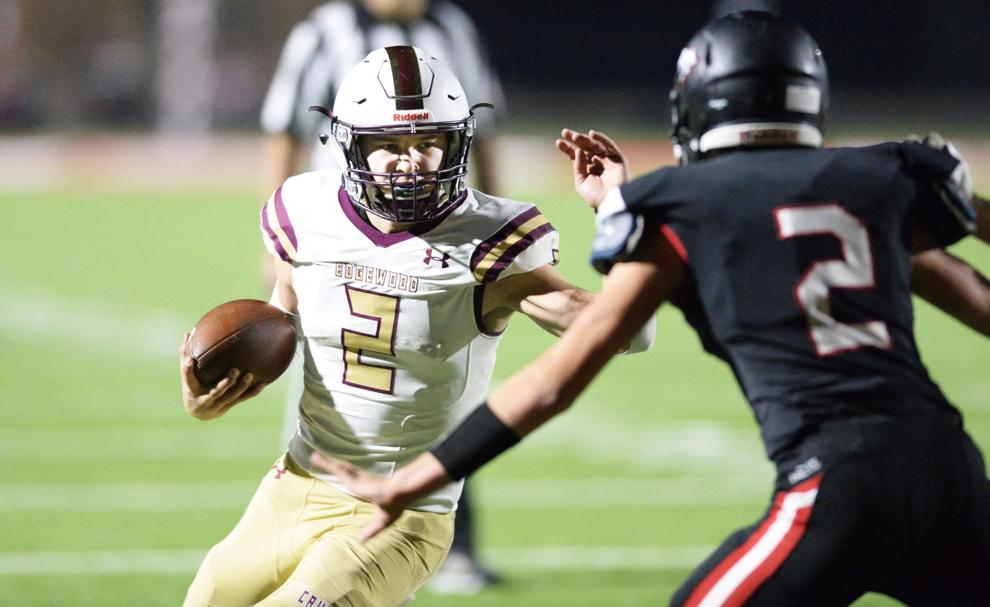 The 6-1, 184-pound Folkers demonstrated athleticism and playmaking ability at quarterback when the Crusaders finished 5-3 playing in the fall of 2020. He was inserted after an injury at the position and wound up throwing for 909 yards and 10 touchdowns and rushing for 246 yards and five touchdowns for Edgewood, which will play in the Rock Valley.
Jackson Trudgeon, sr., DB/WR, Madison Edgewood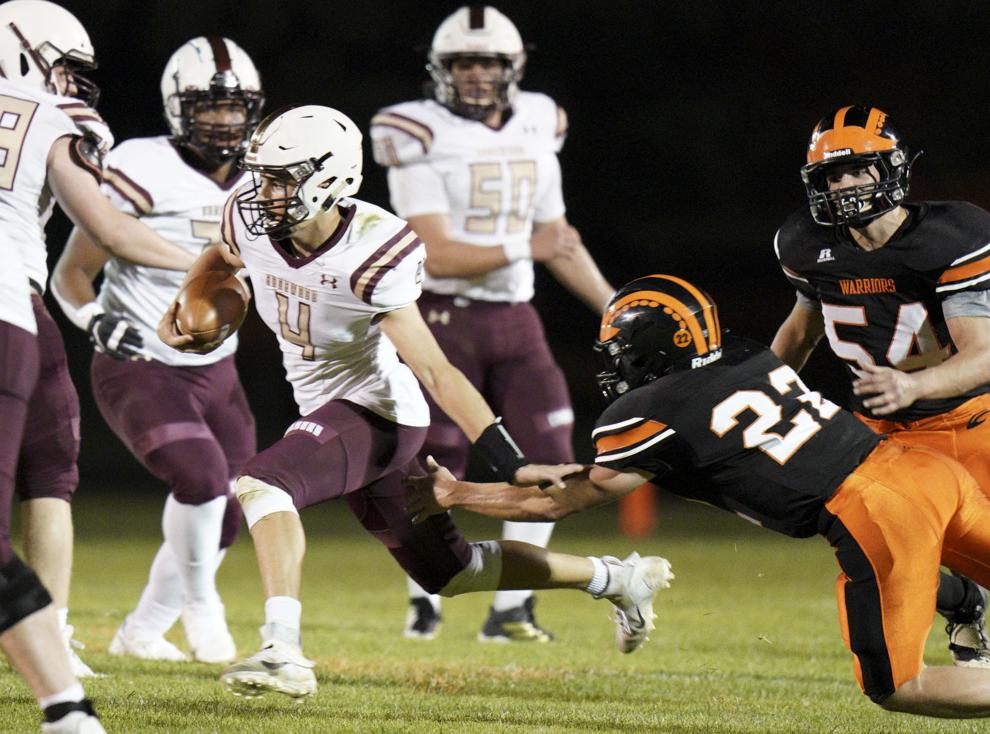 The 6-1, 178-pound Trudgeon, a University of Wisconsin preferred walk-on, was an all-around standout in fall 2020. He had 77 tackles, two tackles for loss and two interceptions as a defensive back. He also had 37 receptions for 552 yards and eight touchdowns, 143 yards passing, 108 yards rushing and was a dangerous return specialist. He was rated as the No. 2 senior defensive back and 34th senior overall entering the season by WisSports.net.
Bryce Frank, sr., RB/SS/K/P/KR/PR, Marshall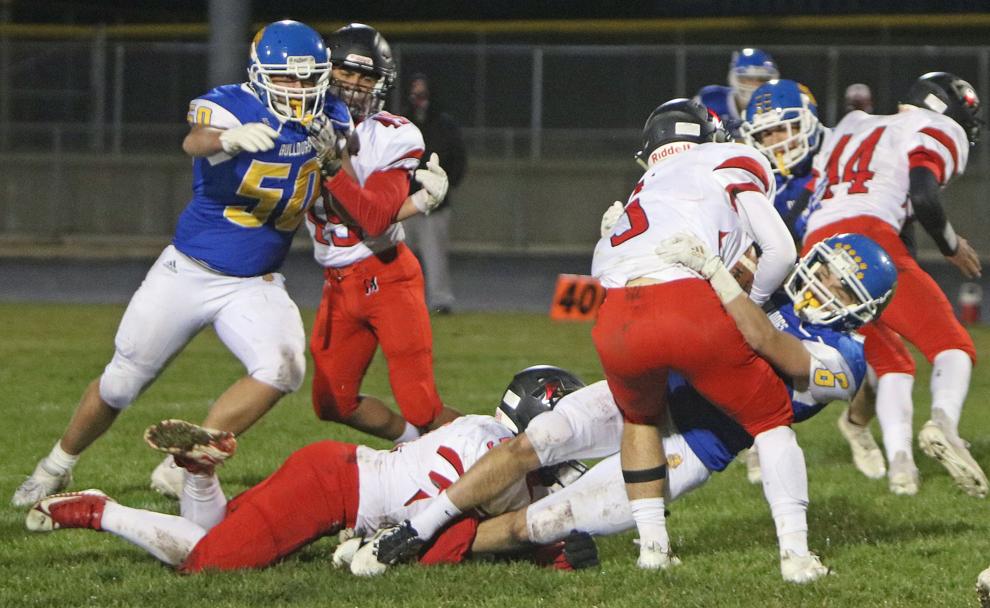 The 5-10, 180-pound Frank was an Eastern Suburban first-team all-conference selection in 2020 at running back and return specialist, second-team all-conference pick at outside linebacker and was an all-conference honorable-mention choice at kicker. Frank was the Eastern Suburban offensive player of the year for the 2020 season. He's regarded as a player to watch among senior running backs by WisSports.net.
Dadon Gillen, jr., WR/DB, McFarland
The 6-1, 180-pound Gillen should be a top target on offense after catching 24 passes for 303 yards and four touchdowns in McFarland's five games in the spring. He also had 27 tackles on defense for the Spartans, who will play in the revamped Rock Valley this fall.
J.T. Seagreaves, sr., DE/TE/RB/WR, Monroe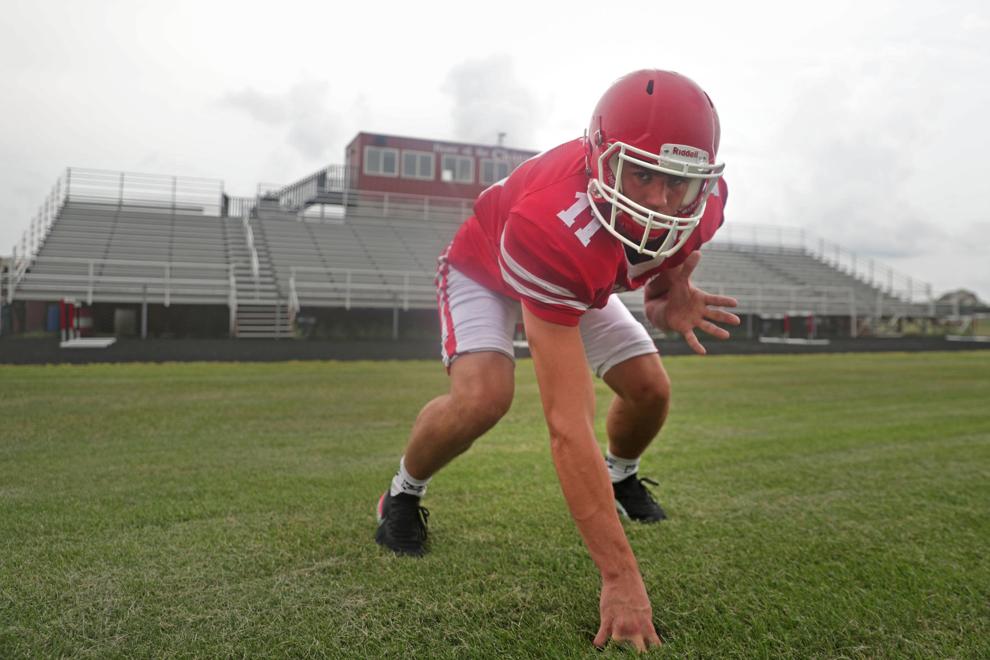 The 6-foot-6, 225-pound Seagreaves, who's orally committed to UW for football, was defensive player of the year and a first-team choice as a defensive end and receiver in the Rock Valley Large during the WIAA's alternate fall season in the spring. This fall, with Monroe playing in the realigned Rock Valley, Seagreaves again will play defensive end, but likely will see time at right halfback in the Wing-T. Entering this season, he was ranked as the No. 2 senior tight end in the state and No. 11 senior overall by WisSports.net.
Zach Gloudeman, sr., LB/RB, River Valley
The 6-1, 215-pound Gloudeman was a SWC first-team all-conference linebacker (36 tackles) and running back (618 rushing yards, 11 touchdowns, along with 14 receptions) in 2020. He's receiving NCAA Division I interest, including a preferred walk-on offer from UW, according to River Valley coach Tim Eastlick. Gloudeman was ranked as the No. 3 senior linebacker and No. 23 senior overall entering the season by WisSports.net.
Eugene Wolff, sr., RB/LB, Waterloo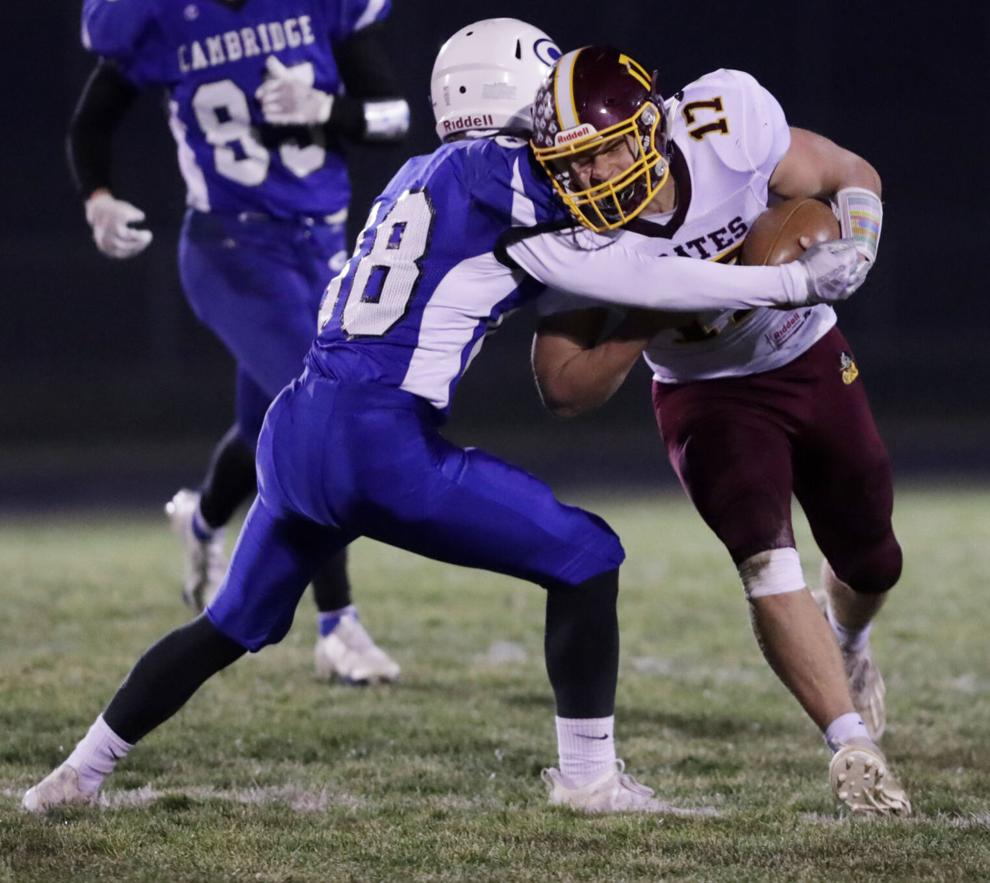 The 6-0, 185-pound Wolff was an Eastern Suburban first-team all-conference selection in 2020 at running back and outside linebacker for the Pirates. Wolff led the team in rushing yards and rushing touchdowns and anchored Waterloo's defense last season. He's ranked as a player to watch among senior running backs and senior linebackers by WisSports.net.