PARDEEVILLE – Undefeated Marshall, off to its best start since beginning 6-0 in 2014, used two critical special teams plays in overcoming an early deficit and turned in another stout defensive effort while defeating host Pardeeville 21-6 in an Eastern Suburban Conference football game Friday night.
Marshall (5-0 overall, 4-0 Eastern Suburban), trailing 6-0, gained possession at the Pardeeville 25-yard line after Cardinals 6-foot-4, 245-pound senior Kelby Petersen blocked a Bulldogs' punt with 1 minute, 4 seconds left in the second quarter.
Junior quarterback Craig Ward fired a 17-yard touchdown pass to junior receiver Canon Siedschlag with 33 seconds left in the first half, and Marshall gained a 7-6 lead following junior Bryce Frank's extra point.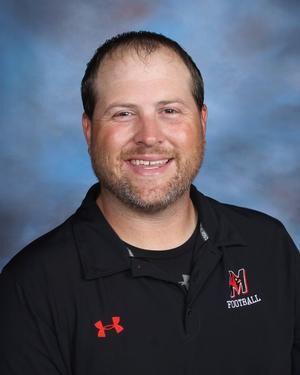 "I thought the blocked punt was the play of the game," said Marshall coach Matt Kleinheinz, who'd seen a couple earlier drives fizzle in Pardeeville territory. "We were on the sideline talking as coaches that we just needed somebody to make a play, and you lean on your seniors and Kelby came through.
"We didn't even have a block called on that. He just decided to make a play and came in and blocked that punt, and that set up that score to give us a little momentum heading into halftime."
Frank's squib kick to begin the second half was recovered by teammate Josh Eggers at the Pardeeville 28.
That led to a five-play scoring drive, capped by sophomore running back Ramon Campos' 1-yard touchdown run – giving the Cardinals a 14-6 lead with 10:25 left in the third quarter.
"We called a squib there and (Frank) just happened to put enough English on that thing and it stopped in no man's land," Kleinheinz said. "Josh Eggers came flying down there. Credit to him. He ran hard and jumped on the ball. That was a great play – a big play."
That play and the blocked punt turned out to be pivotal.
"Those are huge turning points in the game," Frank said.
Frank closed out the scoring on a 20-yard touchdown run with 9:09 remaining in the fourth quarter.
"The greatness of our team has been our line," said Frank, who also plays strong safety. "They have been blocking great for us. They have been making plays to let everyone in the backfield do their job. I really feel defensively they also have been the key for us. It's a great group of guys … It is a fairly young team and it's good to see us come together and play well."
Frank totaled 115 yards rushing on 24 carries.
"We knew it would be (a grind-it-out game)," Kleinheinz said. "They don't have a ton of kids; the kids they have are quality players. They took away some of the things we like to do. It took us a half to adjust to that. I was proud of our adjustments we made at halftime. I was really proud of how we got after it in the second half."
Junior running back Devin Seth opened the scoring for Pardeeville (0-3, 0-3) with a 68-yard touchdown run with 9:51 left in the second quarter.
That run and a 35-yard pass from Bulldogs senior quarterback Peter Freye to senior Ty Westbury in the third quarter were Pardeeville's biggest offensive plays, accounting for 101 of its 157 yards of total offense against the Cardinals' stingy defense. Seth wound up with 91 yards rushing for Pardeeville, coached by Bob Hepp. 
The completion to Westbury put Pardeeville in business at the Marshall 16. On fourth-and-4 at the Marshall 10 – just after Petersen limped off the field – Freye completed a pass to senior Ryan Jacobson. But Cardinals junior defensive back Cole Denniston came up with a hard hit and dropped Jacobson for a 5-yard loss with 6:39 left in the third quarter.
Petersen, an offensive and defensive lineman, left the game in the third quarter with a high ankle injury, Kleinheinz said.
But the Cardinals kept pounding away with the running game, led by the 5-10, 180-pound Frank. Sophomore Taylor Michalak moved from left tackle to center, filling in for Petersen, and senior Caden Baumann entered at left tackle, Kleinheinz said.
"We were able to eat clock there," Kleinheinz said. "That's kind of our M.O."
Marshall is off to its best start since beginning the 2014 season with a 6-0 record. The Cardinals finished 10-2 that year. Marshall's most recent season with a winning record was 2015, when the Cardinals finished 7-5.
Kleinheinz cited the team's defense in the fast start.
"Our defense has been absolutely tremendous and it starts with our senior defensive tackles Kelby Petersen and Davonte Holmes," he said. "They have dominated the line of scrimmage and it allows our young linebackers free run to make plays and they continue to improve every week. And our secondary has been lights out from the first snap this season. They all have experience back there from the past two seasons and nothing fazes them. The best part is that they are all juniors."
Marshall has given up only 25 points this season.
Kleinheinz also said the good start can be explained, in part, by scheduling in this unique year.
"I think a lot of that is because we always took a pretty strong stance to play very tough non-conference opponents in the past," he said. "With the new conferences, and especially this year with the pandemic, we did not have the opportunity to schedule non-conference games."
Marshall, located in Dane County, is playing all road games this season due to county health guidelines related to the COVID-19 pandemic.
Pardeeville had two weeks it didn't play this season due to coronavirus reasons.
MARSHALL 21, PARDEEVILLE 6
P: Seth 68 run (run failed), 9:51.
M: Siedschlag 17 pass from Ward (Frank kick), :33.
M: Campos 1 run (Frank kick), 10:25.
M: Frank 20 run (Frank kick), 9:09.
Rushing (Att.-Yds.) — M 40-198; P 26-113.
Passing yards — M 48; P 44.
Passes (Comp.-Att.-Int.) — M 4-9-1; P 4-5-0.
Penalty yards — M 3-25; P 5-49.
Fumbles-lost — M 3-1; P 1-0.
Rushing — M: Frank 24-115; P: Seth 11-91.
Passing — M: Ward 4-9-1, 48 yards; P: Freye 4-5-0, 44 yards.
Receiving — M: Denniston 2-10, Frank 1-21; P: Westbury 3-49.
Concerned about COVID-19?
Sign up now to get the most recent coronavirus headlines and other important local and national news sent to your email inbox daily.