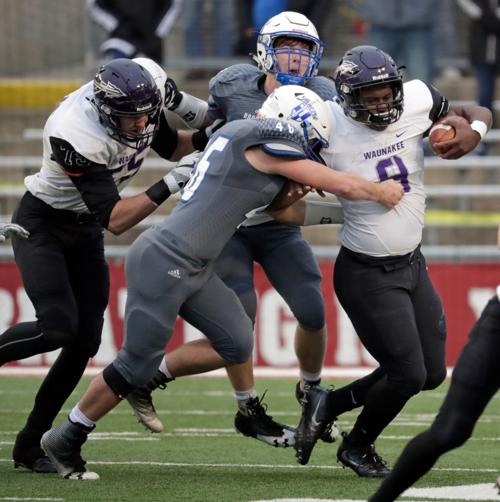 Of the many things Javian Dayne was thankful for on Saturday, one was this:
He's finished with college recruiting.
Dayne announced Saturday morning that he has made a verbal commitment to Boston College, after decommitting from Northwest Missouri State.
And, the Waunakee senior running back is relieved that an extra-long recruiting process has come to its end.
"I absolutely hated the process," Dayne said Saturday. "I was one of those people who wanted to get it over with. I didn't like the process at all. … We did a lot of traveling around.
"Early on, I thought everybody who had me in for a visit was for me," Dayne said. "But as you get older and see more, it was pretty clear who really was and who maybe wasn't."
The 6-foot, 230-pound Dayne scored a pair of fourth-quarter touchdowns to help Waunakee (14-0) take a 14-13 victory over Brookfield Central in the WIAA Division 2 state championship game.
He earned unanimous first-team all-state honors from state media after finishing with 2,263 yards and 33 touchdowns on 290 carries.
Dayne rushed for 4,269 yards and 56 TDs in three years (28 games) with the Waunakee varsity.
Dayne thought enough of Boston College to commit without taking an official visit. Instead, Boston College — in the form of former University of Wisconsin offensive coordinator Brian White — came to him.
"They came to visit me – first it was Brian White, then it was (running game coordinator and offensive line) Coach (Justin) Frye," Dayne said. "They offered me, oh, it was a month or two ago."
Dayne is the son of 1999 Heisman Trophy winner Ron Dayne, who rushed for 7,125 yards and 71 touchdowns at Wisconsin. Dayne said his father gave him some sound advice about the recruitment process.
"My Dad told me 'don't rush into things, take your time and follow your heart," Javian Dayne said.
Dayne also got an up-close view of big-time recruiting when his older sister, Jada, was pursued by several schools before committing to the University of Michigan for soccer. She'll be a Wolverines co-captain this year.
Dayne has watched with delight at the emergence of former Madison Memorial football standouts Jester Weah (a wide receiver at the University of Pittsburgh) and Daurice Fountain (a wide receiver at Northern Iowa who wowed NFL scouts during this week's Shrine Bowl workouts).
That, he says, is a path he would love to follow at Boston College.
"You look at what they have done and how they did it, I look up to them, that's for sure," said Dayne, who trained last summer with Fountain under the tutelage of former Wisconsin standout receiver Michael London.