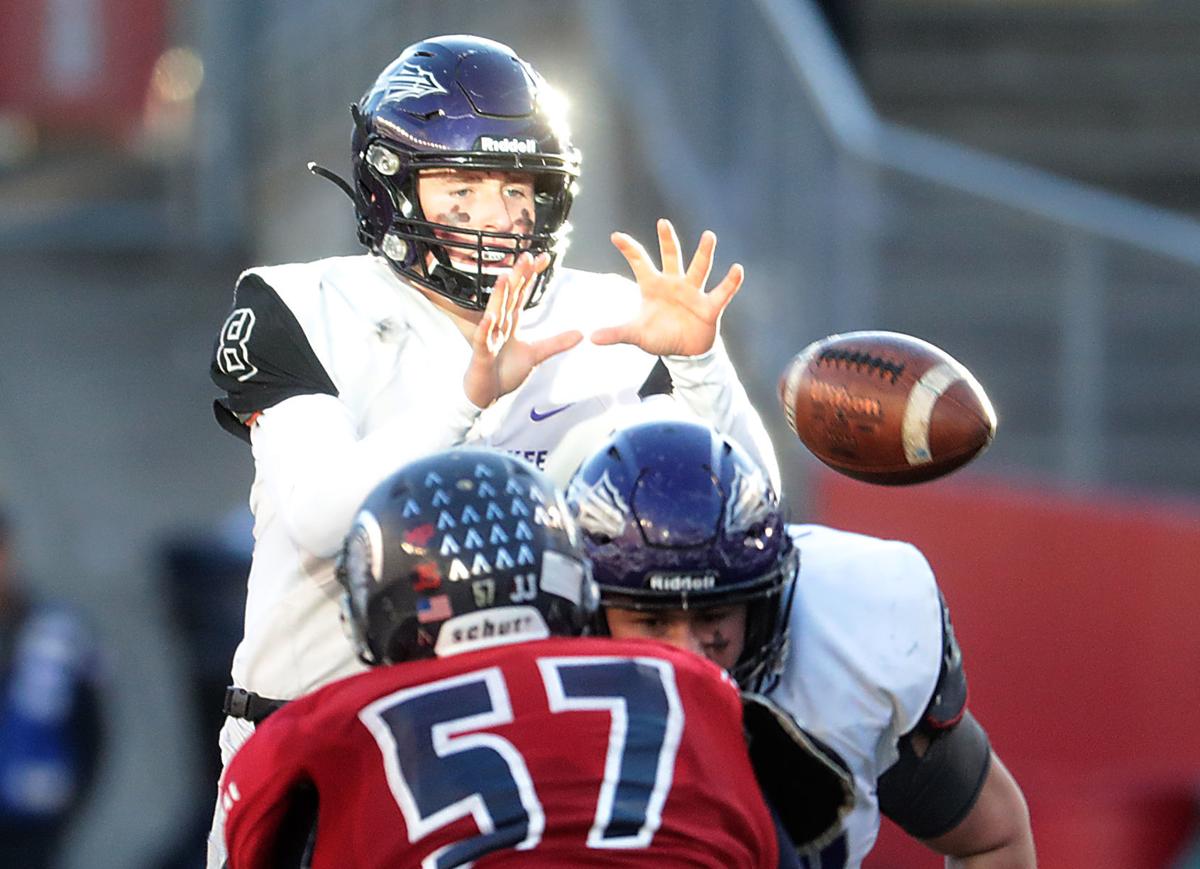 (All games 7 p.m. Friday unless noted)
GAME OF THE WEEK
Waunakee (5-0) at DeForest (5-0)
The pedigree of these teams is tough to match, especially in recent history. DeForest won the 2019 WIAA Division 3 state championship with a last-minute, two-point conversion against Menasha, and Waunakee came within an extra point of tying Brookfield East in the Division 2 state final.
There will be no state playoff during this alternative spring season, so this game carries a lot of weight as more than your average rivalry meet-up between neighboring Badger North Conference powers. Plus, it's the first taste of this mega-rivalry for first-year DeForest coach Aaron Mack. It's the last game of the season for Waunakee; DeForest welcomes Menasha next week for a season-ending rematch of the 2019 state final.
Both programs have made the most of the spring-season opportunity made possible by the WIAA. Waunakee has outscored its five opponents by a combined 236 points to 34, producing 350 yards of offense per game and allowing 105.5 yards. DeForest has outscored its opponents 180-52, and outgained them 277 yards to 115.
Warriors junior quarterback Quentin Keene has completed an incredible 87.5 percent of his passes for 174 yards and 15 touchdowns. Senior Caden Nelson has picked up 525 yards rushing with eight scores, and three more receiving TDs. Senior Isaac Schaaf has a team-high 14 catches for 340 yards and six scores.
Norskies sophomore Mason Keyes has completed 64.4 percent os his throws for 614 yards and six scores, and senior Gabe Finley has 616 yards rushing with seven TDs. Juniors Max Weisbrod (12 catches, 200 yards), Deven Magli (20 catches, 186 yards) and Nolan Hawk (11 catches, 135 yards) have scored two receiving touchdowns each.
GAMES TO WATCH
Middleton (3-2) at Sun Prairie (5-0)
After giving up two fourth-quarter touchdowns in a loss to Verona last week, Middleton aims to wrap up its season with a victory over unbeaten Sun Prairie. It's the teams' second meeting during this spring's Big Eight double-round robin schedule; Sun Prairie took a 17-3 road victory on April 9 behind receiving scores by Peyton Jenkins and Michael McMillan. Sun Prairie's defense held Middleton to 155 yards in that game, but the offense managed only 185 yards. Sophomore Jerry Kaminski has thrown for 477 yards and six TDs, and Kolten Walters and Jayallen Dane have led a somewhat underperforming rushing corps. … Middleton junior Elijah Gray has rushed for 436 yards, and senior quarterback Sawyer Pertzborn has thrown for 513 yards and seven TDs.
Stoughton (3-2) at Oregon (2-2)
The Vikings visit the Panthers for the annual meeting of Badger South Conference rivals and next-door neighbors. Stoughton rolled past Mount Horeb-Barneveld last week, 47-8, and has lost only to Waunakee and Milton. Junior Darrick Hill (454 yards rushing, four TDs), senior quarterback Jonah O'Connor (364 yards rushing, three TDs) and senior Brooks Empey (324 yards, five TDs) have provided the rushing punch, and O'Connor has thrown for 327 yards and three scores. Senior Rudy Detweiler leads the defense with 59 tackles, seven for loss. The Vikings close the season with a May 8 home game against Green Bay Notre Dame. … Oregon, a 20-9 winner at Janesville Parker last week, has gotten a combined 330 yards rushing from juniors Austin Saunders and Teague Szudy and 318 passing yards from junior Drew Kessenich.
Columbus (4-1) at New Glarus/Monticello (3-2)
The Cardinals suffered their first loss of the year last week, as Chandler Curtis' last-second field goal gave Lodi a 17-14 win. Before that, Columbus had scored at least 35 points a game in its four wins. William Cotter has thrown for 900 yards with and seven scores with a 57.7 percent completion rate, and Caden Brunell has rushed for 595 yards and 10 scores. … New Glarus/Monticello had a nightmare outing in a 28-13 loss at Cuba City last week, committing 10 turnovers and giving up two touchdowns in the final 3 minutes, 13 seconds. Senior Darris Schuett has thrown for 1,102 yards and 10 touchdowns and rushed for a team-high 339 yards and nine more scores, but he was intercepted six times by Cuba City. Nathan Streiff has 34 catches for 449 yards and four scores.
Wonewoc-Center/Weston (3-2, 3-2)
at Wisconsin Heights (4-0-, 4-0)
This is the second meeting of the eight-player, Southern Conference opponents. The Wolves have some ground to make up after Heights took a 49-6 victory on April 9. Heights scored the first 42 points and racked up 521 yards of offense while holding Wonewoc to 84 yards. Wolves senior Hunter Schmitt has thrown for 701 yards and rushed for a team-high 408. … Heights has scored 49, 76 and 63 points in its last three games, while giving up a total of 14 points in those victories. Senior Hunter Walz has thrown for 709 yards and senior Garrett Kerl has rushed for 366 yards and five scores. Senior De'Shawn Barsness has 25 catches, nine for touchdowns, and 520 receiving yards.
Around the area
Milton (4-1) plays host to Beaver Dam (1-4) in its last game this season against a Badger Conference foe. The Red Hawks play host to the unbeaten West Madison Club to close the season next Friday. West Madison (3-0) has no game this week. … Verona (2-3) has the chance to even its record with a Friday game at 0-5 Beloit Memorial. The Wildcats close the season with a road game against Janesville Parker next Friday. … Lodi (5-0) tries to close out a perfect season with a 1 p.m. Saturday home non-conference game against Kewaunee (2-3).