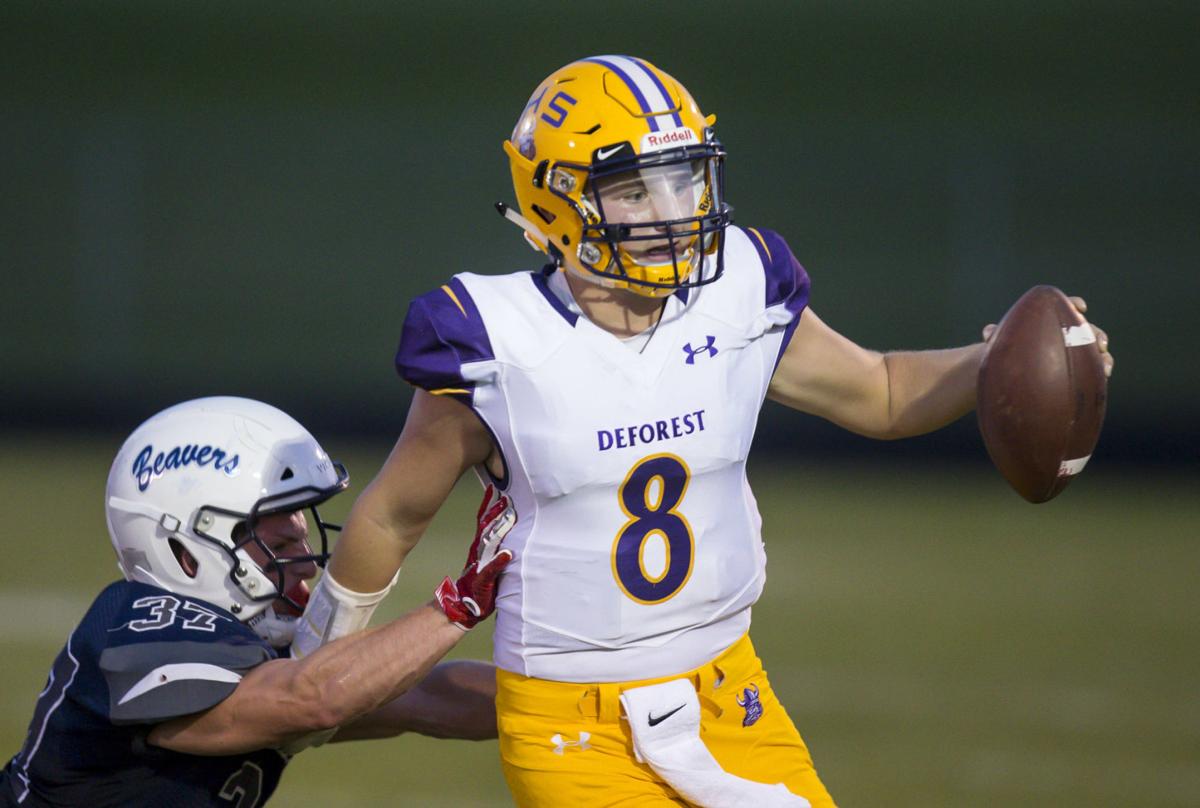 Game of the week
Waunakee (8-0, 6-0 Badger North) at DeForest (8-0, 6-0), 7 p.m. Friday
The truth shall be revealed when the Badger North's powers meet to decide which team will springboard into the WIAA playoff with a conference title and a perfect regular season. Waunakee has steamrolled almost all of its opponents, averaging almost 47 points per game while allowing less than 13. And when the Warriors were tested by a late, game-tying touchdown against Reedsburg, they answered with a long scoring pass to pull out a 35-28 win. Caden Nelson has put on a quarterback clinic all season, completing 68.6% of his passes for 1,112 yards and 24 touchdowns with only two interceptions. He also has rushed for a team-high 426 yards and eight scores.
The Norskies also have power-slammed every opponent, with their closest victory margin coming in a 28-0 win at Reedsburg. DeForest is averaging 47.6 points per game and has allowed only six touchdowns and 41 points all year. Trey Schroeder has thrown only 77 passes, but has completed 71.4% of them for 906 yards and 15 touchdowns with two interceptions. Gabe Finley leads a multi-faceted ground attack with 691 yards, an 8.5-yard average, and six TDs.
Games to watch
Janesville Craig (1-7, 1-7 Big Eight) at Madison Memorial (8-0, 8-0), 7 p.m. Friday
Memorial is one win away from its first undefeated Big Eight season since 1984, but the Spartans only had seven league games that season. So the possibility of a 9-0 regular season is uncharted territory for Memorial, which has met every challenge so far. Quarterback Jason Ceniti has completed 56.5% of his 115 passes for 1,266 yards and 16 touchdowns, with two interceptions. Kam Marshall and Kabaris Vasser have combined to rush for 1,238 yards and 16 scores. The defense has yielded only 97 points, and only 27 second-half points, and less than 175 yards of offense per game. … Craig has lost six straight after a 27-7 win over Janesville Parker in Week 2.
Madison West (4-4, 4-4 Big Eight) at Sun Prairie (5-3, 5-3), 7 p.m. Friday
West, riding a three-game winning streak against lower-division Big Eight foes, can earn a playoff berth if they can beat Sun Prairie, which has lost two of its last three games vs. Big Eight front-runners. Nazier Jones and William Gutknecht have combined to rush for 1,093 yards and 14 touchdowns. Gutknecht rushed for 232 yards and three touchdowns and completed five of six passes in last week's 36-12 win over Janesville Craig. … Sun Prairie hopes to bounce back from last week's 35-19 loss to Middleton, in which quarterback Brady Stevens was sacked seven times. Stevens has completed 61.4% of his passes for 1,633 yards and 23 TDs, with five interceptions. It will be the final regular-season game at the current Ashley Field, which will receive a major overhaul after the season. 
Milton (7-1, 5-1 Badger South) at Watertown (6-2, 4-2), 7 p.m. Friday
Milton bounced back from its loss to Monroe with a 40-0 victory over Madison Edgewood last week. The Red Hawks need a win to earn at least a tie for the Badger South Conference title. On the other hand, Watertown (with a win) has a chance to earn what would be a four-way title share if Monona Grove also beats Stoughton. Milton quarterback Evan Jordahl has thrown for 758 yards and 17 touchdowns, and Nick Huber and Jerry Jones have combined to rush for 1,257 yards and 22 scores. … Watertown rolled past Oregon 42-13 last week, and has averaged 352 yards and 31.5 points per game. Ethan Pauly has thrown for 1,675 yards and 22 touchdowns, with nine interceptions.
Monona Grove (4-4, 4-2 Badger South) at Stoughton (6-2, 5-1), 7 p.m. Friday
Both teams are in the playoffs, but Stoughton must win to guarantee at least a share of the Badger South title and Monona Grove needs a win and help to earn a share of the title. MG has won three in a row after a 1-4 start, and has gotten 884 yards passing from Camron Behnke and 746 yards rushing from Brady Killerlain. … Stoughton has beaten Watertown and Monroe in the last two weeks, and the Vikings are looking for a springboard into the playoffs. Adam Hobson has completed 61.3% of his passes for 1,427 yards and eight TDs, and has run for 464 yards and 16 more scores.
Lodi (6-2, 2-2 Capitol North) at Lakeside Lutheran (4-4, 2-2), 7 p.m. Friday
It's a win-or-else game for both teams — the winner gets a playoff spot and the losing team is almost certainly out of the playoffs. Lodi, after consecutive losses to Columbus and Lake Mills, hopes to regain its footing and make some noise in the playoffs. Colton Nicolay has rushed for 981 yards and 10 TDs for the Blue Devils. … Lakeside broke a two-game losing streak with a 35-7 win at Poynette last week. Quarterback Matt Davis has completed 60.2% of his 108 passes for 1,041 yards and 11 touchdowns.