After the 2018 season, Madison Memorial quarterback Jason Ceniti went all in with his throwing, weightlifting and film study.
Ceniti attended winter football developmental and summer showcase camps and decided against playing prep baseball this spring, focused on building his craft for his senior season this fall.
"I thought if I want to be the best player for my team, the best man for my team, I have to keep doing this (work), so I set aside baseball," Ceniti said.
The accomplishments for Ceniti and the Spartans were considerable last year in football coach Michael Harris' first season.
Madison Memorial shared the Big Eight Conference championship with Sun Prairie and Ceniti was a first-team all-conference selection at quarterback with Sun Prairie's Richie Gilles.
Highlight-reel moments included dramatic come-from-behind victories over Sun Prairie and Middleton. Ceniti threw for two touchdowns and ran for two more, including the winner, against Sun Prairie and delivered a "Hail Mary" touchdown pass to Dryden Schaefer on the final play against Middleton.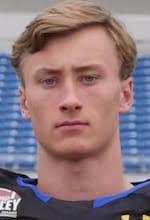 "I won't ever forget those two games, man," said Ceniti, WisSports.net's second-ranked senior quarterback in the state entering this season. "Those will go down forever. … Those two games, we were down multiple times. It just showed how we work and how we never give up, no matter what the stakes are."
But a first-round playoff exit against Sussex Hamilton left the 6-foot-1, 195-pound Ceniti and his returning teammates wanting more.
"We have a lot of great guys returning," Ceniti said. "We are really excited for this year. We have put in a lot of work. And all that hard work that we are putting in now will pay off this season. I'm really excited to see how it works."
A rematch between the conference co-champions kicks off this season when Madison Memorial and host Sun Prairie play at 7 p.m. Friday at Ashley Field.
"It's going to be awesome," Ceniti said. "Week one. Their place. Under the lights. It will be electric. I can't imagine a better stage."
Ceniti will direct an offense that includes running backs Kam Marshall, who is WisSports.net's seventh-ranked senior running back, and Kabaris Vasser and receiving targets Max Hoeser, LeKwan Lewis and Garret Bergum.
Harris described his roster as "raw," faced with a lot of work to do.
You have free articles remaining.
Register for more free articles
Stay logged in to skip the surveys
"We do have quite a few seniors returning," Harris said. "But we lost Jeremiah Jordan, who was the conference defensive back of the year. We lost Sam Jessup; Will Sprout, who was phenomenal for us; Dryden Schaefer filled some outstanding roles. We lost some really key players on the team (also including Cam Bott, Michael Cerniglia Jr. and Cade Ellingson). I'm hoping what they provided for us will rub off on us (this season). But every season is a new journey, so I just am hoping the foundation is getting rooted."
Harris again will count on Ceniti's leadership, which resulted in Ceniti's unanimous selection as a captain as a junior.
"It was very apparent how his leadership was going to eventually rub off on all the team members," said Harris, an English teacher who developed a rapport with Ceniti in class prior to coaching the Spartans. "When you talk about growth, you are talking about a young man who has not just matured physically, but also emotionally and mentally."
Ceniti, a pro-style quarterback who threw for 1,597 yards and 20 touchdowns while completing 52.6% of his passes last season (according to WisSports.net statistics), said his college offers include South Dakota State, Valparaiso, Bemidji State, St. Cloud State, Minnesota-Mankato and Minnesota-Duluth.
He said he appreciates the No. 2 preseason senior quarterback ranking behind Waukesha Catholic Memorial's Luke Fox and the 34th overall ranking among seniors.
"I feel very humbled, very blessed," Ceniti said. "It's pretty cool, but we still have the season to come. My job and my goal all the time is I want to be the best player, the best friend and the best man for my team and my coaches and my brothers (on the team). That's all I'm concerned about.
"Whether I'm the first-ranked quarterback, the second-ranked quarterback or the last-ranked quarterback, I know that these guys still care for me and love me, and they still have my back no matter what. And the same goes for me to them."
Throughout his playing career, he has received coaching from his father, Madison Memorial offensive coordinator Chris Ceniti.
And Jason Ceniti has played with numerous teammates since youth days and is among 30 seniors listed on the roster.
"Our offense will be tough as nails," Ceniti said. "We have a lot of guys returning. So, it's not our first rodeo. We are on the same page."
As freshmen, they turned in an undefeated season and at the end of that season wrapped up their highlight film with a picture of the state championship gold ball and the words "dreams don't come true, they are made true," Ceniti said.
Ceniti and some others were on the varsity as sophomores, which Ceniti called a "character builder" and "a great experience."
Now, as seniors, they are all back together.
"It is such an influential role," Ceniti said. "Now we can pass it down to younger kids and teach them how to do it. So, even after we leave they can still carry on the legacy. That's what we are doing this year. We are building a new tradition. We laid the foundation last year. Now, we have to keep building upon it this year and the years to come."