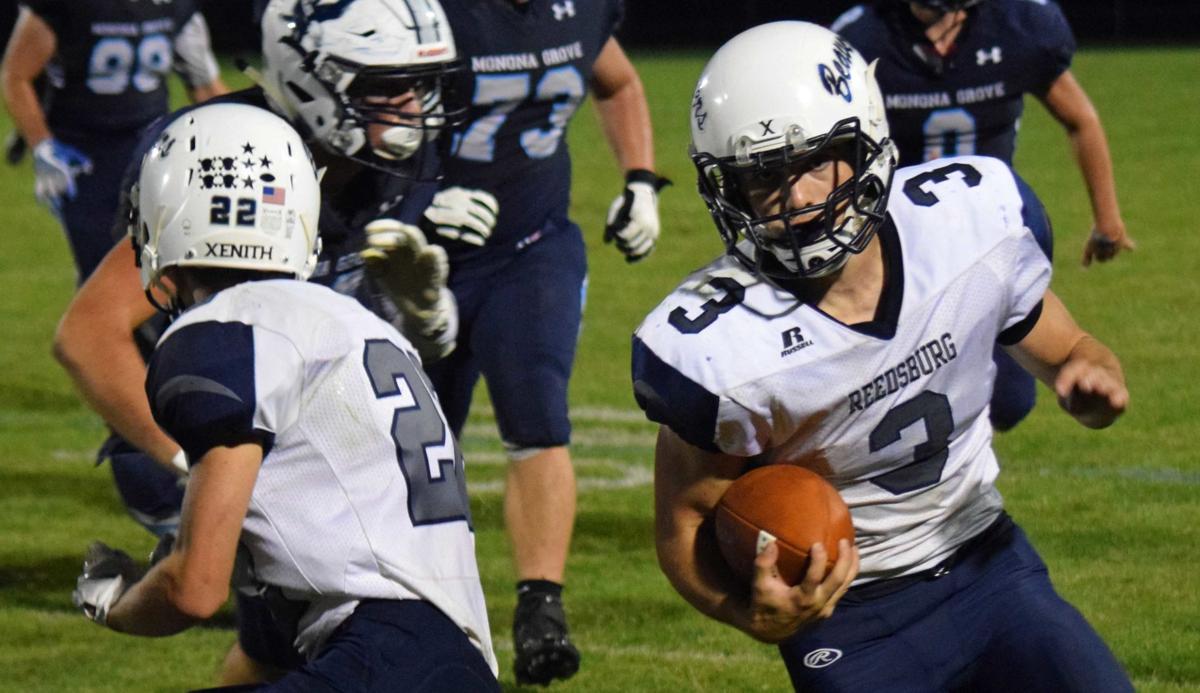 Game of the week
DeForest (2-0) at Reedsburg (2-0), 7 p.m. Friday
After two rounds of crossover games against Badger South Conference foes, the Badger North (and South) season kicks off Friday night. Reedsburg beat Monona Grove 21-13 last week, holding the Silver Eagles scoreless after the first quarter and racking up 336 yards of offense. Quarterbacks Ethan Lee and Connor Schyvinck threw only three passes but completed them all for 116 passing yards and two touchdowns. Casey Campbell ran for 89 yards and another score. DeForest — which hopes to mount a legitimate challenge to Waunakee in this year's Badger North race — beat Fort Atkinson 61-7 last week. DeForest scored all of its points in the first half, with five first-quarter touchdowns. The balanced rushing attack produced 282 yards, with Alex Endres going for 84 yards and two TDs, and Trey Schroeder hitting on four of five passes for 100 yards and three more scores.
Games to watch
Stoughton (1-1) at Oregon (1-1), 7 p.m. Friday
Two neighboring rivals will clash in a Badger South opener. Stoughton ran into the well-oiled Waunakee machine last week, drawing to within 20-14 midway through the second quarter before falling 56-26. Stoughton QB Adam Hobson passed for 162 yards and one score, and rushed for 55 yards and two TDs. Vikings linebacker Rudy Detweiler had 14 tackles. Oregon held off Beaver Dam last week 21-14 as Mason Grender had a 24-yard touchdown run to break a tie midway through the fourth quarter. The Panthers racked up 292 yards rushing, led by Matt Kissling's 84 yards.
Madison West (1-1, 1-1) at Middleton (1-1, 1-1), 7 p.m. Friday
Middleton was roughed up in last week's Big Eight Conference showdown at Verona; the Wildcats had 576 yards rushing and 705 yards of total offense in a 61-35 victory. The brightest spot for Middleton was the play of workhorse Kallion Buckner, who rushed for 142 yards and two TDs and caught a touchdown pass. Drew Teff ran for a touchdown and threw for 181 yards and a touchdown, with Henry Patterson making six catches for 102 of those yards. West also was productive last week, breaking into the win column with a 49-28 victory over Madison East. The Regents rushed for 336 yards, getting 158 yards and three TDs from Ezra Thompson. Linebacker William Gutknecht had six sacks and 13 tackles.
Madison East (0-2, 0-2) at Madison Memorial (2-0, 2-0), 7 p.m. Friday
You have free articles remaining.
After losses to Middleton and West, East must take on arguably its toughest opponent to date in Memorial. The Purgolders have averaged better than 21 points, 215 passing yards and 101 rushing yards per game. Memorial has knocked off Sun Prairie and Madison La Follette, scoring 42 first-half points in last week's 49-18 win over the Lancers. Senior QB Jason Ceniti has averaged 117 passing yards a game, with two TD passes and three scoring runs. Kabaris Vasser has averaged 168 yards rushing per game and has scored four times.
Watertown (2-0) vs. Madison Edgewood (0-2), 7 p.m. Friday
Watertown brings its aerial circus to Breese Stevens Field to open Badger South play, after crossover wins against Mount Horeb/Barneveld and Baraboo.  Ethan Pauly already has thrown for 525 yards and five touchdowns. Edgewood had a rough go in a 47-0 loss to DeForest in Week 1 and gave up a late touchdown in a 19-13 loss to Sauk Prairie last week. Joe Hartlieb threw for 178 yards and two TDs against Sauk, with Jackson Trudgeon catching eight passes for 76 yards.
Edgerton (1-1, 1-1) at Brodhead/Juda (1-1, 1-1), 7 p.m. Friday
After handling defending Rock Valley Conference champ McFarland in the season opener, the Crimson Tide stumbled last week against Evansville, giving up a late score to spoil a comeback bid in a 19-16 loss. Drew Hanson provided the offense for Edgerton, throwing for 183 yards and rushing for 71 more, but he had three passes intercepted. Brodhead/Juda, one of the Rock Valley favorites, had little trouble with Evansville in its opener, taking a 47-21 victory before last week's 28-0 romp over Clinton.
Marshall (0-2) at Lodi (2-0), 7 p.m. Friday
Marshall has faced top-shelf competition so far, losing to Palmyra-Eagle's strong passing attack and a Racine St. Catherine's team that won the WIAA Division 4 state title last year. Despite a 31-13 loss to the Angels last week, Dylan Horstmeyer was able to run for 122 yards and a touchdown. Another huge challenge awaits the Cardinals this week in Lodi, as the Blue Devils have allowed only one touchdown and a combined 119 yards of offense in victories over Delavan-Darien and Wisconsin Dells. Garrett Edge, Mason Ripp and Logan Richards have led the defense, and Colton Nicolay has rushed for 258 yards and two TDs.
New Glarus/Monticello (1-1) at Columbus (2-0), 7 p.m. Friday
Columbus looked strong in a 19-7 victory over Omro in Week 1, then recorded a 35-0 drubbing of Platteville. The Cardinals' defense has yielded a two-game total of 205 total yards. On offense, Caden Brunell has totaled 393 yards rushing and five touchdowns on an 8.5 per-carry average, and quarterback William Cotter has thrown for 200 yards and a score. New Glarus/Monticello opened with a 42-7 rout of Dodgeville, but Lake Mills slammed the brakes on the Glarner Knights with a 55-21 victory last week. Quarterback Darris Schuett has thrown for 468 yards and rushed for a team-best 136 yards so far, and Connor Siegenthaler has 128 yards rushing.
Fond du Lac St. Mary's Springs (0-2) at Watertown Luther Prep (2-0), 7 p.m. Friday
Springs has been the envy of the state under Bob Hyland, the Ledgers' coach since 1971. The winningest coach in state history, Hyland has built a 466-107-2 record with eight WIAA championships and 16 overall. The Ledgers have won championships in four of the last five years, including Division 6 in 2017 and Division 5 last year. This year, Hyland set up an ambitious early schedule, falling 21-14 to 2017 D-5 runner-up Hartland Lake Country Lutheran and 14-7 to 2017 D-5 champ Amherst. Cade Sabel has thrown for 222 yards and Marcus Orlandoni has rushed for 211 yards. Luther Prep has prepared for this challenge by beating Ripon 35-26 and Jackson Kettle Moraine Lutheran 42-19, behind an offense that has produced produced 325 yards rushing and a defense that has held opponents to 223 yards per game. Jon Holtz has been the workhorse, rushing for 320 yards and four TDs.