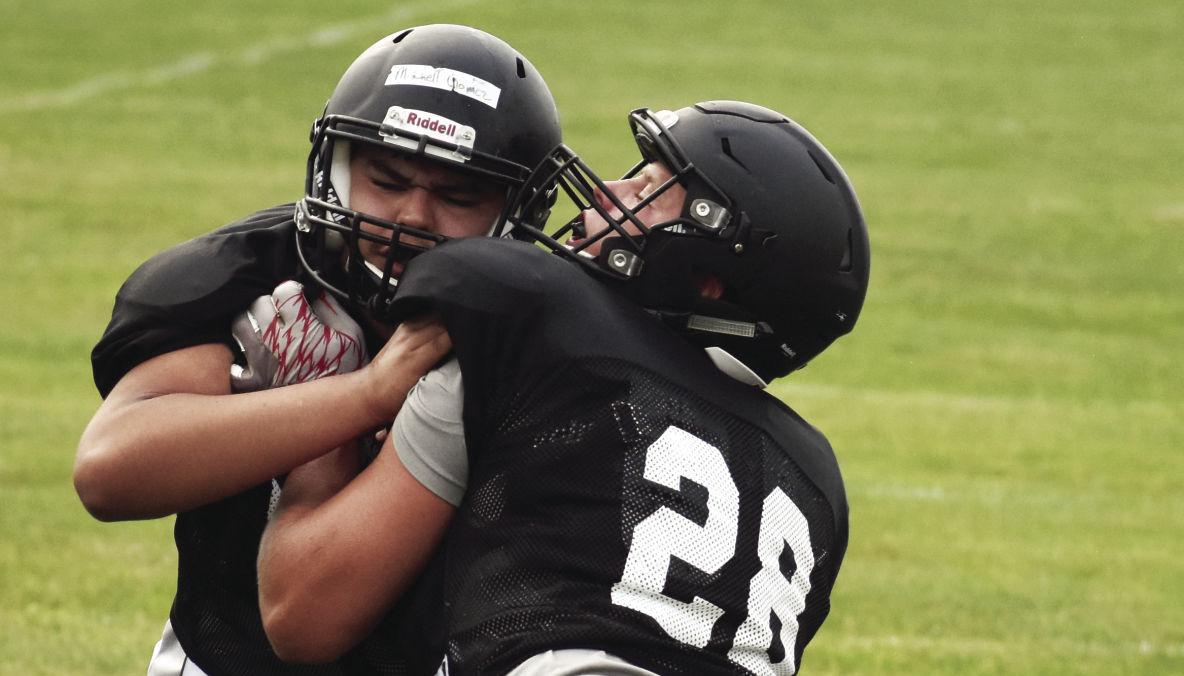 Conference, overall: Cambridge 4-0, 11-1; Belleville 2-2, 6-4; Marshall 2-2, 3-7; New Glarus/Monticello 2-2; 5-6; Waterloo 0-4, 0-9.
2018 WIAA playoffs: Cambridge advanced to Division 6 quarterfinals; New Glarus/Monticello advanced to Division 5 second round; Belleville and Marshall lost in Division 5 first round.
Top-seeded Cambridge def. eighth-seeded Dodgeland 34-7 in first round of Division 6 playoffs, def. fourth-seeded Markesan 27-16 in second round; lost to third-seeded Racine Lutheran 41-21 in quarterfinals; seventh-seeded New Glarus/Monticello def. second-seeded Prairie du Chien 28-24 in first round of Division 5 playoffs, lost to third-seeded Horicon/Hustiford 48-7 in second round; eight-seeded Marshall lost to top-seeded Lake Country Lutheran 31-0 in Division 5 first round; sixth-seeded Belleville lost to Horicon/Hustiford 21-0 in Division 5 first round.
RETURNING FIRST-TEAM ALL-CONFERENCE PLAYERS
Offense: Dylan Horstmeyer, sr., RB, Marshall; Jordan Marty, sr., TE, Cambridge; Kelby Petersen, jr., OL, Marshall; Ryan Lund, jr., OL, Cambridge.
Defense: Dylan Horstmeyer, sr., ILB, Marshall; Kelby Petersen, jr., interior DL, Marshall.
Special teams: Connor Siegenthaler, sr., P, New Glarus/Monticello; Trevor Syse, so., K, Belleville.
Dylan Horstmeyer, sr., 6-foot, 175 pounds, quarterback and inside linebacker, Marshall: Horstmeyer, a first-team all-conference running back and linebacker last year, will move to quarterback and run the Pistol option offense this season for Kleinheinz.
Kelby Petersen, sr., 6-3, 225, offensive and defensive lineman, Marshall: Petersen, a first-team all-conference performer on both sides of the line of scrimmage last year, again will anchor the Cardinals' offensive and defensive lines this season.
Jordan Marty, sr., 6-2, 210, tight end and defensive lineman/linebacker, Cambridge: Marty, a three-time first-team all-conference performer as a tight end, will be a veteran presence on an offense breaking in new players in the backfield and split wide.
Ryan Lund, jr., 6-2, 235, offensive and defensive line, Cambridge: Lund, a first-team all-league pick as an offensive lineman last year, is a pivotal two-way player in the trenches for Cambridge.
Connor Siegenthaler, sr., 6-1, 195, quarterback/wide receiver/linebacker/punter, New Glarus/Monticello: Siegenthaler does it all for New Glarus/Monticello, leading the team in passing on offense and in tackles on defense. Not to mention being the all-conference punter in 2018.
Jacob Filter, sr., 6-0, 220, offensive lineman/defensive lineman, Waterloo: Filter leads the way up front for the Pirates on both sides of the ball. 
Waterloo tabs new leader: At its July 22 meeting, the Waterloo school district announced the hiring of Dave Frisell as its new football coach (he also is taking on athletic director duties and will teach physical education and health). He replaces Aaron Erickson, who stepped down as athletic director and football coach in early July, and took a teaching job in Jefferson. "We hope to be playing our best football at the end of the year," Frisell said. "With a new head coach and a new system being installed, it will be a learning experience for the first few weeks of the year.
Rugged road: Marshall, which has the state's toughest schedule, plays defending WIAA Division 4 state champion Racine St. Catherine's, Lodi and Lakeside Lutheran in non-conference games in weeks two through four.
Opportunity knocks: The league race looks wide open, with the coaches' votes indicating New Glarus/Monticello, Belleville, Marshall or Cambridge should be in the mix for the league crown. The bulk of the all-conference players last year were seniors, opening the door for new players to shine this season. Two all-league specialists return in New Glarus/Monticello's Siegenthaler and Belleville's Syse, but Marshall's Horstmeyer and Petersen and Cambridge's Marty and Lund are the only other returning first-team all-conference performers on offense and defense.
1, New Glarus/Monticello; 2, Belleville; 3, tie, Marshall, Cambridge.
Coach: Chase Ritter, four years (17-12).
Last year: 2-2 Capitol South, 6-4 overall.
Letterwinners (returning/lost): 14/12.
Starters returning (offense/defense): 4/5.
The lowdown: Despite graduating 12 seniors and being inexperienced, Ritter expects Belleville to have the talent to challenge for the conference title in a race he believes four teams could win. Belleville also will seek its third consecutive playoff appearance, which would be a first for the program, and Ritter hopes the Wildcats can qualify and win a playoff game for the first time. Running back Sawyer Fahey, a junior, will lead the ground game in the power-spread offense. Fahey is athletic with track speed, Ritter said. Junior J.J. Wenger and sophomore Trevor Syse are expected to compete for the quarterback job. Ritter plans to have his team pass more this season. Senior linebacker Ogden York, a four-year starter, leads the 3-3-5 defensive scheme.
Coach: Mike Klingbeil, 14 years (79-55)
Last year: 4-0 Capitol South, 11-1 overall.
Letterwinners (returning/lost): 11/9.
Starters returning (offense/defense): 3/5.
The lowdown: Cambridge, the outright defending conference champion, comes off an outstanding 11-1 year, but must reload after losing a strong senior class. Klingbeil said he has a talented but inexperienced team, which he expects to improve with each game. "We need to get a lot of practice repetitions and learn quickly from game situations," he said. The Blue Jays will have a new look at the skill positions on offense. But Cambridge returns first-team all-conference tight end Jordan Marty and offensive lineman Ryan Lund, plus senior offensive lineman Nate Mohoney, which gives the Blue Jays a solid foundation up front. Defensive linemen Mohoney and Lund, senior defensive back Andrew Downing and senior linebacker Tyler Curtis lead the 3-5 defense.
Coach: Matt Kleinheinz, 16 years (85-70).
Last year: 2-2 Capitol South, 3-7 overall.
Letterwinners (returning/lost): 10/4.
Starters returning (offense/defense): 5/7.
The lowdown: Key two-way players Dylan Horstmeyer (quarterback, inside linebacker) and Kelby Petersen (offensive and defensive lineman) lead the Cardinals. Marshall has small numbers in the senior (six) and junior (eight) classes and will rely on a talented sophomore group, which saw considerable minutes as freshmen. Sophomore Bryce Frank likely will play tailback, with Horstmeyer shifting to quarterback. Senior Jack Moen, who can play fullback/H-back and tight end, and senior Gus Timpel and sophomore Cole Denniston will be receiving targets. Frank and senior Cai Resler made an impact on defense last year and are among the seven returners, which Kleinheinz hopes bodes well for the Marshall defense. The roster has some talent, but depth could be a concern, Kleinheinz said.
Coach: Jeff Eichelkraut, 17th year (82-71).
Last year: 2-2 Capitol South, 5-6 overall.
Letterwinners (returning/lost): 25/11.
Starters returning (offense/defense): 6/7.
The lowdown: Eichelkraut runs a spread offense, which will feature returning players Connor Siegenthaler (a senior QB, WR), Darris Schuett (a junior QB/WR), Nathan Streiff (a junior WR), Josh Wieser (a senior WR), Reece Rufer (a senior OL), Jaxson Darrow (a junior OL) and Brock Hummel a junior (OL). Siegenthaler completed 55.4% of his passes for 1,324 yards and 14 touchdowns and ran for 231 yards and four touchdowns last year. Schuett rushed for 366 yards (5.5 yards per attempt) and four touchdowns and caught 20 passes (18.9 yards per catch) for three touchdowns. Streiff had 25 receptions. The growth of the receivers as playmakers and blockers will be vital, Eichelkraut said. The 3-4 defense will be led by linebacker Siegenthaler, senior linebacker Matthew Zierl, junior linebacker Holden Latsch, junior outside linebacker Mason Martinson; defensive backs, including Schuett, Streiff, seniors Keontrai Hodges and Tradyen Foster and junior Cooper Dreyfus; and junior defensive lineman Cole Walter. Siegenthaler led the team with 81 total tackles, while Streiff had five interceptions. Eichelkraut is looking for improved tackling and coverage skills on a defense he hopes will create turnovers and big plays.
Coach: Dave Frisell, first year (0-0 at Waterloo, 25th year overall).
Last year: 0-4 Capitol South, 0-9 overall.
Letterwinners (returning/lost): 18/4.
Starters returning (offense/defense): 7/7.
The lowdown: Frisell, who coached primarily in the prep ranks in Minnesota, takes on a big challenge after the Pirates were winless last year. Senior quarterback Chase Bostwick will lead the multiple-formation spread offense. Junior Blake Huebner will play multiple positions, senior Abdon Tonche-Aguero leads the depth chart at running back and senior Jacob Filter, who has impressed Frisell during preseason camp, will anchor the offensive line. Frisell plans to use an attacking 3-5 defense, using his team's quickness and athleticism due to a lack of size. The 6-foot, 220-pound Filter, who was a second-team all-conference interior defensive lineman last year, leads the way up front, Tonche-Aguero, senior E.J. Jiles and junior Jordi Aguero headline the linebacking corps and junior Jackson Christiansen highlights the defensive back group, Frisell said. "The kids are excited and enthusiastic, but it will take time to learn all of the new things being taught," Frisell said. "We will have patience and hope that by the time we are playing conference games things have clicked for the kids."
Get in the game with our Prep Sports Newsletter
Sent weekly directly to your inbox!