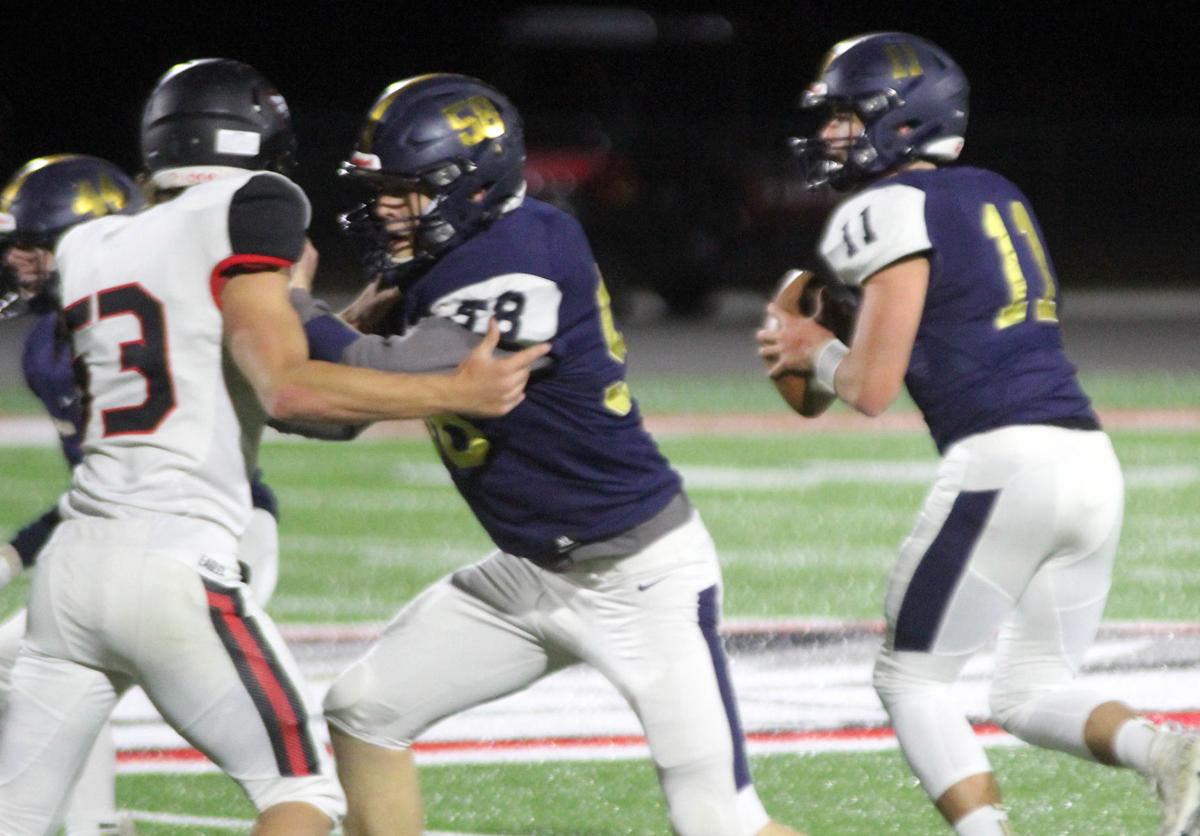 Two gigantic defensive plays in overtime Friday night gave the Slider Bowl title to the undefeated Lakeside Lutheran football team.
John O'Donnell and Joseph Balistreri blasted through the line to block a Lake Mills field-goal try to close the second overtime. As a result, the Warriors (4-0) pulled out a 24-21 victory over the L-Cats (3-2) to win the crosstown rivalry showdown.
Lakeside's Christian Schmidt converted a 25-yard field goal to start the second overtime, after both teams gave up turnovers on first down in the opening overtime.
Lakeside opened a 21-7 halftime lead, but Lake Mills quarterback Adam Moen and his high-flying, air-it-out offense produced two touchdowns and the L-Cats' defense shut out Lakeside in the second half.
Moen completed 20 of 27 passes for 221 yards and two interceptions. He threw a 34-yard scoring pass to Jaxson Retrum in the first quarter, and the two connected for a 14-yard score in the fourth. Running back Charlie Cassady ran for a 19-yard TD in the third quarter.
Lakeside's Ian Olszewski scored from a yard out in the first quarter, Tersony Vater returned a punt 61 yards for a score, and Micah Cody ran for a three-yard TD before halftime.
Lakeside quarterback Nathan Chesterman rushed for 117 yards and completed both his passes for 32 yards.
Madison Edgewood 16, Wisconsin Lutheran 15
On a fourth-and-12 play from his own 8-yard line, sophomore Mason Folkers connected with junior Jackson Trudgeon for a 92-yard touchdown with 59 seconds left, and the Crusaders' defense held on to deliver a dramatic victory.
Folkers and Trudgeon pulled the Crusaders back into the game with 6:56 to play, as they connected for a 24-yard touchdown play on fourth and 13 with 6:56 left.
Keith Klestinski gave Edgewood an early lead with a 35-yard field goal, but an apparent 71-yard touchdown pass from Folkers to Trudgeon was called back because Edgewood had too many men on the field. The Vikings (0-4) took a 15-3 halftime lead on a 59-yard pass from Bryce Pagel to Brendan Lane on a fourth-and-nine play, and a 14-yard pass from Lane to Sam Olson.
Trudgeon caught seven passes for 166 yards and Folkers threw for 230 yards — though he completed only 10 of 29 attempts with two interceptions. The Edgewood defense pitched a second-half shutout and allowed Wisconsin Lutheran only 222 total yards.
Baraboo 35, Sauk Prairie 0
Quarterback Luna Larson ran for 101 yards and a pair of first-half touchdowns, and Owen Nachtigal broke loose for a pair of second-half scores and totaled 95 yards rushing, to lead the Thunderbirds (4-1) past the Eagles (0-5).
The game was relocated to Sauk Prairie's new turf field due to wet conditions at Baraboo.
Larson turned a fourth-and-long play into a 16-yard scoring run late in the first quarter, and scored from 9 yards out late in the second. The Thunderbirds took the second-half kickoff and went on a drive of 7 minutes, 43 seconds, capped by a short scoring run by Nachtigal. He added a 7-yard scoring run early in the fourth, and Kane Mahoney completed the scoring with a 7-yard run with 8:07 to play.
The Baraboo defense held Sauk Prairie to 138 total yards and five first downs and recovered two fumbles. Larson completed seven of eight passes for 125 yards.
Reedsburg 24, Watertown 9
A frustrating night of missed opportunities on both sides wound up turning in favor of the Beavers (2-3) in the second quarter, and staying that way thanks to a solid defensive performance that held the Goslings (2-3) to minus-6 yards rushing.
Watertown — guilty of two safeties on bad snaps, one too high and one too low — tried to make up for it with a defense that stopped Reedsburg drives inside the 10-yard line on three occasions.
But Reedsburg quarterback Bryant Yanke ran for an 11-yard score and passed to Dawson Brandt for a 21-yard score in the second quarter, making it 15-3 at the break.
Watertown cut the lead to 15-9 in the third quarter on a 56-yard pass from Caleb Huff to Oliver Meyers, but a safety and a 4-yard TD run by Reedsburg's Zach Bestor put away the victory.
Huff completed 12 of 29 passes for 123 yards. Reedsburg totaled 330 yards of offense but lost three fumbles.
Waterloo 28, Markesan 16
The host Pirates (3-1, 3-0 Eastern Suburban) fell behind 8-7 at halftime, then regained the lead on a 53-yard scoring run by Jordi Aguero just 1 minute, 13 seconds into the third quarter and tacked on two insurance scores in the fourth to beat the Hornets (0-4, 0-3).
Eugene Wolff led Waterloo's 235-yard rushing attack, piling up 149 yards and two short touchdowns on 42 carries. Aguero added 75 yards and two more rushing scores. Quarterback Blake Huebner threw for 80 yards.
Cambridge 35, Palmyra-Eagle 7
Treveon Colts ran for 119 yards and a pair of second-quarter touchdowns as the Blue Jays (3-2, 3-1 Eastern Wisconsin) opened a 28-0 halftime lead and coasted past the Panthers (1-4, 1-3).
Also for Cambridge, Peter Schmude recovered a fumble in the end zone for a touchdown in the final minute of the first half, and then caught a 68-yard pass from Ezra Stein for a third-quarter score. Stein completed seven of 11 passes for 133 yards.
Jacob Moody ran for the Blue Jays' first touchdown, and Riley Schneider got Palmyra-Eagle on the scoreboard in the fourth quarter.
Edgar 62, Portage 0
The visiting Wildcats (5-0), ranked No. 1 in the state among small schools by The Associated Press, rolled to a 28-0 lead after one quarter and a 55-0 lead after three quarters against the Warriors (2-3).
Edgar senior Kyle Brewster ran for first-half touchdowns of 45 and 57 yards and caught a 22-yard pass from Konnor Wolf. He totaled 112 yards rushing on five carries.
Korbyn Bauman opened the Edgar scoring with a touchdown on a 20-yard fumble return. Later, Jordan Bunkelman scored on a 40-yard interception return. Edgar's defense held Portage to five first downs and 61 total yards, with five turnovers.
Get in the game with our Prep Sports Newsletter
Sent weekly directly to your inbox!