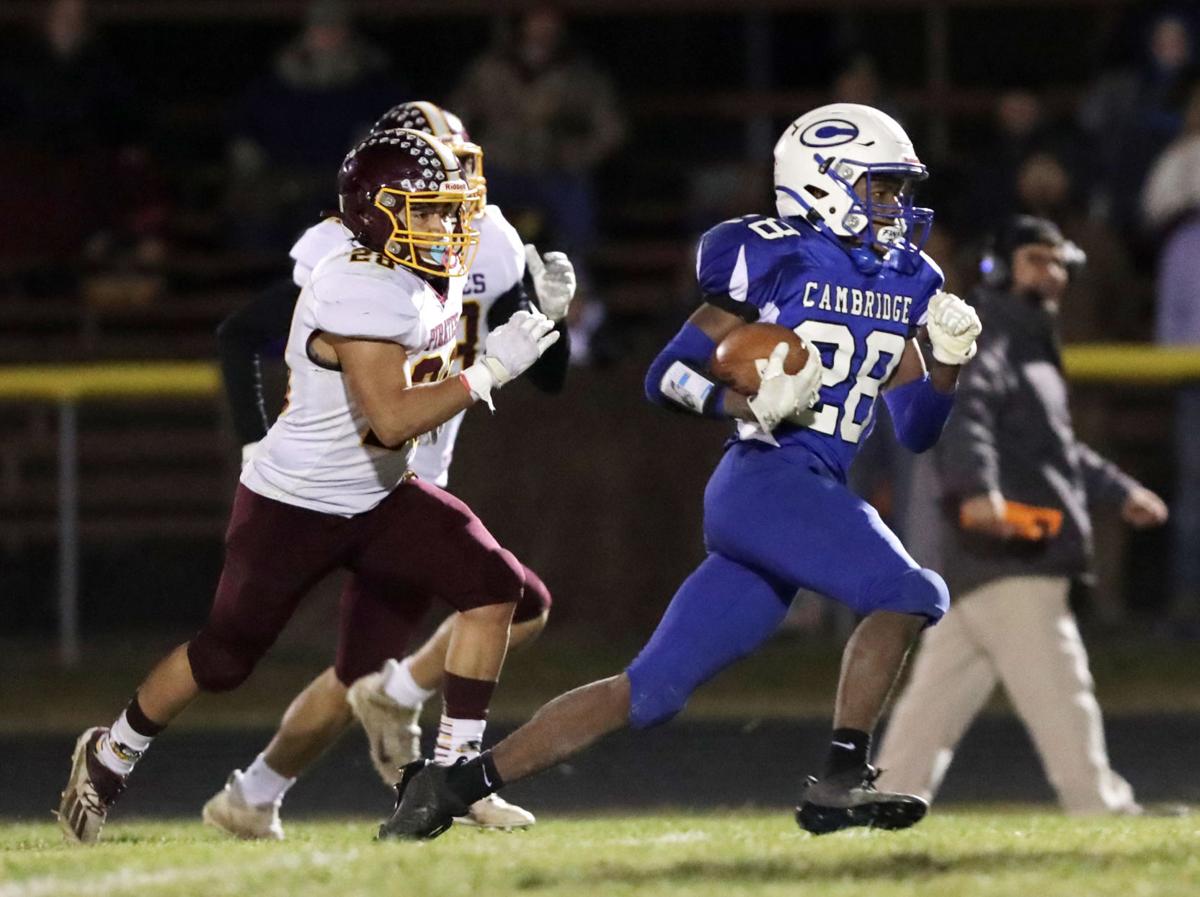 CAMBRIDGE — Cambridge football coach Mike Klingbeil wanted to see a fast start from the Blue Jays' offense on Friday night after recent weeks were marked by sluggish beginnings.
Cambridge scored on its first four possessions in racing to a 28-0 second-quarter lead and never looked back during a 43-13 victory over Waterloo.
"We really emphasized starting strong," Klingbeil said.
Senior quarterback Ezra Stein ran for three touchdowns, including two scores in the first quarter when Cambridge (4-2, 4-1 Eastern Suburban) jumped to a 21-0 lead, and threw two touchdown passes.
Junior running back Trey Colts scored one rushing touchdown and showed off his blazing speed on touchdown receptions of 57 and 54 yards. He rushed for 113 yards and had 111 yards receiving, and also came up with a fumble recovery in helping Cambridge give Waterloo (3-2, 3-1) its first loss in league play.
Klingbeil was looking for Colts to have a breakout performance, which Colts delivered.
"I came into this game, great weather, I was feeling it," the 5-foot-9, 150-pound Colts said. "It was a great football day. It was Waterloo, a rival game. We wanted to go out and pound the ball and do whatever we could to get the 'W.'"
Both teams are chasing conference leader Marshall, which is 4-0 in league play. Horicon/Hustisford canceled its game with Marshall on Friday night.
Cambridge pulled within a half-game of the conference lead. Waterloo fell a game behind Marshall, but those teams meet next week in a game that will decide the conference winner or winners.
"We also said we've been looking for a marquee win," Klingbeil said. "We've beaten teams that haven't had great records and have been in some dogfights. This is a Waterloo team that has a winning record, so this has been our marquee win. And to put 43 on them and execute as well as we did, has shown how far we have come."
Stein threw for 192 yards. He connected three times for 69 yards to his brother, junior tight end Eli Stein. Eli Stein also had two of the Blue Jays' three interceptions.
Pirates junior running back Eugene Wolff had a game-high 161 yards rushing on 21 carries, including a 55-yard touchdown run in the fourth quarter.
"I think we might have been a little tight," Waterloo coach Dave Frisell said. "I think we were pretty excited about this opportunity of a big game. I think it's been a few years since Waterloo has played in a big game and we might have been a little tight.
"Once the first mistake happened, it kind of snowballed a little bit, with the punt snap over the head (of the punter) and we fumbled inside the 20. You can't give a good team like Cambridge those opportunities and we did. It's a tough hole to climb out of, once you make those mistakes. It's pretty disappointing."
Cambridge marched 65 yards on its first possession, with Ezra Stein's 1-yard sneak capping the scoring drive with 9 minutes, 24 seconds left in the first quarter.
Waterloo went three and out on its first series and a high punt snap led to Cambridge gaining possession at the Pirates' 6-yard line. Colts powered in on fourth-and-goal for a 1-yard touchdown run, extending Cambridge's lead to 14-0 with 5:33 left in the first quarter.
Stein's 9-yard touchdown run made it 21-0 with 32.6 seconds left in the first quarter. Colts, after thwarting a Waterloo drive with a fumble recovery, then caught a pass from Stein in the left flat and raced 57 yards for a touchdown that gave Cambridge a 28-0 lead with 7:37 remaining before halftime.
The Pirates came out of halftime playing more aggressively and cut the deficit to 28-7 on senior quarterback Blake Huebner's 9-yard touchdown pass to senior Jackson Christenson with 8:02 left in the third quarter.
---
Photos: Cambridge 43, Waterloo 13
Photos: Cambridge 43, Waterloo 13
Cambridge 43, Waterloo 13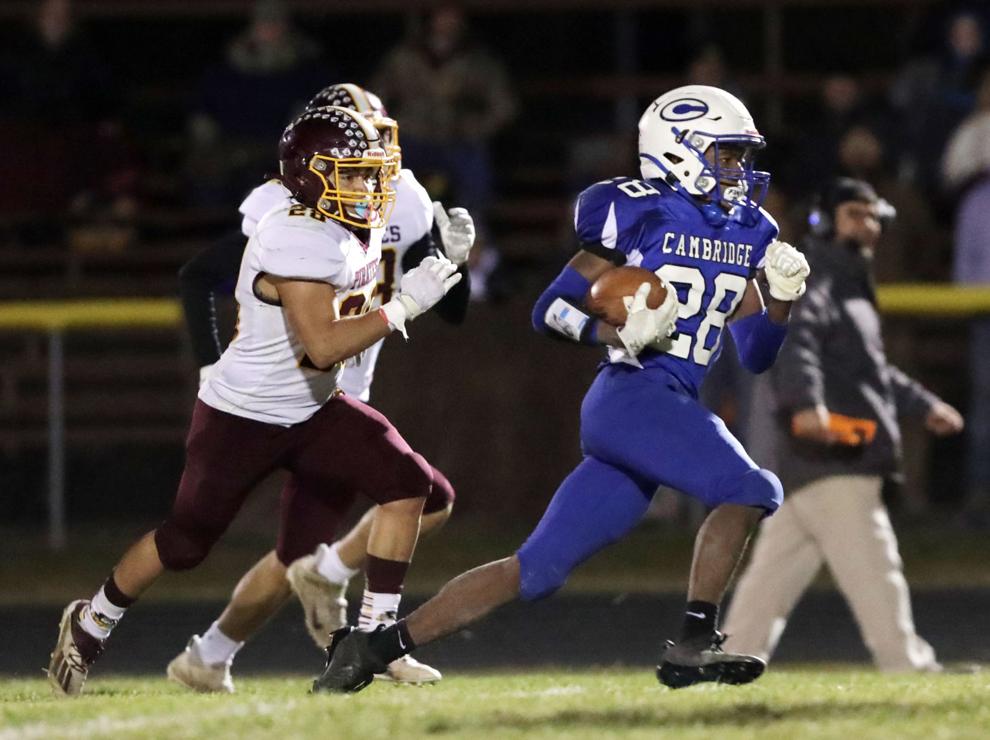 Cambridge 43, Waterloo 13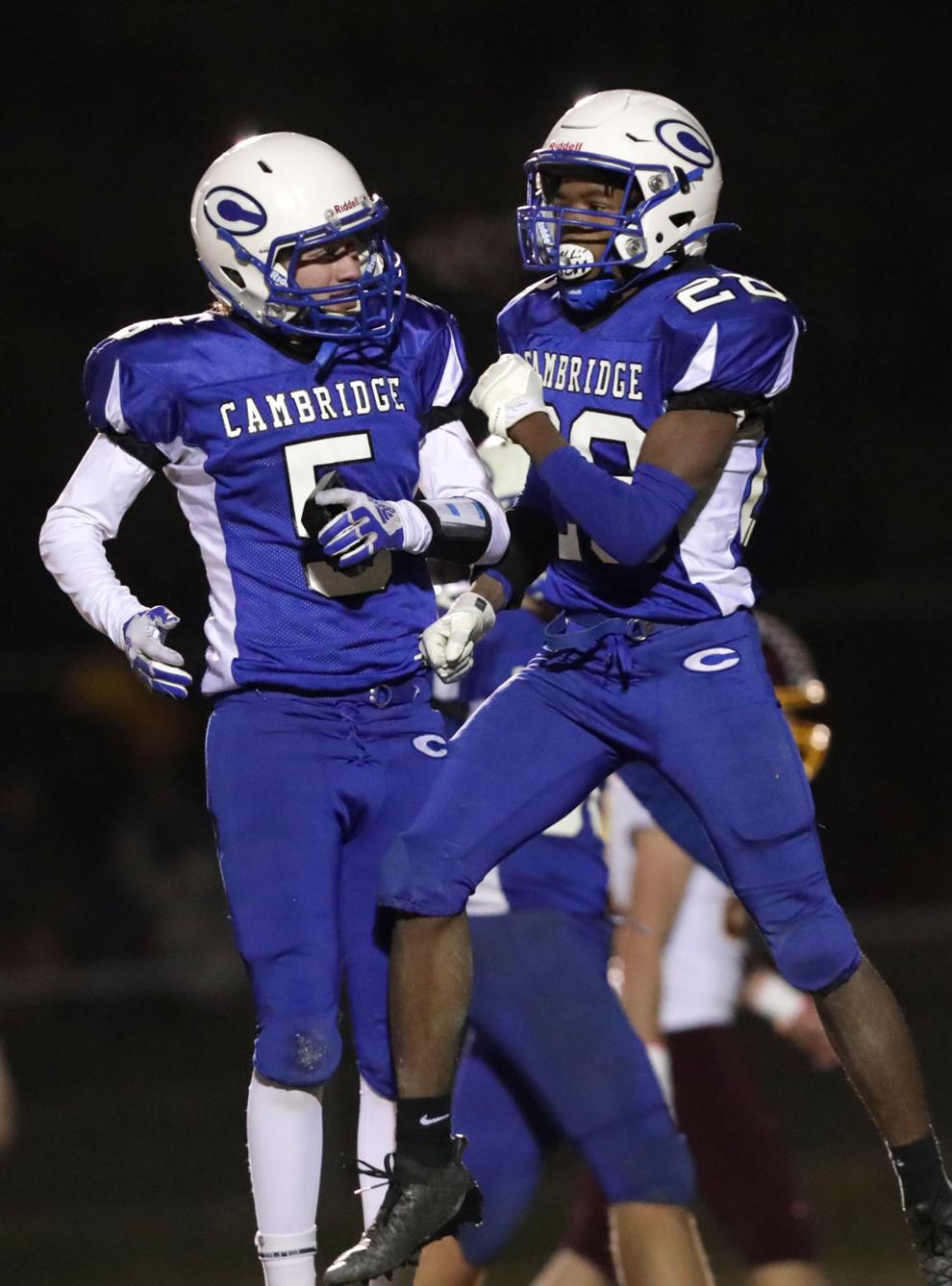 Cambridge 43, Waterloo 13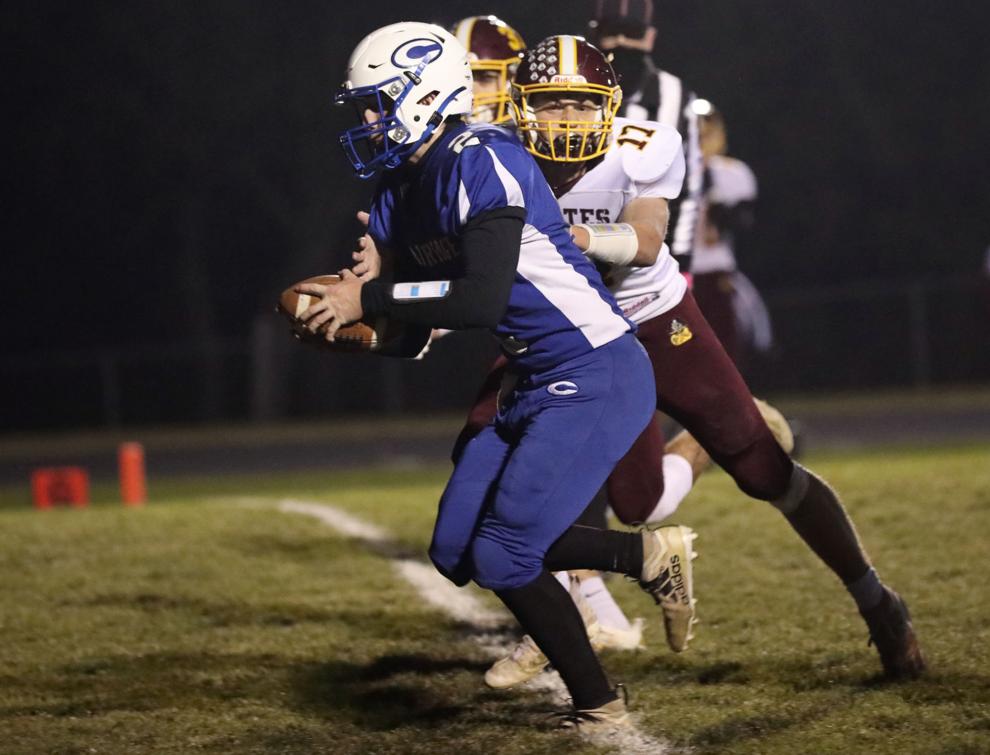 Cambridge 43, Waterloo 13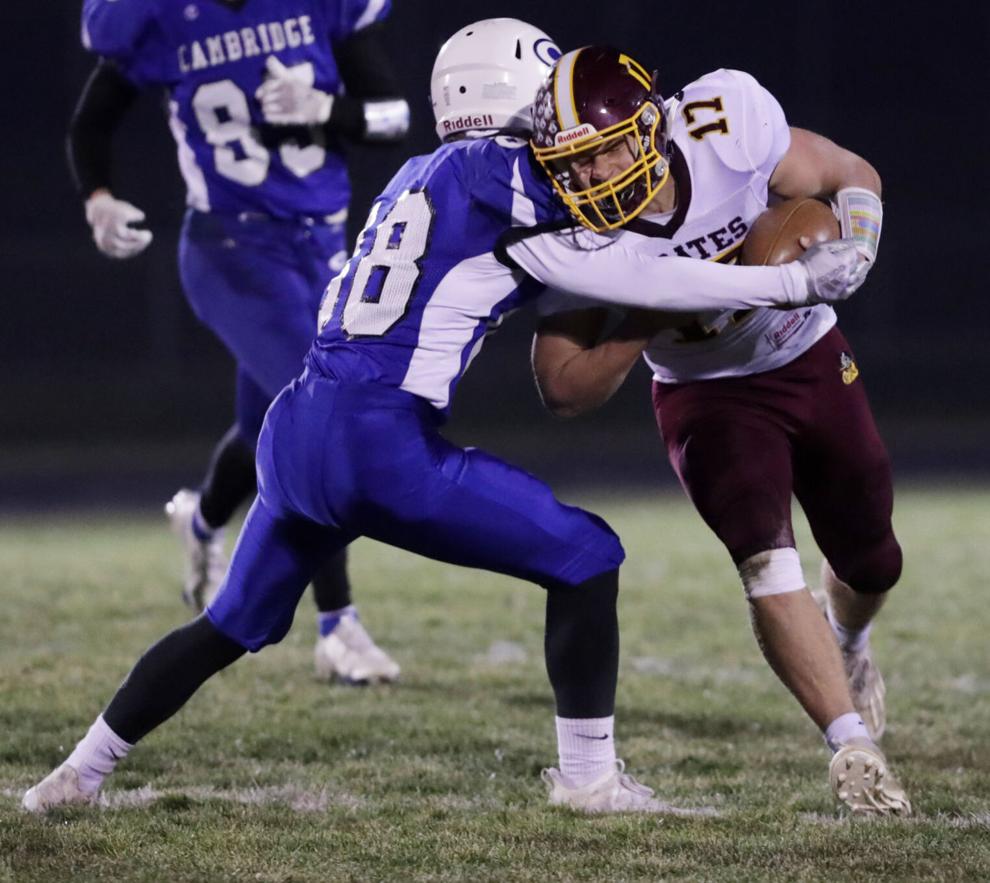 Cambridge 43, Waterloo 13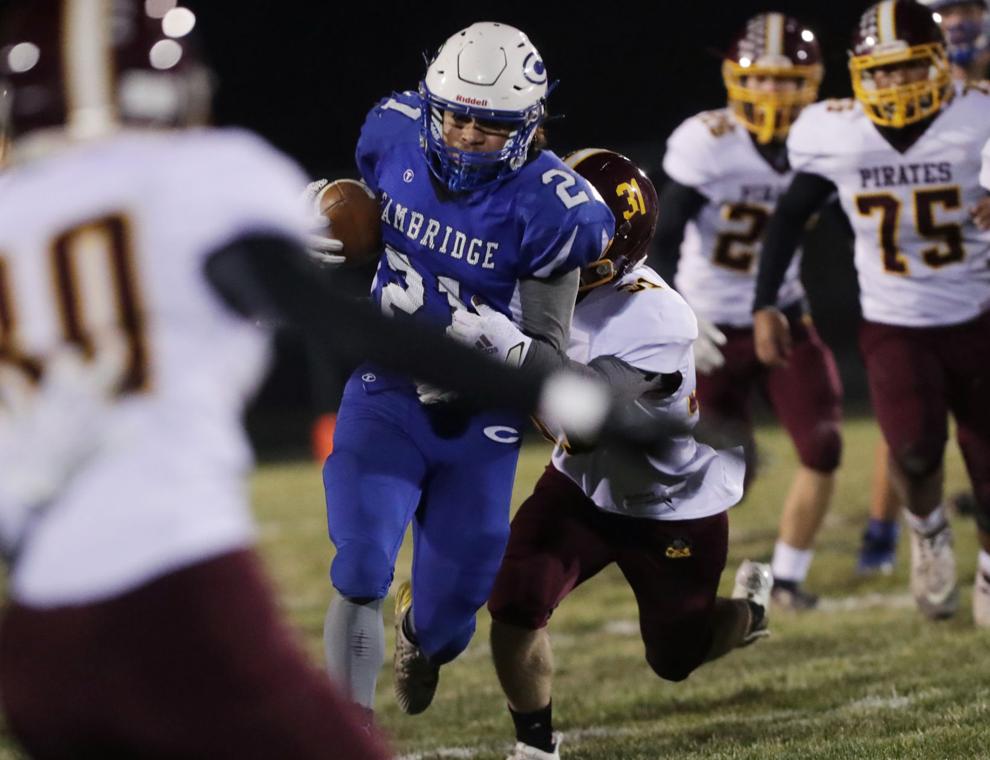 Prep football photo: Cambridge's Ezra Stein throws in first meeting with Waterloo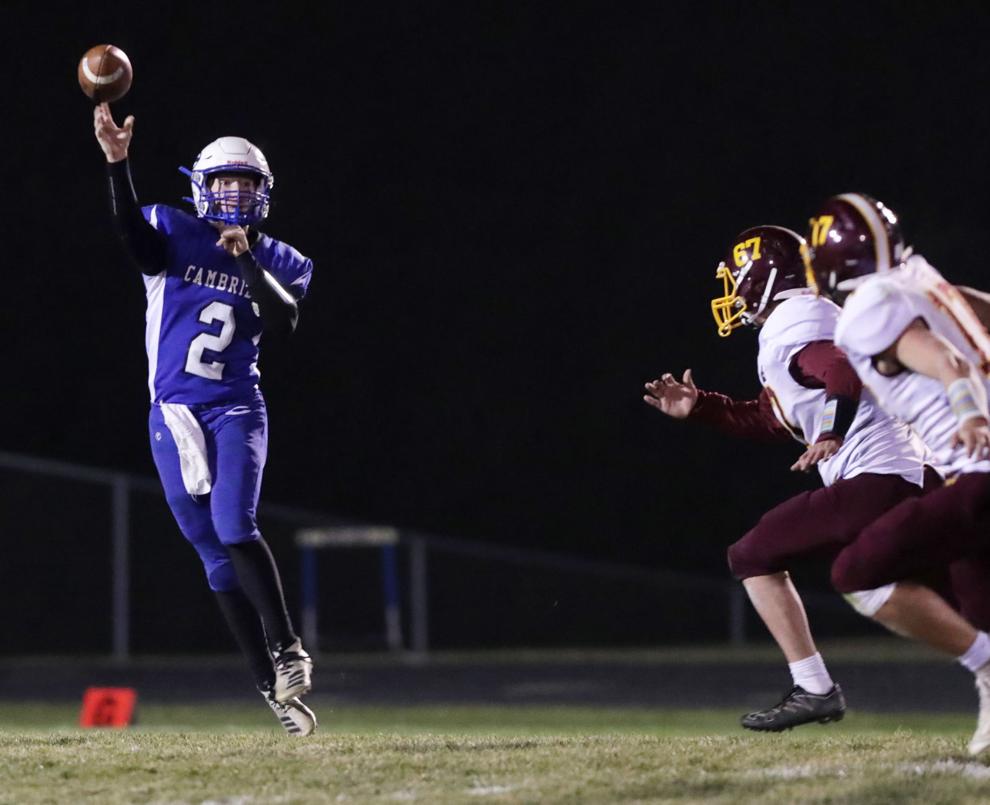 Cambridge 43, Waterloo 13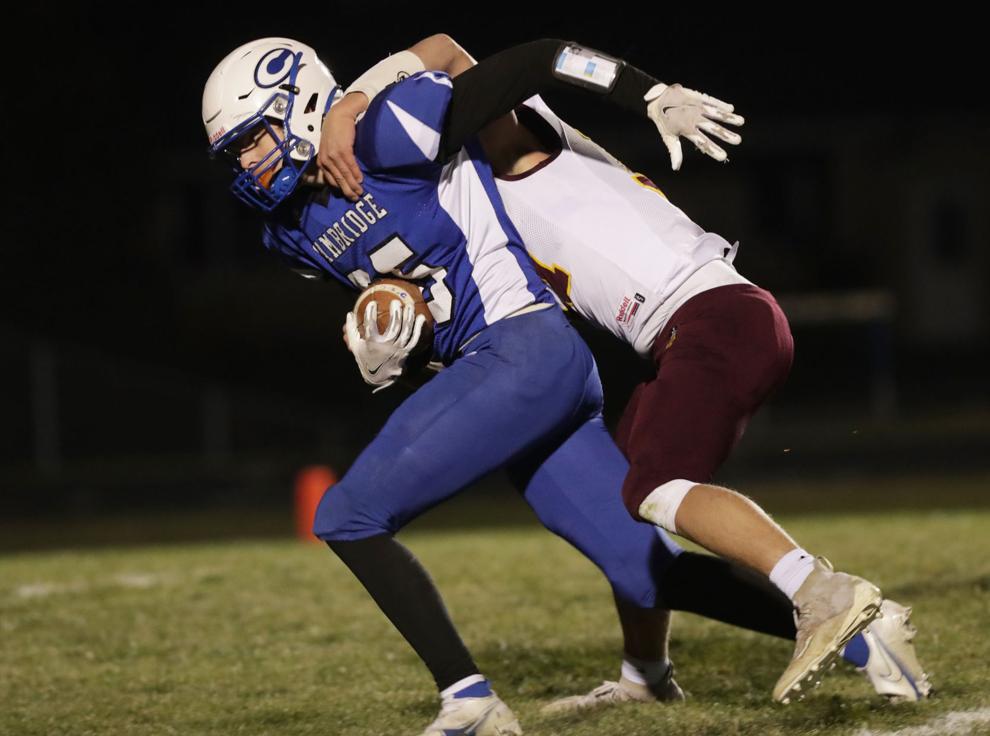 Cambridge 43, Waterloo 13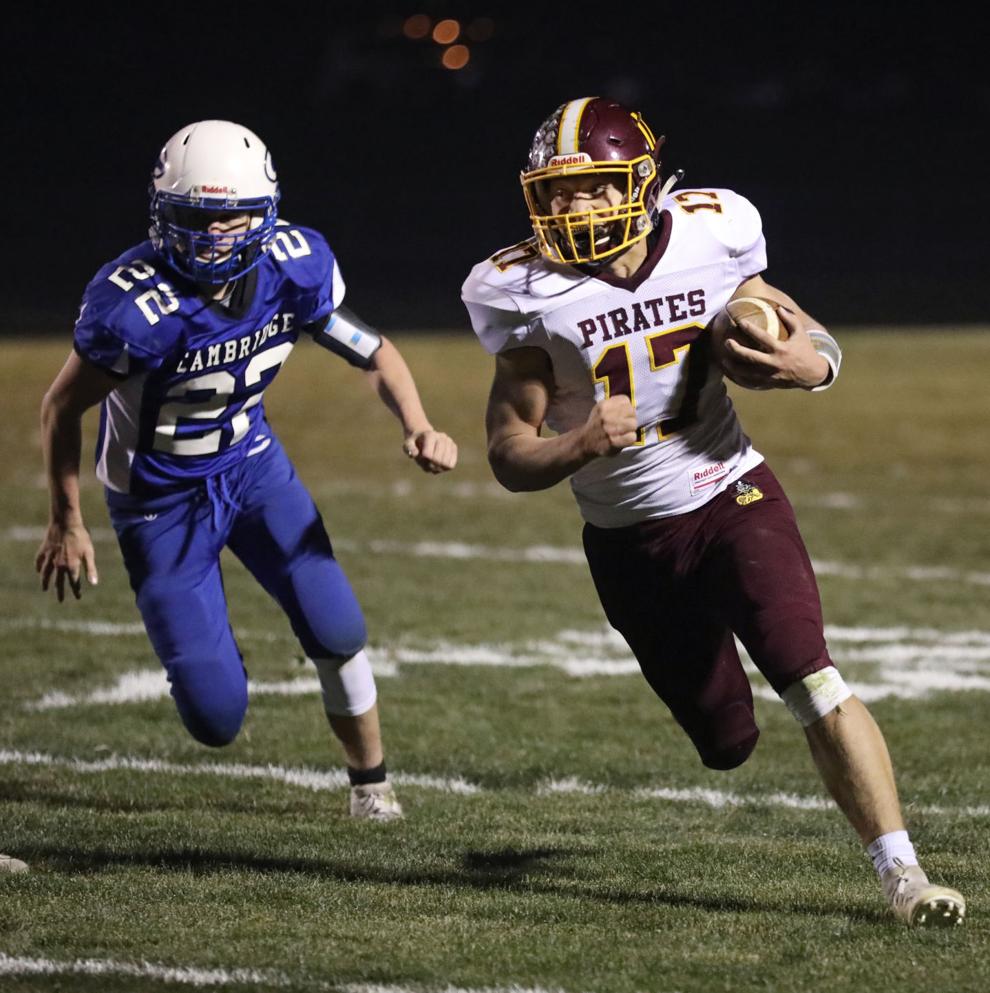 Cambridge 43, Waterloo 13